EDITION NUMBER 54

Summer's Here!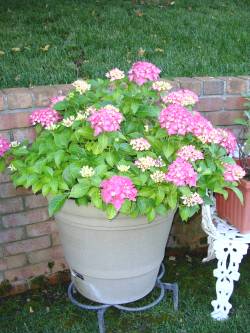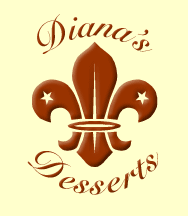 June 28, 2009

Welcome Home Bakers and Friends,

It's been a little while since I sent out my last newsletter; in fact, I sent out the last one in February, so I guess it's about time for some new recipes and food information, don't you think?

I hope all of you had a pleasant Springtime, and are happy that Summer has finally arrived. I know many of you are also getting ready to celebrate the 4th of July, America's Independence Day so I've included a few recipes for this special holiday in the newsletter.

I am definitely anxious to make many tasty desserts with the summer's seasonal fruits, such as fresh peaches, apricots, plums, cherries, etc. I love the summer for one big reason, the wonderful fresh fruits that are available.

A note to those of you who were so very kind to send me emails after my December 2008 newsletter, and to all of you that read the newsletter. I have been on Weight Watchers Maintenance now for 7 months (became a Weight Watchers Lifetime Member last November). I have been staying at a weight of 132-135 pounds, and let me tell you that it's been a long and hard journey; in fact it's going to be a life long journey to maintain the weight that I'm at now, but it's been so worth it, in every way; the way I feel, the way I look and the most important thing, how the weight loss has affected my health in such a positive way.

Again, thank you all for your constant support. It means the world to me.

Now, on to the recipes for summer. Enjoy!

---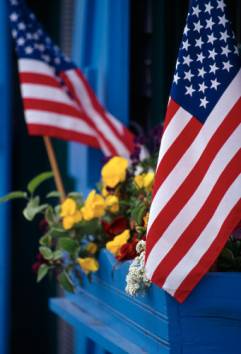 Treats For the 4th of July (Independence Day)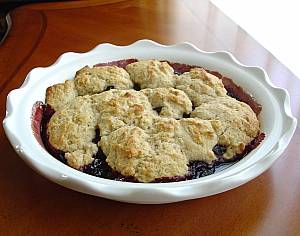 Fresh Cherry Cobbler
Servings: 6-8
Comments:
During the summer when so many fresh fruits are available to us, why not make this delicious fresh cherry cobbler. Although many people like to make cherry pies or cobblers with tart red cherries, I like to use the sweeter darker varieties such as Bing, Lapin, Lambert, or Stella's. My advice is to use cherries that look the freshest in your local supermarket's produce section or at your local farmer's market; ones that look, feel and TASTE the very best.

A wonderful dessert for you to serve at your 4th of July picnic or barbeque.

Ingredients:
Cherry Filling:
4 to 6 cups fresh sweet dark cherries, pitted (about 2 to 2 1/2 pounds)
1 cup granulated sugar
2 tbsp. cornstarch
1/2 tsp. grated lemon zest
1/4 tsp. almond extract
1/8 tsp. salt
1/2 tsp. ground cinnamon (optional)

For Topping:
1 1/4 cups all-purpose flour
1/3 cup granulated sugar
2 tsp. baking powder
1/2 tsp. ground cinnamon
1/4 tsp. salt
1 egg
1/2 cup buttermilk
6 tbsp. (3/4 stick/3 oz/85g) unsalted butter, melted and cooled
1/2 tsp. vanilla extract

Serve with:
Vanilla Ice Cream, whipped cream or non-dairy whipped topping

Instructions:
To Make the Cherry Filling:
In a large bowl combine the pitted cherries with the sugar, cornstarch, lemon rind, almond extract, salt and cinnamon (if using). Let stand at room temperature for at least 30 minutes so the flavors have time to combine well.

To Make the Topping:
Preheat oven to 350 degrees F (180 degrees C). Lightly butter an 8 or 9-inch round (by 2-inch deep) pie dish, preferably glass or ceramic.

In a large mixing bowl, stir together the flour, sugar, baking powder, cinnamon and salt. In a medium mixing bowl, whisk together the egg, buttermilk, the melted butter and vanilla until well blended. Pour the wet ingredients into the dry ingredients and, using a rubber spatula, fold gently until the flour is moistened and the mixture forms a soft dough.

To Assemble Cobbler:
Pour cherry filling mixture into prepared pie dish.

Drop heaping spoonfuls of the dough onto the cherry mixture, spacing them evenly; the dough will not completely cover the fruit. Bake in preheated oven until the filling is bubbling, the topping is browned and a toothpick inserted into the topping comes out clean, about 40-45 minutes. Remove from oven and cool on rack. Serve warm or at room temperature with vanilla ice cream, whipped cream, or non-dairy whipped topping.

Makes 6-8 servings.

Source: DianasDesserts.com

---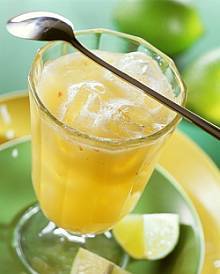 Fresh Fruit Chilled Green Tea
Servings: 1

Comments:
A delicious twist on iced tea by combining fresh fruit juice with chilled green tea. If desired, garnish with a slice of fresh fruit, such as pineapple. Make a big pitcher full of this lovely and refreshing iced tea for your family or friends for the 4th of July. Using pomegranate juice would be perfect for this patriotic holiday.

Note:
You can always make up a big pitcher of this tea, just use 1 cup of brewed green tea per serving, so if you want 6-8 servings, use 6-8 cups chilled brewed green tea, and 1/4 to 1/2 cup fresh juice per serving, and enough honey for each serving, to taste. When ready to serve, add the ice cubes and serve immediately.

Ingredients:
1 cup brewed green tea, chilled
1/4 to 1/2 cup fresh extracted juice, such as pomegranate, apple, mango or pineapple
Honey, to taste
Ice cubes, as needed

Instructions:
In a large glass, combine the chilled brewed green tea and fresh juice of your choice. Add the honey and stir well. Add ice cubes and serve immediately.

Makes 1 serving.

---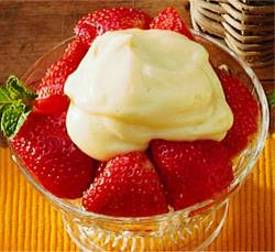 Strawberries with Vanilla-Almond Yogurt Pudding
Servings: 4

Comments:
A lovely light dessert for a picnic, barbeque or to serve on a warm summer evening, and great for a 4th of July celebration. Quick and easy! The strawberries can be substituted with raspberries, or blueberries or peaches.

Ingredients:
1 (3.4-ounce) package instant vanilla pudding mix
1 1/2 cups cold milk
1 cup plain yogurt
1/8 teaspoon almond extract
2 to 3 cups fresh strawberries, raspberries or blueberries

Instructions:
In a mixing bowl, whisk together first four ingredients. Place berries in dessert cups and top with cream mixture, or layer berries and cream in parfait glasses.

Makes 4 servings.

Source: DianasDesserts.com

---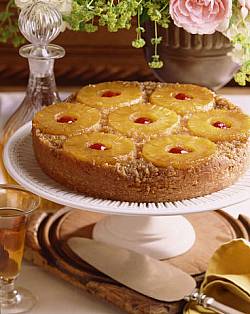 Classic Pineapple Upside-Down Cake
Servings: 8-10

Comments:

How about an attractive and very delicious Pineapple upside-down cake for either the 4th of July or for that matter anytime during the warm summer months. Your guests will love it!

One of America's most popular desserts for almost a century, the pineapple upside-down cake was once known as a skillet cake because it was baked on the stovetop in a cast-iron pan. Here, the cake is made in either a specially designed pan, which features indentations to hold the pineapple rings, or can be made in a regular 9-inch round cake pan.

Ingredients:
For the Topping:
7 fresh or canned drained pineapple slices (1/4-inch slices)
6 tbsp. (3/4 stick/3 oz./85g) unsalted butter
1/2 cup plus 2 tbsp. firmly packed light brown sugar
1/2 cup granulated sugar

For the Cake:
2 cups cake flour
1 1/8 tsp. baking powder
1 tsp. salt
3/4 cup milk
1 1/2 tsp. vanilla extract
1 1/2 tbsp. dark rum
6 tbsp. (3/4 stick/3 oz./85g) unsalted butter
1 1/2 cups granulated sugar
2 eggs

Garnish:
7 maraschino or glace cherries

Special equipment:
You will need a 9-inch round cake pan with 2-inch sides, OR a Pineapple Upside-Down Cake Pan (you may find this pan, which is made by Nordic Ware online at Amazon.com or at other stores on the internet)

Instructions:
Have all the ingredients at room temperature.

Position a rack in the lower third of oven and preheat to 350°F/180°C. Butter a 9-inch round cake pan (with 2-inch sides), or butter a Pineapple Upside-Down Cake pan (made by Nordic Ware).

To Prepare the Topping:
Place the pineapple slices in the prepared pan (if using a special pineapple upside down cake pan, place the pineapple slices in the prepared pan, aligning them with the relief pattern in bottom of pan). In a small saucepan over medium-low heat, combine the butter, brown sugar and granulated sugar and heat until the butter melts. Stir to blend the ingredients, then spread the mixture over the pineapple slices. Set aside.

To Make the Cake:
In a medium bowl sift together the flour, baking powder and salt. Set aside.

In a small bowl, whisk together the milk, vanilla and rum. Set aside.

In the bowl of an electric mixer fitted with the flat beater, beat the butter on medium speed until creamy and smooth, 1 to 2 minutes. Add the granulated sugar and continue beating until light and fluffy, about 5 minutes, stopping the mixer occasionally to scrape down the sides of the bowl. Add the eggs one at a time, beating well after each addition.

Reduce the speed to low and add the flour mixture in three additions, alternating with the milk mixture and beginning and ending with the flour. Beat each addition just until incorporated, stopping the mixer occasionally to scrape down the sides of the bowl.

Pour the batter into the prepared pan, spreading it evenly. Bake until the center of the cake springs back when touched and a toothpick inserted into the center comes out clean, 50 to 55 minutes. Transfer the pan to a wire rack and let the cake cool in the pan for 15 minutes.

Tap the pan gently on a work surface to loosen the cake, invert the pan onto a cake plate and lift off the pan. Place 1 cherry in the center of each pineapple slice. Let the cake cool for 45 minutes before serving. Serve warm or at room temperature.

Makes 8-10 servings.

---
More Summer Desserts and Treats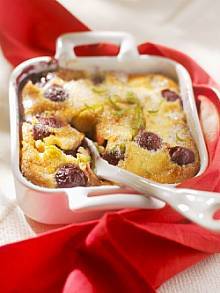 Cherry Clafouti
Servings: 6-8

Comments:
What is a Clafouti?

Definition: [kla-foo-TEE]
Originally from the Limousin region of France, this country-French dessert is made by topping a layer of fresh fruit with batter. After baking it's served warm, sometimes with cream. Some clafoutis have a cake-like topping while others are more like a pudding. Though cherries are traditional, any fruit such as plums, peaches or pears can be used.
The Limousin region is best known for its sweet black cherries, which, left whole and unpitted, are traditionally baked in a sweet custard filling. Purists insist the pits help to perfume the dish with an appetizing scent, but you can use pitted cherries.

Clafouti is a delicious fruit and custard dessert that is very simple to prepare. Any seasonal fruit, such as peaches or blackberries, can be used but cherries work especially well. Traditionally, cherry clafoutis is prepared with brandy or kirsch but you could leave the alcohol out and only use vanilla. Serve this dessert warm from the oven, as this will bring out the flavor of the cherries. Serve with vanilla ice cream or sweetened whipped cream. Garnish clafouti with a sprinkling of confectioners' sugar and a little orange zest.

Ingredients:
1 pound fresh cherries* (See Note Below), pitted and cut in half
1/4 cup brandy or kirsch (vanilla extract may be substituted for the brandy or kirsch, if desired)
1 cup milk
4 eggs
Pinch of salt
1 tbsp. vanilla extract
1/2 cup granulated sugar
1/2 cup all-purpose flour

Garnish: (optional)
Confectioners' sugar
Orange zest

Serve with: (optional)
Vanilla ice cream or sweetened whipped cream

Instructions:
Pit cherries and cut in half. Place in bowl and pour brandy over top. Set aside 20 to 30 minutes to allow flavors to combine.

Preheat oven to 325 degrees F/160 degrees C.

To Prepare Custard:
Combine milk, eggs, salt, vanilla, sugar and flour in a mixing bowl. Whisk by hand until all ingredients are well combined and batter is very smooth.

Place cherries in a buttered square, round or oval shaped oven-safe dish, an 8-inch square or round cake pan or an 8-inch springform pan lined with aluminum foil to prevent leaking. Pour batter over cherries. Bake for 55 to 65 minutes. The batter will be set and slightly golden in color. Remove from oven and allow to cool slightly. If desired, sprinkle confectioners' sugar and a little orange zest over clafouti. Serve dessert warm with vanilla ice cream or sweetened whipped cream. Clafouti is best served and eaten the same day it is made.

*Note:
Canned (and drained) pitted cherries may be substituted for the fresh cherries in this recipe or you may use other fresh fruit that is available to you instead of cherries, such as blueberries, pears, plums, peaches, apricots or blackberries.

Makes 6-8 servings.

Source: DianasDesserts.com

---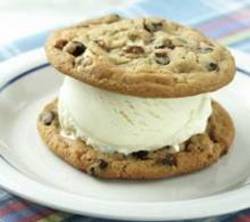 Chocolate Chip Cookie Ice Cream Sandwiches
Servings: Makes 9 ice cream sandwiches

Comments:
Make these in the morning, and they'll be frozen and ready when the kids come home in the afternoon. A great refreshing summer time snack.

Ingredients:
1 (18 ounce) package refrigerated chocolate chip cookie dough
3 cups vanilla ice cream or any other ice cream flavor of your choice, softened

Instructions:
Preheat oven to 350 degrees F/180 degrees C.

Spoon and shape heaping teaspoons of cookie dough into 18 balls. Place balls 2 inches apart on ungreased cookie sheet.

Bake in preheated oven for 10-15 minutes, or until light golden brown. Cool for 1 minute, and remove from cookie sheet.

To assemble each sandwich, place 1 scoop (1/3 cup) ice cream on bottom side of 1 cookie. Top with second cookie, bottom side down; gently press together. Quickly wrap each sandwich in foil. Freeze for 2-3 hours or until firm.

Makes 9 ice cream sandwiches.

Tip:
To soften ice cream, place in refrigerator for 15-20 minutes or until easy to scoop.

Source: DianasDesserts.com

---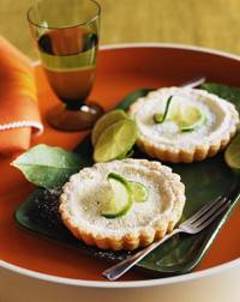 Key Lime Tartlets
Servings: Makes 34 tartlets

Comments:
Wonderful to serve at an afternoon tea or makes a nice addition to a brunch dessert tray. Another good idea is to serve them as a "sweet" appetizer for a special occasion. Light and refreshing for spring or summer get togethers.

Ingredients:
Key Lime Curd:
4 large eggs
2/3 cup fresh Key lime juice (or regular lime juice)
3/4 cup granulated sugar
6 tablespoons unsalted butter
2 teaspoons finely grated Key lime zest (or regular lime zest)

Tartlets:
1 1/4 cups all-purpose flour
3/4 cup cake flour
1 1/2 tablespoons granulated sugar
3/4 teaspoon salt
1/4 teaspoon baking powder
1 cup butter or margarine, cut up
1/4 cup solid vegetable shortening
6 tablespoons cold water

Garnish:
Confectioners' sugar
Slices of lime

Instructions:
For Key Lime Curd:
Whisk together first 4 ingredients in a saucepan, and cook over medium-low heat, whisking constantly, 12 minutes or until mixture is thickened. Stir in lime zest. Pour carefully through a wire-mesh strainer into a bowl. Cover mixture, and refrigerate 4 to 6 hours.

For Tartlets:
Pulse flours, sugar, salt, and baking powder in a food processor until combined. Add 1 cup butter and shortening, and pulse until mixture is crumbly. Add cold water, 1 tablespoon at a time, pulsing after each addition. Remove dough, and wrap in plastic wrap; chill at least 2 hours.

Shape dough into 34 (1-inch) balls, and press balls into lightly greased 3-inch miniature tart pans. Prick with a fork.

Bake at 375°F/190°C for 13 minutes or until golden. Remove from pans, and let cool on wire racks.

To Assemble:
Spoon 2 to 4 tablespoons lime curd into each tart shell; heavily dust tops with confectioners' sugar and garnish with thin slices of lime.

Note:
You may substitute miniature muffin pans for the miniature tart pans.

Makes 34 tartlets.

Source: DianasDesserts.com

---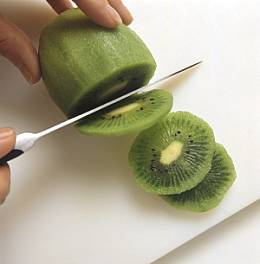 Food Tips and Information Section
All About Kiwi Fruit

Why Eat It

On the outside, a kiwi fruit looks like a fuzzy brown egg--appropriate, since it is named after a fuzzy flightless brown bird. Once considered an exotic specialty item, kiwi fruit has become immensely popular during the past two decades, and deservedly so. When you cut (or bite) through its thin brown skin, which is covered with a downy fuzz, you reach velvety bright green flesh sprinkled with a ring of tiny, edible black seeds. The taste of kiwi fruit, which varies from sweet to tart, has been compared with a combination of other fruits, such as strawberries, nectarines, and melons. Kiwi fruit blends well with other fruits and makes a striking garnish, but it is also highly satisfying (and nutritious) eaten on its own. Ounce for ounce, it is higher in Vitamin C than most fruits and is a decent source of potassium.

The kiwi fruit was a much-appreciated treat in ancient China, and was introduced into New Zealand in 1906, where it was called "Chinese gooseberry" (although it isn't related to the green gooseberry). Years later, as foreign demand for the fruit increased, New Zealanders renamed it for their national treasure, the kiwi bird. Today, kiwi fruit is also a commercial crop in California. New Zealand and California have opposite growing seasons; consequently, a year-round supply is available. (The fruit keeps well for up to 10 months in cold storage, allowing it to be brought to market for several months after it is harvested.) Both New Zealand and California produce one principal variety, the Hayward.

Availability

California kiwi fruit is available from November through May; the New Zealand supply is at its peak from June to October. Chile provides additional fruit from May through July.

Shopping

For the sweetest, fullest flavor, choose plump, fragrant kiwi fruit that yield to gentle pressure, like ripe peaches. Unripe fruit has a hard core and a tart, astringent taste. If only firm kiwis are available, ripen them for a few days before eating them. Reject shriveled or mushy fruits, or those with bruises or wet spots.

Storage

To ripen firm kiwis, leave them at room temperature, but away from heat or direct sunlight, for a few days to a week. Hasten ripening by placing them in a paper bag with an apple, pear, or banana. Once a kiwi fruit is ripe, however, store it far from other fruits, as it is very sensitive to the ethylene gas they emit, and tends to overripen even in the refrigerator. Ripe kiwis should keep for about one to two weeks.

Preparation

Kiwi fruit can be peeled with a vegetable peeler or sharp paring knife. (Peeling is easier if the ends of the fruit are cut off first.) To eat the fruit with a spoon, cut it in half crosswise or lengthwise and scoop out the flesh. If the peachlike fuzz is rubbed off, the fruit can be eaten skin and all.


Kiwi Fruit Nutritional Information
Kiwi Fruit/1 medium
Calories: 46
Total Fat (g): 0.3
Saturated fat (g): 0
Monounsaturated fat (g): 0
Polyunsaturated fat (g): 0.2
Dietary fiber (g): 2.6
Protein (g): 1
Carbohydrate (g): 11
Cholesterol (mg): 0
Sodium (mg): 4
Vitamin C (mg): 75

Source: WholeHealthMD.com

---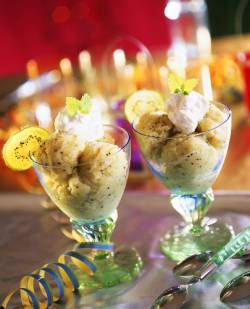 Kiwi Sorbet
Makes 6-8 servings

Green is the color of growing things. The flavor of green fruits is light, fresh and clean, and their texture is crisp and juicy. They are naturally good for you. This sorbet, a light and fresh alternative to rich ice cream, combines the complementary flavors of tropical kiwifruits and tart lemon juice.

Ingredients:
6 kiwi fruits, peeled
2⁄3 cup granulated sugar
1 1/2 cups water
1⁄2 cup fresh lemon juice
12 fresh mint leaves, thinly sliced
1 egg white
3 tbsp. Cointreau or other liqueur of choice (optional)

Garnish: (optional)
Lemon zest strips
Sliced peeled kiwifruits
Mint leaves
Whipped cream

Directions:
In a blender, puree the kiwifruits just until smooth. Do not overblend or the seeds will break up and make the puree bitter. Measure out 2 cups puree. Set aside.

In a saucepan over medium heat, combine the sugar and water and bring to a boil, stirring to dissolve the sugar. Simmer the syrup for 5 minutes. Let cool, then chill for 2 hours.

In a bowl, combine the kiwi puree, lemon juice, mint and cold syrup and stir to combine. Pour into a shallow metal baking pan and freeze until icy, about 4 hours. Process in a food processor or beat with an electric mixer until smooth. Add the egg white and liqueur, and process or beat until fluffy. Refreeze until firm, about 4 hours, then beat again. Pack the sorbet into a container and freeze completely, 4 hours more.

Serve in chilled glasses, and if desired, garnish each serving with lemon zest, mint leaves and/or sliced kiwifruits and a dollop of whipped cream.

Makes 6-8 servings.

Adapted from New Healthy Kitchen Series, Desserts, by Annabel Langbein (Simon & Schuster, 2006).

---
Until Next Time
Well, it's been a treat (no pun intended) to include these summer time recipes in this edition of my newsletter. I am wishing that all of you will enjoy reading about them, and hopefully make one or two of them. Please drop me an email and let me know how you liked the recipes, okay.

I wish all of you a wonderful and fun summer enjoying the nice weather and spending time with those family and friends you love and care about. Summer is a lovely time of the year, especially when you can make treats and desserts with all the lovely fresh fruit that's available.

I plan to be back with another edition of Diana's Desserts Newsletter in late September or October. Look for it in your email at that time.

If you'd like to share one of your favorite dessert recipes with the guests of Diana's Desserts Website, please click on the link below. I am always pleased to include your wonderful recipes on my website.

Submit a Recipe

Take good care, and see you in the Fall.

Sincerely, Diana

Diana's Desserts


---
This email was sent to [email]. You can instantly unsubscribe from these emails by clicking here.