EDITION NUMBER 50

Celebrating Chinese New Year and Valentine's Day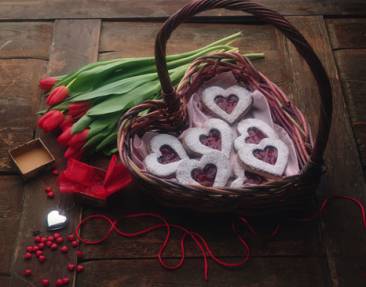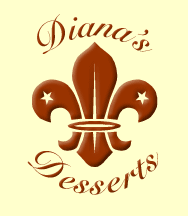 February 3, 2008

Welcome Home Bakers and Friends,

First of all, I want to wish all of you a very Happy New Year, and I hope that 2008 is starting off as a very good year for everyone. Which brings me to Chinese New Year's which is celebrated this year beginning on February 7th, and as always lasts for 15 days. It is an important holiday in Asia and many other places where Chinese and other Asian people live, such as here in the US, the UK and Canada. The festival traditionally begins on the first day of the first lunar month, in the Chinese calendar, and ends on the 15th. This day is called the Lantern Festival. This year is the Year of the Rat. I've included below a couple of very nice desserts to serve for this special celebration.

Also, February is the month for lovers. So for this special day of love, Valentine's Day, which is celebrated on February 14th, I have included a few sweets recipes for this lovely day.

How We Spent the Holiday Season
It was late November 2007 when I sent out my last edition of Diana's Desserts Newsletter and I want to let you know that the "holidays" for us (my husband and myself) were very nice and also very quiet. We did go out for Thanksgiving to one of our favorite local restaurants; Latitude, and we spent Christmas Day with my cousins at their warm and very lovely home. We had a fun time and we enjoyed visiting with everyone. It's always nice to see relatives and friends during the holidays, and since we don't see them too much during the year, it was good to share the joy of the season with them.

Since, for some reason, I am not that fond of New Year's Eve or New Year's Day, we stayed home, cuddling on our leather sofa by the fireplace with our doggies and watched TV. It was not too exciting, but at least, it was quiet and safe.

Also, since I am diabetic and have been taking insulin since June of last year, I have been making my desserts with sugar substitutes, such as Splenda. For Christmas, I made a very tasty Gingerbread Cake which we took to my cousin's home on Christmas day, and everyone seemed to really enjoy it. I served it with fat-free whipped cream. It was quite good if I say so myself.

I have also been going to Weight Watchers to shed a few pounds, so "life" and "eating" is a bit different for me now. It's definitely been a change for the better, and I hope by this time next year, I'll be off the insulin and down to my goal weight.

Well, it's on to the recipes. I do hope you make one or two of them and that they're enjoyed by your family, friends or both.

---
Chinese New Year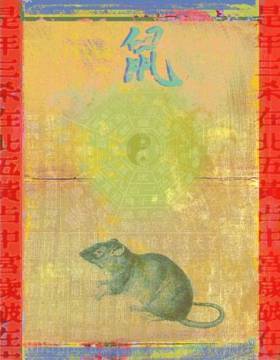 Chinese New Year 2008 begins on February 7th. The New Year season lasts fifteen days. The first three days are the most important and are usually spent celebrating with visits to friends and family. The seventh day traditionally is everyone's birthday, the day when everyone grows one year older. The celebrations end on the important and colorful Lantern Festival on the evening of the 15th day of the new moon.

Recipes
Sweet and Snowy Rice Dumplings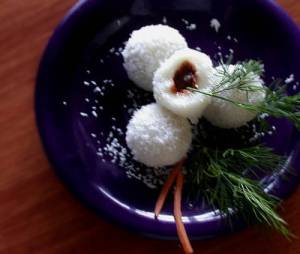 Servings: 4-6 servings

Comments:
For centuries, the Chinese have considered the sticky rice soup dumpling, or yuan xiao, a favorite treat during family reunions, Chinese New Year and lantern parades. But when you coat these dumplings in a fragrant and flaky layer of dried coconut powder, you transform the traditional dessert into a finger food that is both easy to make and easy to enjoy.

Ingredients:
1 bag (30 or so) of small pre-made sticky rice dumplings (they are available at most Asian markets with a variety of filling flavors such as sweet sesame, jasmine, etc.)
3-4 cups powdered coconut meat

You will need:
1 medium plate
1 large bowl
Wire strainer

Instructions:
1. Bring a small pot of water to boil over medium heat

2. Boil dumplings for 7 minutes or until they are floating in the water

3. Strain dumplings before putting them on a cool plate

4. Fill the bowl with coconut powder and quickly roll individual dumplings (before their surfaces dry and lose stickiness) in the powder until their surfaces are entirely covered

5. Refrigerate before serving.

Makes 4-6 servings.

Click here to view recipe and photo of Sweet and Snowy Rice Dumplings on Diana's Desserts Website

---
Citrus Sorbet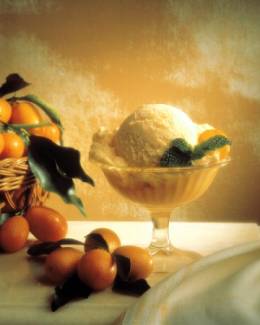 Servings: 4

Comments:
If you want to make a traditional Chinese New Year Sorbet, then consider using mandarin oranges or even kumquats. Here's the reason why these fruits are so much a part of Chinese New Year:

Because oranges are considered symbols of wealth; the "orange" in Chinese having the same sound as "wealth", the oranges are given and received as a form of well-wishing and are displayed for good luck.

Another familiar ornament for the New Year is the kumquat plant. The fruits, with their bright yellow skins, were thought to symbolize "gold in abundance." People believed that counting the kumquats would cause them to fall, that's a misconception. Since the kumquats represented abundance, to count them means you are placing a limit on your own abundance and prosperity. That's the actual reason why counting them is discouraged.

Below is a recipe for Citrus Sorbet. You may use oranges, kumquats, lemons or limes, but of course using oranges would be the most appropriate for Chinese New Year.

Ingredients:
1/2 cup fresh citrus juice* (See Note)
1 1/2 cups water
1/4 cup granulated sugar
1 tablespoon vodka, (optional)
2 teaspoons grated orange, kumquat, lime or lemon zest* (See Note)

Garnish: (optional)
Mint leaves
Fresh oranges or kumquats

Serve with:
Orange Sauce (optional-See recipe below)

Instructions:
Ice Cream Machine Made Method:
1. Combine all ingredients (except for orange sauce) in a large glass measuring cup or pitcher. Stir until sugar has dissolved. Chill until the mixture reaches 40 degrees F (about the temperature of a properly operating refrigerator), or simply place the citrus mixture in the refrigerator overnight to chill it. A quicker method is to stir the mixture in a bowl over an ice-water bath.

2. Transfer mixture to the freezer until temperature drops to 38 degrees F, about 10 minutes.

3. Transfer to an ice-cream machine and churn according to manufacturer's directions. Scoop into a plastic container, seal well and transfer to the freezer for several hours. If when ready to serve, sorbet is hard to scoop, let it sit at room temperature for a few minutes to soften. Serve sorbet over Orange Sauce (optional) and garnish each serving with a mint leave and thin, crisp wafers or cookies. If desired, decorate each serving with sliced oranges or 1 or 2 kumquats.

Note:
Citrus Juice and Zest
Either orange, kumquat, lemon or lime juice and the zest from these fruits may be used in this recipe for citrus sorbet.

Tip:
Though the recipe calls for an ice-cream maker, sorbets may be made by hand.

Handmade Method:
To do so, the mixture should be placed in the freezer until semi-frozen, about 2 hours. Then whisk the semi-frozen sorbet and return it to the freezer. Periodically, about every 20 minutes, take it out and whisk it again, until frozen, about 2 hours.

Orange Sauce (optional)

Ingredients:
1/4 cup granulated or superfine sugar
4 teaspoons cornstarch
3/4 cup frozen orange juice concentrate, thawed
1/3 cup water
2 tablespoons butter, cut up
1 tablespoon finely shredded orange peel

Instructions:
In a medium saucepan combine sugar and cornstarch; stir in thawed orange juice concentrate and water. Cook and stir over medium heat until thickened and bubbly. Cook and stir for 2 minutes more. Remove from heat; stir in the 2 tablespoons butter and orange peel. Cover and cool completely.

Makes approximately 1 cup sauce.

Source: DianasDesserts.com

Click here to view recipe and photo of Citrus Sorbet on Diana's Desserts Website

---
Guest Submitted Recipe for Chinese New Year
Here is a recipe that was submitted to Diana's Desserts Website by Choo Teck Poh, a Chinese woman who is from and lives in Malaysia.

Kuih Bangkit/Shih Fun Paeng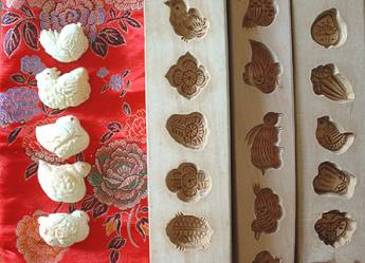 Servings: Makes 100 cookies

Comments:
You'll find this cookie in every Malaysian home during Chinese New Year. Melts in the mouth!

Ingredients:
350g/13 oz. tapioca flour
5 pieces pandan/screwpine leaves
1 tsp. salt
2 tbsp. custard powder
2 large egg yolks
140g/5 oz. fine granulated sugar* (See Notes)
150 ml thick coconut milk* (See Notes)
1 tbsp. butter
Red food coloring

*Notes:
It would make a lot of difference if you can get fresh coconut milk. A medium-sized coconut yields 150 – 200 ml milk. However, coconut milk in cartons is acceptable. Make sure you get "thick" coconut milk.

Fine granulated sugar is called caster sugar in the UK and in some other countries, and is called Baker's sugar or Superfine sugar in the United States.

Instructions:
1. Wash the pandan leaves. Wipe them dry and cut into 2-inch pieces.

2. Fry the tapioca flour in a wok together with the pandan leaves till it is very light and fluffy. Make sure the wok is big so that the flour will not splatter out as you fry it. The "lightening" will take around 15 minutes for this amount of flour. Leave to cool.

3. Sift flour gently (it's so light it will fly) together with salt and custard powder.

4. Fill a cloth bag with some tapioca flour. This will be used to dust the moulds. The moulds should be washed in warm soapy water, rinsed and left to dry thoroughly before use. Prepare this a day or two in advance.

5. Whisk egg yolks and sugar till pale and fluffy. Add butter.

6. Alternately add flour mixture and coconut milk. The last addition of flour should be done bit by bit to get a good firm dough. Dough should not be too wet or too dry.

7. Dust moulds well. Pinch a small ball of dough and firmly press into mould. However, do not use too much pressure or the dough will have difficulty coming out. Slice off excess with a knife, and press excess together with the rest of the dough in a bowl covered with a damp cloth. Hold the moulds at 45 degree angle and give a firm knock on the working surface. As soon as the cookie comes out of the mould, pick it up and arrange in a parchment-lined pan. You may place the cookies as close as 1/2 an inch away as there is not much expansion.

8. If the moulds are not dusted evenly, you may get some dough stuck in the crevices. Use a pointed toothpick to gently get the dough out – not too hard or the carvings might get distorted.

9. Fill a small dipping bowl with red food coloring and using a toothpick make a dot on each cookie.

10. Bake in preheated 170 degree C (340 degree F) oven for 10 to 15 minutes. The cookies should just begin to have some color. However, some people like to have the fragrance of "browner" cookies, in which case, you can leave it in the oven for a few more minutes. Cool.

11. Soak moulds in warm soapy water for 5 minutes and clean with a soft brush. Dry.

Makes approximately 100 cookies.

Photograph taken by Choo Teck Poh ©2005

Source: Mom's tweaked recipe

Submitted By: Choo Teck Poh

Click here to view recipe and photo of Kuih Bangkit/Shih Fun Paeng on Diana's Desserts Website

---
Valentine's Day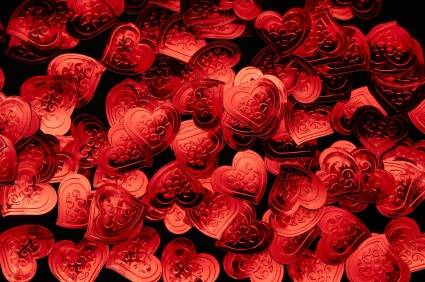 February is the month for lovers, great friends, and just a time to celebrate love in general! Valentines Day is certainly the right time to make some very romantic and special desserts for those we love and care very much about. Here are a few dessert recipes, a very special beverage recipe and a delicious cookie recipe that is great for gift-giving for this day of "Cupid's" Love Arrow.

Recipes
Chocolate Amaretti Heartbreakers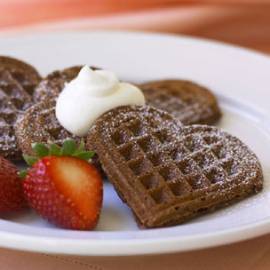 Servings: Makes about 10 full five-of-hearts or about six 6 1/2-inch round waffles

Comments:
These are really waffled cakes—moist, cocoa-rich and flecked with ground amaretti (Italian macaroons) and bittersweet chocolate. They're delicious as is with just a sprinkling of confectioners' sugar, luscious with lightly sweetened, softly whipped cream, and downright indulgent with ice cream and hot fudge sauce.

Ingredients:
3 large double amaretti (or 6 amaretti from 3 paper-wrapped packets)
2 oz. high-quality bittersweet chocolate
5 tbsp. (70g) unsalted butter
1 1/4 cups all-purpose flour
1 1/2 tsp. double-acting baking powder
1/4 tsp. baking soda
Pinch of salt
3/4 cup granulated sugar
1/3 cup cocoa, preferably Dutch process
1 1/2 cups milk
1 tsp. vanilla extract
1/4 tsp. almond extract
2 eggs
Confectioners' sugar, sweetened whipped cream, ice cream and/or hot fudge sauce for serving (optional)

Instructions:
Place the amaretti and bittersweet chocolate in the work bowl of a food processor or in a blender and process until pulverized; set aside.

Preheat a waffle iron. If you'd like to serve the waffles warm, preheat an oven to 350 degrees F/180 degrees C.

Melt the butter; set aside. In a large bowl, whisk together the flour, baking powder, baking soda, salt, granulated sugar and cocoa. In another bowl, whisk together the milk, vanilla, almond extract and eggs until well blended. Pour the liquid ingredients over the dry ingredients and stir with the whisk to combine. Fold in the amaretti-chocolate mixture and the melted butter.

Lightly butter or spray the grids of the waffle iron, if needed. Brush or spray the grids again only if subsequent waffles stick.

Spoon out 1/3 cup of batter (or the amount recommended by the manufacturer's instructions) onto the hot iron. Use a metal spatula or wooden spoon to spread the batter evenly over the grids. Close the lid and bake until just set. Bake these slightly less than you do other waffles because chocolate has a tendency to burn easily. There's no need to worry, but you do want to keep an eye on these. Transfer the finished waffles to a cooling rack while you make the rest. If desired, just before serving, warm the waffles briefly, about 2 minutes, in the oven. They're good at room temperature, too.

To Serve:
You can present a full five-of-hearts to each person, shaking a dusting of confectioners' sugar over the entire waffle and then scooping some whipped cream or ice cream onto the center. Hot fudge sauce is both luscious and luxurious over these. Broken into individual hearts and filled with ice cream, these make fabulous sandwiches.

Makes about 10 full five-of-hearts or about six 6 1/2-inch round waffles.

Adapted from Waffles from Morning to Midnight, by Dorie Greenspan (Weldon Owen, 2001).

Source: Williams-Sonoma

Click here to view recipe and photo of Chocolate Amaretti Heartbreakers on Diana's Desserts Website

---
Sweetheart Scones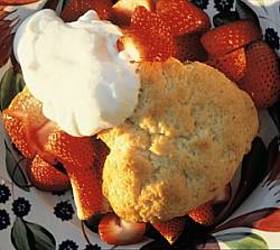 Servings: Makes 10 scones

Comments:
A basket of warm and fragrant heart shaped scones will make sleepy heads rise and shine on Valentine's Day morning. These buttery biscuits, studded with currants, dried cherries or chocolate chips and scented with orange zest, are delicious on their own or served with whipped cream, double or clotted cream and fresh strawberries. If you're an early bird, you can marinate the currants in orange juice for 30 minutes, and then strain before adding to the dry ingredients.

Those who are French at heart love to linger over breakfast, especially one that includes warm breakfast bread, croissants or scones filled with bittersweet or semi-sweet chocolate. Wherever you wake, pretend you're in Paris with the luscious chocolate filled scone variation (Chocolate Filled Scone variation follows recipe).

Ingredients:
2 cups all-purpose flour
1/4 cup granulated sugar
1 tablespoon baking powder
Pinch of salt
6 tablespoons (3/4 stick/3 oz./85g) unsalted butter, frozen
1 teaspoon grated or finely minced orange zest* (See Note below)
3/4 cup currants, dried cherries or semi-sweet chocolate chips
1 egg, lightly beaten
3/4 cup half and half (half cream/half milk)

Serve scones with:
Whipped cream, double cream or clotted cream and fresh strawberries. If making the scones with dried cherries, serve with cherry preserves or jam.

Instructions:
Preheat oven to 350 degrees F/180 degrees C. Set aside a parchment paper lined baking sheet.

In a bowl, whisk together the flour, sugar, baking powder, and salt until well blended. Using the large holes of a grater, grate the frozen butter into the flour mixture. With a pastry cutter, two knives, or your fingertips, work the pieces into the flour for 30 seconds to 1 minute, until the mixture resembles coarse crumbs. The bits of butter should still be cool to the touch. Toss in the zest and the currants or chocolate chips. Combine the egg and half and half, and stir into the flour mixture until the dough holds together. Do not over mix.

Dust your hands with flour and loosely gather the dough into a ball. Turn it out onto a lightly floured surface. Knead gently two or three times. Lightly pat or roll the dough 1/2 to 3/4 inch thick. Dip a 2 1/2-inch heart or muffin cutter into flour, and cut out the scones. Place on the parchment paper lined baking sheet and bake until golden, 12 to 15 minutes. Serve warm with cream and strawberries or strawberry or cherry preserves or jam.

Note:
If using dried cherries, substitute the orange zest in the recipe with 1/2 tsp. almond extract. Add the extract to the egg and half and half mixture.

Makes 10 scones.

Variation
Chocolate Filled Scones
Follow the recipe above, omitting the currants, dried cherries or chocolate chips and continuing as directed, rolling the dough 1 inch thick. Cut out six scones with a 2 1/2-inch round biscuit cutter. Bake until golden, about 20 minutes. Immediately make a horizontal slit into each scone, leaving a hinge of crust to hold the two halves together. Insert a portion of bittersweet chocolate bar (I like Perugina, Scharffen Berger, or Lindt) that is slightly larger than the opening, allowing a slip of chocolate to show. Wait 1 minute for the chocolate to slightly warm before serving with a napkin. The chocolate will retain its shape, until the first bite.

Click here to view recipe and photo of Sweetheart Scones on Diana's Desserts Website

---
Brûléed Mini Cheesecakes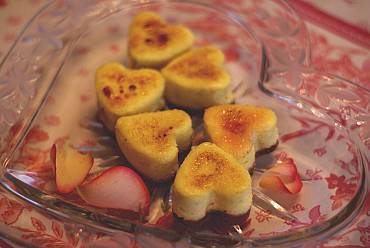 Servings: Makes 12 mini cheesecakes

Comments:
These mini cheesecakes make a sweet and creamy dessert to serve for Valentine's Day. Using a kitchen torch to caramelize the sugar topping gives them a nice crispy taste.

Make them in a heart shaped mini cheesecake pan (made by Chicago Metallic) or a regular mini cheesecake pan (made by NorPro). Either type of pan make 12 mini cheesecakes which is just right for this recipe. Regular or heart shaped mini cheesecake pans can be found at cooking stores and also online at various stores such as, amazon.com, chefscatalog.com or zaccardis.com.

Kitchen Torch:
Traditionally used to caramelize sugar on crème brûlée, a kitchen torch is also handy for creating a crispy caramelized topping on individual cheesecakes. Kitchen torches may also be purchased at cooking stores and also at stores online, such as Amazon.com.

Ingredients:
1/2 cup graham cracker crumbs
2 tbsp. unsalted butter, melted
2 tbsp. plus 1/3 cup granulated sugar
12 oz. cream cheese, at room temperature
2 eggs
1/4 cup heavy cream
6 tsp. superfine or caster sugar

Instructions:
Preheat oven to 325 degrees F/160 degrees C. Lightly butter the wells of a mini cheesecake pan (regular or heart shaped).

In a bowl, combine the graham cracker crumbs, butter and the 2 tbsp. granulated sugar and stir until blended. Divide the mixture among the prepared wells. Using the bottom of a shot glass or other small glass, press the mixture evenly into the bottom of the wells. Bake the crusts for 10 minutes. Transfer the pan to a wire rack and let cool.

Reduce the oven temperature to 275 degrees F/135 degrees C.

In the bowl of an electric mixer fitted with the flat beater, combine the cream cheese and the 1/3 cup granulated sugar and beat on low speed until smooth, scraping down the sides of the bowl often. Beat in the eggs one at a time, scraping down the sides of the bowl after each addition. Add the cream and beat until blended. Pour the filling into the crusts, dividing it evenly among the wells.

Bake until the filling is set, 15 to 20 minutes. Transfer the pan to the wire rack and let cool to room temperature. Cover the pan with plastic wrap and refrigerate for at least 3 hours or up to 2 days before serving.

Just before serving, sprinkle about 1/2 tsp. of the superfine sugar evenly over each cheesecake. Using a kitchen torch, melt the sugar according to the manufacturer's instructions. Remove the cheesecakes from the pan and serve immediately.

Makes 12 mini cheesecakes.

Photograph taken by Diana Baker Woodall© 2007

Click here to view recipe and photo of Brûléed Mini Cheesecakes on Diana's Desserts Website

---
Linzer Heart Cookies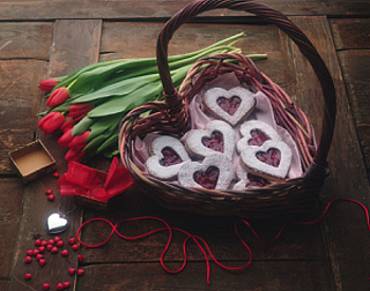 Servings: Makes 1 dozen cookies

Comments:
Linzertorte
Though it's now famous around the world, the motherland of this elegant, rich tart is Linz, Austria. Ground almonds, grated lemon rind and spices add their magic to the buttery crust, which is spread with jam (usually raspberry) before being topped with a lattice of crust. After baking, the tart is served at room temperature.

Linzer Cookies
The Linzer Cookie is the cookie variation of the famous Linzertorte; two cookies sandwiched together with a seedless jam (usually raspberry), and then topped with a dusting of confectioners' sugar. A delicious and very pretty cookie to serve during the holidays or for Valentine's Day.

Ingredients:
1 cup hazelnuts, toasted and skinned
8 tbsp. (1 stick/4oz/113g) unsalted butter, at room temperature
1/2 cup granulated sugar
1 egg yolk
1 tsp. finely grated orange or lemon zest
3/4 tsp. vanilla extract
1/4 tsp. almond extract
1 cup all-purpose flour
1/2 tsp. ground cinnamon
1/4 tsp. salt
About 1/4 cup seedless raspberry or strawberry jam
Confectioners' sugar for dusting

Instructions:
To Toast Nuts:
Preheat an oven to 325 degrees F (160 degrees C). Spread the nuts in a single layer on a baking sheet and toast in the oven, stirring occasionally, until the nuts are fragrant and golden (or their papery skin starts to crack). Depending on the type and size of the nuts, this will take 10 to 20 minutes. Start checking after 10 minutes. The moment the nuts come out of the oven, pour them onto a plate to cool. They will continue to toast and may burn if left on the hot baking sheet. To remove skins of nuts such as hazelnuts, rub them while still warm in a clean kitchen towel.

In a food processor, finely grind the toasted hazelnuts using short pulses. Set aside.

In a large bowl, using an electric mixer, beat the butter on high speed until fluffy and pale yellow. Add the granulated sugar and continue beating until combined. Reduce the speed to low. Add the egg yolk, orange zest, vanilla and almond extract and beat until blended.

Sift together the flour, cinnamon and salt into another bowl. Add the ground hazelnuts and stir to blend. Add the flour mixture to the butter mixture and beat on low speed or stir with a wooden spoon until blended. The dough should be soft. Turn the dough out onto a work surface, divide into 4 equal portions and wrap each in plastic wrap. Refrigerate until chilled, about 1 hour.

Preheat an oven to 350 degrees F (180 degrees C). Lightly grease 2 baking sheets or line with parchment paper.

Remove 1 portion of the dough at a time from the refrigerator, place between 2 sheets of waxed paper and roll out 1/4 inch thick. Using a heart shaped cookie cutter about 2 1/2 to 3 inches in diameter, cut out the cookies. Using a 1 1/4 to 2-inch heart shaped cookie cutter, cut a heart shape in the center of half of the cookies. Repeat with the remaining portions of dough, then reroll the dough scraps as needed to make 24 cutouts total, cutting heart shapes in half of them. If the dough becomes sticky, wrap it in plastic wrap and freeze for 10 minutes before rolling out.

Using a thin spatula, carefully transfer the cookies to the prepared baking sheets. Bake until the cookies are firm to the touch, about 12 minutes. Transfer the baking sheets to wire racks. Loosen the cookies with the spatula, but leave the cookies on the sheets until thoroughly cooled.

To assemble, spread the solid cookies with a thin layer (about 1 tsp.) of raspberry or strawberry jam to within about 1/4 inch of the edges. Dust the cut-out cookies generously with confectioners' sugar. Top the solid cookies with the cut-out cookies.

Makes 1 dozen cookies.

Source: DianasDesserts.com

Click here to view recipe and photo of Linzer Heart Cookies on Diana's Desserts Website

---
Sweetheart Pink Bubbly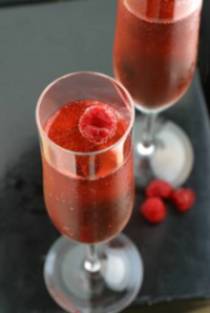 Servings: Makes two (5 ounce) servings

Comments:
A romantic and very colorful cocktail to serve your "sweetheart" on Valentine's Day. Can be made without alcohol (See recipe ingredients).

Ingredients:
8 ounces champagne (7-Up, Sprite or Ginger ale may be substituted for an alcohol-free version)
2 ounces cranberry juice

Garnish:
Fresh cranberries or frozen raspberries
Mint leaves (optional)

Instructions:
Combine 4 ounces champagne (or 7-Up, Sprite or Ginger ale, if doing an alcohol-free versions), and 1 ounce cranberry juice in each champagne flute. Drop a few whole cranberries or frozen raspberries in each glass and garnish with mint leaves, if desired.

Makes 2 servings.

Source: DianasDesserts.com

Click here to view recipe and photo of Sweetheart Pink Bubbly on Diana's Desserts Website

---
A Guest Submitted Valentine's Day Recipe
A Heart for All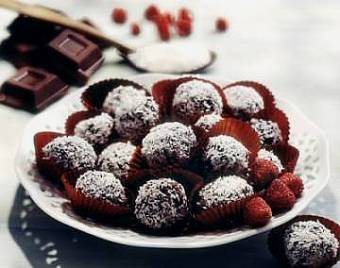 Servings: Makes 6 Coconut-Chocolate Balls

Comments:
Ideal for after a romantic Valentine's Day meal, or serve with coffee or tea at an afternoon tea.

Ingredients:
200g (7 oz.) creamed coconut
1 tsp. pink or red food colouring
100g (3 1/2 oz.) melted chocolate
50g (approximately 1/4 cup) icing sugar (confectioners' sugar or powdered sugar)
A little extra icing sugar or shredded coconut

Instructions:
Mix the creamed coconut, food colouring and icing sugar together in a bowl. Roll the mixture into 6 individual balls and cover in the melted chocolate. Place balls on tray lined with waxed paper or parchment paper. Leave to cool for 30 minutes in the refrigerator. Remove from refrigerator once cooled and sprinkle with icing sugar (or shredded coconut) and return them to refrigerator until ready to serve.

Makes 6 coconut-chocolate balls.

Source: Home Recipe
Submitted By: Jeni
Date: September 30, 2005

Click here to view recipe and photo of A Heart for All on Diana's Desserts Website

---
Food Tips and Information Section
Kumquats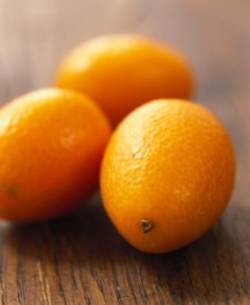 What are they?
Diminutive citrus fruits that are eaten skin and all, kumquats are as decorative as they are tasty. The egg-shaped orange fruits are about 1 1/2 inches long, and often come with the shiny dark-green leaves attached. Kumquat are an excellent source of Vitamin C. A 3 1/2-ounce serving (about 5 kumquats) supplies 62% of the Daily Value of Vitamin C in only 63 calories.

Availability

The best supply of kumquats is during winter, and they are available in supermarkets, Asian grocery stores, and gourmet grocers.

Choosing a Good Kumquat

Choose plump, shiny, fully-orange fruits.

Preparation

Wash kumquats very well before serving, since the skin as well as the pulp is eaten. To mingle the flavors of the sweet rind and tart flesh, squeeze the kumquats between your fingers before biting into the fruit. Add kumquat slices to fruit salads and use the whole or sliced fruit as an edible garnish. Try kumquats in cooked dishes that call for oranges.

Nutritional Information for Kumquats

Serving Size: 5 raw kumquats

Calories: 60
Total Fat: 0.1g
Saturated fat: 0g
Monounsaturated fat: 0g
Polyunsaturated fat: 0g
Dietary fiber: 6.3g
Protein: 0g
Carbohydrate: 16g
Cholesterol: 0mg
Sodium: 6mg
Vitamin C: 36mg

Source: WholeHealthMD.Com

---
Recipe Using Fresh Kumquats
Gingerbread Layer Cake with Candied Kumquats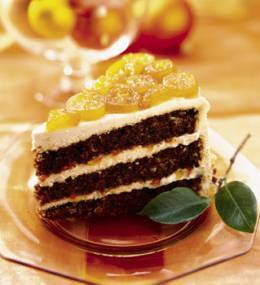 Servings: Makes 12 servings

Comments:
Since Kumquats are a winter fruit, this wonderful cake makes a perfect dessert for Christmas or Hanukkah, or make it anytime during kumquat season for a delicious and special winter time dessert.

Ingredients:
For the Cake:
1 cup cola (any brand)
1 1/2 teaspoons baking soda
1 cup mild-flavored (light) molasses
2 cups all-purpose flour
2 tablespoons ground ginger
1 1/2 teaspoons baking powder
1 1/4 teaspoons ground cinnamon
3/4 teaspoon ground cloves
1/2 teaspoon ground nutmeg
1/2 teaspoon salt
1 cup dark brown sugar, firmly packed
3/4 cup vegetable oil
3 large eggs

For the Candied Kumquats:
1 cup water
3/4 cup honey
1/4 cup sugar
15 whole cloves
2 cinnamon sticks, broken in half
1 vanilla bean, split lengthwise
22 ounces fresh kumquats, cut into 1/4-inch-thick rounds, seeded

For the Frosting:
1 1/3 cups dark brown sugar, firmly packed
1/2 cup plus 1 tablespoon whipping cream
2 8-ounce packages cream cheese, room temperature
3/4 cup (1 1/2 sticks/6 oz./170g) unsalted butter, room temperature
1 tablespoon vanilla extract

For Topping Top and Sides of Cake:
1 cup pecans, toasted, chopped
1/3 cup chopped crystallized ginger

Instructions:
For the Cake:
Preheat oven to 350 degrees F/180 degrees C. Butter and flour 3 nonstick 9-inch round cake pans with 1 1/2-inch-high sides.

Bring cola to boil in heavy medium saucepan. Remove from heat; whisk in baking soda, then molasses. Transfer to large bowl; cool to room temperature. Whisk flour and next 6 ingredients in medium bowl to blend. Whisk sugar, oil, and eggs into molasses mixture. Whisk in dry ingredients. Divide batter among prepared cake pans (about 1 2/3 cups batter for each).

Bake cakes in preheated oven until tester inserted into center comes out clean, about 18 minutes. Cool cakes in pans on racks 15 minutes. Turn cakes out onto racks; cool cakes completely.

For Candied Kumquats:
Bring first 5 ingredients to boil in heavy large skillet, stirring to dissolve sugar. Scrape in seeds from vanilla bean; add bean. Add kumquats; reduce heat to medium and simmer until almost tender, stirring often, about 6 minutes. Using slotted spoon, transfer kumquats to plate. Boil syrup until reduced to 2/3 cup, stirring often, about 8 minutes. Cool syrup.

For Frosting:
Stir brown sugar and whipping cream in heavy small saucepan over medium heat until sugar dissolves; cool caramel completely. Transfer 1/4 cup caramel to small bowl and reserve. Using electric mixer, beat cream cheese, butter, and vanilla in large bowl until smooth. Beat remaining caramel into frosting until well blended.

Chop enough candied kumquats to measure 1/3 cup; mix in small bowl with 1 tablespoon kumquat syrup. Place 1 cake layer on platter. Spread 3/4 cup frosting over. Dot with half of chopped-kumquat mixture. Drizzle with half of reserved caramel. Top with second cake layer. Spread 3/4 cup frosting over. Dot with remaining chopped-kumquat mixture. Drizzle with remaining reserved caramel. Top with third cake layer. Spread remaining frosting over top and sides of cake. Arrange enough sliced kumquats in single layer atop cake just to cover.

For Topping the Top and Sides of Cake:
Mix pecans and ginger in small bowl. Press nut mixture halfway up sides of cake. Chill 1 hour. (Cake can be made 1 day ahead. Cover cake with cake dome; chill overnight. Cover remaining kumquat syrup; let stand at room temperature.) Drizzle some kumquat syrup over kumquats atop cake. Serve cake cold or at room temperature.

Makes 12 servings.

Source: Bon Appétit Magazine, December 2003

Click here to view recipe and photo of Gingerbread Layer Cake with Candied Kumquats on Diana's Desserts Website

---
Until Next Time
For those of you who celebrate Chinese New Year, have a healthy, happy and lucky year. And for those of you who celebrate Valentine's Day, have a loving time.

I will be back with another edition of Diana's Desserts Newsletter in the Spring. So look for it arriving in your email in 2 to 3 months.

Happy Baking and Cooking and enjoy the recipes.

PS.
If you'd like to submit one of your favorite dessert, bread or beverage recipes to Diana's Desserts Website, click on the link below:

Submit a Recipe

Sincerely, Diana

Diana's Desserts


---
This email was sent to [email]. You can instantly unsubscribe from these emails by clicking here.