EDITION NUMBER 32
LABOR DAY WEEKEND DESSERTS AND BACK TO SCHOOL TREATS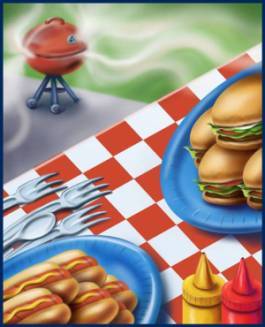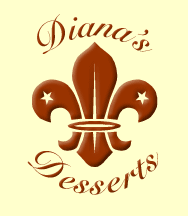 August 28, 2005

Welcome Home Bakers and Friends,

My husband Kenny and I have enjoyed the summer just being lazy and taking it easy. We haven't gotten away yet for a vacation or even a long weekend, but that's ok, because we live in such a nice, peaceful area here in the beautiful Napa-Sonoma Wine Country in California that it's really not a necessity to have to "get away". But I guess, it would be nice to see some different scenery and maybe we'll do that later in the year, but for now we're really enjoying our garden and our best friends, our dogs; Rosie, Clancy and Buster Brown (Shetland Sheepdog, White Boxer and Papillon, in that order), and of course, doing a little baking here and there. Not too much because as you know it's not fun to bake when the weather is really hot. I save most of my baking time for the fall and winter when it's comfortable in the kitchen. I've been thinking a lot about the holidays lately, what I would like to make and it's only the end of August. What does this mean? I think it means, for some strange reason, I seem to like the fall and winter time more then summer. There's just a "good feeling" when the air is crisp and the sun is shining, and it's not real hot, just the nice warmth of the sun on your face that hits you when you open your front door.

I hope you had a nice summer, enjoying the warmer weather (unlike myself who would choose to live where the average temperature is 65 degrees and doesn't mind if it is foggy or rainy most of the time) and maybe some of you have taken a holiday or a long weekend to the beach or the mountains. After all, in a month or so, the weather will begin to cool down and we'll have to start wearing our heavier sweaters and jackets again, and before you know it, it will be time to "settle in" for autumn and a long winter (great time to do some "comfort food" baking). Also, it's that time of year in the United States and Canada when we celebrate the last long weekend of summer, Labor Day Weekend (Labor Day is celebrated on Monday September 5th this year), and then for some, it's "Back to School" for their kids and for young adults starting college or returning to school for the Fall season. So, I thought this would be a good time to write about recipes that will be enjoyed by "the end of summer barbequers and their families and guests", and also hope to give some of you good ideas for your kid's Back to School and After School Treats.

In this edition of my newsletter, the Food Tips and Information Section below is all about Plums, a wonderful fruit to eat "out of hand" or use for baking or poaching. Enjoy them fresh while they're still in season, or prepare plum jam or preserves for the cooler months when the fruit is not freshly available. Plum jam or preserves are wonderful on toast, English muffins or scones.

---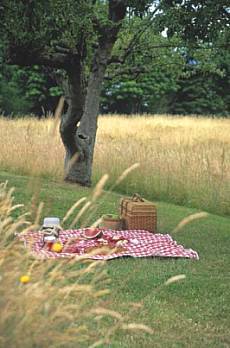 Labor Day and its History

Labor Day - Monday September 5, 2005

Labor Day is a national legal holiday that is over 100 years old. Over the years, it has evolved from a purely labor union celebration into a general "last fling of summer" festival.

It grew out of a celebration and parade in honor of the working class by the Knights of Labor in 1882 in New York. In 1884, the Knights held a large parade in New York City celebrating the working class. The parade was held on the first Monday in September. The Knights passed a resolution to hold all future parades on the same day, designated by them as Labor Day.

The Socialist Party held a similar celebration of the working class on May 1. This date eventually became known as May Day, and was celebrated by Socialists and Communists in commemoration of the working man. In the U.S., the first Monday in September was selected to reject any identification with Communism.

In the late 1880's, labor organizations began to lobby various state legislatures for recognition of Labor Day as an official state holiday. The first states to declare it a state holiday in, 1887, were Oregon, Colorado, New York, Massachusetts, and New Jersey. Then in 1894, Congress passed a law recognizing Labor Day as an official national holiday.

Today, Labor Day is observed not only in the U.S. but also in Canada, and in other industrialized nations. While it is a general holiday in the United States, its roots in the working class remain clearer in European countries.

It has come to be recognized in the U.S. not only as a celebration of the working class, but even more so as the unofficial end of the summer season. In the northern half of the U.S. at least, the summer vacation season begins with Memorial Day and ends with Labor Day.

Many colleges and some secondary and elementary schools begin classes immediately after Labor Day.

State parks, swimming pools, and campgrounds are all quite busy on Labor Day, as vacationers take one last advantage of the waning hot season. September is the month that marks the beginning of autumn. And, because of that, the average daytime maximum temperatures take a plunge during the month in most of the U.S.

Source: Wilstar.com - A Website for Families: http://wilstar.com/holidays/laborday.htm

---
Dessert Recipes for Labor Day Weekend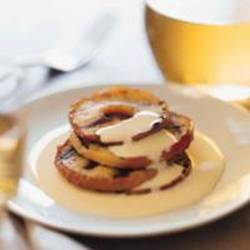 Grilled Apples with Creme Anglaise

Servings: 6

Comments:
Grilling brings out the pure, true flavor of your favorite apple, whether it's a Gravenstein or an heirloom apple such as Duchess of Oldenburg.

Ingredients:
For The Creme Anglaise:
1 cup milk
1 cup half-and-half (half milk/half cream)
4 egg yolks
2 large eggs
1/3 cup granulated sugar
1/8 tsp. salt
1/2 tsp. vanilla extract
2 tbsp. bourbon, optional

For The Apples:
5 sweet apples, such as Gravenstein, Gala or Golden Delicious, cored
1/4 cup mild or light extra-virgin olive oil, plus more for brushing
2 tsp. freshly ground cardamom

Instructions:
Prepare a fire in a charcoal grill or preheat a gas grill.

To Make the Creme Anglaise:
In a saucepan over low heat, combine the milk and half-and-half. Heat to just below boiling. In the top pan of a double boiler, whisk together the egg yolks and eggs until just blended, then add the sugar, salt and vanilla. Gradually whisk in the hot milk mixture. Place over the bottom pan of boiling water and cook stirring constantly, until the mixture is thick enough to coat the back of a spoon, 2 to 3 minutes. Do not let it boil. Immediately remove from the heat and stir in the bourbon. Let cool slightly to thicken.

Cut the apples into rounds about 1/2-inch thick. Put the slices in a baking dish and drizzle with the olive oil, turning to coat. Brush the grill with olive oil and place the apple slices on it, or place them in an oiled grilling basket. Sprinkle the apples with the cardamom. Grill for about 3 minutes, then turn and grill until softened, about 2 more minutes. Transfer the apples to a plate.

To Serve:
Pool some of the crème anglaise on each of 6 dessert plates and top with several apple rounds. Drizzle the apples with additional creme anglaise.

Makes 6 servings.

Source: Taste Magazine, Fall 2001

Click here to view recipe and photo for Grilled Apples with Creme Anglasie on Diana's Desserts Website

---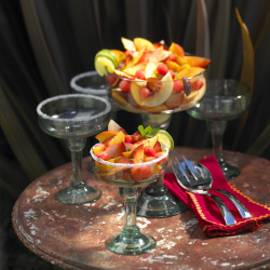 Margarita Fresh Fruit Salad

Servings: 6-8 (starter, side dish or light dessert)

Comments:
The perfect fruit salad to add a little spice to your "end of summer" picnic or barbeque. For a party version, try adding a one-ounce shot of tequila to the dressing. Rim the glasses with a squeeze of lime juice, then twirl the edges on a small plate of salt or sugar.

Ingredients:
For the Dressing:
1/3 cup freshly squeezed lime juice
2 tablespoons honey
1 oz. tequila (optional)
Pinch of kosher salt (regular table salt can be used instead)
1/4 cup fresh mint, chopped

For the Salad:
1 fresh white peach
2 fresh yellow peaches
2 fresh white or yellow nectarines
2 fresh plums
1 cup watermelon, balled or cubed
Pinch of cayenne pepper
Lime wedges
Mint sprigs

Instructions:
For the dressing, combine the lime juice and honey in a small bowl and whisk until the honey dissolves. Add a pinch of kosher salt, to taste. Add chopped mint; set aside while cutting the fruit.

For the salad, rinse fruit and remove the pits; cut into thin wedges or one-inch chunks. Combine all fruit in a large bowl; pour dressing over the fruit, stirring gently to distribute. Sprinkle on cayenne pepper and adjust to taste. Serve with a lime wedge and a mint sprig.

Makes 6-8 servings (serve as a starter, side dish or light dessert).

Click here to view recipe and photo of Margarita Fresh Fruit Salad on Diana's Desserts Website

---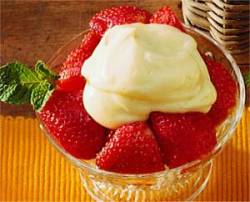 Strawberries with Vanilla-Almond Yogurt Pudding

Servings: 4

A lovely light dessert for a picnic, barbeque or to serve on a warm summer evening. So quick and easy! The strawberries can easily be substituted with raspberries, blueberries or peaches.

Ingredients:
1 (3.4-ounce) package instant vanilla pudding mix
1 1/2 cups cold milk
1 cup plain or vanilla flavored yogurt
1/8 teaspoon almond extract
2 to 3 cups fresh strawberries, raspberries or blueberries

Instructions:
In a mixing bowl, whisk together first four ingredients. Place berries in dessert cups and top with cream mixture, or layer berries and cream in parfait glasses.

Makes 4 servings.

Click here to view recipe and photo of Strawberries with Vanilla Almond Yogurt Pudding on Diana's Desserts Website

---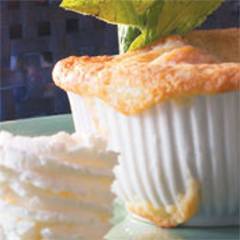 Fresh Peach Cobbler

Servings: 6

Comments:
A refreshing and easy dessert to make when fresh peaches are in season. Try this old-fashioned favorite for your next picnic, barbeque or for a very tasty anytime dessert for your family.

Ingredients:
For the Filling:
6 cups fresh sliced peaches
1/2 cup granulated sugar
1 teaspoon ground cinnamon
2-4 tablespoons all-purpose flour

For the Topping:
2/3 cup all-purpose flour
1/4 cup granulated sugar
1/2 teaspoon baking powder
1/2 teaspoon baking soda
2 tablespoons butter, cold and cut into small pieces
1/2 cup warm buttermilk

Serve with:
Vanilla ice cream, whipped topping, or whipped cream.

Instructions:
Coat 6 individual (8-ounce/1 cup) oven-safe ramekins or 1 (8-inch) round shallow baking dish with non-stick spray. Preheat oven to 350 degrees F (180 C).

Make filling by combining peaches, sugar, cinnamon and flour in a mixing bowl. Divide among ramekins or pour into baking dish.

Make the topping by combining flour, sugar, baking powder and baking soda in a mixing bowl. Using your fingertips, blend pieces of butter into dry ingredients until it resembles cornmeal. Stir in warm buttermilk until just blended.

Using a large spoon, pour topping over peaches, smoothing with the back of the spoon. Bake in preheated oven until golden brown and the fruit is bubbling, about 30 minutes. Serve warm with vanilla ice cream or whipped topping or whipped cream.

Makes 6 servings.

Click here to view recipe and photo of Fresh Peach Cobbler on Diana's Desserts Website

---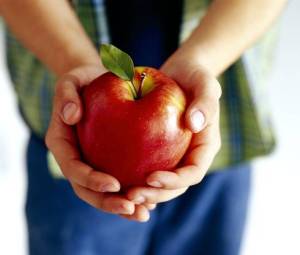 Back to School and After School Snacks

A Mom's fond Remembrance of After School Treats:

"I remember that the first day of school meant a new outfit, fresh pencils and clean notebooks, a cool fall morning, and Apple Crisp when I got home. My mom made sure that every single school year began with an after school treat of that special, delicious dessert. The scent of apples and cinnamon, the tender melting apples and crunchy brown sugar topping evokes school to me as much as fall leaves and the first football game.

Do you have a similar tradition in your family? If not, look through these recipes and think about starting your own first day of school tradition. Children are hungry when they get home from school. Lunch was hours ago, and kids need to eat every few hours for best nutrition. And you can even sneak more vitamins into a delicious snack with these easy recipes. And remember, your after school snack doesn't have to be sweet. The ever popular veggie dip is a great choice too. Having a sandwich spread on hand in the fridge means your kids can serve themselves in minutes.

Make the first day back to school special by giving your children something to look forward to. Start a new tradition in your family."

Source: About.com: http://busycooks.about.com/library/weekly/aa083002a.htm

---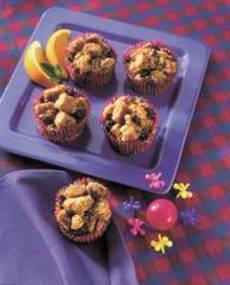 Bread Pudding Treats

Servings: 12

Comfort food for the lunch box! Wrap these individual snacks in pint-size freezer bags and freeze up to 2 months. In the morning, pop one in your child's lunch. It will be thawed by lunch time and will keep the other lunch box foods cold in the process.

Ingredients:
1-1/4 cups reduced-fat (2%) milk, or regular whole milk
1/2 cup cholesterol-free egg substitute, or 2 whole eggs
1/3 cup granulated sugar
1 teaspoon vanilla extract
1/8 teaspoon salt
1/8 teaspoon ground nutmeg (optional)
4 cups 1/2-inch cinnamon or cinnamon-raisin bread cubes (about 6 bread slices)
1 tablespoon unsalted margarine or butter, melted

Instructions:
Combine milk, egg substitute, sugar, vanilla, salt and nutmeg, if desired, in medium bowl; mix well. Add bread; mix until well moistened. Let stand at room temperature 15 minutes.

Preheat oven to 350 degrees F (180 degrees C). Line 12 medium-size muffin cups with paper liners.

Spoon bread mixture evenly into prepared cups; drizzle evenly with margarine.

Bake 30 to 35 minutes or until snacks are puffed and golden brown. Remove to wire rack to cool completely.

Note: Snacks will puff up in the oven and fall slightly upon cooling.

Nutrients Per Serving (when using reduced fat 2% milk and cholesterol-free egg substitute)
(1 snack cup):
Calories 72
% calories from fat 22%
Total Fat 2 g
Sat. Fat 1 g
Protein 2 g
Carbohydrates 12 g
Cholesterol 2 mg
Sodium 93 mg
Dietary Fiber 0 g
Dietary exchanges
1 Starch

Click here to view recipe and photo of Bread Pudding Treats on Diana's Desserts Website

---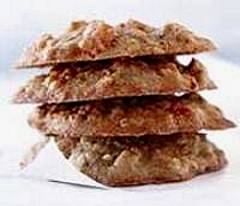 Healthy Banana-Oatmeal Power Cookies

Makes 18 cookies

These big tasty cookies are just what your kids will need for a good start to their busy day in school. They're filled with flaked coconut, oats, raisins (or dried apricots), walnuts, bananas; all of the essential vitamins your child will need to keep him or her going until lunch time, or serve them with a big glass of milk when he or she gets home. These cookies make a delicious snack for kids of all ages, even your teenagers will love them.

Ingredients:
1 cup all-purpose flour
1/2 cup flaked coconut
1/2 cup rolled oats
1 tsp. baking soda
1/2 tsp. salt
1/4 tsp. ground cinnamon
3/4 cup firmly packed light brown sugar
6 tbsp. (3/4 stick) unsalted butter, at room temperature
1 very ripe banana, mashed
1 egg, at room temperature
1/2 cup chopped dried apricots or golden raisins
1/2 cup chopped walnuts

Instructions:
Preheat an oven to 325 degrees F (160 C). Lightly grease 1 or 2 baking sheets. In a bowl, stir together the flour, coconut, oats, baking soda, salt and cinnamon. In a large bowl, cream the brown sugar and butter with a wooden spoon until fluffy. Add the banana and egg and beat with a fork until blended. Stir in the flour mixture, about 1/2 cup at a time, then stir in the apricots and the walnuts.

Spoon the dough by heaping tablespoonfuls onto the prepared baking sheet(s), spacing the cookies about 2 inches apart. Bake until golden brown, 12 to 15 minutes, switching pan positions halfway through baking if 2 pans were used. Remove from the oven and cool on the baking sheet(s) on a rack for about 5 minutes. Transfer the cookies to the rack to cool completely. Store in an airtight container at room temperature for up to 3 days.

Makes about 18 cookies.

Click here to view recipe and photo of Healthy Banana-Oatmeal Power Cookies on Diana's Desserts Website

---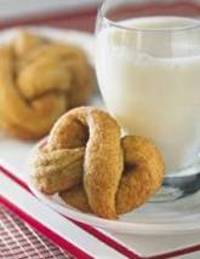 Cinnamon N' Sugar Twists

Servings: Makes 6

Comments:
Use colored sugar sprinkles in place of the sugar in this recipe for a fun 'twist' of color that's perfect for holidays, birthdays for just a simple every day after school treat.

Ingredients:
1 tablespoon granulated sugar
1/4 teaspoon ground cinnamon
1 package (6) store-bought refrigerated breadsticks

Instructions:
Preheat oven to 350 degrees F (180 C). Lightly grease baking sheet or line with parchment paper.

Stir together sugar and cinnamon. Place in shallow dish or plate.

Open package of breadsticks. Divide into 6 portions. Roll each portion into a 12-inch rope. Roll in sugar mixture. Twist into pretzel shape. Place on prepared baking sheet. Bake 15 to 18 minutes or until lightly browned. Remove from baking sheet. Cool 5 minutes. Serve warm.

Makes 6 servings (twists).

Nutrients per Serving
(1 twist):
Calories 118
% calories from fat 20%
Total Fat 3g
Sat. Fat 1g
Protein 3g
Carbohydrates 20g
Cholesterol 0mg
Sodium 290mg
Dietary Fiber 1g

Dietary Exchanges:
1 1/2 Starch

Click here to view recipe and photo of Cinnamon N' Sugar Twists on Diana's Desserts Website

---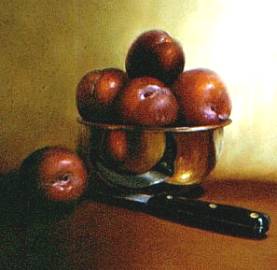 Food Tips and Information Section

Plums

If you like variety in your snacks, plums are the fruit for you. More than 140 varieties of this colorful fruit are sold fresh in the United States. Plums provide some fiber and vitamin C.

The plum is a drupe--a pitted fruit--related to the nectarine, peach, and apricot, but it is far more diverse than its relatives, coming in a wider range of shapes, sizes, and, especially, skin colors. Its flavors also vary from extremely sweet to quite tart. Some plum varieties are specifically bred so that they can be dried and still retain their sweetness, to become prunes. The varieties that we call plums are mainly eaten fresh, but they are also canned or processed into jams and jellies.

One of the most influential American plum breeders was the horticulturist Luther Burbank, who developed a variety called the Santa Rosa, which now is about one-third of the total domestic crop.

Varieties

About 20 varieties dominate the commercial supply of plums, and most are either Japanese or European varieties.

European-type plums, or Prunica domestica, are small, dense, egg-shaped fruits; their skin color is always blue or purple, and their pits are usually freestone, meaning they separate easily from the flesh. The flesh is a golden yellow color. These are the plums that are made into prunes. Though most European-style plums are turned into prunes, a few varieties are sold fresh and are called fresh prunes, or prune plums. The bulk of European plums are grown in the Pacific Northwest, but some varieties are successfully cultivated in eastern states. European plums generally lack the flavor of Japanese varieties, and so are better suited for baking or stewing. Among the better-known varieties are Italian, President, Empress, Stanley, and Tragedy. Damson plums are a small, tart European-type variety used mainly for preserves.

The Japanese varieties originated in China and were introduced into Japan some 300 years ago and from there, they were eventually brought to the United States. These plums are basically spherical; some are heart-shaped, with a point at the bottom. They have yellow or reddish flesh that is quite juicy and skin colors that range from crimson to black-red (but never purple). These are clingstone fruits--that is, their flesh clings to the pit. Santa Rosa and Red Beaut are two of the more popular varieties; others include El Dorado, Freedom, French, Friar, Nubiana, Queen Rosa, Casselman, Laroda, and Simka. Elephant Heart is a large red-fleshed plum that is good for cooking. Kelseys and Wicksons are green-skinned Japanese plums (which may be marketed as "greengage" plums) that turn yellow or bronze as they ripen.

Availability

The domestic plum season extends from May through October, with Japanese types coming on the market first and peaking in August, followed by the European varieties in the fall.

Shopping

Plums should be plump and well colored for their variety. If the fruit yields to gentle pressure, it is ready to eat; however, you can buy plums that are fairly firm but not rock hard and let them soften at home. They will not, however, increase in sweetness. Ripe plums will be slightly soft at the stem and tip; avoid those with shriveled skin, mushy spots, or breaks in the skin.

Storage

To soften hard plums, place several in a loosely closed paper bag and leave them at room temperature for a day or two; when softened, transfer them to the refrigerator. Ripe plums can be refrigerated for up to three days.

Preparation

Wash plums before eating or cooking them. They will be juiciest (and to most palates taste sweetest) at room temperature. To pit Italian prune plums and other freestone types, cut the fruit lengthwise in half, twist the halves apart, and lift out the pit. To slice or quarter clingstone plums, use a sharp paring knife and cut through the flesh toward the pit.

Japanese plums are most commonly eaten raw, although they can be poached. European plums are better for cooking as they are easier to pit and their firmer, drier flesh holds up well when heated.

Cooked plums are usually eaten with the skins on, but if you need to peel them, first blanch them in boiling water for about 30 seconds.

Baking
Place halved, pitted plums in a baking dish and sprinkle with sugar and spices to taste. Add a few spoonfuls of fruit juice and cover. Bake in a 400 degree F (200 C) oven until tender; check during baking and add more liquid, if necessary. Cooking time: about 20 minutes.

Poaching:
Plums can be cooked whole (prick them with a fork first), halved, or sliced. For serving whole, cook the fruit unpeeled to preserve its shape. Place the fruit in simmering juice, wine, or a mixture of water and sugar, and cook until tender. Cooking time: three to eight minutes (European plums cook much faster than Japanese plums).

Nutritional Information

Plums/2 medium fresh
Calories: 73
Total fat: (g) 0.8
Saturated fat: (g) 0.1
Monounsaturated fat: (g) 0.5
Polyunsaturated fat: (g) 0.2
Dietary fiber: (g) 2
Protein: (g) 1
Carbohydrate: (g) 17
Cholesterol: (mg) 0
Sodium: (mg) 0

Source: WholeHealthMD.com: http://www.wholehealthmd.com/refshelf/foods_view/1,1523,65,00.html

---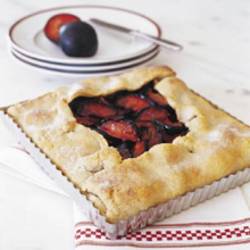 Plum Tart

Servings: 8

When baking a tart with a juicy filling, such as the plums in this recipe, place the pan on an upside-down baking sheet in the oven. This helps prevent the bottom crust from becoming soggy so it will emerge golden and flaky. A pizza stone can be used in place of a baking sheet.

Ingredients:
For the Pastry:
1 1/2 cups all-purpose flour
1/2 tsp. salt
4 tbsp. (1/2 stick/2 oz/56g) chilled unsalted butter
1/4 cup vegetable shortening
3 to 4 tbsp. cold water

For the Filling:
2 lb. plums, pitted and cut into 1/2-inch wedges
1 tsp. fresh lemon juice
1/4 cup plus 2 tsp. sugar
3 tbsp. all-purpose flour
1/2 tsp. ground cinnamon
1 tbsp. heavy cream
1/4 cup apricot jam, warmed and strained

Instructions:
To Make the Pastry:
In a mixing bowl, stir together the flour and salt. Add the butter and shortening and, using a pastry blender or 2 knives, cut them in until the mixture resembles coarse bread crumbs. Sprinkle in the water 1 tbsp. at a time, stirring gently with a fork after each addition and adding only enough water to form a rough mass.

Using floured hands, pat the dough into a smooth, flattened disk. Use immediately, or wrap in plastic wrap and refrigerate for up to 2 days.

Place a baking sheet upside down on the middle rack in an oven and preheat to 400 degrees F (200 degrees C).

On a lightly floured surface, roll out the dough to 1/4-inch thickness. Transfer to a 9-inch square tart pan, pressing the dough up the sides of the pan and leaving a 2-inch overhang.

To Make the Filling:
In a large bowl, stir together the plums, lemon juice, the 1/4 cup sugar, the flour and cinnamon. Transfer to the tart shell and arrange the plums in an even layer. Fold the overhanging dough on top of the plums. Brush the dough with the cream and sprinkle with the 2 tsp. sugar.

Place the pan on the baking sheet in the oven. Bake until the crust is golden brown and the filling is bubbling, about 45 minutes. Transfer the pan to a wire rack and let cool for 1 hour. Brush the filling with the apricot jam.

Makes 8 servings.

Click here to view recipe and photo of Plum Tart on Diana's Desserts Website

---
Until Next Time
That's it for now for this edition of Diana's Desserts Newsletter. I hope you've enjoyed the information on Labor Day, the Back to School and After School Treats, the Plums, and of course, the recipes themselves.

I will be back with another edition in October or November, just in time for the holidays. Until then enjoy the rest of your summer and I look forward to being back in the Fall with delicious dessert recipes for you to try.

If you'd like to submit one of your favorite dessert, bread or beverage recipes to Diana's Desserts Website, click on the link below to bring you to the Submit a Recipe page on the site. I look forward to your wonderful recipes.

Submit a Recipe

Sincerely, Diana