EDITION NUMBER 30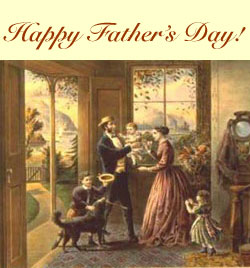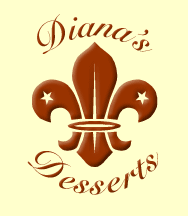 June 5, 2005

Welcome Home Bakers and Friends,

I hope those of you who celebrated Mother's Day or Cinco de Mayo last month had a wonderful time and that you were able to make some of your favorite dishes, and that you were able to use some of the dessert recipes I included in May's Diana's Desserts Newsletter. If so, did they turn out well? Please let me know.

June is a great month to celebrate many festive holidays also. There is the Jewish holiday of Shavuot (the festival of the weeks and of the harvest time in Israel), Father's Day, and Juneteenth Day, a day of Thanks and the celebration of emancipation celebrated by African-Americans. And to top things off, summer officially begins on the 21st of this month. A great time to try out some new recipes.

The Guest Submitted Recipe this month is from Kendra, who is sharing with us one of her favorite recipes for Blueberry Muffins.

The Food Tips and Information Section below is all about Strawberries. These plump, sweet, rubylike berries are nutritional jewels: Rich in dietary fiber and offering good amounts of vitamin C (more than any other berry) and manganese, strawberries are also an excellent source of ellagic acid, a phytochemical that helps combat carcinogens. They are also a good source of antioxidant flavonoids, such as anthocynanins. When the USDA analyzed a variety of fruits to rate their antioxidant power, strawberries came in second (blueberries were first).

The Tips Section below will give you information on the most common types of "sweeteners" we use in cooking and baking.

All in all, this month's newsletter is quite informative.

I hope you enjoy the recipes!

---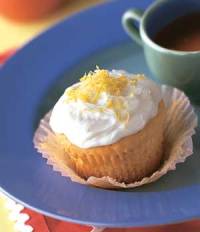 Guest Submitted Recipe
Delicious Lemon Cupcakes
Servings: Makes 30 cupcakes

Comments:
Very Delicous!!!!

Preparation Time: 20 minutes
Bake Time: 18 minutes

Ingredients:
Cupcakes:
3 1/2 cups all-purpose flour
2 teaspoon baking powder
1 teaspoon baking soda
1/2 teaspoon salt
1 cup (2 sticks/8 oz/226g) butter, softened
1 1/2 cups granulated sugar
2 tsp. vanilla extract
3 eggs
2 (8-ounce) cartons dairy sour cream
2 teaspoon finely shredded lemon peel

Lemon Frosting:
3 tablespoons (1 1/2 oz/42g) butter, softened
1 cup sifted powdered sugar
2 tablespoons lemon juice
3/4 teaspoon vanilla extract
1 1/4 cups sifted powdered sugar
Milk (2 to 3 teaspoons if necessary)
1 teaspoon shredded lemon peel

Instructions:
1. Preheat the oven to 350 degree F (180 C). Line thirty 2 1/2-inch muffin cups with paper bake cups; set aside. In a medium bowl, combine flour, baking powder, baking soda, and salt; set aside.

2. In a large bowl, beat butter with an electric mixer on medium to high speed for 30 seconds. Add granulated sugar and vanilla; beat until well mixed. Add eggs, one at a time, beating well after each addition. Add flour mixture and sour cream alternately to beaten mixture, beating on low speed after each addition just until combined. (The batter will be thick.) Stir in lemon peel.

3. Spoon about 1/4 cup of the batter into each prepared muffin cup *(See Tip Below). Bake in preheated oven about 18 minutes or until a wooden toothpick inserted in centers comes out clean. Cool completely on a wire rack before frosting.

Makes 30 cupcakes.

To Make Lemon Frosting:
In a medium bowl, beat butter with 1 cup powdered sugar, beating well. Gradually beat in lemon juice and vanilla. Gradually beat in additional 1-1/4 cups powdered sugar. If necessary, beat in enough additional milk (2 to 3 teaspoons) to make of spreading consistency. Stir in shredded lemon peel.

*Tip:
If all of the cupcakes do not fit in the oven at one time, refrigerate the remaining cupcakes while the first ones bake.

Submitted By: Kendra

Date: May 3, 2005

Click here to view recipe and photo of Delicious Lemon Cupcakes on Diana's Desserts Website

---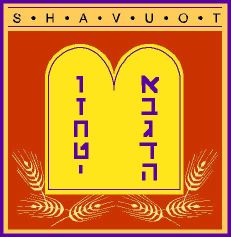 Shavuot
The Shavuot holiday begins Sunday evening at sundown, June 12, 2005 and continues until Tuesday evening at sundown, June 14, 2005. (In Israel, Shavuot ends Monday evening, June 13th).

The Story of Shavuot
Shavuot, the Feast of the Weeks, is the Jewish holiday celebrating the harvest season in Israel. Shavuot, which means "weeks", refers to the timing of the festival which is held exactly 7 weeks after Passover. Shavuot is known also as Yom Habikkurim, or "the Day of the First Fruits", because it is the time the farmers of Israel would bring their first harvest to Jerusalem as a token of thanksgiving. Shavuot also commemorates the anniversary of the giving of the Ten Commandments to Moses and the Israelites at Mount Sinai.

Celebrating the Day of the First Fruits
The farmers of Israel would begin their spring harvests with the barley crop at Passover. The harvest continued for seven weeks as the other crops and fruits began to ripen. As each fruit ripened, the first of each type would not be eaten but instead the farmer would tie a ribbon around the the branch. This ribbon signified that these fruits were Bikkurim, or the first fruits. At Shavuot the farmers would gather the Bikkurim into baskets and bring them to the city of Jerusalem where they would be eaten in the holy city. The farmers living close to Jerusalem would bring fresh fruits, while those who had to travel a long distance carried dried raisins and figs. This joyful occasion was celebrated with the music of fifes, timbres, and drums. As the pilgrims approached the city walls they were greeted by the inhabitants of the city. Sometimes the King himself would join the procession to the Temple Mount. The Bikkurim ritual is no longer practiced in present day Israel.

The Legends and Customs of Shavuot
Many of the traditions and customs of Shavuot have evolved from the legends and stories describing the experiences of the Israelites at Mount Sinai. According to tradition the Israelites actually overslept on the morning of God's visit. To compensate for this negligence, Jews hold a vigil on the eve of Shavuot. They stay awake from dusk to dawn, keeping themselves busy with the readings of the Torah and the Talmud. A digest of readings has evolved called Tikkun Leil Shavuot, the "Restoration of Shavuot Eve," which includes selections from the Torah, the Prophets, the Talmud, and the Zohar.

Another Shavuot custom is the eating of dairy foods. One explanation states that this comes from a passage in the Torah which reads:

"And He gave us this land, a land flowing with milk and honey".

Another explanation comes from a legend stating that before the visit from God the Jews did not keep kosher or follow the Kashrut (dietary) laws. It was on this first Shavuot that they found out that their utensils were non-kosher and thus unfit for use. So finding themselves without kosher meats or utensils the Israelites were forced to eat only dairy foods. Today Jews celebrate Shavuot by eating blintzes, cheesecake, and other dairy dishes.

Another legend tells the story of the Israelites finding Mount Sinai blooming and lush with greenery and flowers. From this legend grew the custom to decorate the Jewish home and synagogue with tree branches and flowers. Some temples decorate the Torah scrolls with wreaths of roses.

Shavuot and the Ten Commandments
Shavuot is also known as Zeman Matan Toratenu, the Season of the Giving of Our Law, which commemorates the receiving of the Ten Commandments at Mount Sinai. After Moses and the Israelites fled the slavery of Egypt, they wandered the desert. God provided the travelers with food to eat (manna) and water to drink. After long months Moses brought his followers to the foot of a mountain called Sinai. Though the desert was dry and bare, the mountain was lush and green, covered with grass, flowers and trees. Moses and the Israelites set up camp at the base of the mountain. On the third day of the Hebrew month of Sivan, Moses was commanded by God to prepare the Jewish people for God's decent and visit. The Israelites washed and purified their clothes and their bodies. Three days later, on the sixth day of Sivan, the people were awaken by thunder and lightning. Thick, dark clouds hung over the mountain. The sounds of the Shofar, the ram's horn, were heard echoing across the desert. The earth began to tremble and shake. Then the Israelites heard a voice, God's voice, as he spoke to them from out of the clouds.

And God gave them his Ten Commandments*

"I am the Lord your God, Who has taken you out of the land of Egypt, from the house of slavery"

"You shall have no other gods but me"

"You shall not take the name of your Lord in vain"

"You shall remember and keep the Sabbath day holy"

"Honor your father and mother"

"You shall not murder"

"You shall not commit adultery"

"You shall not steal"

"You shall not bear false witness against your neighbor"

"You shall not covet your neighbor's goods. You shall not covet your neighbor's house. You shall not covet your neighbor's wife, nor his manservant, nor his maidservant, nor his bull, nor his donkey, nor anything that is your neighbor's."

Moses went up the mountain and returned with the Tablets that contained the Ten Commandments.

Through the centuries the Jewish people have celebrated this important event. It was at Mount Sinai that this band of worn and weary travelers would become the nation known as Israel.

*Note: Because Shavuot is a Jewish celebration we are presenting the Jewish interpretation of the Ten Commandments. Different religions have different versions of the commandments.

Source: Holidays on the Net: http://www.holidays.net/shavuot/index.htm

---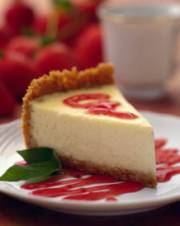 Recipe for Shavuot
Classic Cheesecake with Strawberry Coulis
Servings: 10

Comments:
One of the Shavuot customs is the eating of dairy foods. One explanation states that this comes from a passage in the Torah which reads:

"And He gave us this land, a land flowing with milk and honey".

Desserts such as cheesecake or blintzes are eaten on the festive Jewish Holiday of Shavuot.

This classic cheesecake is especially delicious with the strawberry coulis drizzled over the top.

Ingredients:
For The Crust:
8 ounces graham cracker crumbs
13 tablespoons unsalted butter, melted

For The Cheesecake:
1 1/2 cups, plus 2 tablespoons cream cheese
1 1/2 cups, plus 2 tablespoons ricotta cheese
1 cup granulated sugar
3 large eggs
2 tablespoons all-purpose flour
1 1/2 cups sour cream
1 tablespoon lemon juice
1 tablespoon grated lemon zest

For The Strawberry Coulis:
1/2 pint fresh strawberries, stemmed and rinsed, or 10 ounces frozen strawberries
1/4 cup granulated sugar
Juice of 1/2 lemon, or to taste

Instructions:
Preheat the oven to 300 degrees F (150 C).

For The Crust:
Grind the graham crackers (sweet biscuits) in a food processor to fine crumbs, or use 8 ounces ready made graham cracker crumbs in box. Place in a mixing bowl. Pour the melted butter over the crumbs, and stir to combine. Press into an 8 or 9-inch springform pan, lining the base and sides.

For The Filling:
Place the cream cheese, ricotta cheese and sugar in a food processor and process until smooth. (Alternatively you can use an electric mixer.) Add the eggs, 1 at a time, mixing well after each addition. Transfer to a bowl (if using a processor) and fold in the flour, sour cream, lemon juice and lemon zest. Pour into the crust-lined springform pan.

To Bake:
Place the springform pan with cheesecake batter inside a larger baking pan, and fill the larger pan carefully with one inch of water and place pan in 300 degrees F/150 degrees C oven. (This method is called a "WATER BATH" which helps your cheesecake bake evenly and to prevent cracking.) Bake for 1 hour, or until the cheesecake is set in the middle. Turn off the heat and leave in the oven for another one hour, with the door ajar. Remove from the oven, take cheesecake pan out of water bath, and set aside on cooling rack to cool completely. Refrigerate for at least 2 hours. Remove cheesecake from refrigerator and release sides of springform pan. Transfer cheesecake to serving platter or cut into individual slices. Decoratively drizzle each dessert plate and slices of cheesecake with Strawberry Coulis.

To Make Strawberry Coulis
In a blender or food processor, puree strawberries with sugar and lemon juice. Taste and add more sugar or lemon juice as needed. Strain seeds from strawberries, if desired. Cover and refrigerate coulis until ready to serve cheesecake.

Makes 10 servings.

Click here to view recipe and photo of Classic Cheesecake with Strawberry Coulis

---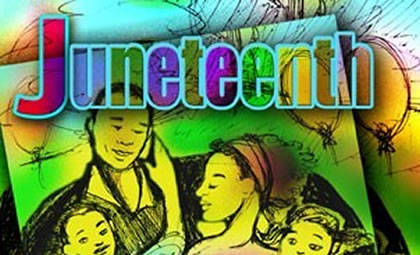 Juneteenth Day
Juneteenth Day is always celebrated on June 19th (this year the 19th falls on a Sunday), A Day of Thanks and the Celebration of Emancipation

"Now, therefore I, Abraham Lincoln, President of the United States,...order and declare that all persons held as slaves within said designated States, and parts of States, are, and henceforward shall be free..."

Juneteenth is the celebration of the anniversary of the Emancipation Proclamation which was issued by US President Abraham Lincoln on January 1st, 1863. The proclamation gave the Southern slaves their freedom and is considered an important benchmark in the African-American struggle for freedom and equality.

The word "Juneteenth" comes from the words "June" and "19th", which according to southern folklore is when the slaves of Texas first learned of their freedom. Though technically freed in 1863, the slaves did not learn of their freedom until the arrival of the Union soldiers on June 19th, 1865. This was after the end of the Civil War and 2 1/2 years after the proclamation was first issued.

The Emancipation Proclamation is considered the catalyst that ended slavery. But at the time the proclamation was issued it really did not free anyone since the Confederate states did not recognize President Lincoln's authority. It was not until after the Civil War had ended that the 13th Amendment to the US Constitution, ratified in 1865, officially outlawed slavery.

Juneteenth began as a celebration by ex-slaves and has continued to be observed by African-Americans in the US South. Recently there have been efforts to bring a wider audience to the celebrations.

Source: Holidays on the Net: http://www.holidays.net/dailys/holidays/juneteenth.htm

---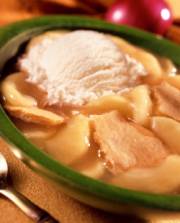 Recipe for Juneteenth Day
Apple or Peach Cobbler
Servings: 8-10

Comments:
Apple pies or cobblers were one of the slaves' favorite desserts. Desserts were a common feature on Sunday's during the summer months when fruits were plentiful. The pleasing aroma of cooked apples often-filled slave cabins and campsites in the late summer and early fall when apples were in abundance.

Cobblers are easy to make. When you need a dessert that will be ready to serve in a couple of hours, this is the recipe for you. You can make cobblers with so many types of fruit, such as peaches, apricots, apples, blueberries and the list goes on. Try making one with fresh fruit that's in season.

Ingredients:
4 cups peaches or apples (apples cored), peeled and sliced
2 cups granulated sugar, divided
1/2 cup water
1/2 teaspoon ground cinnamon
4 ounces (1 stick/4 oz/113g) butter
1 1/2 cups self-rising flour
1 1/2 cups whole milk

Instructions:
Preheat oven to 350 degrees F (180 C).

1). Combine the peaches (or apples, if using), 1 cup of the sugar, the ground cinnamon and water in a saucepan and mix well. Bring to a boil and simmer for 10 minutes. Remove from the heat.

2). Put the butter in a 2 quart 9 x 13-inch rectangular or oval "deep" baking dish and place in oven to melt.

3). Slowly mix together (to prevent clumping) the remaining 1 cup sugar, the self-rising flour, and the milk. Pour mixture over melted butter. Do not stir. Spoon peach mixture (or apple mixture) over batter, gently pouring in syrup. Batter will rise to top during baking. Bake at 350 degrees F (180 C) for 30 to 45 minutes.

To serve, scoop onto a plate and serve with your choice of whipped cream or vanilla ice cream.

Makes 8-10 servings.

Source: DianasDesserts.com

Click here to view recipe and photo of Apple or Peach Cobbler on Diana's Desserts Website

---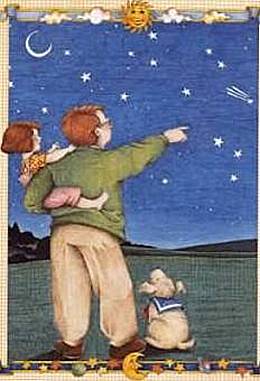 Father's Day
(Celebrated on the third Sunday of June every year)

This year Father's Day is celebrated on Sunday June 19th.

A Celebration In Honor of All Fathers
Father's Day is a day of commemoration and celebration of Dad. It is a day to not only honor your father, but all men who have acted as a father figure in your life - whether as Stepfathers, Uncles, Grandfathers, or "Big Brothers."

It is a time of burnt toast and breakfast in bed, family gatherings, crayon scribbled "I Love You"s and, of course, that lovely new tie!

Father's Day is celebrated in the US on Sunday, June 19, 2005. Other Countries celebrate throughout the year.

The Story of Father's Day
Father's Day, contrary to popular misconception, was not established as a holiday in order to help greeting card manufacturers sell more cards. In fact when a "father's day" was first proposed there were no Father's Day cards!

Mrs. John B. Dodd, of Washington, first proposed the idea of a "father's day" in 1909. Mrs. Dodd wanted a special day to honor her father, William Smart. William Smart, a Civil War veteran, was widowed when his wife (Mrs. Dodd's mother) died in childbirth with their sixth child. Mr. Smart was left to raise the newborn and his other five children by himself on a rural farm in eastern Washington state. It was after Mrs. Dodd became an adult that she realized the strength and selflessness her father had shown in raising his children as a single parent.

The first Father's Day was observed on June 19, 1910 in Spokane Washington. At about the same time in various towns and cities across American other people were beginning to celebrate a "father's day." In 1924 President Calvin Coolidge supported the idea of a national Father's Day. Finally in 1966 President Lyndon Johnson signed a presidential proclamation declaring the 3rd Sunday of June as Father's Day.

Father's Day has become a day to not only honor your father, but all men who act as a father figure. Stepfathers, uncles, grandfathers, and adult male friends are all honored on Father's Day.

Source: Holidays on the Net: http://www.holidays.net/father/index.htm

---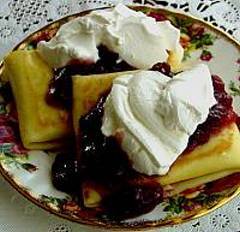 Recipe for Father's Day
Cheese Blintzes with Lingonberry Preserves
Servings: Makes approximately 8-12 blintzes

Comments:
A Blintz is basically a "crepe" that is filled with either farmer's cheese, dry cottage cheese, cream cheese, ricotta cheese, mascarpone cheese or any combination of these cheeses. Blintzes can also be filled with savory fillings such as meat or vegetables.

In the case of Cheese Blintzes (eaten warm or cold and at any meal; a favorite for brunch), the cheese is mixed with a little sugar, egg, and flavorings, then wrapped inside the "crepe" making a parcel shaped filled crepe; then sautéed in a frying pan on both sides until golden brown and cheese mixture is cooked inside. Cheese Blintzes are normally served with fruit preserves and a dollop of sour cream.

Try these for Father's Day.

Ingredients:
For the Crepes:
4 eggs
1 cup milk
1 cup all-purpose flour
1/8 tsp. salt
2 tbsp. (1/4 stick/2 oz/28g) unsalted butter, melted, plus more for cooking

For the Filling:
1/2 lb. cream cheese, at room temperature
1/2 lb. farmer's cheese, at room temperature
1/4 cup granulated sugar
1 egg
1 tsp. orange or lemon extract (or 1/8 tsp. lemon or orange oil)* see note below on Citrus Oils
1 tsp. vanilla extract

Garnish:
Lingonberry Preserves (or any preserves of your choice)* see note below
Sour Cream

Instructions:
To Make the Crepes:
In a blender, combine the eggs, milk, flour, salt and the 2 tbsp. melted butter. Blend for 10 seconds, then scrape down the sides and blend for 20 seconds more.

Place a 6 to 8-inch crepe pan or a small nonstick fry pan over medium heat and brush with a thin film of melted butter. Use a ladle to quickly pour in 1/4 cup of the batter. Swirl the pan to coat the bottom with the batter. Cook until the bottom is golden and the top is just set, about 45 seconds. Using a nonstick spatula, transfer the crepe to a plate, browned side down; do not cook the other side. Repeat with the remaining batter, brushing the pan with more butter between each crepe.

To Make the Filling:
In bowl of an electric mixer on medium speed, beat the cream cheese, farmer's cheese, sugar, egg, lemon or orange extract (or 1/8 tsp. lemon or orange oil) and the vanilla with a fork until smooth.

To Assemble the Blintzes:
Line a platter with parchment paper or wax paper. Place each crepe, browned side up, in front of you, and place 2 generous tbsp. of the filling in the center. Fold the 2 outer edges toward the center so they meet over the filling. Pat gently to flatten. Fold the top and bottom in to overlap slightly in the center. Place, seam side down, on the platter.

Note: If not cooking blintzes immediately, cover and refrigerate for up to 8 hours (bring back to room temperature for 10 minutes before cooking).

Preheat an oven to 200 degrees F (93 degrees C).

To Cook the Blintzes:
Place a large fry pan over medium-low heat and melt 1 tbsp. of the butter. When the butter foams, add 4 or 5 blintzes, seam side down; do not crowd the pan. Sauté until golden, about 5 minutes. Turn and cook until golden, about 3 minutes. Keep the blintzes warm in 200 degree F (93 C) preheated oven, loosely covered with aluminum foil, and cook the remaining blintzes. Arrange 2 or 3 warm blintzes on each plate. Top with a generous spoonful of preserves and spoon a dollop of sour cream over preserves and serve.

*Note: Any fruit preserves can be substituted for the Lingonberry preserves in this recipe. Good choices are Blueberry, Strawberry, Apricot, or Cherry preserves.

Citrus Oils
Citrus oils are a great substitute for lemon, lime, or orange zest or extract in baking recipes. When using citrus oils, remember to add just a very small amount to dry or liguid ingredients in a recipe. Use 1/4 tsp. per 1 cup dry ingredients, or 1/2 tsp. per liquid ingredients. Citrus oils are very concentrated, and a very small amount goes a long way. In this recipe, I substituted the 1 tsp. orange extract with 1/8 tsp. orange oil.

If you can't find citrus oils at your supermarket, such as orange, lemon or lime, they may be purchased online at Boyajian Inc. Their web address is: http://www.boyajianinc.com

Makes approximately 8-12 blintzes (depending on what size pan you use).

Photograph taken by Diana Baker Woodall© 2003

Source: DianasDesserts.com

Click here to view recipe and photo of Cheese Blintzes with Lingonberry Preserves on Diana's Desserts Website

---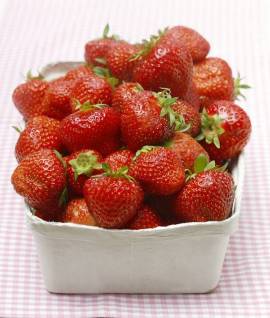 Food Tips and Information Section
Strawberries
These plump, sweet, rubylike berries are nutritional jewels: Rich in dietary fiber and offering good amounts of vitamin C (more than any other berry) and manganese, strawberries are also an excellent source of ellagic acid, a phytochemical that helps combat carcinogens. They are also a good source of antioxidant flavonoids, such as anthocynanins. When the USDA analyzed a variety of fruits to rate their antioxidant power, strawberries came in second (blueberries were first).

The strawberry is technically a "false" fruit because it grows from the base rather than from the ovary of a flower, and so is not a true berry.

Varieties

Some 70 varieties are produced commercially, mostly in California and Florida (though strawberries are grown in all 50 states). Some of the dominant California varieties are the Pajaro and the Chandler.

Day Neutrals:
The recently introduced "day neutral" varieties, such as Tristar, which are usually grown on a smaller scale because of their labor-intensive cultivation, means a more constant supply of well-flavored berries throughout the season: These varieties bloom all summer, so that Eastern growers can extend their harvest period to nearly the length of the California season. The fruits are smaller than California berries, but good and sweet.

Wild Strawberries:
Wild strawberries, or fraises des bois, are now cultivated to a small extent in California. These thumbnail-size berries are prized for their intense flavor. If you're a good forager, you may find an overlooked patch of these tiny strawberries growing in a pasture or meadow in midsummer.

Availability

Strawberries are the most popular as well as the most plentiful berry: They are available year-round, with greatest abundance from April through July, when the California crops are at their peak. Availability diminishes significantly from October through January, although imported berries, from Mexico and New Zealand, augment the supply. Local strawberries are available at farms, farmers' markets, and often at supermarkets when they are in season.

Shopping

For best flavor, buy strawberries when they're in season where you live; they'll undoubtedly be riper and tastier than berries that have been transported in from distant regions. Also, the closer the berries are to the market, the less damage they're likely to suffer in transit.

Choose strawberries very carefully; they are often packed in opaque boxes that may conceal inferior fruit beneath a display of perfect specimens on top. If the box is cellophane wrapped, your best bet is to examine the berries you can see, and check the box for dampness or stains, which indicate that the fruit below may be decaying. If the box is not wrapped, you can remove a few of the top berries and peek beneath. Check, too, for twigs or other debris (there shouldn't be any).

Strawberries should be plump, dry, firm, well shaped and uniformly colored. Don't purchase berries that are withered or crushed. The berries themselves should be a true, rich red (although the shade of red differs among varieties). Pale, greenish, or yellowish fruit is unripe and will be hard and sour. The leafy caps should look fresh and green.

Storage

Strawberries are highly perishable; they can turn soft, mushy, and moldy within 24 hours. When you bring home a box of berries, turn it out and check the fruit. Remove any soft, overripe strawberries for immediate consumption; discard any smashed or moldy berries and gently blot the remainder dry with a paper towel. Return the berries to the box, or, better yet, spread them on a shallow plate or pan and cover with paper towels, then with plastic wrap.

Freezing:

Strawberries freeze well, allowing you to enjoy them practically year round. You can buy prepackaged frozen berries, but these may have had sweetener added, which can double their calorie content. Freezing strawberries yourself is simple. Pick over the berries, then spread them out in a single layer in a jelly-roll pan. Place the unwashed berries in the freezer until they are solidly frozen, and then transfer them to a heavy plastic bag. They'll keep for 10 months to a year.

Preparation

Pick over strawberries, discarding any bad ones. Keep the caps of strawberries intact until after they're rinsed and drained, as the opening left by the removal of the cap will allow the berries to absorb water. Rinse the fruit, drain, and gently pat dry. Use your fingers, a paring knife, or a pincerlike strawberry huller to take off the caps and the white "hull," which is sort of like the strawberry's core.

Frozen berries need not be thawed before using them in recipes, but extra cooking time may be necessary. Commercially frozen berries do not require washing, but home-frozen berries--which should not have been washed previously--should be quickly rinsed under cold water.

Nutrition Chart

Strawberries/1 cup whole
Calories: 43
Total fat (g): 0.5
Saturated fat (g): 0
Monounsaturated fat (g): 0.1
Polyunsaturated fat (g): 0.3
Dietary fiber (g): 3.3
Protein (g): 1
Carbohydrate (g): 10
Cholesterol (mg): 0
Sodium (mg): 1
Vitamin C (mg): 82
Manganese (mg): 0.4

Source: WholeHealthMD.com:
http://www.wholehealthmd.com/refshelf/foods_view/1,1523,108,00.html

---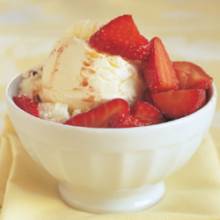 Recipe
Strawberries with Balsamic Vinegar
Servings: Makes 6 servings

Comments:
In Italy, the first sweet strawberries of the season are often paired with balsamic vinegar. It might sound like an odd combination until you remember that vinegar is simply fermented wine. The sweet taste and tart acidity of balsamic vinegar highlight the flavor of the berries.

Ingredients:
4 cups fresh strawberries, stemmed and sliced
2 tbsp. granulated sugar
2 to 3 tbsp. Balsamic Vinegar
1 quart vanilla ice cream

Instructions:
In a large bowl, combine the strawberries, sugar and vinegar and stir gently until the strawberries are evenly coated. Cover and refrigerate for at least 30 minutes or up to 4 hours.

To serve, divide the ice cream among 6 dessert bowls. Gently stir the strawberry mixture and spoon over the ice cream. Serve immediately.

Makes 6 servings.

Click here to view recipe and photo of Strawberries with Balsamic Vinegar in Diana's Desserts Website

---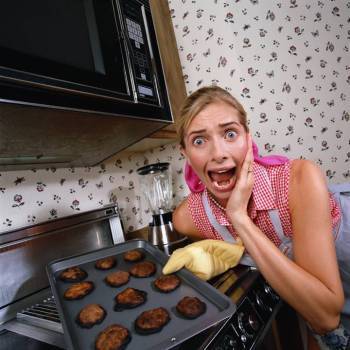 Tips Section
This month the tips section is about "sweeteners". Here are the most common types of sweeteners we use in cooking and baking:

Granulated sugar

* Granulated sugar is made from sugar beets or sugar cane and may be referred to as white sugar or table sugar.
* Use granulated sugar when recipes call for "sugar".
* Granulated sugar caramelizes to a brown color during baking, contributing both a rich flavor and attractive color to baked goods.
* Cookies prepared with all or mostly granulated sugar will typically be crisp in texture.

Superfine sugar

* Granulated sugar that has been ground to produce a finer sugar crystal. It often is used to make meringues because it dissolves more easily. It can be substituted for granulated sugar.
* To prepare superfine sugar at home, grind granulated sugar in a food processor.

Brown sugar

* Brown sugar is granulated sugar that has molasses added to it.
* Available in both dark and light varieties, dark brown sugar gives baked products a darker color and stronger molasses flavor. Light and dark brown sugar can be used interchangeably.
* To measure, firmly pack into a dry measuring cup, even with the top of the cup. Brown sugar should hold its shape when turned out of the cup.
* Brown sugar will absorb moisture from the air, so cookies made with brown sugar soften upon standing.

Powdered sugar

* Also called confectioners' sugar.
* Powdered form of granulated sugar with a small amount of cornstarch added to prevent caking.
* Do NOT substitute for granulated sugar in cookies, cakes and other baked goods.

Molasses

* This dark brown syrup is what remains after granulated sugar is removed from the sugar cane.
* Blackstrap is a darker, more concentrated type of molasses.
* Best used in recipes which call for molasses.

Honey

* The flavor of honey varies depending on the floral blossoms that the honey bees visit to collect nectar.
* Because honey readily absorbs moisture, cookies made with honey will soften very quickly once removed from the oven.
* Baked goods containing honey brown more quickly than those containing granulated sugar.

Source: www.quakeroatmeal.com

---
Until Next Time
*Important Notes to Guests of Diana's Desserts:

I will not be sending out my newsletters every month as of now. It is very time consuming to write a detailed newsletter on a monthly basis as I have been doing for over two years now, so I will be emailing you with shorter and less frequent newsletters from now on. I hope I won't be disappointing some of you, but when writing the newsletter becomes a "chore" and isn't fun anymore than I had to consider reducing the amount of time I spend on it. I will be sending out newsletters on a "when I'm in the mood" basis. This could mean shorter newsletters, and it could also mean only at special times of the year, such as the Christmas - Thanksgiving time, Easter - Passover time, and when there are other special holidays coming up.

I am sorry to have to do this, but I need time to "have a life" and taking care of my website and doing the newsletters takes up alot of my time. The only other alternative was to give up my website completely, and I hopefully will not have to resort to that option.

My next newsletter will probably be sent out during mid-summer. Stay tuned!

Guest Recipe Submissions:
I want to let you all know how much I enjoy the recipes you have submitted, but I am having a problem with some people submitting recipes without giving the source of the recipe and also without including their email addresses. From now on, please include the source and your email address when submitting a recipe, otherwise I will not post the recipe.

Also, since I not able to make all of the recipes that are submitted to Diana's Desserts website, I would appreciate it very much if those of you who so kindly submit your wonderful recipes, to also send me a photo of the dish so that way I don't have to spend alot of my own time searching for photos to go along with the recipe to post on my website. If you have a digital camera (and I know so many of you do own them now), it's quite easy to take a quick snapshot of the dessert and send it along to me at: diana@dianasdesserts.com.

One last thing about recipe submissions. I have been contacted recently from a magazine publisher stating that there are recipes and photos on my website of theirs that are being used without their permission. So, now I must also ask you to only submit recipes that are your own, or ones that have been given to you by friends or family and any photos of recipes that you submit, must also be your own. I have had to remove quite a few recipes from my site because some of these recipes and photos are copyrighted and I am not supposed to use some of them without permission.

Sorry to hit you with so much "stuff" this month, but I need to be responsible and the only way is by letting everyone know what's going on and what my new "rules" are. I hate the word "rules", but I don't know how to put it any other way.

I am also going to be screening the new Ratings and Reviews before they are placed on Diana's Desserts website as unfortunately, some "kids" or just silly people, have been writing reviews that use "not so nice" words (swear words, etc.) and because of these people I am going to have to monitor what gets on my site and what doesn't. It's really very unfortunate that these things happen, but there are all kinds of people on the internet, and sometimes some of these kids and other people who obviously don't have a brain, are causing a lot of problems for those of us who are decent nice people.

Contacting Me:
I really enjoy your emails and I want to thank you so much for sharing your feelings and interests with me also. Having said this, I have to ask that you only email me through my website "Contact Diana" (found at the top right on each page of my site), about things you cannot find answers to yourself. I get so many emails, and some people ask me questions that can be answered very easily by doing an internet search using Google.com (http://www.google.com), or other internet search engines. I like answering questions, but I don't always have the answers to all of your questions (I'm not Martha Stewart, you know) and sometimes I end up having to do searches myself on the internet or searching my own cookbooks and magazines and it becomes very time consuming.

Also, some people ask me to email them recipes directly. I can do this if a specific recipe is not on my website, or for unusual recipes that are difficult to find, but I am asking you to first search my website. I have a recipe search box on each page of my site for that very reason. If you can't find a particular recipe that way, then by all means, email me.

Well, that's about if for now. I hope I haven't lost a lot of you as visitors to my site by "laying down some new rules", but I know those of you who are understanding people, will give me a break and know where I'm coming from.

Have a wonderful month of June, enjoy the beginning of summer starting later this month, and I will be back during mid-summer with a brand new edition of Diana's Desserts Newsletter.

For now, take care and enjoy your desserts!

Sincerely, Diana