EDITION NUMBER 28 - "SPRING IS HERE"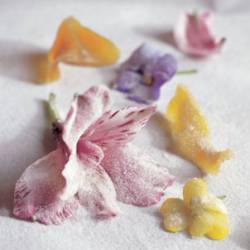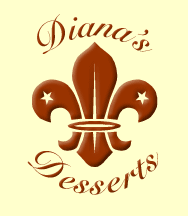 April 3, 2005

Welcome Home Bakers and Friends,

Spring is officially here (The first day of Spring was March 20th).

It's that special time of year to begin tending to our gardens again and enjoying the sunshine, and to start doing a little baking. Doesn't this sound nice?

With winter taking it's usual toll, leaving our gardens so sparse and drab, now the colorful crocuses, daffodils and tulips are beginning to bloom. Then come the roses and all the other beautiful springtime flowers to color our once bare landscape. Nature's wonderful cycle begins again!

Spring is really that special time of year to begin baking after a long winter, especially when so many of the best fruits of the Spring and the Summer season are becoming available in our supermarkets. There will be so many wonderful choices of delicious fruits to choose from in the next few months to make some of our favorite desserts and other goodies.

Take advantage of this time of year when you can shop for the season's best fresh fruits from your local farmer's market. By doing this, you are not just purchasing the "best of the best" produce of the season for you and your family, but you will be helping the produce growers in your own local area. This is good for you and good for your community's economy.


In this Edition of Diana's Desserts Newsletter
In this edition of Diana's Desserts Newsletter, special recipes are included for the 8 day observance of the Jewish holiday of Passover which begins at sundown on Saturday April 23rd. Dessert recipes using spring time fruits are also included in this edition.

The Food Tips and Information Section below is all about Rhubarb. If you've never baked with Rhubarb, this is a great time to give it a try. A wonderful Rhubarb Pie recipe is included below. I hope some of you will try it and let me know how it turned out. I do look forward to your feedback, positive or negative.

As in every edition of Diana's Desserts Newsletter, there is a Guest Submitted Recipe. This month, the recipe is for Apricot Tansy. This wonderful recipe was submitted by my husband Kenny and works especially well for Passover.


A New Feature at Diana's Desserts Website
Recipe Ratings and Reviews
For those of you who have been visiting Diana's Desserts Website for a while now, you'll know that the recipes have not been rated or reviewed by guests (such as yourselves) to the site. Now everyone who visits Diana's Desserts will have the chance to rate and review each recipe. At the bottom of each recipe page there will be an option for you to rate and review the recipe. I hope this will be something you'll enjoy and find helpful in deciding which recipes you would like to try. Rating and Reviewing the recipes should be a very useful tool for those of you who really want a good idea on how a particular dessert, bread or beverage recipe turned out for others (before you decide on making it yourself). I have chosen a "cake plate" icon for rating the recipes instead of using stars. I think this is a cute idea, especially for a baking and dessert website. This is how recipes are rated: One "cake plate" is Poor, 2 "cake plates" is Could be Better, 3 "cake plates" is Good, 4 "cake plates" is Very Good, and 5 "cake plates" is Excellent.

Note: If you go to a particular recipe and there are no ratings or reviews, this simply means that no one has either tried the recipe yet or has not rated or reviewed it yet, Remember, this is a brand new "tool" at Diana's Desserts, so it will take a while for recipes to be rated and reviewed.


New Tips Section in Newsletter

Starting this month, Diana's Desserts Newsletter will include a "Tips" section. Sometimes the "Tip" will include a recipe and sometimes it will be just a helpful "tip" for your cooking and baking needs. This month (see below) the "Tips" Section is for Cake Decorating; Candied Flowers and Candied Citrus Zest with Recipe. Hope you enjoy this brand new section.

Enjoy April's Recipes....Diana

---
Guest Submitted Recipe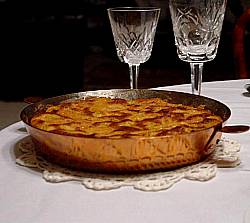 Apricot Tansy
(A great dessert for Passover or any other time)

Servings: 8

Comments:
Apricot Tansy is a comfort food that can be made anytime of the year, not only during summer when fresh apricots are plentiful, but anytime. You may substitute fresh apricots with canned apricots, or use fresh apples or any fresh fruit of your choice that is in season. The delicious tansy was eaten at Passover centuries ago. The tansy should be eaten only at a "dairy" Passover meal, as it contains cream.

What is Tansy?
Tansy - A perennial herb (Tanacetum vulgare) of the family Asteraceae (aster family), native to Europe but naturalized in North America. It was long cultivated for its ornamental foliage and clusters of yellow, buttonlike flowers; it was often used in old-fashioned dishes, such as tansy cakes and puddings, which were eaten in the spring, especially at Easter time, either in memory of the bitter herbs of the Jewish Passover or as a sort of tonic after the Lenten season. Tansy tea was formerly a household medicine and is still used as an anthelmintic and in the treatment of external bruises and inflammations. Tansy is classified in the division Magnoliophyta, class Magnoliopsida, order Asterales, family Asteraceae.

Source: The Columbia Electronic Encyclopedia Copyright © 2003, Columbia University Press.

Of course, Tansy (the herb) is not used in the preparation of this dessert anymore, but it is interesting to know from where this kind of dessert was named.

Ingredients:
1 pound (450g) fresh ripe apricots, or canned apricots (2 large size cans), drained* (see note below)
4 tablespoons (50g) margarine (pareve for Passover) or unsalted butter
1/2 cup (75g) castor sugar (granulated or superfine baker's sugar)
4 eggs
2 egg yolks
2 tablespoons (25g) double cream, or heavy cream
1/3 to 1/2 cup (75g) matzo cake meal or bread crumbs
pinch of ground nutmeg

Garnish (optional)
Castor sugar (granulated sugar or baker's sugar)
Whipped cream (or double devonshire cream, or clotted cream)

Instructions:
Cut apricots in half and remove pits. Cut each piece in half again, and fry in margarine (or butter, if using) in a heavy frying pan until fruit is soft, but not browned; sprinkle with 2 oz. sugar.

Note: If you are using canned apricots, drain and fry in pan as directed above.

While apricots are gently frying, beat together the eggs, egg yolks, cream, matzo cake meal (or bread crumbs, if using), nutmeg, and remaining sugar. Pour over the apricots, stirring them into the mixture. Cook gently until browned underneath.

Turn mixture onto plate, and put a little more margarine (or butter, if using) into pan. Return the apricot mixture to pan, so that the other side cooks until golden brown. Turn onto a warm serving plate and sprinkle with remaining sugar. If desired, serve with whipped cream, double devonshire cream or clotted cream.

Makes 8 servings.

*Note: The origin of this tansy is most likely the Middle East, where at Passover time (Spring), the weather is warm, and fresh apricots are plentiful. In the United States, Europe and other parts of the world, fresh apricots are usually a summer fruit. Using canned apricots are appropriate to use in this recipe.

Alternate Preparation
Another way of making the tansy is to fry it in an oven-proof pan, such as a copper pan, and instead of removing the mixture from pan, leave in pan after frying, then place in 350 degree F (180 C) oven to brown the top for 30-35 minutes. Remove from oven, and cool on rack. If you make the tansy this way, leave it in the oven-proof pan, cut in wedges, and serve warm or at room temperature.

Photograph taken by Diana Baker Woodall ©2002

Source of recipe: English Puddings Sweet and Savoury by Mary Norwak
Hardcover Edition:
Publisher: David & Charles; (October 1981)
Paperback Edition:
Publisher: Grub Street Publishing; (May 31, 2002)

Submitted By: Kenneth Woodall on March 12, 2002

Click here to view recipe and photo of Apricot Tansy on Diana's Desserts Website

---
Spring Desserts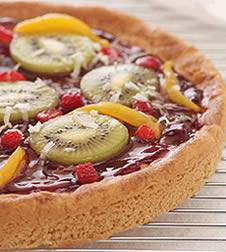 Fruit Topped Pizza with a Cookie Crust
Comments:
A special "fruit topped" pizza that the kids will really enjoy any time of the year. Popular with kids and adults alike, this dessert pizza is incredibly easy to make using store-bought refrigerated sugar cookie dough for the crust. Top this delicious "pizza" with your favorite spring or summer fruits.

Serves 8 to 10

Ingredients:
1 (18-ounce) container refrigerated sugar cookie dough
1 (8 ounce) container cream cheese
2 tablespoons granulated sugar
1 teaspoon pure vanilla extract
1/4 cup seedless red raspberry jam
2 kiwi fruit, peeled and sliced
3 halves canned cling peaches, drained, patted dry and thinly sliced
1/4 cup fresh raspberries or blueberries (or other fresh fruits of your choice)
2 tablespoons sweetened flaked coconut, toasted

Instructions:
1. Preheat oven to 375 degrees F (190 C).
2. Roll cookie dough into ball, then press into shallow round pizza pan or 9-inch-diameter cake pan.
3. Bake for 20 minutes, or until golden brown.
4. Cool crust completely in pan on cooling rack.
5. Combine cream cheese, sugar, and vanilla in large bowl.
6. Beat for 3 minutes, or until light and fluffy.
7. Spread cream cheese mixture over crust.
8. Spread jam over cream cheese.
9. Decorate with kiwi slices, peaches, raspberries or blueberries, and toasted coconut.

Makes 8 to 10 servings.

Chocolate Lover's Pizza Variation:
Make crust with roll of refrigerated chocolate chip cookie dough. Top with hot fudge topping, mini-marshmallows, chocolate morsels, and toasted slivered almonds. Rewarm pizza in oven until marshmallows begin to melt.

Click here to view recipe and photo of Fruit Topped Pizza with a Cookie Crust on Diana's Desserts Website

---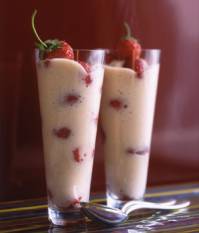 Rhubarb Sabayon with Strawberries

Servings: 6

Ingredients:
1 cup chopped fresh rhubarb stalks (2 large ribs)
1/2 cup granulated sugar
1 cup orange Muscat wine such as Essensia
1 quart fresh strawberries, trimmed and quartered
2 large eggs

Special equipment: an instant-read thermometer

Instructions:
Bring rhubarb, sugar, and wine to a simmer in a small heavy saucepan, stirring until sugar is dissolved, then simmer, uncovered, until rhubarb is tender and begins to fall apart, about 5 minutes. Puree in a blender until smooth (use caution when blending hot liquids).

Divide strawberries among 6 stemmed glasses.

Beat eggs in a large deep metal bowl with a handheld electric mixer at medium-high speed 1 minute, then add hot rhubarb purée in a stream, beating constantly. Put bowl over a saucepan of simmering water and beat until mixture is tripled in volume, very thick, and registers 160 degrees F (71 degrees C) on thermometer, about 6 minutes. Remove from heat and ladle sabayon over strawberries. Serve immediately.

Note:
Rhubarb puree can be made 2 hours ahead and kept at room temperature. Reheat before adding to eggs

Makes 6 servings.

Source: Gourmet Magazine April 2004

Click here to view recipe and photo of Rhubarb Sabayon with Strawberries on Diana's Desserts Website

---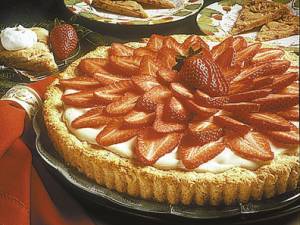 Strawberry Shortcake Tart

Servings: 12

Comments:
This tart is rich, yet light and perfect for special occasions, and easy enough to make anytime. Don't let the kneading and rolling of the dough keep you from making this dessert. To knead the dough, just fold it in half several times on a floured surface. If you don't own a rolling pin, just press the dough gently with your hands to flatten it.

Ingredients:
Shortcake:
3 cups self-rising flour
3/4 cup finely ground toasted pecans
1/4 cup granulated sugar
1/2 teaspoon finely grated lemon peel
1 1/2 cups heavy whipping cream
1 teaspoon vanilla extract
2 tablespoons butter or margarine, melted
2 tablespoons coarse sugar crystals (optional)

Strawberry Topping:
6 cups sliced fresh strawberries
3 tablespoons granulated sugar

Cream Topping:
1 cup sour cream
1/4 cup light brown sugar, firmly packed

Instructions:
Preheat oven to 425 degrees F (220 C).

In a medium bowl, stir together the flour, pecans, 1/4 cup sugar and lemon peel. Add cream and vanilla, stirring until dough forms a ball. Turn out onto surface dusted with additional flour. Fold in half 5 to 7 times to knead (do not overwork dough), adding just enough flour to keep dough from sticking to your hands. Roll out to about a 13-inch circle. Gently place dough in a 13-inch tart pan*, pressing onto bottom and up side of pan. Brush lightly with melted butter; sprinkle with sugar crystals. Bake in preheated 425 degree F (220 C) from 13 to 15 minutes or until golden brown. Cool in pan on rack.

Meanwhile, combine strawberries and 3 tablespoons sugar; set aside. In a small bowl, stir together the sour cream and brown sugar.

When ready to serve, remove side of tart pan. Place shortcake on serving platter, spread with sour cream mixture and top with strawberries.

Makes 12 servings.

*Note: A tart pan is a shallow fluted pan with a removable side.

Source: White Lily Flour Company

Click here to view recipe and photo of Strawberry Shortcake Tart on Diana's Desserts Website

---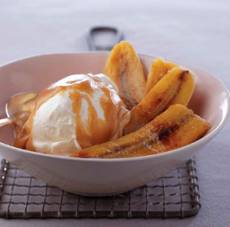 Sautéed Bananas with Cardamom Praline Sauce

Servings: 4

Comments:
Since bananas are available all year-round, they make a perfect ingredient for spring, summer, autumn or winter desserts. This is a simple recipe that can be made in a short amount of time, so it's great when you need a last minute dessert to serve your dinner guests.

Ingredients:
1/4 cup (1/2 stick/2 oz/56g) unsalted butter
4 bananas, halved lengthwise, then crosswise
1/4 cup packed light brown sugar
1/2 cup heavy cream
Pinch of ground cardamom
3/4 teaspoon fresh lime juice

Accompaniment:
Vanilla ice cream

Instructions:
Heat 1 tablespoon butter in a 10-inch heavy skillet over moderately high heat until foam subsides, then sauté half of bananas, cut sides down first, turning over once, until golden, 1 1/2 to 2 minutes total. Transfer with a slotted spatula to 2 dessert bowls. Heat 1 tablespoon butter and sauté remaining bananas in same manner, transferring to 2 more bowls.

Melt remaining 2 tablespoons butter in skillet over moderate heat, then add brown sugar, cream, cardamom, and a pinch of salt and simmer, stirring occasionally, until sauce is slightly thickened, about 2 minutes. Remove from heat and stir in lime juice.

Spoon sauce over bananas and ice cream.

Makes 4 servings.

Source: Gourmet Magazine, February 2005

Click here to view recipe and photo of Sautéed Bananas with Cardamom Praline Sauce on Diana's Desserts Website

---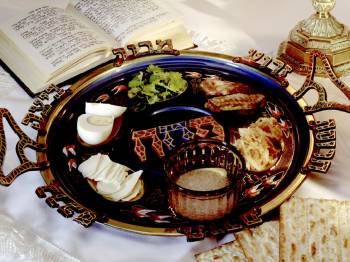 Passover
(Passover begins at Sundown on Saturday April 23, 2005)

Passover is the 8 day observance commemorating the freedom and exodus of the Israelites (Jewish slaves) from Egypt during the reign of the Pharaoh Ramses II.

A time of family gatherings and lavish meals called Seders, the story of Passover is retold through the reading of the Haggadah. With its special foods, songs, and customs, the Seder is the focal point of the Passover celebration. Passover begins on the 15th day of the Jewish month of Nissan. As the Jewish day begins at sundown the night before, for the year 2005, the first night of Passover will be April 23rd.

The first 2 nights of the 8 day holiday are celebrated with lavish meals called Seders in which the stories and history of Passover are celebrated. Special foods, plates, silverware are all a part of the Seder.


The Passover Seder
Taking place the first 2 nights of the 8 day holiday, the Seder is the most important event in the Passover celebration. Usually gathering the whole family and friends together, the Seder is steeped in long held traditions and customs.

Leading up to the first night of Passover, the home is cleaned and cleared of all yeast foods, called hametz. All hametz is either eaten before Passover begins or "sold" to non-Jewish neighbors and friends.

The rules surrounding Passover are strict and many, with only special foods, utensils, and dishware allowed.

Kitchen utensils and dishware normally used in the home are not be used during Passover. Special dishes and utensils for the Passover holiday are taken out of storage, cleaned and used.

Only foods that are "Kosher for Passover" are allowed. No leavened (containing yeast) foods or grains are eaten. In their place matzoh and foods containing matzoh are eaten. This is to commemorate the Israelites who fled quickly into the desert with no time for their breads to rise and were forced to bake the dough into hard crackers in the desert sun. All foods prohibited during Passover must be disposed of the morning of the first night of Passover.

With its Passover dishware and silverware, the Seder table is different than the regular dinner table. The centerpiece of which is the Seder plate, a special plate containing the 5 foods that remind us of the struggle of the Israelites in their quest and journey to freedom.

Three pieces of matzoh are placed in a Matzoh Cover (a cloth sleeve or envelope) and placed in the center of the Seder table. Before the meal begins the middle matzoh is removed and broken in half.

One half is returned to the Matzoh Cover, the other - the Afikomen - is hidden, to be hunted by the children at the end of the Seder meal. The child who finds the Afikomen wins a special prize. Some homes break the Afikomen in to many pieces assuring that each child present can find a piece and receive a prize.

The Seder plate contains foods that have special meaning for this holiday:

1. Haroseth
2. Parsley (dipped in salt water)
3. Roasted egg
4. Shank Bone
5. Bitter herbs

Haroseth
A mixture of chopped walnuts, wine, cinnamon and apples that represents the mortar the Jewish slaves used to assemble the Pharaoh's bricks.

Parsley
Symbolizing Springtime, it is dipped in salt water to remind us of for the tears of the Jewish slaves.

Egg
Another symbol of Spring.

Shank Bone
Symbolic of the sacrificial lamb offering, the bone can come from whatever the family is eating, such as the leg bone of a roasted turkey.

Bitter Herb
Freshly grated horseradish reflects the bitter affliction of slavery.

During the Seder 4 glasses of wine are poured to represent the 4 stages of the exodus:

1. Freedom
2. Deliverance
3. Redemption
4. Release

A fifth cup of wine is poured and placed on the Seder table. This is the Cup of Elijah, an offering for the Prophet Elijah. During the Seder the door to the home is opened to invite the prophet Elijah in.


Miriam's Cup
Several new Passover Seder rituals are being adopted by Jewish families to honor the role of Miriam, Moses's sister and the Prophetess in the Exodus, and to highlight the contributions of women to Jewish culture, both past and present. A second cup, called Miriam's Cup, is being added to the Passover dinner table along with Elijah's Cup. Miriam's Cup is filled with water and symbolizes the miracle of Miriam's well, which sustained the Israelites during their long journey in the desert.

After the meal is eaten, the children search for the Afikomen. The Seder is finished when the children have found the Afikomen and everyone has eaten a piece.

Passover dates for the next several years:

First Night of Passover for the Years 2005 - 2008:

April 23, 2005* (Saturday)
April 12, 2006* (Wednesday)
April 04, 2007* (Wednesday)
April 20, 2008* (Sunday)

Note:* Holiday begins at Sundown

Source: Passover on the Net: http://www.holidays.net/passover/index.htm

---
Passover Recipes
Lemon-Honey Almond Cake
Servings: Makes 32 squares

Comments:
The cake has an appealing, somewhat coarse texture; drizzled with a honey-lemon syrup, the dessert is reminiscent of baklava. Both matzo meal and the more finely ground matzo cake meal are used here.

If serving at a Dairy meal, serve this cake with whipped cream or for a Meat meal, serve with non-dairy whipped topping (pareve).

Ingredients:
For Syrup:
1 cup honey
2/3 cup water
1/3 cup granulated sugar
1/4 cup fresh lemon juice

For Cake:
2 cups almonds
2 cups granulated sugar
1 cup matzo cake meal
1 cup matzo meal
1 teaspoon ground cinnamon
1/2 teaspoon ground allspice
6 large eggs
1/2 cup vegetable oil
1 tablespoon grated lemon peel

Instructions:
Make the Syrup:
Combine all ingredients in heavy medium saucepan. Stir over medium-low heat until sugar dissolves. Increase heat and boil 1 minute. Cool.

Make the Cake:
Preheat oven to 350 degrees F (180 C). Oil a 9 x 13-inch x 2-inch metal baking pan. Finely grind almonds and 1/2 cup sugar in processor; transfer to medium bowl. Whisk in matzo cake meal, matzo meal, cinnamon and allspice. Using electric mixer, beat eggs and remaining 1 1/2 cups sugar in large bowl until very thick and pale in color, about 10 minutes. Beat in oil and lemon peel. Fold in almond mixture. Transfer batter to prepared pan.

Bake cake until tester inserted into center comes out clean, about 45 minutes. Cut hot cake into 32 squares; leave in pan. Drizzle cooled syrup over. Let stand until syrup is absorbed, at least 30 minutes. Serve warm or at room temperature. (Can be made 2 days ahead. Cool, cover and store at room temperature.)

Makes about 32 squares.

Source: Bon Appétit, April 1999

Click here to view recipe and photo of Lemon-Honey Almond Cake on Diana's Desserts Website

---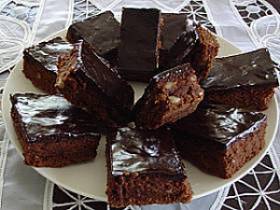 Brownies with Chocolate-Wine Ganache

Servings: Makes 16 brownies

Comments:
These brownies definitely fit into the Passover theme with the Chocolate Ganache flavored with sweet red Concord grape wine. There is just a small amount of wine in the ganache (1 tablespoon), but you can taste the wonderful flavor that it adds to the chocolate. If you choose, you can leave the wine out and have just a lovely smooth plain chocolate ganache. Whichever version you make (with or without the wine), you and your guests will love these special brownies for Passover.

Ingredients:
For the Brownies:
6 oz. bittersweet or semisweet chocolate, chopped
1 stick (1/2 cup/4 oz./113 gm) unsalted margarine or (if not keeping brownies pareve) butter, cut into pieces
3 large eggs
1 cup granulated sugar
1/8 teaspoon salt
3/4 cup matzo cake meal
3/4 cup walnuts, coarsely chopped (optional)

For the Chocolate-Wine Ganache:
6 ounces semisweet chocolate, chopped
3 tablespoons unsalted butter, room temperature
2 tablespoons whipping cream
1 tablespoon sweet red kosher wine, such as Concord Grape Wine (optional)

Instructions:
For the Brownies:
Preheat oven to 350 degrees F (180 degrees C). Line the bottom and sides of a 9-inch square baking pan with wax paper, parchment paper or greased foil.

Melt chocolate and margarine (or butter, if using) in a metal bowl set over a saucepan of barely simmering water, stirring until smooth. Remove from heat and cool 5 minutes.

Beat eggs, sugar, and salt in a large bowl with an electric mixer on high speed until pale and thick. Beat in chocolate in 3 batches on low speed. Stir in matzo meal, and nuts (if using) just until blended.

Spread batter in baking pan and bake in middle of preheated oven until firm and cake tester comes out clean, 25 to 30 minutes. Cool in pan on rack, for about 15 minutes, then invert onto a platter and remove paper or foil and let cool completely. Spread top with Chocolate Wine Ganache (see recipe below); chill in refrigerator for 2 hours until ganache is set. Slice into 16 pieces.

For the Chocolate-Wine Ganache:
Whisk all ingredients in small saucepan over medium-low heat until melted and smooth. Spread over cooled brownies.

Tip
Both brownies and ganache can be prepared 2 days ahead. Cover and chill. Serve at room temperature.

Photograph taken by Diana Baker Woodall© 2004

Click here to view recipe and photo of Brownies with Chocolate-Wine Ganache on Diana's Desserts Website

---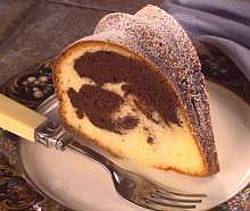 Passover Marble Cake

Servings: 12

Comments:
A very traditional cake to serve on Passover. Always a favorite.

Ingredients:
8 large eggs
2 cups granulated sugar
1 cup matzo cake meal
2 tbsp. potato starch
2 oz. bittersweet chocolate (Kosher for Passover)
Confectioners' sugar (pareve for Passover), for garish

Instructions:
Preheat the oven to 350 degrees F (180 degrees C).

Beat the eggs and sugar on medium-high speed for 15 minutes. Add the cake meal and potato starch, beating at the lowest speed until mixed in. Melt the chocolate (you can melt it while beating the eggs and sugar). Pour 3/4 of the batter into an ungreased 10-inch bundt or tube cake pan. Add the melted chocolate to the remaining 1/4 of the batter and stir until evenly mixed. Spoon the chocolate batter into the pan and swirl it through with a knife.

Bake for 50 to 55 minutes. Let cool for 10 minutes on wire rack, then invert cake onto rack to cool completely. Dust with confectioners' sugar before serving, if desired.

Makes 12 servings.

Source: DianasDesserts.com

Click here to view recipe and photo of Passover Marble Cake on Diana's Desserts Website

---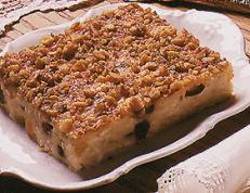 Farfel Pudding for Passover

Servings: 10-12

Comments:
This apricot and raisen dessert is lovely for Passover, served warm or cold at a "dairy" meal.

Ingredients:
3 eggs
1/4 cup granulated sugar
2 cups farfel or 4 matzo crackers, coarsely crushed
2 cups cream-style cottage cheese
1 (8 oz.) carton dairy sour cream
1/3 cup margarine (pareve), melted
1/2 cup raisins
1/2 cup apricot preserves
1/2 cup finely chopped walnuts
2 tablespoons granulated sugar
1 teaspoon ground cinnamon

Instructions:
In a large mixing bowl beat eggs until light; gradually beat in 1/4 cup sugar until combined.

Soak farfel in cold water for 5 minutes. Squeeze out excess water. Add farfel, cottage cheese, sour cream, margarine, raisins, and preserves to egg mixture; blend well.

Turn into a 12 x 7-1/2 x 2-inch baking dish. Mix nuts, sugar, and cinnamon. Sprinkle atop farfel mixture. Bake in a 350 degree F (180 C) oven for 40 to 45 minutes or until edges are puffed and center is set. Serve warm or chill up to 8 hours.

Makes 10-12 servings.

Click here to view recipe and photo of Farfel Pudding for Passover on Diana's Desserts Website

---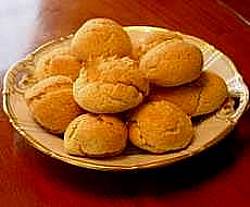 Passover Seder Rolls

Servings: Makes 12 rolls

Comments:
Since flour is not used during the eight days of this Jewish holiday, these delicious Passover Rolls are just the right thing to serve along with your Passover Sedar meal entree. Since they are made with matzo meal and not flour, they are pareve for Passover. They are also great served at breakfast time spread with margarine (pareve for Passover) and jam or preserves.

Ingredients:
2 cups matzo meal
1 teaspoon salt (pareve for Passover)
1 tablespoon granulated sugar
1 cup water
1/2 cup vegetable oil (pareve for Passover)
4 large eggs

Instructions:
1). Preheat oven to 375 degrees F (190 degrees C). Lightly grease baking sheet.

2). Wash hands with soap and water.

3). In a medium-large bowl, combine matzo meal, salt and sugar; stir well. Transfer mixture to bowl of an electric mixer.

4). In a medium size saucepan, bring the oil and water to a boil; then remove from heat. Turn off stove.

5). Add heated water/oil mixture to matzo meal mixture.

6). With electric mixer on low speed, mix matzo meal mixture/water oil mixture. Add the 4 eggs, one at a time at low speed, then turn speed up to medium and beat well.

7). Let mixture stand at room temperature for 30 minutes, OR chill in refrigerator for 20 minutes.

8). Wash hands again with soap and water.

9). Pour a small amount of oil into your palms and spread over your hands* (see note). Grab a handful of dough and roll in your hands to form a roll (about the size of a golf ball); place on prepared cookie sheet. Repeat making rolls with remaining dough, placing each roll 2 inches apart on baking sheet.

*Note: You will need to keep "re-oiling" your hands for each roll, as roll batter becomes very sticky.

10). Bake in preheated 375 degrees F (190 degrees C) oven for 45 minutes. (If rolls are browning too fast, cover with aluminum foil.)

Rolls are best when served warm. Store completely cooled rolls in an airtight container at room temperature.

Tip
Passover roll batter (dough) can be frozen for up to 3 months.

Makes approximately 12 rolls.

Source: DianasDesserts.com

Photograph taken by Diana Baker Woodall© 2003

Click here to view recipe and photo of Passover Seder Rolls on Diana's Desserts Website

---
Food Tips and Information Section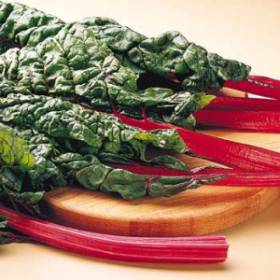 Rhubarb
Rhubarb, which looks like a pink celery stalk, is botanically a vegetable, but it is used as a fruit, largely in pies and sauces. (In some areas, it is referred to as "pie plant.") The ancient Chinese cultivated the plant for its roots, which reputedly have medicinal properties, and it didn't gain acceptance as a food in the United States until the late 1700s.

The roots and leaves aren't eaten; indeed, the leaves are highly poisonous. At one time, the toxicity was attributed to their exceedingly high levels of oxalic acid, a substance that can interfere with iron and calcium absorption. However, the exact source of the leaf toxin has yet to be determined, since rhubarb stalks also contain significant amounts of oxalic acid (as do a few other foods, such as spinach).

Rhubarb stalks are extremely tart and they require sweetening to make them appetizing. This can increase their calorie content considerably. For example, a typical recipe for rhubarb pie calls for 4 cups of diced rhubarb to which 1 1/4 cups of sugar are added. This converts 104 calories' worth of rhubarb to more than 1,000 calories. An alternative to this is to sweeten rhubarb with other, sweeter fruits, such as apples.


Varieties
Rhubarb comes in two main varieties: hothouse-grown (pink or light red stalks, with yellow leaves) and field-grown (dark red stalks, with green leaves). The hothouse variety has a somewhat milder flavor and is less stringy.


Availability
Field-grown rhubarb appears on the market from April through June or July. Hothouse rhubarb, which is cultivated in California, Oregon, and Michigan, is mainly harvested from January through June. Rhubarb is also available frozen.


Shopping
Rhubarb is sold loose and in 1-pound bags, like celery. Whichever type is available, choose well-colored, good-sized, straight, firm crisp stalks. Avoid stalks that are limp. If the leaves are attached, they should look fresh and crisp; small leaves usually indicate younger, more tender stalks.


Storage
If you buy rhubarb stalks with the leaves still attached, cut off the leaves as soon as you get home. Never eat the leaves, raw or cooked: They are poisonous. Place the stalks in plastic bags and store them in the refrigerator crisper, where they will keep for about a week.


Preparation
Hothouse rhubarb is ready to cook after it is rinsed and the tops and bottoms of the stalks are trimmed. For stewing or sauce making, cut the stalks into 1" to 2" lengths. Mature field-grown rhubarb may need to have the stringy fibers removed: As you cut the stalks, peel the coarse fibers from the back of each piece with a paring knife. One pound of cut-up rhubarb is about three cups.

Baking: Place cut-up rhubarb in a glass baking dish and sprinkle it with sugar (about 1/2 cup of sugar per pound of rhubarb). Cover tightly and bake in a 300 degrees F (150 degrees C) oven until tender, stirring once. Then taste and add more sugar, if necessary. Cooking time: about 30 minutes.

Stewing: Since its difficult to gauge how much sugar you'll need to sweeten rhubarb, add a small amount (1/4 cup per pound of rhubarb) in the beginning when you start cooking it. Place cut rhubarb in a nonaluminum saucepan with sugar, orange zest, fresh ginger, or a vanilla bean, and 2 tablespoons of water per pound of cut-up rhubarb. Stir until well combined. Bring to a boil, then reduce the heat and simmer gently, stirring frequently until tender. After cooking, add additional sugar or honey, if necessary and cook for another five minutes to dissolve it. Cooking time: 15 to 20 minutes.


Nutritional Information
Rhubarb/1 cup diced raw
Calories 26
Total fat (g) 0.2
Saturated fat (g) 0.1
Monounsaturated fat (g) 0.1
Polyunsaturated fat (g) 0.1
Dietary fiber (g) 2.2
Protein (g) 1
Carbohydrate (g) 6
Cholesterol (mg) 0
Sodium (mg) 5

Source: WholeHealthMd.com: http://www.wholehealthmd.com/refshelf/foods_view/1,1523,68,00.html

---
Grandma's Rhubarb Pie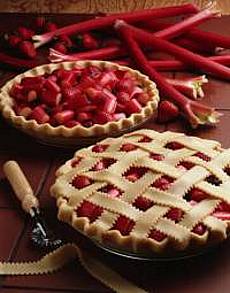 Servings: 8

Comments:
Fresh Rhubarb (a vegetable, not a fruit) is at it's best during the month's of April, May and June. If fresh rhubarb is not available, you may substitute it with frozen rhubarb. This is a favorite pie just like some of our Grandmother's and Mother's made using a homemade pie crust made with a combination of butter and lard (or shortening). Very flavorful and tender!

Ingredients:
Pastry for a double crust pie (see recipe below)
4 cups rhubarb, cut in to 1-inch pieces
2 large eggs
1/2 cup granulated sugar
1/2 cup light brown sugar
3 tablespoons all-purpose flour
Pinch of salt
Juice of 1/2 small lemon
1/2 teaspoon vanilla extract
1 tablespoon granulated sugar

Instructions:
Preheat oven to 450 degrees F (230 degrees C).

Prepare pastry for pie (see recipe below).

Roll out dough (see recipe below) for bottom crust and line a 9-inch pie dish with pastry.

Beat eggs lightly, and then stir in brown and granulated sugars, flour, lemon juice, salt and extract. Mix in rhubarb slices. Pour mixture into pie shell.

Roll out remaining pastry and cut into strips. Weave pastry strips over top in a lattice design and sprinkle pastry with remaining 1 tablespoon of sugar.

Bake in preheated 450 degrees F (230 degrees C) oven on bottom oven rack for 15 minutes. Reduce heat to 350 degrees F (180 degrees C) and move pie to middle rack of oven. Continue baking for 25 to 35 minutes.

Cool pie completely on wire rack. Serve warm or at room temperature with a scoop of vanilla ice cream or whipped cream. Store pie covered at room temperature.

Makes 8 servings.

Pie Crust Pastry (enough for a double crust pie)

Ingredients
2 cups all-purpose flour
3/4 teaspoon salt
1 to 2 teaspoons granulated sugar
1/3 cup (a little shy of 5 tablespoons/about 2 1/2 ounces/68 grams) unsalted butter
1/3 cup (a little shy of 5 tablespoons/about 2 1/2 ounces/68 grams) shortening or lard
5 to 6 tablespoons of ice water

Instructions
In a large mixing bowl, combine flour with salt and sugar; cut in butter and shortening.

Add ice water mixing with a fork until pastry comes together. Form into a ball and cut in two pieces. Form each into a round flat disc, wrap in plastic and refrigerate for 1 hour until ready to use.

Click here to view recipe and photo of Grandma's Rhubarb Pie on Diana's Desserts Website

---
Extra Extra Extra
A Brand New Monthly Newsletter Tips Section

Here's a Great Cake Decorating Tip and Recipe For You This Month


Candied Flowers and Candied Citrus Zest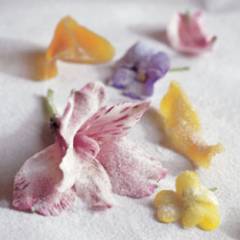 Servings: 20-30 Candied Flowers or 1/2 cup Candied Zest

Comments:
Various edible fresh flowers may be candied for decorating or garnishing cakes. The best choices are small blossoms with simple configurations of petals that can easily be brushed with egg white and coated with granules of sugar. These include violets, pansies, small roses and Peruvian lilies. It is especially important to look for flowers grown without pesticides. Farmers' markets are one source for untreated flowers. You can also grow your own or obtain them from a friend's home garden. If you cannot verify that a flower is edible or is pesticide free, it is best not to use it.

Ingredients:
For Candied Flowers:
1 egg white, at room temperature
20 to 30 pesticide-free fresh flowers
Sugar for sprinkling

For Candied Zest:
2 oranges
1 lemon
1 1/2 cups Plus 1/3 cup sugar
3/4 cup water
1 Tbsp. fresh lemon juice

Instructions:
To Make Candied Flowers:
Line a baking sheet with parchment paper. In a bowl, beat the egg white until it is covered with a light foam. Using a clean, small paintbrush, lightly and evenly coat the flowers with egg white and sprinkle with sugar. If the sugar is absorbed after a few minutes, sprinkle again. Put the flowers on the prepared baking sheet and let dry at room temperature for 24 hours. Use your fingers to transfer them carefully to a cake. The candied flowers can be stored between layers of waxed paper in an airtight container at room temperature for up to 3 days.

To Make Candied Zest:
Thoroughly wash the oranges and lemon. Cut a slice from the blossom end of each fruit so it stands upright on a work surface. Working from top to bottom, use a small, sharp knife to cut strips of zest, leaving the white pith behind. Stack the strips and cut them lengthwise into narrow strips 1/4 inch wide. Bring a saucepan of water to a boil over high heat. Add the zest strips and cook for 5 minutes. Drain the zest, refill the pan with water and repeat.

In another saucepan over medium heat, bring the 1 1/2 cups sugar, 3/4 cup water and lemon juice to a boil, stirring occasionally. Add the zest strips, reduce the heat to very low (barely a simmer), and cook until the strips are translucent and tender, about 30 minutes. Using a fork, lift the strips from the syrup and place on a wire rack set over waxed paper, making sure that the strips are not touching. Let dry overnight at room temperature.

Put the 1/3 cup sugar in a small, wide bowl. Toss the zest, about 10 strips at a time, in the sugar. If not using the zest immediately, store in an airtight container at room temperature. It will keep for up to 1 month.

Makes 20 to 30 candied flowers or about 1/2 cup candied zest.

Note: Candying flowers calls for uncooked egg whites. Small children, the elderly, pregnant women and people with compromised immune systems should not eat undercooked or raw eggs. If you are concerned about egg safety, use pasteurized whites in place of raw.

Adapted from Williams-Sonoma Collection Series, Cake, by Fran Gage (Simon & Schuster, 2003).

Click here to view recipe and photo of Candied Flowers and Citrus Zest on Diana's Desserts Website

---
Until Next Month
As always I hope you have enjoyed the early spring dessert recipes and the information and recipes for Passover.

Also, I hope you learned something new about Rhubarb and maybe some of you will try either the Rhubard Sabayon with Strawberries or Grandma's Rhubarb Pie. This is the best time of year to try fresh Rhubarb, so try it in one of these recipes or other recipes using Rhubard that you may have or find in cookbooks or magazines.

Some of the special holidays celebrated in May are Cinco de Mayo (Thursday May 5th), Mother's Day (Sunday May 8th) and here in the United States we enjoy a long Memorial Day Weekend (holiday falls on Monday May 30th). I will be including in next month's edition of Diana's Desserts Newsletter, dessert recipes for these festive occasions.

Have a wonderful and hopefully "sunny" month; enjoy your gardens and take a little time to try some new dessert recipes for Spring.

If you'd like to submit one of your favorite dessert, bread or beverage recipes, click on the link below to bring you to Diana's Desserts Website's Submit a Recipe Page:

Submit a Recipe

To those of you that celebrate Passover, have a wonderful holiday.

Please drop me an email (diana@dianasdesserts.com) and let me know if you like the New Ratings and Reviews for recipes on Diana's Desserts Website and if you think this is a good idea.

Sincerely, Diana