| | |
| --- | --- |
| Father's Day | |
DIANA'S DESSERTS NEWSLETTER
EDITION NUMBER 20

June 6, 2004


Welcome Home Bakers and Friends,

I hope you had a wonderful month of May, and for those of you that celebrated any of the festive holidays in May, such as Cinco de Mayo, the Jewish holiday of Shavuot, Memorial Day and Mother's Day, I hope you thoroughly enjoyed yourselves.

My husband Kenny and I spent Mother's Day with my sister who had been in the hospital for several months. It felt so good to be able to enjoy this special day with her now that she's out of the hospital and doing a little better. Kenny baked Fudgy Brownies for her the night before our visit with her in San Francisco. We brought them with us for her to indulge in (she loves chocolate!). She really enjoyed them, and I was so proud of my husband for doing such a nice thing for my sister on Mother's Day.

On to Baking
June is here and that means summer is just a few weeks away. It's that time of year to enjoy the wonderful fresh summer fruits and a great time to include them in our baking and cooking endeavors.

In this edition of Diana's Desserts Newsletter, the recipes will focus on desserts that use fresh summer fruits, including special treats for Father's Day, celebrated this year on Sunday June 20th, and two delicious dessert recipes for the African-American holiday of Juneteenth Day, celebrated on Saturday June 19th.

The Food Tips and Information Section this month is all about Cantaloupes; a sweet and delicious melon that is best bought and eaten during the summer months of June through September. A wonderful light and delicious recipe for Cantaloupe Mousse is included below.

This month's Guest Submitted Recipe is from Kristin Bredl. She shares with us the Best Ever Chocolate Chip Cookies recipe adapted from Betty Crocker's Cooky Book (1963 Edition).

Enjoy the recipes and I hope the information on Cantaloupes will be informative and helpful to you.

---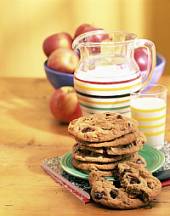 GUEST SUBMITTED RECIPE
Best Ever Chocolate Chip Cookies

Servings: 4-5 dozen

Comments:
There are so many chocolate chip cookie recipes out there, so how do you know which one to make? Well, stop looking because I have the one just for you right here....Kristin

Ingredients:
2/3 cup (1 1/2 sticks/6 oz/170 gm) butter or shortening
1/2 cup granulated sugar
1/2 cup brown sugar, firmly packed
1 egg
1 tsp. vanilla extract
1 1/2 cups all-purpose flour
1/2 tsp. baking soda
1/2 tsp. salt
1/2 cup chopped nuts (optional)
1 (12 oz.) package chocolate chips

Instructions:
Preheat oven to 375 degrees F (190 C).

Mix together throughly, the butter (or shortening, if using), both sugars, the egg, and the vanilla. In a separate bowl combine the flour, baking soda and salt and blend into butter mixture. Stir in the nuts (optional) and chocolate chips.

Drop rounded tablespoons of dough about 2 inches apart on ungreased baking sheets. Bake in preheated oven for 8-10 minutes or until delicately browned. Cool slightly before removing from baking sheet.

Makes 4-5 dozen cookies.

Source: Betty Crocker's Cooky Book (1963 Edition)

Submitted By: Kristin Bredl

Date: May 17, 2004

Thank you Kristin for submitting this special recipe for Best Ever Chocolate Chip Cookies. I know guest's to Diana's Desserts website will throughly enjoy making them and eating them.....Diana, Diana's Desserts

Click here to view recipe and photo of Best Ever Chocolate Chip Cookies on Diana's Desserts Website

---
Father's Day
Sunday June 20, 2004
The Story of Father's Day
Father's Day, contrary to popular misconception, was not established as a holiday in order to help greeting card manufacturers sell more cards. In fact when a "father's day" was first proposed there were no Father's Day cards!

Mrs. John B. Dodd, of Washington, first proposed the idea of a "father's day" in 1909. Mrs. Dodd wanted a special day to honor her father, William Smart. William Smart, a Civil War veteran, was widowed when his wife (Mrs. Dodd's mother) died in childbirth with their sixth child. Mr. Smart was left to raise the newborn and his other five children by himself on a rural farm in eastern Washington state. It was after Mrs. Dodd became an adult that she realized the strength and selflessness her father had shown in raising his children as a single parent.

The first Father's Day was observed on June 19, 1910 in Spokane Washington. At about the same time in various towns and cities across America other people were beginning to celebrate a "father's day." In 1924 President Calvin Coolidge supported the idea of a national Father's Day. Finally in 1966 President Lyndon Johnson signed a presidential proclamation declaring the 3rd Sunday of June as Father's Day.

Father's Day has become a day to not only honor your father, but all men who act as a father figure. Stepfathers, uncles, grandfathers, and adult male friends are all honored on Father's Day.

Source: Holidays on the Net - http://www.holidays.net/father/story.htm

---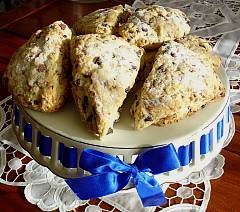 TREATS FOR FATHER'S DAY
Chocolate Chip Toffee Scones
Servings: 12

Comments:
If Dad is a chocolate lover, then these scones are for him! You can make these delectable goodies early in the morning, and serve them at breakfast or brunch.

Truly and most probably the best scones I have ever baked, OR for that matter, ever eaten. The chocolate chips and chocolate-covered English Toffee Bits just "ooze" when you take your first bite into the scone. So if you really want to experience these scones at their very best, eat them when they're still just a touch warm. Otherwise, they are still terrific once they have cooled, and I think even better the next day. Really "To die for" with a good cup of coffee or tea, or a big glass of milk.....Diana

Ingredients:
Scones
3 1/4 cups all-purpose flour
1/2 cup granulated sugar
1 tablespoon PLUS 1/4 teaspoon baking powder
1/4 teaspoon salt
1 cup semisweet, milk, or dark chocolate chips
1/2 cup walnuts, toasted and then chopped into small pieces* (See Below on How to Toast Walnuts)
1/2 to 1 cup chocolate-covered English Toffee Bits (I recommend Hershey's Heath Milk Chocolate English Toffee Bits)
2 cups heavy cream, chilled

Topping (before baking)
2 tablespoons (1/4 stick/1 oz./28 gm) unsalted butter, melted
Granulated or coarse white sugar

Instructions:
Preheat oven 375 degrees F (190 C). Lightly butter two heavy large baking sheets.

In a large mixing bowl, combine flour, 1/2 cup sugar, baking powder and salt; mix welll. Stir in chocolate chips, nuts and toffee bits.

In a large mixing bowl or bowl of an electric mixer (chill mixing bowl and beaters or whisk attachment in freezer for 15 minutes, or chill in refrigerator for one hour before whipping cream), whip the chilled heavy cream until stiff peaks form. Fold whipped cream into dry ingredients; combine well.

Turn dough out onto a lightly floured work surface. Knead gently until soft dough forms; about 2 minutes. Form dough into ball and pat dough out to 1 1/4-inch thickness. Cut dough into 12 wedges.

Transfer wedges to prepared baking sheets, spacing about 1-inch apart.

For Topping:
Brush scones with melted butter. Sprinkle each scone with a bit of granulated or coarse white sugar. Bake in preheated 375 degree F (190 C) oven until golden brown, about 20 minutes. Serve warm or at room temperature. Store in airtight container at room temperature.

Makes 12 scones.


How to Toast Walnuts

Oven-Toasting

1. Preheat oven to 350 degrees F (180 C).
2. Toast walnuts BEFORE chopping them into smaller pieces.
3. Place nuts in a single layer in an ungreased shallow pan or rimmed baking sheet such as a cookie sheet or jelly roll pan. (DO NOT use a baking sheet without sides or you may have nuts all over the oven if you accidentally tip the sheet when removing it from the oven.)
4. Bake 5 to 10 minutes or until they are golden brown. A toasted walnut may look more GOLDEN than BROWN. They will continue to brown slightly after they're removed from the oven. Stir once or twice or shake the pan during toasting to aid in even browning.
5. Remove from pan to cool.
6. After toasting and walnuts have cooled, store any leftover toasted walnuts in the refrigerator in an airtight container for up to 1 to 2 weeks.

Note:
The first time you try toasting walnuts, it's better to err on the side of under-toasting than over-toasting. As walnuts toast, you'll notice a change in their fragrance as well as their color.

Stove-Top Toasting

Stove-top toasting works well for small batches of walnuts. With this method, the parts of the walnuts touching the skillet may become darkest, unlike the oven method where the walnuts become more of an overall golden color.

1. Toast walnuts BEFORE chopping them into smaller pieces.
2. Heat walnuts in a dry, heavy skillet over medium heat for 1 to 2 minutes or until they're golden brown and they give off a rich, toasty fragrance. Watch walnuts closely when using this method as it's easy to burn them.
3. Stir or toss walnuts frequently for even toasting.
4. Remove from pan to cool. Store cooled leftover toasted walnuts in the refrigerator in an airtight container for up to 1 to 2 weeks.

Source for Scone Recipe: Adapted from Bon Appétit Magazine, September 1997

Source for How to Toast Walnuts: Diana's Desserts.

Click here to view recipe and photo of Chocolate Chip Toffee Scones on Diana's Desserts Website

---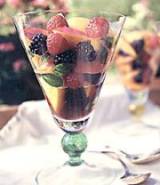 Spiked Fresh Fruit Compote
Servings: 6

Comments:
The choice of fresh fruit is yours for this fruit compote. Select the fruits that are the best for the season. Top this delicious fresh fruit compote with a dollop of whipped cream or creme fraiche. This very light and delicately sweet compote would make a wonderful side dish or dessert for a Father's Day breakfast, brunch or dinner.

Ingredients:
2 apples and/or pears, cored and cut up
2 tablespoons orange juice
1 tablespoon lemon juice
2 cups assorted fresh fruits (such as strawberries, raspberries, blackberries, peaches, blueberries)
4 teaspoons granulated sugar
1 teaspoon finely shredded orange peel (optional)
1/3 cup champagne or white grape juice, chilled

Garnish (optional)
2 tablespoons sliced almonds, toasted
Whipped cream or creme fraiche
Fresh mint leaves

Instructions:
In a large bowl combine cut-up apples and/or pears with the orange juice and lemon juice; toss gently to prevent fruit from discoloring. Add remaining fruit, the sugar, and shredded orange peel, if using; toss again. Cover and refrigerate fruit mixture for at least 1 hour or up to 2 hours.

Just before serving, stir in chilled champagne or grape juice. If desired, sprinkle with almonds, top with a dollop of whipped cream or creme fraiche, and garnish with fresh mint leaves.

Makes 6 servings.

Make-Ahead Tip: Up to 2 hours ahead, prepare fruit mixture. Cover and chill. To serve, add champagne or grape juice and garnish as directed.

Source: Diana's Desserts

Click here to view recipe and photo of Spiked Fresh Fruit Compote on Diana's Desserts Website

---
Juneteenth Day
Saturday June 19, 2004
A Day of Thanks and the Celebration of Emancipation

"Now, therefore I, Abraham Lincoln, President of the United States,...order and declare that all persons held as slaves within said designated States, and parts of States, are, and henceforward shall be free..."

Juneteenth is the celebration of the anniversary of the Emancipation Proclamation which was issued by US President Abraham Lincoln on January 1st, 1863. The proclamation gave the Southern slaves their freedom and is considered an important benchmark in the African-American struggle for freedom and equality.

The word "Juneteenth" comes from the words "June" and "19th", which according to southern folklore is when the slaves of Texas first learned of their freedom. Though technically freed in 1863, the slaves did not learn of their freedom until the arrival of the Union soldiers on June 19th, 1865. This was after the end of the Civil War and 2 1/2 years after the proclamation was first issued.

The Emancipation Proclamation is considered the catalyst that ended slavery. But at the time the proclamation was issued it really did not free anyone since the Confederate states did not recognize President Lincoln's authority. It was not until after the Civil War had ended that the 13th Amendment to the US Constitution, ratified in 1865, officially outlawed slavery.

Juneteenth began as a celebration by ex-slaves and has continued to be observed by African-Americans in the US South. Recently there have been efforts to bring a wider audience to the celebrations.

Source: Holidays on the Net - http://www.holidays.net/dailys/holidays/juneteenth.htm

---
DESSERTS FOR JUNETEENTH DAY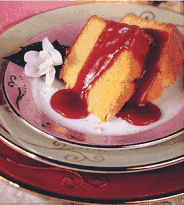 Juneteenth Day Jelly Cake
Servings: 12

A jelly cake certainly isn't a high-style dessert, but it's an old traditional delight that always seems to make a regal finish to a good soul food dinner.

Ingredients
1 cup granulated sugar
1/2 cup mashed banana
2-1/2 cups all-purpose flour
1 tsp. baking powder
2 tsp. vanilla extract
6 egg whites
Nonstick cooking spray
1/2 cup raspberry jam, preserves or jelly OR Raspberry Sugar Syrup (see recipe below)

For the Cake
Preheat oven to 350 degrees F (180 C). Spray a 10-inch tube or bundt pan with nonstick cooking spray. Set aside.

In a large bowl, cream the sugar and banana with an electric mixer. Then, slowly mix in the flour, baking powder and vanilla extract. Mix in the egg whites, one at a time.

Pour the cake batter into the prepared 10-inch tube or bundt pan. Bake about 1 hour or until a toothpick inserted in center comes out clean. Let cool for 20 minutes on wire rack, then remove the cake from the pan. Serve with Raspberry Topping OR Alternate Raspberry Sugar Syrup.


Raspberry Topping
In a saucepan over low heat, heat the jam, preserves or jelly until melted enough to pour, stirring constantly, about one minute. Drizzle over the cake, or place warmed sauce in a pretty bowl and let guests help themselves to the topping.

Makes 12 Servings.

Alternate Topping
Raspberry Sugar Syrup

Ingredients
1/4 cup fresh raspberries
1/4 cup sugar
1/4 cup water

Instructions
Blend or process raspberries until almost smooth, pass through a small sieve to remove seeds. Combine raspberry puree, sugar and the water in small pan. Simmer, stirring, without boiling, until sugar is dissolved. Boil gently for 3 minutes or until syrup is slightly thickened. Drizzle over cake or place warmed syrup in a pretty bowl and let guests serve themselves.

Source: Recipe adapted from "The New Soul Food Cookbook", by Wilbert Jones.
Note: Recipe in Mr. Jones' cookbook is titled Jelly Cake.
Raspberry Sugar Syrup recipe is from Diana's Desserts Website.

Click here to view recipe and photo of Juneteenth Day Jelly Cake on Diana's Desserts Website

---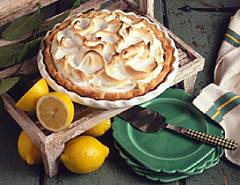 Fresh Lemon Meringue Pie
Servings: 8

Comments:
Lemon Meringue Pie has always been a very traditional pie served in American households, and it has been especially popular with African-American home baker's.

Fresh Lemon Meringue Pie, always a favorite for a family gathering or served for special occasions when guests are coming to dinner. A very delicious and appropriate dessert for Juneteenth Day.

Ingredients:
For the Pastry:
1 1/4 cups all-purpose flour
1/4 tsp. salt
1 tsp. granulated sugar
6 tbsp. (3/4 stick/3 oz/84 gm) cold unsalted butter, cut into 1-inch pieces
1/4 cup shortening
2 to 3 tbsp. ice water, or as needed

For the Lemon Curd:
3 eggs
5 egg yolks
1/2 cup granulated sugar
3 tbsp. milk
Pinch of salt
1/2 cup fresh lemon juice
1/2 cup (1 stick/4 oz/113 gm) softened unsalted butter, cut into 1-inch pieces

For the Meringue:
4 egg whites
1/2 tsp. vanilla extract
1/4 tsp. cream of tartar
1/3 cup granulated sugar

Instructions:
To Make the Pastry:
In the bowl of food processor, combine the flour, salt and sugar and pulse once to mix. Add the butter and shortening and process short pulses to form pea-size crumbs, 20 to 25 seconds. While pulsing, gradually add the ice water to form larger, moist crumbs, 10 seconds more. Turn the dough out onto a lightly floured surface and, with floured hands, shape the mixture into a flat disk. Wrap tightly with plastic wrap and refrigerate until firm, at least 1 hour or as long as overnight.

To Make the Lemon Curd:
In the top pan of a double boiler or in a nonreactive saucepan, whisk together the eggs, egg yolks, sugar, milk and salt until blended. Then whisk in the lemon juice. Set the top pan over the bottom pan of simmering water but not touching the water, or set the saucepan ove medium-low heat. (If using a saucepan, take care not to heat the mixture too quickly.) Cook, stirring constantly with a wooden spatula or spoon, until the mixture is warmed through, 1 to 2 minutes.

Begin adding the butter a little at a time, stirring each addition until blended before adding more. Continue cooking, stirring constantly and scraping the bottom of the pan, until a finger drawn across the back of the spatula leaves a path, 8 to 10 minutes more. Immediately remove the pan from the heat. Pass the curd through a chinois set over a nonreactive bowl and cool to room temperature.

Position a rack in the center of an oven and preheat to 425 degrees F (220 C). On a lightly floured surface, roll out the pastry into a 12-inch round, about 1/8 inch thick. Transfer the dough to a 9-inch pie dish, fit the dough into the dish and trim the edges, leaving a 1/2-inch overhang. Fold under the excess dough and, using your thumb, decoratively flute the edges.

To Make the Meringue:
In the bowl of an electric mixer fitted with the whisk attachment, beat the egg whites, vanilla and cream of tartar on medium speed until soft peaks form, about 1 minute. Gradually add the sugar, 1 tbsp. at a time, beating on high speed until stiff, glossy peaks form, about 4 minutes more.

Spread the meringue over the hot pie filling to the edges of the pastry to seal and prevent shrinkage. Bake until the top is golden, about 15 minutes. Transfer the pie to a wire rack and cool to room temperature, then refrigerate at least 4 hours before serving. Dip a knife in warm water to cut slices.

Makes 8 servings.

Source: DianasDesserts.com

Click here to view recipe and photo of Fresh Lemon Meringue Pie on Diana's Desserts Website

---
Food Tips and Information Section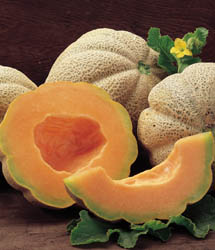 Cantaloupes
Source: Information adapted from Produce Pete

Great fragrance is the hallmark of a good ripe cantaloupe. If I've got a crate or two of them in the truck, it doesn't matter what other produce is in there. When I open the door to unload, the warm, rich, sweet summer smell of melons is the first thing that hits me. Usually the least expensive and probably the most popular melons on the market, cantaloupes are sweet, fragrant, and juicy, with a pinkish orange to bright orange flesh. Grown primarily in California and other Western US states, cantaloupes are round, with a golden, tightly netted skin.

Although good cantaloupes from the West are available from June through December, they are best between June and September. That's when the California crop is at its peak, and I think that state grows the best cantaloupes. Arizona is next, New Mexico and Texas also grow big cantaloupe crops.

Varieties
Almost all cantaloupes commercially grown in California are of the Hale's Best group of varieties. Several strains are on the market, each with a few distinct characteristics. Other varieties include Hymark and Mission.

California provides the bulk of supplies to the U.S. with Arizona and Texas also producing considerable amounts. U.S. availability begins in late April and the peak months are June through September.

If the stem end is rough with portions of the stem remaining, the melon was harvested prematurely. Shriveled, flabby or badly bruised product signals poor quality. Also avoid melons with growth cracks, mottling or decay (mold or soft sunken spots on the surface). A mature cantaloupe will be well netted or webbed with a smoothly rounded, depressed scar at the stem end.

When ready to eat, cantaloupe will take on a yellow background appearance, acquire an aroma and soften. Because cantaloupe is shipped in a firm state to avoid damage, it usually needs a few days at room temperature to soften and become juicier.

To prevent bacteria on the melon netting from passing through to the flesh when cutting, follow these FDA rules:

Wash melons with potable water.
Clean and sanitize the cutting area and utensils.
Hold cut product at 45 degrees F (7.2 degrees C), or lower.

Cantaloupe Season
The best time to buy western cantaloupes is between June and September, when the California melons are at their peak. During December, January, and February, we get cantaloupes imported from Central America. Although you'll occasionally get lucky and find a good one, most of these are both overpriced and lousy. In February, March, April and May we start to see Mexican cantaloupes. They aren't as good as summer cantaloupes from the States, but over the last few years the quality has improved and the price has become more reasonable.

Selecting Cantaloupes
Color and, more important, fragrance - not softness at the stem end - indicates ripeness. A cantaloupe with golden color and ripe, sweet aroma is going to be a ripe, sweet melon. Don't push the stem end - if your neighbor presses a thumb there, and I press mine there, you're going to feel something soft even if the melon is grass green. For some reason, cantaloupes with tighter netting seem to have a firmer, crisper texture and cut better than those with the looser, more open netting.

A cantaloupe on the green side will ripen if you leave it out at room temperature until any green undertones in the rind have turned golden and the melon has a rich smell. But in season, during the summer, there's no excuse for taking home a green melon. In-season melons should have been picked fully mature and fully ripe, with little or no green showing.

I think melons taste better and have a better texture at room temperature, but if you like your melon chilled, refrigerate it right before you're going to eat it. Cut melons, of course, have to be refrigerated, but wrap them tightly in plastic to preserve moisture. If you don't want everything in your refrigerator to smell and taste like cantaloupes (and vice-versa), it's a good idea to put the melon in a heavy plastic or glass container with a tight-fitting lid.

Cantaloupes are fine eaten as is for breakfast or dessert or cut up with other melons and fruits in a salad.

Nutrient content descriptors for cantaloupes include: fat-free, saturated fat-free, very-low-sodium, cholesterol-free, high in vitamin A, high in vitamin C and a good source of folate (add 10% folate to label).

Because cantaloupe is easy to cut, it can be used as an appetizer, in salads, as a breakfast plate garnish and in compotes and desserts.

Nutrition Facts

Serving Size: 1/4 medium size Cantaloupe (134g)
Amount Per Serving
Calories: 50
Calories from Fat: 0

% of Daily Value*
Total Fat: 0g
0% Saturated Fat: 0g
0% Cholesterol: 0mg
1 % Sodium: 25mg
4% Total Carbohydrate: 12g
4% Dietary Fiber: 1g
Sugars: 11g
Protein: 1g
Vitamin A: 100%
Vitamin C: 80%
Calcium: 2%
Iron: 2%
*Percent Daily Values are based on a 2,000-calorie diet.

Source: Produce Pete - http://www.producepete.com/shows/cantaloupes.html

---
Recipe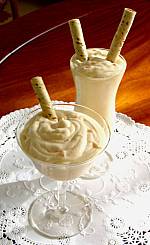 Cantaloupe Mousse
Servings: 6 to 8 (4 to 5 oz.) servings

Comments:
This is a delicious light and refreshing dessert for summer, originating in Italy. A very different type of "mousse" then what we are used to, such as chocolate mousse. Serve it for dessert after a barbeque, a picnic, or for a light dessert after dinner on a warm balmy evening, or just for a cool snack on a warm day.

Ingredients:
1 ripe cantaloupe
1-2 tablespoons water
2-4 tablespoons sugar, to taste
2 cups whipping cream

Garnish: (optional)
Chocolate-covered ice cream wafers (such as Piroulines, or Pirouettes which are also ice cream wafers, and are made by Pepperidge Farms)* see note below

Instructions:
1). Slice the ripe cantaloupe in half. Remove the seeds. Cut and remove the rind from the seeded cantaloupe.

2). Cube half the cantaloupe pulp into 1/2 inch cubes, and very finely dice the other half of the cantaloupe. Chill the finely diced half in the refrigerator.

3). In a saucepan on medium heat, heat the cubed cantaloupe half with 2 tablespoons of water and 2-4 tablespoons of sugar to taste (you want the mixture to be fairly sweet) for about 5 minutes, or until the cubes become soft.

4). Cool the pot (with the heated and softened cantaloupe in it) by immersing it in a large bowl of very cold ice water.

5). Pour the softened cubes of cantaloupe (and it's syrup) in an electric blender and blend until the cantaloupe cubes have become totally liquefied, then chill the resulting juice for at least 1 hour in the refrigerator.

6). When the cantaloupe juice has chilled for at least 1 hour, whip the 2 cups cold whipping cream until it becomes soft and fluffy, and doubled in volume.

7). In a large bowl, combine the cooled blended cantaloupe (juice), and the finely diced cantaloupe together. Fold the whipped cream into the cantaloupe mixture (checking for sweetness), and if needed adding more sugar.

8). Spoon the mousse into a medium to large size dessert bowl, or into six to eight individual (4 - 5 oz.) dessert glasses or cups. Refrigerate mousse for at least 1 to 2 hours.

9). Serve chilled. Before serving, garnish with 1 or 2 chocolate covered ice cream wafers, if desired.

*Note: Piroulines or Pirouettes come with assorted fillings, and some are not coated with chocolate. Any type of Piroulines or Pirouettes are fine to serve with this mousse (they do not need to be chocolate-covered).

Makes 6 to 8 (4 to 5 oz.) servings.

Source: DianasDesserts.com (adapted from an Italian recipe)

Click here to view recipe and photo of Cantaloupe Mousse on Diana's Desserts Website

---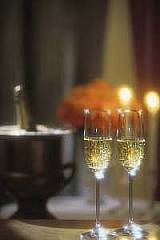 Champagne Cocktail for a Special Graduation
Champagne Cocktail

Servings: 1

Comments:
Toast the "Graduate" with this special champagne cocktail. For a child or young adult, substitute with a "Sparkling Alcohol-Free Cranberry Juice Cocktail", served in a pretty goblet.

Ingredients:
1/2 teaspoon sugar
1 dash Angostura bitters
1/2 cup chilled Champagne
Lemon peel

Instructions:
Stir sugar and bitters in pre-chilled Champagne glass. Add Champagne. If desired, twist lemon peel over top and drop into glass.

Makes 1 champagne cocktail.

Source: DianasDesserts.com

Click here to view recipe and photo of Champagne Cocktail on Diana's Desserts Website

---
Until Next Month
As always, I hope you have enjoyed Diana's Desserts Newsletter, and that you try one or two of these very nice recipes for June. I think you'll enjoy them and find that they are quite easy to make.

Please let me know if you find the Food Tips and Information Section helpful to you. It is important to me that I am including information in my newsletter that will give you knowledge of foods that will help you in your quest for improving your cooking and baking.

July's Newsletter will focus on recipes for the most special of American holidays, Independence Day, which celebrates the birthday of the United States of America. Founded July 4th 1776, with the signing of the Declaration of Independence, America is celebrating it's 228th birthday this year.

I wish all of you a wonderful month, and also a Happy Father's Day to all the great Dad's out there. To those of you that are celebrating Juneteenth Day, enjoy! and to those of you that are graduating from school or universities, or for those of you that have family members or friends that are graduating, congratulations!

If you'd like to submit one of your favorite dessert, bread or beverage recipes to Diana's Desserts Website, please click on the link below:

Submit a Recipe

Sincerely, Diana