DIANA'S DESSERTS NEWSLETTER
EDITION NUMBER 19

MAY 2, 2004


Welcome Home Bakers and Friends,

In this month's edition of Diana's Desserts Newsletter, the focus will be on dessert recipes for 3 holidays that are celebrated in May every year. They are Cinco de Mayo, Mother's Day and Memorial Day, an American holiday that is celebrated every year with picnics and barbeques.

I have also included information and history about these special holidays plus information and history on the very important Jewish holiday of Shavuot, and a special dessert recipe to celebrate it with.

Included, as always, is a guest submitted recipe to Diana's Desserts Website. This month the guest submitted recipe is for Spring Break Cookies submitted by John Grunden.

In this edition of Diana's Desserts Newsletter the Food Tips and Information Section below is about Apricots, a wonderful and delicious spring through summer fruit.


---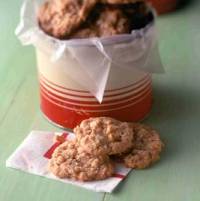 Guest Submitted Recipe
Spring Break Cookies
Submitted by John Grunden

Servings: Makes 5-6 dozen cookies

Comments:
Very easy to make and they will disappear fast.

Ingredients:
1/2 cup margarine
3 ounces cream cheese, softened
1/2 cup Butter Flavor Crisco Shortening
1 cup granulated sugar
1 1/4 cups brown sugar, packed
2 eggs
1 teaspoon vanilla extract
1 tablespoon ground cinnamon
2 1/4 cups all-pupose flour
1 teaspoon baking powder
1 teaspoon baking soda
3 cups oats (regular or instant)
Zest from one large naval orange
1 cup flaked coconut
1/2 cup chopped nuts

Instructions:
Preheat the oven to 375 degrees F (190 C). Lightly grease cookie sheet(s).

Cream together, margarine, softened cream cheese, shortening, both sugars, eggs, and the vanilla.

Blend in flour, baking powder, and baking soda. Stir in oats, zest of orange, coconut, and nuts. (Mixture will be slightly stiff.)

Shape into 1-inch balls. Place on prepared cookie sheets; flatten slightly with a spoon. Bake 12 to 15 minutes. Let cool on cookie sheet for 2 to 3 minutes, then transfer cookies to wire rack to cool completely.

Alternate Method
Drop by rounded teaspoons onto cookie sheets.

Makes about 5 to 6 dozen cookies.

Source: John Grunden

Date Submitted: April 14, 2004

Click here to view recipe and photo of Spring Break Cookies on Diana's Desserts Website

---
Cinco de Mayo
Wednesday May 5, 2004

Cinco de Mayo is a date of great importance for the Mexican and Chicano communities. It marks the victory of the Mexican Army over the French at the Battle of Puebla. Althought the Mexican army was eventually defeated, the "Batalla de Puebla" came to represent a symbol of Mexican unity and patriotism. With this victory, Mexico demonstrated to the world that Mexico and all of Latin America were willing to defend themselves of any foreign intervention, especially those from imperialist states bent on world conquest.

Cinco de Mayo's history has its roots in the French Occupation of Mexico. The French occupation took shape in the aftermath of the Mexican-American War of 1846-48. With this war, Mexico entered a period of national crisis during the 1850's. Years of not only fighting the Americans but also a Civil War, had left Mexico devastated and bankrupt. On July 17, 1861, President Benito Juarez issued a moratorium in which all foreign debt payments would be suspended for a brief period of two years, with the promise that after this period, payments would resume.

The English, Spanish and French refused to allow President Juarez to do this, and instead decided to invade Mexico and get payments by whatever means necessary. The Spanish and English eventually withdrew, but the French refused to leave. Their intention was to create an Empire in Mexico under Napoleon III. Some have argued that the true French occupation was a response to growing American power and to the Monroe Doctrine (America for the Americans). Napoleon III believed that if the United States was allowed to prosper indescriminantly, it would eventually become a power in and of itself.

In 1862, the French army began its advance. Under General Ignacio Zaragoza, 5,000 ill-equipped Mestizo and Zapotec Indians defeated the French army in what came to be known as the "Batalla de Puebla" on the 5th of May.

In the United States, the "Batalla de Puebla" came to be known as simply "Cinco de Mayo" and unfortunately, many people wrongly equate it with Mexican Independence which was on September 16, 1810, nearly a fifty year difference. Over, the years Cinco de Mayo has become very commercialized and many people see this holiday as a time for fun and dance.

Oddly enough, Cinco de Mayo has become more of a Chicano holiday than a Mexican one. Cinco de Mayo is celebrated on a much larger scale here in the United States than it is in Mexico. People of Mexican descent in the United States elebrate this significant day by having parades, mariachi music, folklorico dancing and other types of festive activities.

Source: CLNet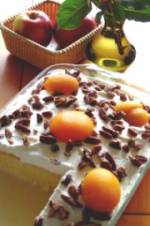 RECIPE
Tres Leches Cake with Whipped Cream Topping
Servings: 9-12

Comments:
Tres Leches Cake is served at holiday celebrations such as Cinco de Mayo in Mexico and has become a favorite with most of the Latin community in the United States. The very popular Tres Leches cake is made for festive occasions in Latin America and North America, and also served at many hispanic restaurants. Tres Leches means "three milks" in spanish, which are the indispensable ingredients in this very rich and decadent cake. Once you take your first bite of Tres Leches, you'll understand why people love it so much.......Diana

Ingredients:
For The Cake:
6 eggs, whites and yolks separated
1 1/2 cups granulated sugar
2 cups all-purpose flour
1/8 tsp. salt
2 tsp. baking powder
1/4 cup ice water
1 tsp. vanilla extract

For The Soaking Syrup:
1 can (14 oz.) sweetened condensed milk
1 can (12 oz.) evaporated milk
1 cup whole milk
1 cup heavy whipping cream
1/4 cup rum, brandy or frangelico (optional)

For The Whipped Cream Topping:
2 cups heavy whipping cream
1 cup granulated sugar
1 tsp. lemon extract or 2 tsp. lemon juice (optional)
1 tsp. vanilla extract

Garnish: (optional)
1 large can cling peaches halves, drained
1 cup chopped pecans

Instructions:
Preheat oven to 350 degrees F (180 C). Lightly grease and flour a 9 x 13-inch baking dish and set aside.

In a bowl of an electric mixer, beat the egg whites on low speed until soft peaks form. Gradually add the sugar and beat until stiff peaks form. Add in the egg yolks one at a time, beating well after each addition. Mix the flour, baking powder and salt together and add to egg mixture. Mix in the 1/4 cup of ice water and vanilla extract.

Pour batter into prepared baking dish, and bake in preheated oven at 350 degrees F (180 C) for 25-30 minutes, or until a toothpick inserted in center of cake comes out clean. Remove cake from oven and place on wire cooling rack. Let cool in baking dish for 10 minutes. (DO NOT turn cake out of baking dish) While cake is cooling, make the Soaking Syrup.

To Make The Soaking Syrup:
In a large bowl, mix together the sweetened condensed milk, evaporated milk, the whole milk and the heavy whipping cream. Mix well. Stir in rum, brandy or frangelico, if using (the liquor or liqueur is an optional ingredient).

While cake is in baking dish, with a toothpick or skewer poke holes over top of cake and pour the Soaking Syrup over the top of cake until completely absorbed. (DO NOT remove cake from baking dish).

Once cake has cooled completely, refrigerate (in baking dish) for at least 3 hours before frosting with whipped cream topping.
After frosting cake, if desired garnish cake with canned cling peach halves and chopped pecans or use garnish of your choice. Serve cake chilled. Refrigerate any leftover cake.

Makes 9-12 servings.

Whipped Cream Topping

TIP: Before making the Whipped Cream Topping, chill your beaters and bowl in freezer for 10-15 minutes. (Make sure your heavy whipping cream is well chilled also).

Pour heavy whipping cream into a large mixing bowl, beat until soft peaks form; add the vanilla and lemon extracts (lemon extract or lemon juice is optional) and beat until stiff peaks form. (Important Note: Do not overbeat the heavy whipping cream or your whipped cream will turn into butter).

Spread whipped cream topping evenly over Tres Leches Cake and garnish cake, if desired.

Makes approximately 4 cups whipped cream topping.

Source: DianasDesserts.com

Click here to view recipe and photo of Tres Leches Cake with Whipped Cream Topping on Diana's Desserts Website

---
Mother's Day
Sunday May 9, 2004


The Story of Mother's Day

The earliest Mother's Day celebrations can be traced back to the spring celebrations of ancient Greece in honor of Rhea, the Mother of the Gods. During the 1600's, England celebrated a day called "Mothering Sunday". Celebrated on the 4th Sunday of Lent (the 40 day period leading up to Easter), "Mothering Sunday" honored the mothers of England.

During this time many of the England's poor worked as servants for the wealthy. As most jobs were located far from their homes, the servants would live at the houses of their employers. On Mothering Sunday the servants would have the day off and were encouraged to return home and spend the day with their mothers. A special cake, called the mothering cake, was often brought along to provide a festive touch.

As Christianity spread throughout Europe the celebration changed to honor the "Mother Church" - the spiritual power that gave them life and protected them from harm. Over time the church festival blended with the Mothering Sunday celebration . People began honoring their mothers as well as the church.

In the United States Mother's Day was first suggested in 1872 by Julia Ward Howe (who wrote the words to the Battle hymn of the Republic) as a day dedicated to peace. Ms. Howe would hold organized Mother's Day meetings in Boston, Mass ever year.

In 1907 Ana Jarvis, from Philadelphia, began a campaign to establish a national Mother's Day. Ms. Jarvis persuaded her mother's church in Grafton, West Virginia to celebrate Mother's Day on the second anniversary of her mother's death, the 2nd Sunday of May. By the next year Mother's Day was also celebrated in Philadelphia.

Ms. Jarvis and her supporters began to write to ministers, businessman, and politicians in their quest to establish a national Mother's Day. It was successful as by 1911 Mother's Day was celebrated in almost every state. President Woodrow Wilson, in 1914, made the official announcement proclaiming Mother's Day as a national holiday that was to be held each year on the 2nd Sunday of May.

While many countries of the world celebrate their own Mother's Day at different times throughout the year, there are some countries such as Denmark, Finland, Italy, Turkey, Australia, and Belgium which also celebrate Mother's Day on the second Sunday of May.

Source: Holidays on the Net http://www.holidays.net/


RECIPE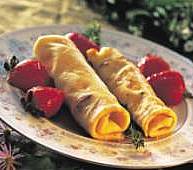 French Crepes with Strawberries and Cream
Servings: 6

Comments:
A lovely dish for Mother's Day. Serve these delightful crepes for breakfast or brunch along with fresh croissants, fruit, and coffee or tea. Any mother would be thrilled to be served these scrumptious crepes filled with vanilla cream and garnished with fresh strawberries.

Ingredients:
For Crepes:
4 eggs
1/4 cup granulated sugar
1 cup milk
1 cup all-purpose flour, sifted
4 tablespoons unsalted butter, melted

For Vanilla Cream:
1 cup heavy cream, whipped
1 teaspoon vanilla extract
2 tablespoons confectioners' sugar

For Garnish:
2 cups strawberries (washed, dried, and hulled)
Heavy cream or Whipped Cream, for serving

Special Equipment:
You will need an 8 to 10-inch crepe pan or an 8, 9, or 10-inch nonstick frying pan to make the crepes in.

Instructions:
FOR THE VANILLA CREAM:
In a large bowl, whip the 1 cup heavy cream, add to it the vanilla extract and the confectioners' sugar; mix well. Refrigerate until ready to use.

FOR THE CREPES:
Place the eggs in a large bowl. Beat in the sugar, milk, flour, and 2 tablespoons of the melted butter. Cover and let stand for 30 minutes.

Heat a crepe pan or nonstick frying pan over moderate heat. Brush the bottom with some of the remaining melted butter. Pour 2 tablespoons of the crepe mixture into the pan and tilt to spread evenly and thinly. Cook for 2-3 minutes, until the top is just set and the bottom is golden brown. Turn over and cook other side for about 1 minute. Remove to a plate.

Repeat until all of the mixture is used, making at least 6 crepes. Stack the crepes, with a piece of parchment or waxed (greaseproof) paper between each crepe. Keep the whole plate covered with a clean dish towel.

TO ASSEMBLE:
When all of the crepes are cooked, place 1 tablespoon of the vanilla-cream on the edge of each crepe. Roll up each cream filled crepe into a thin roll. Place 1 or 2 crepes on each dessert plate, and place a few strawberries around crepes. Drizzle each crepe with heavy cream, or spoon a dollop of whipped cream over each crepe.

Makes at least 6 crepes. Serve each person 1-2 crepes.

Source: DianasDesserts.com

Click here to view recipe and photo of French Crepes with Strawberries and Cream on Diana's Desserts Website

---
The Jewish Holiday of Shavuot
Shavuot
Shavuot is celebrated this year from sundown May 25, 2004 to nightfall May 27, 2004

Shavuot is a Hebrew word meaning "weeks" and refers to the Jewish festival marking the giving of the Torah at Mount Sinai. Shavuot, like so many other Jewish holidays began as an ancient agricultural festival, marking the end of the spring barley harvest and the beginning of the summer wheat harvest. Shavuot was distinguished in ancient times by bringing crop offerings to the Temple in Jerusalem.

Shavuot, also known as the Festival of the Giving of the Torah, dates from biblical times, and helps to explain the holiday's name, "Weeks." The Torah tells us it took precisely forty-nine days for our ancestors to travel from Egypt to the foot of Mount Sinai (the same number of days as the Counting of the Omer ) where they were to receive the Torah. Thus, Leviticus 23:21 commands: "And you shall proclaim that day (the fiftieth day) to be a holy convocation…" The name Shavuot, "Weeks," then symbolizes the completion of a seven-week journey.

Special customs on Shavuot are the reading of the Book of Ruth, which reminds us that we too can find a continual source of blessing in our tradition. Another tradition includes staying up all night to study Torah and Mishnah, a custom called Tikkun Leil Shavuot, which symbolizes commitment to the Torah, and that we (as Jews) are always ready and awake to receive the Torah. Traditionally, dairy dishes are served on this holiday to symbolize the sweetness of the Torah, as well as the "land of milk and honey".

Source: Union For Reform Judaism at: http://www.uahc.org/holidays/shavuot.shtml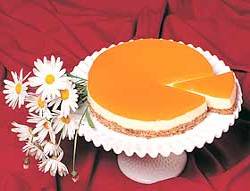 RECIPE
Apricot Glazed Cheesecake for Shavuot
Servings: 16

Comments:
A lovely cheesecake for serving for the Jewish holiday of Shavuot, when a dairy dessert such as cheesecake or cheese blintzes are so appropriate.

Ingredients:
2 cups finely crushed butter cookies (about 30 cookies)
1/3 cup butter, melted
1 (15-1/4-ounce) can unpeeled apricot halves in heavy syrup
3 (8-ounce) packages cream cheese, softened
1 cup granulated sugar
1-1/2 teaspoons vanilla extract
3 eggs
1 (10-ounce) jar apricot jam or preserves
1/4 cup apricot nectar

Instructions:
1. Preheat oven to 325 degrees F (160 C).

2. For Crust:
In a medium bowl combine crushed butter cookies and melted butter. Press mixture evenly onto bottom and 2 inches up the sides of a 9-inch springform pan. Bake for 8 to 10 minutes or until golden. Set aside.

3. For Filling:
Drain apricot halves, reserving 3 tablespoons syrup. Coarsely chop apricots; set aside. In a large mixing bowl beat cream cheese, sugar, the reserved syrup, and vanilla with an electric mixer until combined. Add eggs all at once, beating on low speed just until combined. Stir in chopped apricots. Pour filling into crust-lined pan. Place on a shallow baking pan in oven. Bake about 50 minutes or until center appears nearly set when cheesecake is gently shaken. Cool in pan on a wire rack for 15 minutes. Loosen crust from sides of pan and cool cheesecake 30 minutes more. Remove the sides of the pan; cool cheesecake completely.

4. For Glaze:
In a small saucepan melt apricot jam (or preserves) over low heat. Remove from heat; stir in the apricot nectar. Spread over cheesecake. Cover and chill in the refrigerator at least 4 hours before serving.

Makes 16 servings.

Click here to view recipe and photo of Glazed Apricot Cheesecake on Diana's Desserts Website

---
Memorial Day in the United States
Monday May 31, 2004
Memorial Day originated in 1868, when Union General John A. Logan designated a day in which the graves of Civil War soldiers would be decorated. Known as Decoration Day, the holiday was changed to Memorial Day within twenty years, becoming a holiday dedicated to the memory of all war dead. It became an American federal holiday in 1971, and is now observed on the last Monday in May.

Memorial Day is observed on Monday May 31st this year. Memorial Day weekend is observed from Saturday May 29, 2004 through Monday May 31, 2004.

As Americans and for All people who believe in a Free and Peaceful world, let us not forget the courageous men and women who have served our countries and who have given their lives to protect us from the evils of this world.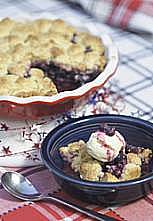 RECIPE
Wild Blueberry Cobbler
Servings: 8

Comments:
Nothing can be more comforting than a fruit cobbler, and this one is made with fresh or frozen bluebberries and wild blueberry jam. So delicious when served with a scoop of vanilla ice cream or whipped cream. A wonderful addition to your Memorial Day weekend barbeque or picnic.

Ingredients:
2 pints blueberries or mixed berries, rinsed and picked over or 2 (14-ounce) bags frozen blueberries (kept frozen)
Grated zest of 1 lemon
1 jar (approximately 1 1/2 cups) Wild Blueberry Jam
1/2 teaspoon ground cinnamon
2 cups unbleached all-purpose flour
3 tablespoons granulated sugar
1 tablespoon baking powder
1/2 teaspoon salt
1 stick (1/2 cup/4 oz./113 gm) unsalted butter, chilled and cut into pieces
1/2 cup half and half or light cream

Instructions:
Preheat oven to 425 degrees F (220 C). Butter a 2 to 3-quart heavy baking dish.

Gently stir blueberries, lemon zest, blueberry jam, and cinnamon together in a bowl, then pour into prepared dish.

Combine flour, 1 tablespoon of the sugar, baking powder, and salt in a food processor and process briefly to blend. Add butter and pulse until mixture resembles coarse meal. Pour in half-and-half and pulse just until dough begins to pull together.

Remove dough from processor and knead briefly to form a ball, adding more flour if dough is sticky. Break pieces of dough from ball and cover berries with slightly flattened pieces of dough in a "cobbled" irregular pattern. Sprinkle on remaining 2 tablespoons of sugar.

Bake until crust is lightly browned and berries are hot, 25 to 30 minutes. Remove from oven and let stand for at least 15 minutes before serving. Serve with sweetened whipped cream, vanilla ice cream or yogurt.

Makes 6 servings.

Source: DianasDesserts.com

Click here to view recipe and photo of Wild Blueberry Cobbler on Diana's Desserts Website

---
Food Tips and Information Section
Apricots
Availability

Today, California supplies more than 90% of the domestic crop. Only about 16% of these apricots are sold fresh during a relatively short growing season of about 10 weeks. About half the apricot crop is canned.

Domestic apricots are available from mid-May through mid-August. Imports from Chile and New Zealand appear in markets in December and January.

These fragile peach-like fruits, with their perfumed aroma and ultra-sweet flavor, contain impressive amounts of beta-carotene. They are also a fair source of potassium, and supply a good amount of fiber. Fresh apricots are fragile and do not ship well so. But dried apricots, concentrated sources of the same nutrients, are widely available. Apricots, both fresh and dried, contain natural salicylate (an aspirinlike compound), which may cause an allergic response in sensitive people.

Apricot Varieties

There are approximately a dozen varieties of apricots: All are similar in taste, but differ somewhat in size and color (which ranges from yellow to deep orange). Blenheim, Tilton, Patterson, and Castlebrite are among the better-known varieties.

Shopping for Apricots

Fully ripe apricots ship poorly, so unless you live near an apricot-growing region, you may have a difficult time finding ripe ones--fruits that are soft to the touch and brimming with juice. If you find apricots that are plump, firm, and orange-gold in color, they'll be ready to eat after about two days of ripening at room temperature Don't buy hard fruits that are tinged with green--they will never develop full flavor.

Even when not fully ripe, apricots should yield to gentle pressure and exude a perfumed fragrance; their skin should be smooth and velvety. Avoid any that have shriveled skin or bruises; however, minor blemishes that do not break the skin will not affect the flavor.

Dried apricots come in a number of different forms. The most common are the bright orange apricot halves; their rich color is the result of the apricots being treated with sulfur dioxide. If you are allergic to sulfites, you can look for unsulfured apricots in health food stores. Because they're untreated, they're brown rather than orange. You may also find small, whole apricots called Turkish apricots. These are a much paler orange and are considerably sweeter than regular apricot halves.

Canned apricots are sold packed in heavy syrup, light syrup, or fruit juice. The sugary syrups add a lot of empty calories, and the fruit is so naturally sweet that it really doesn't need the extra sugar.

Storage

If you buy fresh apricots that are not quite ripe, store them in a paper bag at room temperature, away from heat or direct sunlight, for two to three days. Once ripe, they may be stored in the refrigerator in a plastic bag, where they will keep a day or two at most. Don't wash the fruits until you're ready to eat them.

Preparation

Rinse fresh apricots under cold running water before using them. Ripe apricots are soft and delicate, so if you need to peel them for a recipe, do so carefully. Drop the fruits in boiling water leave them for just 15 to 20 seconds, then remove them and cool them under cold water. Use a knife to pull away their skin; it should slip right off. To halve apricots, cut down to the pit around the longitudinal seam and twist the two halves to separate them. Dip peeled or cut-up apricots into diluted lemon juice to keep them from browning.

Broiling/grilling: Apricots prepared by this method make a delicious accompaniment to chicken cooked on the grill; they can also be served as a dessert at a barbecue or picnic. Thread whole or halved fresh apricots on skewers, brush with honey, and grill until tender. Or, oven-broil apricot halves, cut-side up, 4" to 5" from the heat. Cooking time: 3 to 5 minutes.

Poaching:/ Place apricots--peeled or unpeeled, whole or halved--in barely simmering fruit juice, cover, and cook until tender. Add whole cloves or a cinnamon stick to the liquid for extra flavor. Once the apricots are poached, the liquid can be cooked down to produce a sauce. Cooking time: 5 to 7 minutes.

Reconstituting dried apricots: Serve dried apricots for breakfast or dessert, at any time of year. Simmer them in a small amount of water, white wine, or fruit juice until tender. Cooking time: 15 minutes.

Source: WholeHealthmd.com: http://www.wholehealthmd.com/refshelf/foods_view/1,1523,45,00.html

---
Until Next Month
As always, I hope you have enjoyed all of the recipes in this edition of Diana's Desserts Newsletter. I have tried to give you good dessert ideas for some of the upcoming holidays that some of you will celebrate.

Next months newsletter will focus on desserts for Father's Day which falls on Sunday June 20th, and also some very nice desserts for the Afro-American holiday, Juneteenth Day which falls on Saturday June 19th.

I hope to receive from some of you, guest submitted recipes to post on Diana's Desserts Website. If you'd like to submit your dessert recipes, click on the link below to bring you to the Submit a Recipe page on my website:

Submit a Recipe

Have a wonderful month of May and enjoy the good weather, good food and good times.
Sincerely, Diana