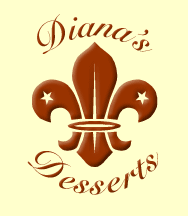 DIANA'S DESSERTS NEWSLETTER
EDITION NUMBER 18

APRIL 1, 2004


Welcome Home Bakers and Friends,

Happy Spring

I wish all of you lovely times with many months of warm weather. I hope you enjoy the wonderful colors of the beautiful spring flowers, and the beautiful blue skies. They are a very welcomed change from a long and sometimes dismal winter.

Now on to Spring Baking and Desserts

In this edition of Diana's Desserts Newsletter, I have put together for you some nice dessert recipes for the beginning of Spring, for Easter and for the Jewish holiday of Passover. I have included a little bit of history on Easter and Passover, which I hope you will enjoy.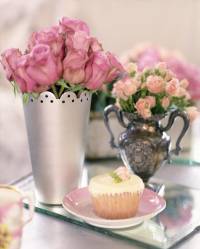 Less Commercialized Holidays

I wanted to mention to those of you that might be interested, that I have received a few emails from guests to my website that ask me why I don't include information on other holidays in my newsletter besides the big major ones. I want to take this opportunity to apologize to those of you where I have left out YOUR particular "special" holidays. I am just not familiar with all of the holidays everywhere, whether they are ones celebrated here in the United States or in other countries. I will do my best to learn more about some of these holidays (holidays that we hear so little about in the media), and include information and recipes for them in my newsletters as I know some of these less "commercialized" holidays have wonderful food traditions connected with them.

In this first "full" Spring edition of Diana's Desserts Newsletter is, as always, a Guest Submitted Recipe. The Guest Submitted Recipe for April is Buttermilk Pie, submitted by Wesley Taylor.

Since Spring also brings with it many more choices for fresh fruit for us to choose from for making desserts, I have placed a little useful information about Pineapples in this newsletter in the Food Tips and Information section below. Please let me know if this section helps you out as I am always curious to know if the information is useful to you.

Note: All recipes included in this newsletter can be found below the information on Spring, Easter and Passover. Just scroll down the page.


---
Spring - Easter - Passover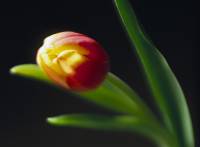 Spring
First Day of Spring - 2004 - Saturday March 20, 2004
Each year, toward the end of March, Earth and the sun conspire to bring Spring to Earth's Northern Hemisphere. The season's specific characteristics vary from region to region. For some, the final frost is months past. For others, it's still months away. Some places become green. Others become greener. The essential elements of the season, however, are universal. In every country, in every city, in every pond and forest and yard, life is beginning again. In 2004, Spring officially began on March 20th.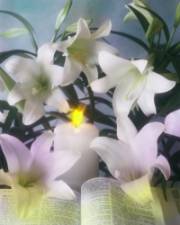 Easter
Easter is celebrated on Sunday April 11, 2004 and Greek Orthodox Easter is also celebrated on April 11th this year.


The Story of Easter
Easter is a time of springtime festivals. In Christian countries Easter is celebrated as the religious holiday commemorating the resurrection of Jesus Christ, the son of God. But the celebrations of Easter have many customs and legends that are pagan in origin and have nothing to do with Christianity.

Scholars, accepting the derivation proposed by the 8th-century English scholar St. Bede, believe the name Easter is thought to come from the Scandinavian "Ostra" and the Teutonic "Ostern" or "Eastre," both Goddesses of mythology signifying spring and fertility whose festival was celebrated on the day of the vernal equinox.

Traditions associated with the festival survive in the Easter rabbit, a symbol of fertility, and in colored Easter eggs, originally painted with bright colors to represent the sunlight of Spring, and used in Easter-egg hunting contests or given as gifts.

The Christian celebration of Easter embodies a number of converging traditions with emphasis on the relation of Easter to the Jewish festival of Passover, or Pesach, from which is derived Pasch, another name used by Europeans for Easter. Passover is an important feast in the Jewish calendar which is celebrated for 8 days and commemorates the flight and freedom of the Israelites from slavery in Egypt.

The early Christians, many of whom were of Jewish origin, were brought up in the Hebrew tradition and regarded Easter as a new feature of the Passover festival, a commemoration of the advent of the Messiah as foretold by the prophets.

Easter is observed by the churches of the West on the first Sunday following the full moon that occurs on or following the spring equinox (March 20 or 21st). So Easter became a "movable" feast which can occur as early as March 22nd or as late as April 25th.

Christian churches in the East which were closer to the birthplace of the new religion and in which old traditions were strong, observe Easter according to the date of the Passover festival.

Easter is at the end of the Lenten season, which covers a forty-six-day period that begins on Ash Wednesday and ends with Easter. The Lenten season itself comprises forty days, as the six Sundays in Lent are not actually a part of Lent. Sundays are considered a commemoration of Easter Sunday and have always been excluded from the Lenten fast. The Lenten season is a period of penitence in preparation for the highest festival of the church year, Easter.

Holy Week, the last week of Lent, begins with the observance of Palm Sunday. Palm Sunday takes its name from Jesus' triumphal entry into Jerusalem where the crowds laid palms at his feet. Holy Thursday commemorates the Last Supper, which was held the evening before the Crucifixion. Good Friday in the Holy Week is the anniversary of the Crucifixion, the day that Christ was crucified and died on the cross.

Holy week and the Lenten season end with Easter Sunday, the day of the resurrection of Jesus Christ.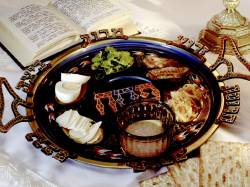 Passover
Passover begins at sundown on April 5, 2004 and lasts for 8 days, ending at sundown on April 13, 2004.


The Story of Passover
About 3000 years ago the Israelites were enslaved by the Egyptians under the rule of the Pharaoh Ramses II. According to the Book of Exodus - Moses, a simple Jewish shepherd, was instructed by God to go to the pharaoh and demand the freedom of his people.

Moses' plea of let my people go was ignored. Moses warned the Pharaoh that God would send severe punishments to the people of Egypt if the Israelites were not freed. Again the Pharaoh ignored Moses' request of freedom. In response God unleashed a series of 10 terrible plagues on the people of Egypt.

The holiday's name - Pesach, meaning "passing over" or "protection" in Hebrew, is derived from the instructions given to Moses by God . In order to encourage the Pharaoh to free the Israelites, God intended to kill the first-born of both man and beast. To protect themselves, the Israelites were told to mark their dwellings with lamb's blood so that God could identify and "pass over" their homes.

The Pharaoh was unconvinced and refused to free the Jewish slaves.

Until the last plague

When the Pharaoh finally agreed to freedom, the Israelites left their homes so quickly that there wasn't even time to bake their breads. So they packed the raw dough to take with them on their journey. As they fled through the desert they would quickly bake the dough in the hot sun into hard crackers called matzohs. Today to commemorate this event, Jews eat matzoh in place of bread during Passover.

Though the Jews were now free, their liberation was incomplete. The Pharaoh's army chased them through the desert towards the Red Sea. When the Jews reached the sea they were trapped, since the sea blocked their escape.

It was then that a miracle occurred. The waves of the Red Sea parted and the Israelites were able to cross to the other side. As soon as they all reached the other side the sea closed trapping the Pharaoh's army as the waves closed upon them.

Then as the Israelites watched the waters of the Red Sea sweep away the Pharaoh's army they realized they were finally free.

Passover celebrates this history. The first 2 nights of the 8 day holiday are celebrated with lavish meals called Seders in which the stories and history of Passover are celebrated. Special foods, plates, silverware are all a part of the Seder.

A time of family gatherings and lavish meals called Seders, the story of Passover is retold through the reading of the Haggadah. With its special foods, songs, and customs, the Seder is the focal point of the Passover celebration. Passover begins on the 15th day of the Jewish month of Nissan. As the Jewish day begins at sundown the night before, for the year 2004, the first night of Passover will be April 5th.


---
Guest Submitted Recipe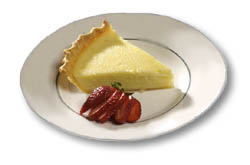 Buttermilk Pie
Servings: 6-8

Comments:

A favorite in the American South, this pie has a filling of buttermilk, butter, eggs, flour and sugar, plus added flavorings if desired, such as lemon juice, vanilla or nutmeg.

"This is one of my mothers favorite recipes she loved to bake. Very simple and tastes great".....Wesley Taylor

Ingredients:
1/2 cup butter or margarine
1 1/2 cups granulated sugar
3 eggs
1/2 cup buttermilk
2 tablespoons all-purpose flour
2 tablespoons vanilla extract
8 or 9-inch unbaked pie shell

Garnish (optional)
Ground nutmeg
Berries or sliced fruit
Whipped cream

Instructions:
Preheat oven to 350 degrees F (180 degrees C).

In a medium saucepan on low heat, melt butter (or margarine, if using), gradually adding sugar and flour.

Beat eggs, and add to butter/flour mixture one at a time; then add the buttermilk and vanilla and beat well.

Pour mixture into unbaked pie shell and bake in preheated oven for 45-50 minutes or until knife inserted 1 inch from center comes out clean. Pie will continue to set as it cools. Cool on wire rack for 1 hour or until completely cooled. Refrigerate for several hours or overnight before serving. If desired, sprinkle top of pie with nutmeg before serving and serve with berries or sliced fruit and whipped cream.

Makes 6-8 servings.

Source: My Mothers Ruby Taylor's Collection

Submitted By: Wesley Taylor

Date: March 2, 2004

Thank you so much Wesley for submitting this very delicious Buttermilk Pie recipe from your late Mother Ruby Taylor's recipe collection. It is a wonderful spring and summertime dessert that can be enjoyed during this change of seasons from winter to spring, and on through summer.........Diana

Note: Wesley is having knee surgery and will be in rehabilitation for a while. I wish him a speedy recovery.

Click here to view recipe and photo of Buttermilk Pie on Diana's Desserts Website

---
Scrumptious Springtime Recipes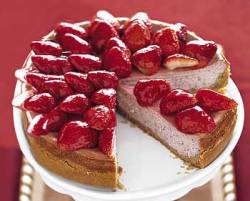 Strawberry Strawberry Cheesecake
Servings: 12

Comments:
If you love strawberries, this is the cheesecake for you. This colorful and delicious cheesecake combines pureed strawberries with cream cheese for the cake, and strawberry or currant jelly, and fresh strawberries for the topping. A very yummy recipe, indeed!

Ingredients:
For The Crust:
1 10-ounce package shortbread cookies (such as Lorna Doone)
5 tablespoons unsalted butter, melted

For The Filling:
10 ounces frozen unsweetened strawberries (about 2 3/4 cups), thawed, juices reserved
3 8-ounce packages cream cheese, softened
1 cup granulated sugar
2 tablespoons all-purpose flour
3 large eggs
1 tablespoon fresh lemon juice
1 teaspoon vanilla extract
1/2 teaspoon almond extract

For The Topping:
1/3 cup strawberry or currant jelly
3 1-pint baskets fresh strawberries, hulled, halved lengthwise

Instructions:
For Crust:
Preheat oven to 325 degrees F (160 C). Butter 9-inch-diameter springform pan with 2 3/4-inch-high sides. Grind cookies in processor to coarse crumbs. Add butter and blend until crumbs are evenly moistened. Press crumb mixture over bottom and 1 inch up sides of prepared pan. Bake crust until just golden, about 8 minutes. Set aside while preparing filling. Maintain oven temperature.

For Filling:
Puree thawed strawberries and juices in processor until smooth. Measure 3/4 cup puree (reserve any remaining puree for another use); do not wash bowl. Add cream cheese and sugar to processor. Blend until smooth. Using on/off turns, blend in flour. Add eggs; process until smooth, scraping down sides of bowl occasionally. Add 3/4 cup strawberry puree, lemon juice, vanilla extract, and almond extract; process until well blended. Transfer filling to prepared crust.

Bake cake until center is softly set and edges begin to color, puff and crack, about 1 hour 15 minutes. Place hot cheesecake on rack. Refrigerate uncovered on rack until cold, at least 4 hours. (Can be made 2 days ahead. Cover and keep refrigerated.)

For Topping:
Using small knife, cut around pan sides to loosen cake; remove pan sides. Stir jelly in heavy saucepan over low heat until melted. Arrange berry halves atop cheesecake in concentric circles; brush with warm jelly to glaze. Chill at least 1 hour and up to 8 hours.

Makes 12 servings.

Source: Bon Apetit Magazine - March 2002

Click here to view recipe and photo of Strawberry Strawberry Cheesecake on Diana's Desserts Website

---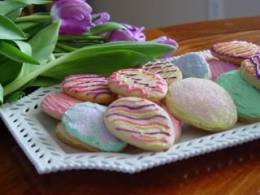 Pretty Pastel Spring Cookies
Servings: Makes 24-30 cookies

Comments:
It's fun to decorate these delicious sugar cookies. Use oval or egg shaped cookie cutters for making Easter Egg shaped cookies, and decorate with pastel colored sugars. Using decorating pens, make soft spring- colored designs. Also, royal icing may be used for decorating cookies.

Ingredients:
1 cup (2 sticks/8oz/226g) unsalted butter, softened, at room temperature
3/4 cup granulated sugar
3 egg yolks
1 piece vanilla bean, about 2 inches long*(see note below)
2 1/2 cups all-purpose flour
1 tsp. baking powder
1/2 tsp. salt

For Decoration and Icing:
Pastel colored sugars and decorating pens
Royal Icing (optional) See Tip below

Instructions:
In a bowl, using an electric mixer set on medium speed, beat together the butter and sugar until light and fluffy, about 4 minutes. Beat in the egg yolks one at a time, beating well after each addition.

Cut the vanilla bean in half lengthwise and, using a small, sharp knife, scrap the seeds into the butter mixture. Mix well.

In a sifter, combine the flour, baking powder and salt. Sift the flour mixture directly onto the butter mixture. Reduce the speed to low and beat until well mixed.

Divide the dough into 4 equal portions. Shape each portion into a ball, then flatten the balls into disks. Wrap in plastic wrap and refrigerate overnight (The dough can be prepared up to 3 days ahead.) Let it soften slightly at room temperature before continuing.

Position a rack in the upper third of an oven and preheat to 350 degrees F (180 C). Butter 2 large baking sheets.

On a lightly floured work surface, roll out a dough disk 1/4 inch thick. Using cookie cutters, cut out desired shapes. Transfer the cutouts to the prepared baking sheets. Gather up and reroll the scraps and cut out more cookies. Repeat with the remaining dough disks.

Bake until the cookies are golden on the edges, about 8 minutes. Transfer the cookies to wire racks and let cool completely. Decorate the cookies as desired with colored sugars and decorating pens. Store in an airtight container at room temperature for up to 1 week.

Makes 24 to 30 cookies, depending on cookie cutter size.

*Note: If you don't have a vanilla bean on hand, you may substitute it with 1 tsp. vanilla extract or vanilla essence.

Tip: If desired, cookies may be iced or decorated with Royal Icing. Recipe for Royal Icing can be found in "My Recipe Book", under the Frostings category on Diana's Desserts website.

Source: Diana's Desserts

Click here to view recipe and photo of Pretty Pastel Spring Cookies on Diana's Desserts Website

---
Passover Desserts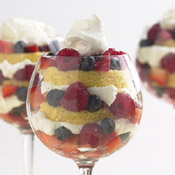 Passover Apricot Cake and Berry Compote Trifles
Servings: 8

Comments: These lovely individual Passover trifles can be served at either a "dairy" or "meat" Passover Sedar. This dessert looks so beautiful layered in tall goblets. If you're strapped for time, just cut the cake into wedges then spoon on compote and non-dairy whipped topping. Leftover apricot puree is great on matzo meal latkes (potato pancakes).

The trifles are quite easy to prepare and would make a very pretty presentation as a dessert not just for Passover, but also for an Easter dessert as well.

Ingredients:
For Apricot Puree:
1 6-ounce package dried apricots
1 1/2 cups apricot nectar
1/4 cup granulated sugar

For Cake:
3/4 cup matzo cake meal
1/3 cup potato starch
1/4 teaspoon ground ginger
7 large eggs, separated
1 1/4 cups granulated sugar
1/2 cup honey
1/2 cup vegetable oil
3 tablespoons brandy
1 teaspoon kosher salt

Mixed Berry Compote (see recipe below)
2 (8 oz.) containers frozen non-dairy whipped topping, thawed

Instructions:
For Apricot Puree:
Bring all ingredients to simmer in heavy medium saucepan over medium-high heat, stirring until sugar dissolves. Reduce heat to medium-low, cover tightly and simmer until apricots are tender, about 12 minutes. Transfer mixture to food processor; puree until smooth. Transfer to small bowl, cover and refrigerate.

Do Ahead Tip:
Can be made 1 week ahead. Keep refrigerated.

For Cake:
Position rack just below center of oven and preheat to 350 degrees F (180 C). Whisk first 3 ingredients in small bowl to blend; set aside. Using electric mixer, beat egg yolks and 1/4 cup sugar in large bowl until very thick, about 6 minutes. Gradually beat in 2/3 cup apricot puree, then honey, oil and brandy. Beat in cake meal mixture. Using clean dry beaters, beat egg whites and salt in another large bowl until soft peaks form. Gradually add remaining 1 cup sugar, beating until whites are stiff but not dry. Fold whites into yolk mixture in 4 additions. Transfer batter to a 10 x 4-inch (25.5cm x 10cm) angel food cake pan or tube pan with removable center.

Bake cake until tester inserted near center comes out clean, about 55 minutes. Immediately, invert center tube of cake pan onto narrow neck bottle. Cool cake completely.

Do Ahead Tip:
Cake can be prepared 2 days ahead. Cover pan tightly with foil and store cake upright at room temperature.

Cut around sides of pan and around center post to loosen cake; remove from pan. Cut cake, as needed, into even 1/2-to 3/4-inch thick slices (not wedges of uneven thickness). Using cookie cutter, cut out sixteen 2 1/2- to 3-inch rounds from cake slices. In each of eight 12- to 16-ounce goblets, place spoonful of compote. Top with 1 cake round, 1/4 cup compote and large spoonful of non-dairy topping. Repeat layering 1 more time. Refrigerate trifles up to 6 hours. When ready to serve, top each trifle with a dollop of non-dairy whipped topping.

Mixed Berry Compote

Make this 1 day ahead to allow flavors more time to develop. Leftover compote, like the apricot puree, is nice with latkes for breakfast or even over cottage cheese or yogurt.

Ingredients:
1/2 cup plus 1 tablespoon strawberry jam
3 tablespoons apricot puree
1 1/2 1-pint baskets strawberries, rinsed, hulled, cut into 1/2-inch pieces
Three 1/2-pint baskets raspberries
One 1/2-pint basket blueberries
One 1/2-pint basket blackberries, halved if large

Instructions:
Whisk jam and apricot puree in large bowl to blend. Gently mix in all berries. Let compote stand at room temperature at least 2 hours, tossing occasionally.

Do Ahead Tip: Can be made 1 day ahead. Cover and refrigerate.

Makes 8 servings, or 8 individual trifles.

Click here to view recipe and photo of Passover Apricot Cake and Berry Compote Trifles on Diana's Desserts Website

---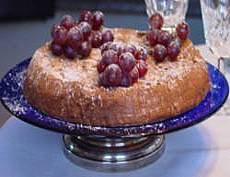 Passover Italian Almond Cake
Comments: Quite a simple cake to make for the Jewish holiday of Passover. Dress it up by dusting the top with confectioners' sugar and topping it with fresh fruit, such as sweet red grapes, or sugared strawberries. May be eaten at a "dairy" or "meat" Passover Sedar.

Servings: 12

Ingredients:
2 tbsp. matzo meal, plus more for coating cake pan
2 cups whole blanched almonds, or 2 cups packaged finely ground almonds
1/2 cup granulated sugar
6 large eggs, separated
1/4 cup extra virgin olive oil
1/2 cup light brown sugar
1 tsp. vanilla extract
3/4 tsp. almond extract
1 tsp. grated lemon zest
Pinch of salt
1/4 cup sliced almonds

Garnish (optional)
Confectioners' sugar (pareve for passover)
Sugared strawberries, or sweet red grapes

Instructions:
Preheat the oven to 350 degrees F (180 C). Grease a 10-inch springform pan. Line the bottom with parchment or wax paper and grease the paper. Evenly coat the bottom and side with matzo meal, tapping out any excess.

If you are using whole blanched almonds, in a food processor, pulse the whole blanched almonds with 2 tbsp. of matzo meal and 1/4 cup of granulated sugar until very finely ground. If using packaged finely ground almonds, mix by hand, packaged ground almonds with the matzo meal and the 1/4 cup sugar, continue as follows.

In a bowl, beat the egg yolks with the brown sugar and the remaining granulated sugar at high speed until very light and fluffy, about 3 minutes. At low speed, gradually add the ground almond mixture, the extracts, the olive oil, and the lemon zest.

In a medium bowl, using clean beaters, whip the egg whites with the salt until stiff peaks form. Beat 1/4 of the whites into the yolk mixture to lighten it; then quickly fold in the remaining whites.

Scrape the batter into the prepared pan and smooth the surface, sprinkle top with sliced almonds. Bake the cake for about 45 minutes, or until a toothpick inserted in the center comes out clean. Run a small, sharp knife around the side of the cake, transfer it to a rack and let cool completely in the pan. Remove the side of the pan and invert the cake onto a serving plate. Remove the base of the pan, then carefully peel off the paper.

Dust top of cake with confectioners' sugar. If desired, serve with sugared strawberries or sweet red grapes.

Makes 12 servings.

Source: DianasDesserts.com

Click here to view recipe and photo of Passover Italian Almond Cake on Diana's Desserts Website

---
Easter Desserts and Treats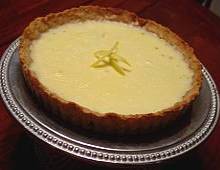 Lemon Tart with a Lemon Pecan Crust
Servings: 6

Comments:
This is one of my favorites. A lemon tart with a cream cheese-lemon filling, and the most scrumptious buttery crust made with ground pecans, flour and lemon zest.

I highly recommend making this lemon tart. It's very easy, and you'll have a delicious dessert to serve to your family or guests. A real winner!!......Diana

Ingredients:
For the Crust:
1 cup all-purpose flour
1/3 cup confectioners' sugar
1/2 cup finely ground pecans (optional)
1 tablespoon finely grated lemon peel, OR 1/8 tsp. lemon oil
1/2 cup (1 stick) chilled unsalted butter, cut into pieces

For the Filling:
5 oz. cream cheese, at room temperature
1/2 cup granulated sugar
2 large eggs
7 tablespoons (3 ounces) fresh lemon juice (approximately 4 average size lemons)
4 teaspoons grated lemon peel OR 1/8 tsp. lemon oil

For the Topping: (optional)
1/2 cup chilled whipping cream
2 teaspoons confectioners' sugar

Optional Garnishings:
Fresh raspberries, fresh blueberries, or any type of berries of your choice
Lemon Peel, cut into 3-4 thin strips

Instructions:
To Make Crust:
Preheat oven to 425 degrees F (220 C). Mix flour, sugar, ground pecans, and lemon peel (or lemon oil, if using) in food processor. Add butter. Cut in using on/off turns until mixture forms moist clumps. Prepare a 9-inch tart pan with removable bottom by lightly spraying with cooking oil spray. Press dough onto bottom and up sides of pan. Pierce crust all over with fork. Freeze 15 minutes. Bake crust at 425 degrees F/220 C (400 degrees F/200 C, if using dark colored or non-stick pan) until golden brown, about 15 minutes. Transfer crust to rack and let cool. Turn oven down to 350 degrees F/180 C (325 degrees F/160 if using dark colored or non-stick pan).

To Make Lemon Filling:
Beat cream cheese in food processor or electric mixer until smooth. Add sugar and beat until incorporated. Add eggs, one at a time, beating well after each addition. Add lemon juice, and grated lemon peel (or lemon oil, if using) and beat until well blended. Pour filling into crust and bake at 350 degrees F/180 C for about 30 minutes. Transfer tart to rack and cool. Refrigerate until well chilled, about 1 hour.

To Make Topping: Optional
Put bowl and beaters in freezer for 15 minutes. Beat cream and confectioners' sugar until stiff peaks form. Transfer whipped cream to pastry bag fitted with star tip. Pipe cream around edge of tart. Refrigerate.

Before serving, decoratively garnish with berries (optional) or dust top with confectioners' sugar. Store in refrigerator.

Tip: Slice 3 or 4 thin strips of lemon peel (about 1/8 inch wide and about 1 1/2 to 2 inches long), and use as a simple garnish for the center of tart.

Makes 6 servings

Source: Diana's Desserts

Click here to view recipe and photo of Lemon Tart with a Lemon Pecan Crust on Diana's Desserts Website

---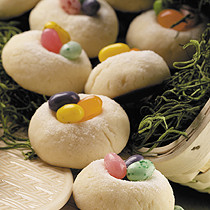 Vanilla Easter Nests
Servings: 4 dozen cookies

Comments:
Have the kids help shape and fill these fun cookies for Easter. Or fill with other goodies for different occasions, such as chocolate kisses for Valentine's Day.

Ingredients:
1 (8 oz) package cream cheese, softened
1 cup (2 sticks/8 oz/226gm) butter, softened
2/3 cup granulated sugar
3 tbsp. vanilla-sugar mixture* (see note below)
2 1/2 cups unbleached all-purpose flour
1 1/2 tsp. baking powder
Small gourmet jelly beans

Instructions:
In mixer bowl, beat cream cheese, butter, sugar and 1 1/2 tbsp. vanilla-sugar mixture until fluffy. Blend in flour and baking powder. Shape dough into 1" (2.5 cm) balls. Place on baking sheets. Using the handle of wooden spoon or thumb, make a deep indentation in center of each cookie. Bake at 350 degrees F (180 C) for 13-15 minutes or until lightly browned and firm to touch. Transfer cookies to cooling rack. Immediately sprinkle with remaining vanilla-sugar mixture and fill indentations with jelly beans, forming a nest. Cool.

Makes about 4 dozen cookies.

Note
How to Make Vanilla-Sugar

Vanilla Sugar is a readily available pantry item in Europe. If you cannot find vanilla sugar at your local supermarket (Vanilla Sugar is usually found on the baking aisle where other sugars are kept), here is a handy substitution that does not use real vanilla beans, which tend to be expensive.

Ingredients:
2 cups granulated sugar
1 teaspoon pure vanilla extract

Instructions
Blend the sugar and the vanilla extract in a bowl, then spread it on a tray lined with wax paper or plastic wrap and let it dry for 5 hours. Press out any lumps or sift through a strainer. Store it in an air tight plastic container.

Click here to view recipe and photo of Vanilla Easter Nests on Diana's Desserts Website

---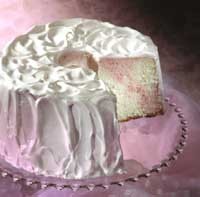 Peppermint Angel Cake
Servings: 12

Comments:
This marbled pink angel food cake is delightful with the creamy pink peppermint frosting. A lovely and beautiful cake for Easter.

Ingredients:
For the Cake
12 large egg whites
1 cup sifted confectioners' sugar
1 cup sifted cake flour or sifted all-purpose flour
1-1/2 teaspoons cream of tartar
1 teaspoon vanilla extract
1 cup granulated sugar

For the Pink Peppermint Frosting
2 egg whites
2/3 cup granulated sugar
2 tablespoons corn syrup
1/4 cup water
1/4 teaspoon peppermint extract
6 drops red food coloring

You will need a 10-inch tube or angel food pan

Instructions:
Preheat oven to 350 degrees F (180 C).

For the Cake
Place the 12 egg whites in a very large mixing bowl; let stand at room temperature for 30 minutes.

Sift confectioners' sugar and flour together 3 times. Beat egg whites, cream of tartar, and vanilla with an electric mixer on medium to high speed until soft peaks form (tips curl). Gradually add 1 cup granulated sugar, about 2 tablespoons at a time, beating until stiff peaks form (tips stand straight). Sift about one-fourth of the flour mixture over beaten egg whites; fold in gently. Repeat sifting and folding in the remaining flour mixture three more times, using one-fourth of the flour mixture each time.

Divide batter in half. Fold extract and food coloring into one half. Alternately spoon pink and white batters into an ungreased 10-inch tube pan. Gently cut through batter with a knife, swirling gently.

Bake on the lowest rack in a 350 degree F (180 degree C) oven for 40 to 45 minutes or until top springs back when lightly touched. Immediately invert the cake in the pan, standing the tube pan on its legs or resting the center tube over a tall-necked bottle. Cool thoroughly. Remove cake from pan. Frost with Pink Peppermint Frosting. Store cake leftovers in the refrigerator.

For the Pink Peppermint Frosting
Meanwhile, for the Pink Peppermint Frosting, place the 2 egg whites in a bowl. Let stand 30 minutes. In a 2-quart saucepan mix the 2/3 cup granulated sugar, corn syrup, and water. Cook and stir until mixture comes to a boil. Boil gently, without stirring, for 5 minutes. Beat egg whites using an electric mixer at medium to high speed until soft peaks form (tip curl). Slowly add hot syrup to egg whites, pouring in a steady stream, while beating. Continue beating until stiff glossy peaks form (tips stand straight). Beat in the 1/4 teaspoon peppermint extract and enough red food coloring to tint frosting pink.

Makes 12 servings.

Source: Better Homes and Gardens

Click here to view recipe and photo of Peppermint Angel Cake on Diana's Desserts Website

---
Food Tips and Information Section
Spring Fruits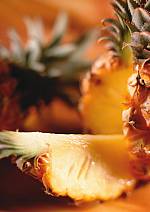 Pineapples
Though fresh pineapple can be found year-round, its peak season is from March to July. Select a pineapple heavy for its size and with a light aroma. A pungent odor may indicate the fruit has begun to ferment. Pineapples should have bright green leaves and skin with little or no spots or mold. If a leaf can be pulled easily from its crown, the pineapple is ripe.

Tips: Store tightly wrapped pineapple in the refrigerator, or a cool, dry place, for several weeks. If pineapple is underripe, keep at room temperature to lower acidity level in the fruit. To reduce the amount of juice lost in the peeling and cutting process, prepare the pineapple in a deep bowl or dish.

The four major varieties of pineapple are Cayenne, Queen, Red Spanish, and Pernambuco. They are grown primarily in Hawaii, Australia, Malaysia and South Africa.

Until Next Month
I hope you enjoyed the information and history of Easter and Passover included in this newsletter, and also the information on Pineapples.

I will be back next month with recipes for the very festive holiday, Cinco de Mayo (May 5th), and for Mother's Day which is celebrated on Sunday May 9, 2004. I will also be sharing with you a couple of dessert recipes to serve with your Memorial Day (US holiday) weekend barbeques and picnics.

Please let me know if you tried any of the recipes included in this newsletter for Spring, Easter or Passover. I'd love to hear your feedback, positive OR negative.

If you'd like to submit a recipe to Diana's Desserts Website, please click on the link below.

Submit a Recipe to Diana's Dessert's Website


Have a wonderful month, enjoy the nicer weather and Happy Easter and Passover to those of you who celebrate these holidays.

Sincerely, Diana