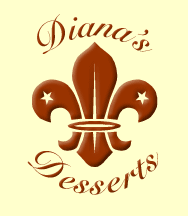 Diana's Desserts Newsletter
Edition Number 15

January 4, 2004

Welcome Home Baker's and Friends,

I first want to wish all of you a very Happy New Year. I hope this year brings you all of the things you want, such as good food, good friends and good times and most important of all, good health.

To bring you up to date, my husband Kenny and I spent a quiet Christmas 2003 at home. My sister had been very seriously ill during the later part of 2003 and was in the hospital, so we decided it was a good time to be happy for what we had and to pray for others that were not as fortunate as we were; to have each other and to have such a good and healthy life.

I still did quite a bit of baking, and my husband as always was the "guinea pig". It seems he likes my goodies more and more as time goes on, as he never really had much of a "sweet tooth" before. So I guess my treats are growing on him. He especially likes my muffins and quick breads, enjoying them with his "caffeine free" coffee in the morning.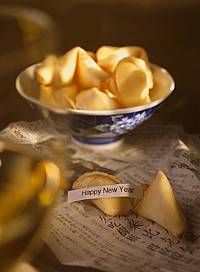 During the early part of December, I was desperately looking for a recipe for a Christmas Gooseberry Pudding to make for our Christmas dessert. It is a bit like a Plum Pudding but made with Gooseberries instead. Well, someone finally came through (a baking angel) and sent me the recipe. This was one of the desserts I made for Christmas, along with small gift-size fruitcakes for giving to our neighbors, and I also made a delicious Steamed Persimmon Pudding which was thoroughly enjoyed. I guess, it might be said that this was "My Year of the Pudding."

January's edition of Diana's Desserts Newsletter will have a little less content then last month's newsletter, as the last edition was quite long and contained so many holiday recipes. Because the holidays were so busy and most of us did our fare share of baking and cooking, I thought I would include just a few recipes for this month's edition. Being busy home baker's, we do need a break once in a while.

Chinese New Year is celebrated on January 22, 2004, the Year of the Monkey. Included in this month's Newsletter is a bit of history on Chinese New Year, and a dessert recipe to celebrate it with, Steamed Sponge Cake (Soy Zing Dan Gow).

As always, a Guest Submitted Recipe from Diana's Desserts Website is included. This month, the Guest Submitted Recipe is for Fresh Pear Cake, a recipe submitted by my next-door neighbor, Linda. Also the Food Tips and Information Section is back this month with more knowledge on winter fruits. This month it's all about Oranges and Lemons. Also included are some cozy comfort food recipes using these fruits, for a "chilly" January; a Chocolate Souffle Cake with Orange Caramel Sauce (oh so yummy!!), and Little Lemon Curd Cookies (these cookies are truly delightful).




---
Guest Submitted Recipe by Linda Ritter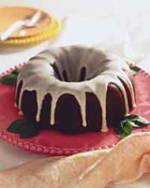 Fresh Pear Cake

Comments:
"Linda (my next-door neighbor that submitted this wonderful recipe), said that using a mixture of different kinds of pears works well in this recipe, because the blending of several varieties of pear types will enhance the cake's texture and flavor. She suggests using bosc, anjou, comice and red bartlett pears, if possible. Pears are at their best during the autumn and winter months"......Diana

Servings: 12-16

Ingredients:
3 eggs
1 1/4 cups light vegetable oil
2 cups granulated sugar
3 cups all-purpose flour
1 tsp. salt
2 tsp. ground cinnamon
1 tsp. baking soda
1 tsp. vanilla extract
3 to 4 cups pears, cored and peeled and thinly sliced

Glaze (see recipe below)

Instructions:
Preheat oven to 350 degrees F (180 C). Grease a 10-inch bundt or tube style pan.

In a large mixing bowl, combine eggs, oil and sugar; beat well.

In a medium size bowl, combine the flour, salt, cinnamon, and baking soda. Mix well.

Add flour mixture to egg mixture, 1 cup at a time, mixing well after each addition. Add the vanilla, and beat well. Batter will be thicker than most cake batters.

Add the thinly sliced pears to the batter. Mix well (this will loosen the batter some).

Pour batter in prepared pan.

Bake in preheated oven for 1 hour, and test for doneness with a toothpick inserted into the center of cake. Bake until toothpick comes out clean.

Remove from oven, and transfer to cooling rack. Remove cake from pan and cool completely on rack.

When cool, frost with glaze.

Makes 12-16 servings.

Glaze
Ingredients
1 1/4 cups powdered sugar
2 to 4 tbsp. milk

Instructions
Combine the powdered sugar with 2 to 4 tbsp. milk. The mixture should be thin. Pour glaze over the cooled cake and allow it to drip down the sides.

Enjoy!

Source: Linda Ritter

Submitted By: Linda Ritter

Click here to view recipe and photo of Fresh Pear Cake on Diana's Desserts Website


---
Food Tips and Information

Winter Fruits - Oranges and Lemons

Honeybell Oranges

Look for:
Oranges with no bruises, mold, or soft spots. It is also possible (but unlikely) to find Honeybells marketed under their proper name, Minneola tangelo. The season is short, lasting only the month of January.

Tips:
Tangy-sweet Honeybells are usually eaten raw. They are brimming with juice and often shipped with bibs for the buyer - if yours doesn't come with one, keep a napkin on hand when eating this orange. Honeybells can be stored in a cool, dry place for up to 10 days.

Did you know that in 1945 while unloading a shipment of grapefruit at his fruit store in Florida, Ed Cushman tried an unusual orange included in the order. The sweet taste and bell shape of the fruit led Cushman to nickname the fruit Honeybell. They are actually hybrids of the Dancy tangerine and Duncan grapefruit. Though both its parents contain an abundance of seeds, the Honeybell is seedless.



Recipe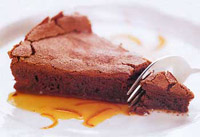 Chocolate Souffle Cake with Orange Caramel Sauce

Servings: 10-12

Comments:
This very rich "flourless" cake is moist, light and chocolatey. It will melt in your mouth. Serve it with a dollop of whipped cream and an orange slice for garnish. A definite comfort food!

Ingredients:
1 cup (2 sticks/8 oz.) unsalted butter, cut into pieces
9 oz. best quality bittersweet chocolate (not unsweetened), chopped
6 large eggs, separated
2/3 cup PLUS 1/2 cup superfine granulated sugar
3 Navel or Valencia oranges

Instructions:
To Make Cake:
Put a small roasting pan filled halfway with hot water in bottom third of oven (to provide moisture during baking), then preheat oven to 325 degrees F (160 degrees C). Butter a 10-inch (25 cm) springform pan and line bottom with a round of parchment or wax paper. Butter paper also.

Melt butter and chocolate together in a heavy saucepan over low heat, stirring, then remove from heat. Beat together yolks, 1/3 cup sugar, and 1/2 teaspoon salt in a large bowl with an electric mixer until thick and pale, and ribbons form when beater is lifted, about 6 minutes. Beat whites at medium speed with cleaned beaters in another large bowl until they just hold soft peaks. Gradually add 1/3 cup sugar, beating until whites just hold stiff peaks. Stir warm chocolate mixture into yolk mixture until combined well. Stir one fourth of egg whites into chocolate mixture to lighten, then fold in remaining egg whites gently but thoroughly.

Pour batter into springform pan and bake in middle of oven (Do Not Place Springform Pan In Pan Of Hot Water) until a tester inserted in center comes out with crumbs adhering, about 50-60 minutes (a crust will form and crack on top of cake as it bakes). Transfer to a rack and cool 10 minutes (cake will "deflate" as it cools). Run a thin knife carefully around edge of cake, then remove side of pan. Cool cake on bottom of pan 30 minutes, then invert onto another rack or plate. Remove bottom of pan, then carefully peel off parchment. Invert cake onto a serving plate.

To Make Orange Sauce (while cake bakes):
Remove zest from 2 oranges and trim any white pith from zest. Cut zest into enough very thin strips to measure 1/4 cup. Squeeze juice from 3 oranges and strain through a fine sieve. Measure out 1 cup juice.

Cook remaining 1/2 cup sugar in a dry heavy saucepan over moderate heat, undisturbed, until it begins to melt. Continue to cook, stirring occasionally with a fork, until sugar is melted into a deep golden caramel. Add zest and cook, stirring, until fragrant, about 15 seconds. Tilt pan and carefully pour in juice (caramel will harden and steam vigorously). Cook over moderately low heat, stirring, until caramel is dissolved, then cool sauce.

Serve cake with Orange Sauce.

Notes:
Making this cake 1 day ahead is recommended, to allow flavors to develop. Keep chilled, covered with plastic wrap. Bring to room temperature before serving.

Makes 8 to 10 servings.

Click here to view recipe and photo of Chocolate Souffle Cake with Orange Caramel Sauce on Diana's Desserts Website

---

Meyer Lemons

Look for:
Firm, plump, evenly colored (yellow-orange) lemons with no bruises or soft spots. Meyer lemons are grown on small farms, which generally don't dye citrus skin like many large commercial growers do.

Tips:
Believed to be a cross between an orange and a lemon, the Meyer lemon is particularly sweet compared with its tart cousins, the Eureka and Lisbon lemons (the varieties most commonly found in supermarkets). The Meyer also differs from other lemons in that it can be used in its entirety: The peel and pulp can be cooked or added raw to a salad. The Meyer can substitute for other lemon varieties in sweet or savory recipes. Because they are delicate, wrap them tightly in plastic and store in the refrigerator for no more than a few days after purchase.

Did you know the Meyer lemon tree was brought to the U.S. from China in 1908 by Frank Meyer, an employee of the U.S. Agriculture Department. It was used primarily as an ornamental tree until the early 1980s, when a few California chefs, like Lindsey Shere, the former pastry chef at Chez Panisse, became interested in the fruit. Today, thanks to a small, but growing commercial industry, you can now find Meyer lemons in specialty food stores from November through March.


Recipe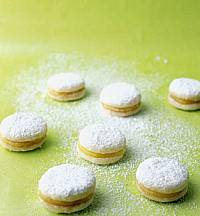 Little Lemon Curd Cookies

Servings: Makes 6-7 dozen cookies

Comments:
These are an amazingly delicious cookie. Sweet, tart, with great texture. The cookie is something like a lemon square, but really even better. The texture of the cookie is even better one day after making them, after the flavors have had time to really blend together well.

Ingredients:
Ingredients for Basic Butter Cookie Dough:
2 cups all-purpose flour
1/2 teaspoon baking powder
1/2 teaspoon salt
1 1/2 sticks (3/4 cup) unsalted butter, softened
1 cup granulated sugar
1 large egg
1/2 teaspoon vanilla extract
1 1/2 cups confectioners' sugar for dredging and dusting

Ingredients for Lemon Curd:
3/4 cup fresh lemon juice (Juice from Meyer Lemons, if possible, but any type of lemon juice may be substituted)
1 tablespoon finely grated fresh lemon zest
3/4 cup granulated sugar
1 stick (1/2 cup) unsalted butter, cut into bits
2 tablespoons cornstarch
1/2 teaspoon salt
4 large egg yolks

You will need:
A 1 1/4-inch round cookie cutter; a pastry bag fitted with small plain tip or a heavy-duty sealable plastic bag (not pleated)

Instructions:
Preparing Basic Butter Cookie Dough:

Whisk together flour, baking powder, and salt in a small bowl.

Beat together butter and sugar in a large bowl with an electric mixer at medium-high speed until pale and fluffy, about 3 minutes in a standing mixer (preferably fitted with paddle attachment) or 6 with a handheld. Beat in egg and vanilla. Reduce speed to low, then add flour mixture and mix until just combined.

Form dough into two balls and flatten each into a 6-inch disk. Chill disks, wrapped in plastic wrap, until firm, at least 1 hour.

Note:
If needed, dough can be chilled up to 5 days or frozen, wrapped in a double layer of plastic wrap, 1 month.

Preparing the Lemon Curd:
Simmer lemon juice, zest, sugar, butter, cornstarch, and salt in a 2-quart heavy saucepan over moderately high heat, whisking constantly, 1 minute. Lightly beat yolks in a small bowl, then add 1/4 cup lemon mixture, whisking. Add yolk mixture to remaining lemon mixture, then reduce heat to low and cook, whisking constantly, until curd is thick enough to hold marks of whisk, about 2 minutes. Transfer to a bowl, then cover surface with plastic wrap and chill while rolling out dough.

Put oven racks in upper and lower thirds of oven and preheat oven to 375 degrees F (190 degrees C).

Roll Out Dough:
While oven preheats, roll out 1 piece of dough (keep remaining dough chilled) into a 9-inch round (slightly less than 1/4 inch thick) on a well-floured surface with a well-floured rolling pin. (If dough becomes too soft to roll out, chill on a baking sheet until firm.) Cut out as many cookies as possible with cutter.

Bake cookies, switching position of sheets halfway through baking, until edges are golden, 8 to 10 minutes. Dredge warm cookies in confectioners sugar until coated and transfer to a rack to cool completely. Make more cookies in same manner.

Transfer lemon curd to pastry bag or plastic bag (snip an 1/8-inch opening in a corner of plastic bag). Put 1 cookie upside down on work surface and pipe about 1/2 teaspoon lemon curd onto cookie, then top with another cookie, right side up, to form a sandwich. Make more sandwiches in same manner.

Just before serving, sift some remaining confectioners sugar over tops of sandwiched cookies.

Makes 6 to 7 dozen cookies.

Notes:
Cookies (baked and coated with confectioners sugar but not filled with lemon curd) keep, layered between sheets of wax paper or parchment, in an airtight container at room temperature 1 week.

Lemon Curd (before filling cookies) can be made 1 day ahead and chilled, covered.

Sandwiched Cookies (without additional confectioners sugar) keep, layered between sheets of wax paper or parchment in an airtight container, chilled, 4 days.

Click here to view recipe and photo of Little Lemon Curd Cookies on Diana's Desserts Website


---
History and Traditions of Chinese New Year

The Lunar New Year, also known as the "Spring Festival", is a time of great excitement and joy for the Chinese people. The festivities get under way from 22 days prior to the New Year date and continue for 15 days afterwards.

During the time period before New Year, people acquire and prepare the necessary food and new clothing to wear. Food has a major prominence in all Chinese festivals, and New Year is no exception. This is the time for purchasing and eating huge quantities of dried meats and fruits, special sausages, sweet and salty cakes, and numerous other delectables. Many foods have symbolic value. The Chinese eat leafy Mustard Greens which is called "Longevity Vegetable", a glutinous rice including eight various meats and vegetables called "Eight Treasure Rice", and fish. The Chinese word for fish rhymes with their word for surplus. By eating half of a fish on New Year's Eve and saving the remainder for the next day, families can transfer their surplus luck to the New Year.

Families are supposed to clean out their houses, wash all household utensils and discard unwanted items. People also make symbolic sacrifices in honor of the Earth God.

Business owners, in particular, join in this ceremony, because the Earth God is believed to be the god of merchants. Employers are expected to hold a banquet to thanks their workers for their efforts during the past year. On a sour note, during the banquet, it was a custom to point the head of a chicken in the direction of the person who is to be dismissed. Now, more humane ways are usually found to relay the bad news, and most bosses point the head of the chicken at themselves to avoid any problems.

The high point of the season is New Year's Eve. Every member of every family returns home on this day, if possible, to share a sumptuous dinner with his/her family. Children receive "red envelopes" containing gifts of lucky money. Sleep is not easy on this night as the New Year is ushered in with the thunderous roar of exploding firecrackers and whistling rockets calculated to frighten the fiercest of evil spirits and venerate the gods. This continues sporadically until after dawn on New Year's Day.

With the coming of daylight, homes again become a buzz of activity as ceremonial candles are lit, incense and paper money burned and the cacophony of firecrackers begins anew. Spring poems or couplets, consisting of lucky phrases written in black or golden ink on red paper are pasted on or around every family door. Breakfast on this day is followed by a round of visits. The first stop, traditionally, is made at a local temple, where respects are paid to the gods. Next come visits to relatives and friends.

In the towns and villages, roving bands of musicians parade through the streets stopping at every door they pass to announce, in somewhat raucous strains, the arrival of spring. Each serenaded family presents the groups with "red envelopes" containing a token amount of money. This is another special day for children, who dress up in new clothes and collect more "red envelopes" from their elders.

Certain precautionary measures are taken to insure that the New Year will be a good one. Every house gets a thorough cleaning before New Year's Day so that the coming New Year will commence fresh and clean. No sweeping is done on New Year's Day, for in sweeping any dirt from the house the family's good luck might also be swept away.

Care must be taken not to break any dishes, and the use of knives, scissors, and any sharp instrument is to be avoided for these things could cause harm, and thus bad luck in the coming year.

Hair must be cleaned and set prior to the holiday, for to do so during the New Year season would invite a financial setback. Beauty shops and barber shops take advantage of this by hiking their fees twofold just before the New Year.

New Year is also a time of some trepidation for debtors, since this is when accounts are traditionally settled so that the coming year can be started off with a clean slate.

The days following New Year include more religious ceremonies. The eleventh day is a time for inviting in-laws to dine. The Lantern Festival, on the fifteenth day after New Year, marks the end of the New Year season.

Next year, 2005, Chinese New Years falls on February 9th. It will be the Year of the Rooster.


Recipe for Chinese New Year
Steamed Sponge Cake
(Soy Zing Dan Gow)

Servings: 8-9

Comments:
You can make this cake up to 2 days ahead; cool and store airtight at room temperature. Many Chinese prefer this pale, moist cake plain, but it can be embellished with candied kumquats or a citrus compote if desired.

Ingredients:
4 large eggs
1 large egg white
3/4 cup granulated sugar
1 teaspoon vanilla extract
1 cup sifted cake flour
1/2 teaspoon baking powder

Instructions:
1. Line the bottom of an 8-inch round cake pan (with 2 to 3-inch tall sides) with cooking parchment cut to fit. If pan has a removable rim, wrap outside with foil to prevent water from seeping in.

2. In a large bowl, with a mixer on high speed, beat whole eggs, egg white, and sugar until thick and pale yellow, 4 to 5 minutes. Stir in vanilla. In a small bowl, mix flour and baking powder until blended. With a whisk, fold flour mixture into egg mixture until evenly blended. Scrape batter into pan. Tap pan lightly on work surface to remove air pockets.

3. Set a round rack (cake rack, basket steamer, removable rim from a cake pan, or empty 2-in.-tall cans with both ends cut out) in a 12 to 14-inch steamer, 14-inch wok, or 12-inch frying pan (with at least 2-inch tall sides; steamer should be wide enough to hold cake pan without sides touching). Pour water into steamer to about 1/2 inch below top of rack. Cover steamer and bring water to a boil over high heat.

4. Place cake on rack and cover steamer (if cover doesn't fit over cake, tent steamer with a large piece of foil, sealing it around the edges so steam can't escape); reduce heat to medium and steam until a toothpick inserted in center of cake comes out clean, 20 to 25 minutes. If necessary, add more boiling water to maintain level. Remove cover quickly and carefully so condensed steam doesn't drip onto cake. Remove cake from steamer.

5. Run a knife between cake and pan rim to loosen sides. Invert onto a rack, remove pan and parchment, and invert again onto another rack. Let cake cool at least 10 minutes. With a serrated knife, cut cake into diamonds or wedges. Serve warm or cool.

Makes 8-9 servings.

Click here to view recipe and photo of Steamed Sponge Cake (Soy Zing Dan Gow) on Diana's Desserts Website


---
Until Next Month

As always, I hope you enjoyed this month's recipes, and the information on Oranges and Lemons. I also hope that you found the history and traditions of Chinese New Year helpful and interesting. The Steamed Sponge Cake is very nice, and is definitely worth trying.

Please let me know if you tried any of the recipes in this newsletter, or for that matter any recipes from previous Diana's Desserts Newsletters, or recipes from my website. I am always anxious to know how your desserts turned out. Please submit your recipes to my website no later than mid-month, so I can choose one to publish for the upcoming month's newsletter.

I will be back in February with some very special and romantic dessert recipes for Valentines Day. Have a wonderful month.

Sincerely, Diana