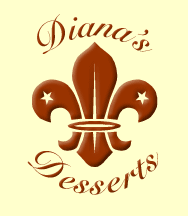 Diana's Desserts Newsletter Holiday Edition December 2003
Edition Number 14

December 7, 2003

Welcome Home Bakers and Friends,

December is finally here, this very special time so many of us have been looking forward to, AND also the time we are sometimes "dreading", because for so many of us it means that we have to try to do "our very best" when it comes to cooking and baking for Christmas, Chanukah or Kwanzaa and sometimes even for New Years Eve and New Years Day. We are also often expected to be prepared for friends and family that just seem to "drop by" unexpectedly during the holiday season.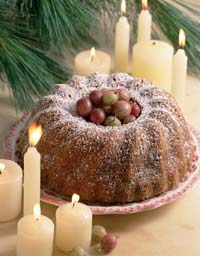 Actually, I shouldn't make it sound so nerve-racking, as this should be one of the most happy and festive times of the year, but often we get "frazzled" when we have so much on our minds and so much to do. So let's take a look at what we can do to make the holidays a more organized, relaxing, and peaceful and fun time.

First of all, don't feel alone, we're all in this together.

In my experience, I have found that the best and the easiet way to have a pleasant and "not so stressful" holiday is to plan in advance what you are going to prepare. Make a list and keep to it, if you can. I find that keeping a list of all the things I need to do, the things I need to buy, and especially a list of foods I will need to shop for when the holiday nears is a good course of action. Check your fridge, your pantry (if you have one) and your kitchen cabinets. Make sure you have all the "staples" you are going to need, and if not, put them on your list.

It isn't always easy deciding on what you're going to cook and bake for a particular holiday. Planning your menu in advance, at least 2 weeks, will make things much easier on yourself. Another good idea is to get out some of your cookbooks and recipes that you have had hidden away and explore the many choices you have for apetizers, soups and salads, breads and rolls, main courses, side dishes, beverages and desserts. These days it is easy to find delicious and festive recipes from many sources such as magazines, telelvision cooking shows, the internet, and from friends and family, but why not start with the resources you already have on hand, your own personal cookbook library and recipe box. This is where you'll probably find your best and most requested recipes.

Hopefully, after you have decided upon what you want to prepare, you will be ready to make a delicious holiday meal for your family and guests that will be a joy to create and will become a favorite holiday time memory.

Edible Holiday Gift-Giving Tips
Remember to have your edible gift-giving treats ready to send off well in advance of the holiday mailing deadline date. Have the supplies you will need for wrapping the goodies so they will make it to their destinations "intact" and be fresh enough to enjoy. Keep all of the necessary packaging supplies in one place, things such as scotch tape, string, tissue paper, kitchen plastic wrap, aluminum foil, holiday gift wrapping paper, ribbons and bows, cardboard shipping boxes, etc., and don't forget those gift tags.

I recommend if you are going to be sending edible gifts by way of shipping, to try and make goodies that will "travel well". Some ideas of treats that travel well are things like fudge, candy truffles, toffee, and fruitcake. Wrap them well, in several layers of foil or plastic wrap, and decorate the packages festively, and off they go!!

In this special holiday edition of Diana's Desserts Newsletter, I have chosen some, I hope, lovely dessert and beverage recipes for all of the upcomiing festive occasions; for Chanukah, Christmas, Kwanzaa and New Years, and I also have included a very special Christmas dessert from Scandinavia called Ris ala mande, a wonderful recipe from Denmark, a Rice Pudding with a delightful Bing Cherry Sauce. This traditional Danish Christmas dessert recipe was given to me by a very close friend of my husband and mine who lives in Copenhagen. Since Denmark was where my husband Kenny and I were married, I thought that this wonderful dessert was an appropiate addition to my holiday dessert recommendations.

The Guest Submitted Recipe for December is German Butter Cookies, submitted by Marin Riegger.


---
December's Holiday Desserts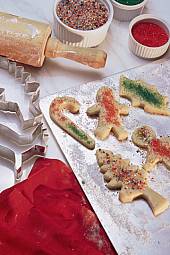 December's Guest Submitted Recipe

German Butter Cookies

Makes: 4-6 dozen cookies

Comments:
This recipe has been handed down for 5 generations. Simple to make, it is a rich cookie that we make around the holidays, and is great dipped in hot cocoa! The recipe can be cut in half if your mixer can't handle the volume. Have fun with these holiday favorites!

Ingredients:
1 lb. (4 sticks/2 cups) unsalted butter, softened
4 cups granulated sugar
8 eggs
1 tsp. vanilla extract
3 tsp. lemon juice
8 cups all-purpose flour
2 tsp. "bak pulver" (baking powder)
1/2 tsp. ground cinnamon

Egg Wash
(For brushing tops of cookies before baking)
1/2 egg white with equal parts water

You will need:
Cookie Cutters in holiday shapes

Instructions:
Preheat oven to 350 degrees F (180 C).

In a separate bowl, combine flour, baking powder and cinnamon.

Cream the sugar and butter until very light and fluffy (1-2 minutes). Beat in eggs, vanilla and lemon juice until light and fluffy.

Add in the flour mixture slowly.* (see note)

*Note: You may need to stir in the final amount of flour by hand.

Refrigerate dough for at least one hour (overnight is fine), wrapped tightly in saran (plastic) wrap.

Roll and cut out in fun holiday shapes, and brush with a mixture that is 1/2 egg white and 1/2 water.

Bake for 6-8 minutes, or until the edges just begin to get a little darker than the rest of the cookie. Store in an air-tight container, and if the cookies get hard, put a piece of bread in with them to soften them up! (This works for storing brown sugar too).

While these cookies aren't meant to be frosted, they can be dusted with colored sugars. Enjoy!

Makes: 4-6 dozen cookies

Source: Christine Werner (My Great-Grandmother from Germany)

Submitted By: Marin Riegger

Date Submitted: November 4, 2003

Thank you Marin for submitting your old family recipe for German Butter Cookies handed down from your Great Grandmother from Germany. During the holidays, so many of us enjoy making cookies, and these sound so good........Diana

Click here to view recipe and photo of German Butter Cookies on Diana's Desserts Website

---
Chanukah

Every year between the end of November and the end of December, Jewish people around the world celebrate the holiday of Chanukah, the Festival of Lights. Chanukah begins on the 25th day of the Hebrew month of Kislev, but the starting date on the western calender varies from year to year. The holiday celebrates the events which took place over 2,300 years ago in the land of Judea, which is now Israel. This year Chanukah begins at sundown on December 19th.

Chanukah Dessert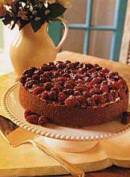 Almond Cheesecake with Sour Cream and Blackberries

Makes 8-10 servings

Comments:
This cheesecake makes a lovely Chanukah dessert. A super-creamy dessert that will have cheesecake lovers begging for seconds. Most dishes or desserts with cheese in them are appropriate for Chanukah!

Ingredients:
For Crust:
1 (7-ounce) tube almond paste
6 whole graham crackers (about 3 ounces), broken up
1/2 cup whole almonds (about 2 1/2 ounces), toasted and cooled
1/4 cup (1/2 stick/2 oz.) chilled unsalted butter, cut into 1/2-inch pieces

For Filling:
1/2 cup granulated sugar
2 (8-ounce) packages cream cheese, cut into 1-inch pieces, room temperature
3 large eggs
1/2 cup whipping cream
1/4 teaspoon almond extract

For Toppings:
1 cup sour cream
3 tablespoons sugar PLUS 1/2 cup sugar

1 pound frozen unsweetened blackberries, thawed, drained, juices reserved
1 1/2 teaspoons unflavored gelatin

Instructions:
For Crust:
Preheat oven to 350 degrees F (180 C).

Set aside 1/2 cup (packed) almond paste for filling. Combine remaining almond paste, graham crackers and almonds in processor and grind finely. Add butter; process until moist crumbs form. Press over bottom and 2 inches up sides of 9-inch-diameter springform pan. Bake until crust colors, about 10 minutes. Cool.

For Filling:
Wipe out processor. Blend sugar and reserved 1/2 cup almond paste in processor until mixture resembles fine meal, about 1 minute. Add half of cream cheese and process until smooth, about 1 minute. Add remaining cream cheese and process until smooth. Add eggs, cream and almond extract and blend until just combined.

Pour filling into crust. Bake cake until just set in center and beginning to crack at edges, about 40 minutes. Cool 10 minutes. Maintain oven temperature.

For The Toppings:
Mix sour cream and 1 tablespoon sugar in small bowl; spoon over hot cake. Bake 3 minutes. Chill cake uncovered until cold, about 1 1/2 hours.

Mix remaining 2 tablespoons plus 1/2 cup sugar and reserved blackberry juice in heavy small saucepan. Sprinkle 1 1/2 teaspoons gelatin over. Let stand 15 minutes. Stir mixture over low heat until sugar and gelatin dissolve (do not boil). Pour into medium bowl; mix in blackberries. Refrigerate berry topping until cold and beginning to set, stirring occasionally, about 1 1/2 hours.

Spoon blackberry topping over chilled cake. Refrigerate until topping is set, at least 3 hours and up to 1 day.

Makes 8-10 servings

Source: Bon Appetit, March 1999

Click here to view recipe and photo of Almond Cheesecake with Sour Cream and Blackberries on Diana's Desserts Website


---
Christmas
Christmas is celebrated by Christians the world over. Why Christmas is special to you depends on the customs and traditions that were handed down in your family. While Christmas is viewed as too commercial by most, those who keep their traditions alive renew the Joy that is associated with the birth of Christ each year.

Christmas Dessert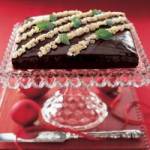 Chocolate Covered Gingerbread Cake

Makes: 9-12 servings

Comments:
So many German settlers carried their gingerbread treats to small towns around this country that the sweetly spiced cakes and cookies have become an all-American tradition. Coated with a chocolate ganache glaze, the homey cake of holidays past is transformed into a special-occasion dessert.

Ingredients:
Cake
1 3/4 cups all purpose flour
2 teaspoons ground ginger
1 teaspoon baking powder
1 teaspoon ground cinnamon
1/4 teaspoon ground cloves
1/4 teaspoon salt

1 cup warm water
1/2 teaspoon baking soda
3/4 cup (packed) golden brown sugar
6 tablespoons (3/4 stick) unsalted butter, melted
1/3 cup mild-flavored (light) molasses
2 large eggs
1 tablespoon grated peeled fresh ginger

Glaze
1/2 cup whipping cream
1/4 cup (1/2 stick) unsalted butter, room temperature
2 tablespoons light corn syrup
8 ounces semisweet chocolate, chopped
1 teaspoon vanilla extract

1/4 cup chopped crystallized ginger
Instructions:
For the Cake:
Preheat oven to 350 degrees F (180 C). Butter 9-inch (23 cm) square metal baking pan. Line bottom with parchment paper. Butter parchment. Whisk first 6 ingredients in medium bowl to blend.

Mix warm water and baking soda in small bowl until baking soda dissolves. Using electric mixer, beat sugar, butter, molasses, eggs, and fresh ginger in large bowl until well blended. Add dry ingredients in 3 additions, alternating with water mixture in 2 additions, beating until just combined. Pour batter into prepared pan.

Bake cake until tester inserted into center comes out clean, about 30 minutes. Cool on rack 20 minutes. Run knife around edge of cake to loosen. Invert cake onto rack; cool. Peel off parchment.

For the Glaze:
Bring first 3 ingredients to simmer in medium saucepan. Remove from heat. Add chocolate and vanilla; stir until smooth. Let stand until cool but still pourable, about 20 minutes.

Place cake on rack set atop baking sheet. Reserve 1/2 cup glaze. Pour remaining glaze over cake, spreading with spatula to coat top and sides. Chill cake and reserved glaze until reserved glaze is just firm enough to pipe, about 1 hour.

Transfer reserved glaze to pastry bag fitted with 1/4-inch plain tip. Pipe 5 diagonal lines atop cake, spacing evenly. Cluster crystallized ginger atop lines. (Can be made 1 day ahead. Cover and refrigerate. Bring to room temperature before serving.)

Makes 9-12 servings

Adapted from Bon Appetit Magazine December 2002
Click here to view recipe and photo of Chocolate-covered Gingerbread Cake on Diana's Desserts


---
Kwanzaa
Kwanzaa is a 7 day festival celebrating the African American people, their culture and their history. It is a time of celebration, community gathering, and reflection. A time of endings and beginnings. Kwanzaa begins on December 26th and continues until New Years Day, January 1st.

Kwanzaa Dessert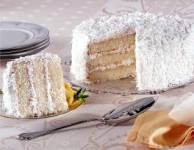 Holiday Coconut Cake

Makes 1 (3-layer) cake

Comments:
Fresh Coconut Cake is the very essence of the holiday season. Serving this very special cake for your Kwanzaa, Christmas or Chanukah dessert will bring you many complements and requests for the recipe.
If you can't find fresh coconut at your local market, use packaged shredded coconut instead. Your cake will still taste delicious.

Ingredients:
For Cake:
1 cup (2 sticks/8oz.) unsalted butter, softened
2 cups granulated sugar
4 large eggs
2 3/4 cups all-purpose flour
2 teaspoons baking powder
1 teaspoon salt
1 cup milk
1 1/2 teaspoons vanilla extract
1 1/2 teaspoons almond extract

For Coconut Syrup:
2 tablespoons granulated sugar
1/4 cup fresh coconut milk

Boiled Frosting
(see ingredients and instructions below)

Extra Ingredients for Filling and Garnish:
2 to 3 cups fresh shredded coconut, (sprinkled over filling, and for tops and sides of cake after frosting)

Instructions:
For Cake:
1. Beat butter at medium speed with an electric mixer until creamy; gradually add 2 cups sugar, beating well. Add eggs, 1 at a time, beating until blended after each addition.

2. Combine flour, baking powder, and salt; add to butter mixture alternately with milk, beginning and ending with flour mixture. Beat at low speed until blended after each addition. Stir in flavorings. Pour batter into 3 greased and floured 9-inch round cake pans.

3. Bake at 350 degrees F (180 C) for 20 to 25 minutes or until a wooden pick inserted in center comes out clean. Cool in pans on wire racks 10 minutes; remove from pans, and cool on wire racks.

For Coconut Syrup and Frosting:
4. Combine 2 tablespoons sugar and coconut milk. Microwave on HIGH 30 seconds; stir until sugar dissolves. Brush 1 cake layer with half of coconut milk mixture, leaving a 1/2-inch margin around edges. Spread with 1 cup Boiled Frosting (ingredients and instructions for Boiled Frosting follow), and sprinkle with 1/2 cup shredded coconut. Top with second cake layer, and repeat procedure. Top with remaining cake layer. Spread remaining frosting on top and sides of cake; sprinkle with remaining coconut.

Makes 1 (3-layer) cake

Note: Cover and chill cake for easy slicing.

Boiled Frosting

1 1/2 cups granulated sugar
1/2 cup water
4 egg whites
1/2 teaspoon cream of tartar
1/8 teaspoon salt
6 large marshmallows, cut into small pieces

Instructions:
1. Combine sugar and water in a heavy saucepan. Cook over medium heat, stirring constantly, until mixture is clear. Cook, without stirring, until syrup reaches soft ball stage or candy thermometer registers 240 degrees F (115 C).

2. While syrup cooks, beat egg whites at low speed with an electric mixer until foamy. Add cream of tartar and salt; beat at medium speed until soft peaks form. Increase to high speed, and add hot syrup in a heavy stream. Add marshmallows, a few pieces at a time. Beat until stiff peaks form and frosting is thick enough to spread.

Makes 7 cups frosting

Tips for Cracking Coconut

Heres how to open, clean, and shred fresh coconut. One coconut should yield enough meat and milk for this cake. Working over a pan or bowl, strike coconut with a hammer several times until coconut cracks in half. Strain coconut milk through a fine sieve, and set milk aside.

Place coconut halves in a heavy-duty zip-top bag; seal. Strike with hammer to get several small pieces. Separate outer shell from meat with a dull knife (an oyster knife works well). Carefully cut away thin brown skin with a paring knife or vegetable peeler.

Rinse coconut meat. Shred coconut in a food processor, using the fine shredder disk. Tightly pack chunks of coconut in food chute and shred, using firm pressure. Otherwise, you can use the largest holes of a box grater to shred coconut, just watch your knuckles.

Recipe Adapted from: Christmas with Southern Living 2001. Recipe by Hazel Burwell.

Click here to view recipe and photo of Holiday Coconut Cake on Diana's Desserts Website


---
New Years

New Year's Day
(January 1)

The beginning of the new year has been welcomed on different dates throughout history. Great Britain and its colonies in America adopted the Gregorian calender in 1752, in which January 1st was restored as New Year's Day. Ways of celebrating differ as well, according to customs and religions of the world. People in Moslem societies, for example, celebrate the new year by wearing new clothes. Southeast Asians release birds and turtles to assure themselves good luck in the twelve months ahead. Jewish people consider the day holy, and hold a religious ceremony at a meal with special foods. Hindus of India leave shrines next to their beds, so they can see beautiful objects at the start of the new year. Japanese prepare rice cakes at a social event the week before the new year.

Whatever the custom, most people feel the same sentiment. With a new year, we can expect a new life. We wish each other good luck and promise ourselves to do better in the following year.

New Year's Eve
(December 31)

In the United States, the federal holiday is January first, but Americans begin celebrating on December 31. Sometimes people have masquerade balls, where guests dress up in costumes and cover their faces with masks. According to an old tradition, guests unmask at midnight.

At New Year's Eve parties across the United States on December 31, many guests watch television as part of the festivities. Most of the television channels show Times Square in the heart of New York City. At one minute before midnight, a lighted ball drops slowly from the top to the bottom of a pole on one of the buildings. People count down at the same time as the ball drops. When it reaches the bottom, the new year sign is lighted. People hug and kiss, and wish each other "Happy New Year!"

Source: Embassy of the United States Stockholm, Sweden


New Years Dessert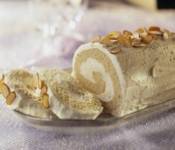 New Years Almond Log Cake

Makes 12 servings

Comments:
Almond Log Cake sweetly celebrates the French custom of burning a Yule log to prevent bad spirits from flowing down the chimney into the new year. Fortuitous almonds, another coin symbol, add extra value.

Ingredients:
5 egg whites
1/8 teaspoon salt
1/8 teaspoon cream of tartar
5 egg yolks
1 cup granulated sugar
1 teaspoon vanilla
1/2 cup ground toasted almonds
3/4 cup sifted cake flour
1/4 teaspoon ground nutmeg
1/2 teaspoon ground cinnamon
Confectioners' sugar
1 3/4 cups whipping cream
1 8-ounce can almond paste
1/4 cup whipping cream
2 tablespoons amaretto or 2 teaspoons vanilla extract
1/4 cup toasted almond slices
Purchased marzipan pigs or assorted fruits (optional)

Instructions:
1. Preheat oven to 350 degrees F (180 C). Grease a 15x10x1-inch baking pan. Line with waxed paper. Grease and flour waxed paper; set aside. Beat egg whites, salt, and cream of tartar in a large bowl with an electric mixer on high speed until stiff peaks form (tips stand straight).

2. Beat egg yolks in a medium bowl with an electric mixer on high speed for 5 minutes or until thick and pale. Gradually add granulated sugar, beating on high speed until sugar is almost dissolved. Stir in the 1 teaspoon vanilla and the ground almonds. Stir flour, nutmeg, and cinnamon together; gently stir into egg yolk mixture. Fold about one-fourth of the egg white mixture into the flour mixture to lighten. Fold remaining egg white mixture into flour mixture just until combined. Spread in the prepared pan. Bake in preheated 350 degree F (180 C) oven for 12 to 15 minutes or until cake springs back. Do not allow to brown.

3. Immediately loosen cake from pan. Invert cake onto a towel sprinkled with powdered sugar. Remove waxed paper. Roll up warm cake and towel together, jelly-roll style, starting from a short side. Cool completely on a wire rack.

4. For almond filling, beat the 1 3/4 cups whipping cream in a large bowl with an electric mixer on medium speed until soft peaks form (tips curl over); set aside. Finely crumble almond paste into a medium bowl. Add the 1/4 cup whipping cream and the amaretto or 2 teaspoons vanilla. Beat with an electric mixer on low speed until nearly smooth. Fold about one-fourth of whipped cream into almost paste mixture to lighten. Fold remaining whipped cream into almond paste mixture.

5. Gently unroll cake. Spread half of the almond filling on cake to within 1 inch of the edges. Roll up cake, without towel, into a spiral, starting from a short side. Place on a serving plate. Lightly frost cake with remaining filling and sprinkle with toasted sliced almonds. Garnish with purchased marzipan pigs for luck or assorted fruits, if desired.

Makes 12 servings

Make-Ahead Tip: Refrigerate prepared cake, covered, for up to 8 hours.

Source: Better Homes and Gardens

Click here to view recipe and photo of New Year's Almond Log Cake on Diana's Desserts Website


---
A Christmas Dessert from Denmark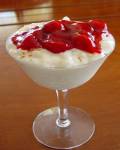 Ris ala Mande
Danish Christmas Rice Pudding with Cherry Sauce

Makes: 6-8 servings

Comments:
"My husband Kenny (who is British), lived in Copenhagen, Denmark for several years. After we married (in Copenhagen) we lived in Denmark for a year or so more. At Christmas time, our Danish friend John would always make this traditional Danish Christmas Rice Pudding (or as they call it in Denmark, Ris ala mande) and bring it to our house for our Christmas dinner dessert. There is one whole almond hidden in the pudding, and whoever gets the pudding with the whole almond is said to expect good luck, and also receives an extra Christmas gift. It is a tradition not to reveal who has the almond until all the pudding has been eaten.".........Diana

Ingredients:
1 (1/4 oz.) envelope unflavored gelatin
3 tablespoons cold water
4 cups milk
1 cup short-grain white rice, or arborio rice, uncooked
7 tablespoons granulated sugar
Dash of salt
1 cup heavy cream, for whipping
1 teaspoon vanilla extract
1/2 cup blanched almonds, chopped
1 whole almond

Garnish
Ground cinnamon
Sliced or slivered almonds
Homemade Bing Cherry Sauce (see recipe below) or use 1 can Cherry Pie Filling

Instructions:
Place 3 tablespoons water in a small bowl. Sprinkle gelatin over water. Let stand 3 minutes to soften gelatin. Warm mixture in microwave until gelatin dissolves, about 30 seconds.

Meanwhile, place 2 cups of the milk and the rice in a medium saucepan. Stir over moderate heat until the rice is tender, about 20 minutes. Stir in the dissolved gelatin, then the remaining 1 cup of milk, the dash of salt and the sugar.

Transfer the rice mixture to a large bowl. Freeze until mixture is cold and thickens but does is not set, stirring occasionally, about 45 minutes.

Whip the cream and vanilla until soft peaks form. Fold the whipped cream into the rice mixture. Fold in the 1/2 cup chopped almonds, and the one (1) whole almond. Place in a serving bowl and chill in rerigerator.

When ready to serve, spoon Ris ala mande into individual dessert bowls, and if desired, sprinkle a little ground cinnamon or nutmeg and sliced or slivered almonds over the top of each individual bowl and serve with Homemade Bing Cherry Sauce or a spoonful of canned cherry pie filling. Refrigerate any left-over pudding.

Homemade Bing Cherry Sauce

Ingredients:
1 can (17 oz.) Pitted Bing Cherries
3-4 tbsp. granulated sugar
2 tbsp. cornstarch
Dash of salt
1 teaspoon lemon juice
1/2 tsp. almond extract or almond flavoring, optional
Water, to add to Bing Cherry liquid from can

Instructions:
Drain can of pitted bing cherries. Reserve liquid. Pour liquid (that you drained and reserved from can) into a medium saucepan, and add enough water to liquid to make 1 1/2 cups. Cook on medium heat, adding sugar, cornstarch, and a dash of salt. Cook and stir mixture until thickened and clear. Add the cherries, the lemon juice, and if desired, 1/2 tsp. almond extract. Spoon sauce over individual servings of the Ris ala mande.

Note: Very Important!
Don't forget to put the 1 whole almond in the pudding.

Tip:
The Ris ala mande can also be done in a dessert ring mold if desired.

Makes 6-8 servings

Source: John Holm, Copenhagen Denmark

Click here to view recipe and photo of Ris ala mande on Diana's Desserts Website


---
Festive Holiday Beverages
Chanukah


For the adults at Chanukah, a good quality Kosher wine such as a Cabernet or Chardonnay from Israel or France is a good choice. For the children, apple cider or a non-alcoholic punch is a festive way of celebrating.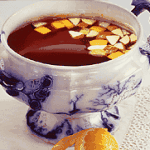 Chanukah Holiday Punch

Makes: 12-16 servings

Comments:
This delicious combination of Kosher Red Wine, fruit juices and gingerale make a terrific holiday punch. The wine is optional. Grape juice may be substituted for the wine so that non-drinkers and children can also enjoy this festive punch.

For a 'Warm" Variation
If you prefer to serve a warm beverage; place all the ingredients in a large saucepan (omitting the gingerale and the ice cubes). Add a sachet of mulling spices and 2 tablespoons of sugar and heat to just below boiling point and keep this temperature for 10 minutes, stirring occasionally. Remove the sachet of mulling spices, pour warm mixture into punch bowl, and garnish punch with the sliced oranges and apples for an attractive presentation. This warm variation makes 6-8 servings.

Ingredients:
3 cups Kosher Red Wine (or substitute with grape juice)
2 cups cranberry juice
1 cup apple juice
1 litre (32 oz) bottle gingerale or lemon-lime soda (club soda may be substituted for a less sweet punch)
Ice cubes

Garnish:
Sliced oranges and chopped apples

Instructions:
Place all ingredients in a large punch bowl (except for gingerale, ice cubes and garnish). Place in refrigerator to chill. Before serving, add gingerale and ice cubes. Garnish with sliced oranges and chopped apples. When ready to serve, use laddle to pour into punch glasses or cups.

Makes 12-16 servings

Source: DianasDesserts.com

Click here to view recipe and photo of Chanukah Holiday Punch on Diana's Desserts Website


---
Christmas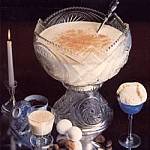 Christmas Egg Nog

Makes 8 servings, approximately

Comments:
For this eggnog, the egg yolks and sugar are blended and cooked in milk to form an "egg-safe" custard base. A splash of Cognac and sprinkling of freshly grated nutmeg make this a festive holiday drink.

Ingredients:
6 cups whole or lowfat milk
1 vanilla bean, split lengthwise
8 large egg yolks
2/3 cup sugar
6 tablespoons Cognac (optional)
2/3 cup chilled whipping cream
Freshly grated nutmeg, to taste (or ground nutmeg)

Instructions:
Place milk in heavy large saucepan. Scrape in seeds from vanilla bean; add bean. Bring to simmer. Remove from heat. Cover; steep 15 minutes. Discard vanilla bean.

Whisk yolks and sugar in large bowl to blend. Gradually whisk in hot milk mixture. Return mixture to saucepan. Using rubber spatula, stir mixture over low heat until bubbles subside and mixture thickens slightly (do not boil), about 12 minutes. Cool. Cover and refrigerate until cold. (At this point, eggnog can be made 1 day ahead. Keep refrigerated.)

Mix Cognac (if using) into eggnog mixture. Using electric mixer, beat whipping cream in large bowl until firm peaks form. Fold whipped cream into eggnog mixture just until blended. (At this point, eggnog can be made 8 hours ahead. Cover and refrigerate.)

Ladle eggnog into glasses. Sprinkle with freshly grated nutmeg (or ground nutmeg) and serve.

Makes 8 servings, approximately

Source: DianasDesserts.com

Click here to view recipe and photo of Christmas Egg Nog on Diana's Desserts Website


---
Kwanzaa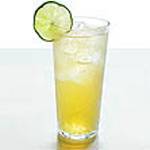 Ginger Beer

Home-made non-alcoholic ginger drinks are common throughout Africa, often sold in shops run by West Africans. This ginger drink should be much stronger than any ginger ale soda. It can be enjoyed chilled over ice, or diluted with cold water. Ginger Beer is an appropriate beverage for serving to family and friends during Kwanzaa. Great for the kids too, as it is alcohol-free.

Makes 1 gallon Ginger Beer, approximately

Ingredients:
3 or 4 large fresh ginger roots (not ground ging)
Juice of two limes (or similar amount of lemon, pineapple, or grapefruit juice)
1 cup granulated sugar
A few whole cloves or a cinnamon stick (optional)
Water

Instructions

To Prepare Ginger Beer

1). Carefully remove and discard the ginger root's outer layer. Pound the ginger root to a pulp and place in a large ovenproof glass mixing bowl or stainless steel container.

2). In a tea kettle heat six cups of water to a boil. Pour water over the ginger, cover with a lid or a clean cloth. Put the mixture in a warm place. A sunny spot on a tabletop in front of a window is a good place on a hot day; an oven that has been slightly heated then turned off is a good place on a cold day. Wait one hour.

3). Place a clean cheesecloth or a paper towel in a strainer and pour the the mixture through it into a large jar or pitcher (or two jars or pitchers as necessary). Squeeze the cloth to extract all the liquid from the ginger root. Mix in the citrus juice, sugar, and spices. Fill the jar with lukewarm water to make a gallon. Return the mixture to a warm spot and wait another hour.

4). Strain the ginger beer once more and refrigerate until chilled. Serve over ice.

Makes 1 gallon Ginger Beer, approximately

Tip:
If desired, serve with dishes from Western Africa.

Click here to view recipe and photo of Ginger Beer on Diana's Desserts Website


---
New Years Eve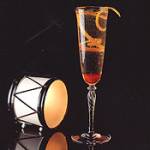 Champagne Cocktail

Makes 1 champagne cocktail

Comments:
A wonderful cocktail for New Years Eve, or for anytime you want to celebrate a special occasion.

Ingredients:
1/2 teaspoon granulated sugar
1 dash Angustora bitters
1/2 cup chilled Champagne
Lemon peel

Instructions:
Stir sugar and bitters in pre-chilled Champagne glass. Add Champagne.Twist lemon peel over and drop into glass.

Makes 1 champagne cocktail

Click here to view recipe and photo of Champagne Cocktail on Diana's Desserts Website

---
Until Next Month (Or should I say Until Next Year?)


I wish all of you a happy and also a very relaxing holiday month, and I hope that in some way I have helped with planning your holiday desserts, and also helped in giving you some tips on how to stay calm during this very busy time. I hope your baking and cooking endeavors turn out just the way you want them to.

Next month I will be back with some cozy and comforting recipes for, most likely, a chilly January. Look for the Food Tips and Information Section to return next month to Diana's Desserts Newsletter. I will have some ideas for you for baking with fruits that are available during the colder winter months.

My website now has a page where you can browse all of the past Diana's Desserts Newsletters. Just click on Newsletter Archives located on the left-hand side Navigation Bar on Diana's Desserts Homepage to bring you to that page.

Have a very Merry Christmas, a Wonderful and Joyous Chanukah, a Festive and Lovely Kwanzaa, or just a great month.

Happy New Year in advance; have a safe and peaceful time wherever you are. Enjoy your family and friends and one word of advice, stay CALM during this sometimes stressful holiday time !!

Sincerely, Diana