Diana's Desserts Newsletter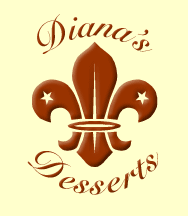 Thanksgiving Edition 2003

November 2, 2003

Welcome Home Bakers and Friends,

----------------------------------------------------------

The Holiday Season has finally arrived here in the USA. We will be celebrating
America's favorite holiday later this month, Thanksgivng, falling on November
27th this year. For those of you who do not live in the United States or do not
celebrate Thanksgivng, I hope you also enjoy the recipes I have included in this
edition of Diana's Desserts Newsletter for this wonderful day of Thanks.
Hopefully we all have things to be thankful for wherever we live.

I have given quite abit of thought into what types of desserts people would like
to serve at their Thanksgiving dinners, and have come up with some "traditional"
desserts along with some "contemporary" dessert recipes. I hope you like what I
have chosen to include for this very special Thanksgivng Edition.

Pumpkins, Pomegranates, and Persimmons are the focus of the Food Tips and
Information Section of this Thanksgivng Newsletter. Also included in this
section is a very special recipe for Persimmon Pudding; a dessert that is so
appropriate for this festive time of year.

The Guest Submitted Recipe for November is a scrumptious Pumpkin Cake Roll with
a Walnut Cream Cheese Filling, submitted by Robin LaGrassa. Robin's Pumpkin Roll
will make a wonderful addition to anyone's Thanksgiving dinner.



Guest Submitted Thanksgiving Recipe

----------------------------------------------------------

Pumpkin Cake Roll with a Walnut-Cream Cheese Filling

Makes 10-12 servings

Comments:
A "must have" at Thanksgiving time. I love the taste of pumpkin and
always made sure I had my pumpkin pie every Thanksgiving. One Thanksgiving I
came across this recipe and had to try it. The filling is so creamy and
delicious. Now this is my "must have" every Thanksgiving. Everyone else loves it
too!!.....Robin

Ingredients:
For Cake:
1 cup granulated sugar
3/4 cup all-purpose flour
1 tsp.
baking powder
1 tsp. ground cinnamon
Pinch of salt
3 large eggs, beaten to blend

2/3 cup canned pumpkin
2 tablespoons powdered sugar

For Cream Cheese Filling:
1 (8 oz.) package cream cheese, room temperature
1 cup
powdered sugar
2 tablespoons (1/4 stick) unsalted butter, at room temperature
1
tsp. vanilla extract
1/2 cup finely chopped walnuts

For Garnish:
Powdered sugar (icing sugar)

Instructions:
Preheat oven to 375 degrees F (190 degrees C). Butter a 13 x 9 x
5/8-inch jelly roll pan. Line pan with waxed paper and butter waxed paper.

For Cake:
Mix first 5 ingredients in large bowl. Mix in eggs and pumpkin. Pour
batter into prepared pan, spreading evenly. Bake until tester inserted in center
of cake comes out clean, about 15 minutes.

Lay kitchen towel on work surface; dust with 2 tablespoons powdered sugar. Cut
around pan sides to loosen cake. Turn out cake onto sugared towel, waxed paper
side up. Fold one side of towel over one long side of cake, then roll up cake
jelly roll style. Cool cake.

For Cream Cheese Filling:
Combine cream cheese, 1 cup powdered sugar, butter and
vanilla in medium bowl; beat to blend. Mix in chopped walnuts.

To Assemble:
Unroll cake; leave on towel. Peel off waxed paper. Spread cream
cheese filling evenly over cake. Using towel, roll up cake and place seam side
down on platter. Trim ends of cake. Dust cake with powdered sugar.

Note: Can be prepared 1 day ahead. Cover and refrigerate.

Cut cake crosswise into 1-inch thick slices and serve. Enjoy !!

Makes 10-12 servings.

Submitted By: Robin LaGrassa

Thank you Robin for sharing your lovely recipe for Pumpkin Cake Roll with a
Walnut-Cream Cheese Filling. I know that many of the guests to Diana's Desserts
will enjoy making it for their Thanksgivng dessert and will make it THEIR "must
have" Thanksgiving dessert also.....Diana


Click here to view recipe and photo of Pumpkin Cake Roll with a Walnut-Cream
Cheese Filling on Diana's Desserts Website.



Thanksgiving Dessert Recipes
----------------------------------------------------------

Pumpkin Pie

Makes 8-10 servings

Comments:
Pumpkin Pie, the best and most traditional ending to your festive Thankgiving
meal. Always a favorite......Diana

Ingredients:
For The Crust:
1 1/4 cups all-purpose flour
1 tbsp. granulated
sugar
1/2 tsp. salt
4 tbsp. (1/2 stick) cold unsalted butter, cut into small
pieces
3 tbsp. cold vegetable shortening, cut into small pieces
3 tbsp. very
cold water

For The Filling:
1 can (15 oz.) 100% pure pumpkin (not pumpkin pie filling)
2/3
cup firmly packed light brown sugar
1 cup heavy cream
2 large eggs
1 egg yolk
4
tsp. all-purpose flour
3/4 tsp. vanilla extract
3/4 tsp. ground cinnamon
1/4
tsp. freshly grated nutmeg
Pinch of ground cloves
Pinch of salt

For The Whipped Cream:
3/4 cup heavy cream
2 tbsp. granulated sugar
1/2 tsp.
vanilla extract

Instructions:
To Make The Crust:
In the bowl of a food processor, combine the
flour, granulated sugar and salt and pulse to blend. Add the butter and
shortening and pulse until reduced to 1/2-inch pieces. Add the water a little at
a time and pulse until the dough just begins to come together in a rough mass.
Transfer the dough to a work surface and shape into a 5-inch disk. Wrap with
plastic wrap and refrigerate until well chilled, at least 2 hours.

Position a rack in the center of an oven and preheat to 425 (220 C) degrees F.

On a lightly floured surface, roll out the dough into a 12-inch round about 1/8
inch thick. Transfer the dough to a 9-inch pie dish, fit the dough into the dish
and trim the edges, leaving a 1/2-inch overhang; reserve the trimmings, if
desired. Fold under the excess dough and, using your thumb, decoratively flute
the edges. For an attractive finishing touch, roll out the trimmings and, using
small leaf-shaped cutters, cut out leaves and press them gently onto the fluted
edge. Freeze the dough for at least 30 minutes or up to 1 hour.

Line the frozen crust with aluminum foil and fill with pie weights, uncooked
rice or dried beans. Bake for 15 minutes. Remove the weights and foil and
continue to bake until the shell is golden, about 5 minutes more. Transfer the
pie dish to a wire rack and let the shell cool completely. Reduce the heat to
325 degrees F (160 C).

To Make The Filling:
In a large bowl, combine the pumpkin puree, brown sugar,
cream, eggs, egg yolk, flour, vanilla, cinnamon, nutmeg, cloves and salt and
whisk until smooth. Pour into the crust.

Baking The Pie:
Bake the pie until the filling is set but the center still
jiggles slightly when the pie dish is gently shaken, about 50 minutes, or longer
if using a metal pie dish. Transfer the dish to the rack and let the pie cool
completely.

Making The Whipped Cream:
To make the whipped cream, in a deep bowl, combine the
cream, granulated sugar and vanilla. Using an electric mixer, beat the cream
mixture until soft peaks form and the cream is billowy, about 2 minutes. Cover
and refrigerate until ready to serve or for up to 2 hours. Serve the pie at room
temperature or slightly chilled, topped with the whipped cream.

Makes 8-10 servings.

Source: Diana's Desserts


Click here to view recipe and photo for Pumpkin Pie on Diana's Desserts Website.



Caramel Apple Cake
----------------------------------------------------------

Comments:
"Apple cake, always a favorite dessert for any holiday or special occasion. This
cake has a delicious Caramel Glaze, and if you want you can make the little
marzipan decorations included in this recipe. A very pretty and festive dessert
for Thanksgiving"......Diana

Makes 12 servings

Ingredients:
For Cake:
2 cups all-purpose flour
3 large eggs
1 3/4 cups firmly
packed brown sugar
2 teaspoons ground cinnamon
1 teaspoon salt
1 teaspoon baking
powder
1/2 teaspoon baking soda
3/4 cup unsalted butter or margarine, softened
1
3/4 teaspoons vanilla extract
2 cups apples, peeled, cored, and thinly sliced
1
cup chopped nuts
1/2 cup raisins

For Caramel Glaze:
1/4 cup unsalted butter or margarine
1/4 cup firmly packed
brown sugar
1 1/2 cups confectioners' sugar
1 teaspoon vanilla extract
2-4
teaspoons milk

For Marzipan Decorations: (optional)
Packaged marzipan
Confectioners' sugar
Food
coloring: orange, yellow, green, and brown

Instructions:
To Make Cake:
Preheat oven to 350 degrees F (180 C). Generously
grease a 12-cup bundt pan.

In a large bowl, blend together all ingredients for cake batter except nuts and
raisins.

Beat 2 minutes at high speed. Stir in nuts and raisins. Spoon batter into
prepared pan.

Bake 45 to 55 minutes, or until toothpick inserted in center comes out clean.
Cool upright in pan for 30 minutes; invert onto serving plate. Cool completely.

To Make Caramel Glaze:
In small saucepan, melt 1/4 cup butter. Stir in brown
sugar; remove from heat. Add powdered sugar, vanilla, and milk; blend well by
whisking. Spoon caramel glaze over cake. If desired, decorate with marzipan
pumpkins, leaves and acorns.

To Make Marzipan Decorations: (optional)
For Pumpkins, tint a medium piece of
marzipan with orange food coloring. Shape into small balls and shape into
pumpkins. Shape a medium piece of brown marzipan into a pumpkin stem.

For Acorns, tint a small piece of marzipan with brown food coloring; divide into
two pieces and add more food coloring to one of the pieces. Shape the light
brown piece into a small oval, making one end pointed. Use dark brown piece to
form acorn cap; place cap over the oval end of the light brown piece. Add
texture by cutting V's into it with a small knife.

To Make Leaves and Stem, tint small pieces with orange, yellow, green, and brown
food coloring. Roll out small pieces, dusting surface with confectioner's sugar
to prevent sticking. Cut with a small leaf-shaped cookie cutter or cut leaf
shapes with paring knife.

Makes 12 servings.

Source: DianasDesserts.com

Click here to view recipe and photo of Caramel Apple Cake on Diana's Desserts
Website.



Maple Creme Flan with Maple-Glazed Pears

----------------------------------------------------------

Makes 12 servings

Comments:
This creamy flan is not your traditional Thanksgiving dessert but more of a
newer, contemporary dish. It is so delicious, and a dessert I feel all of you
should try. In fact your guests will be asking you for this scrumptious and
decadent flan recipe before the end of the meal. Try making it for dessert this
Thanksgiving. Believe me, you won't be sorry you did......Diana

Begin making this ultra-creamy flan (think creme brulee) one day before serving.

Ingredients
For the Flan:
1 cup pure maple syrup
3 1/2 cups whipping cream
7
large egg yolks
1/8 teaspoon salt

For the Syrup:
2/3 cup granulated sugar
1/4 cup water
1/2 teaspoon light corn
syrup

For the Pears:
1 tablespoon unsalted butter
3 ripe Bartlett pears, unpeeled,
quartered, cored
1/4 cup pure maple syrup
1/4 cup creme fraiche or sour cream

1/8 teaspoon salt

For the Flan:
Simmer maple syrup in heavy medium saucepan over medium-low heat
until reduced to 3/4 cup, about 7 minutes. Stir in cream; return to simmer.

Whisk egg yolks in large bowl to blend. Gradually whisk in hot cream mixture.
Whisk in salt. Strain custard into another large bowl. Cover and chill until
cold, at least 2 hours and up to 1 day.

Preheat oven to 300 degrees F (150 C).

For the Syrup:
Stir sugar, 1/4 cup water, and light corn syrup in heavy medium
saucepan over low heat until sugar dissolves. Increase heat and boil without
stirring until syrup is deep amber color, occasionally brushing down sides of
pan with wet pastry brush and swirling pan, about 6 minutes. Pour syrup into a 9
1/4 x 5 1/4 x 3-inch nonstick metal loaf pan, tilting pan carefully to coat
sides. Let stand 10 minutes.

Pour custard into pan with syrup. Place loaf pan in large roasting pan. Add
enough hot water to roasting pan to come halfway up sides of loaf pan. Cover
roasting pan with foil. Pierce foil all over with fork. Bake flan 1 hour 45
minutes. Increase oven temperature to 325 degrees F (160 C). Uncover and bake
until flan is set around edges but center moves slightly when pan is gently
shaken, about 1 hour longer. Remove flan from water. Transfer to rack; cool to
room temperature. Cover and refrigerate overnight.

For the Pears:
Preheat oven to 375 degrees F (190 C). Melt butter in heavy large
ovenproof skillet over medium-high heat. Arrange pears, 1 cut side down, in
skillet. Cook until brown, about 4 minutes. Turn onto second cut side and cook
until brown, about 4 minutes longer. Stir in maple syrup; bring to boil. Place
in oven and bake until pears are tender, about 25 minutes. Using slotted spoon,
transfer pears to plate. Whisk the creme fraiche and salt into sauce in skillet.
Return pears to skillet and toss to coat.

Run sharp knife around edge of flan to loosen. Invert flan onto platter.
Surround with pears and sauce.

Makes 12 servings.

Source: Bon Appetit Magazine
November 2002


Click here to view recipe and photo of Maple Creme Flan with Maple-Glazed Pears
on Diana's Desserts Website.



A Light Thanksgiving Dessert Alternative
----------------------------------------------------------

Mixed Fruit Salad with Pomegranate Seeds

Makes 6 to 8 servings

Comments:
This colorful combination of fruits creates a simple but striking
breakfast dish, snack, or light dessert. You can toss all the ingredients into a
large serving bowl or artfully arrange the fruits on small white or
cream-colored dessert plates for a festive presentation for Thanksgiving.

"Try something new this Thanksgiving, and serve this fruit salad as a light
dessert alternative, giving your guests a choice of a light dessert or a more
traditional (heavier) dessert, such as Pumpkin Pie".....Diana

Ingredients:
4 kiwi fruits, rinsed, peeled, and cut into thin round slices
2
star fruits (Carambola), rinsed, patted dry, cut into thin slices
2 tangerines
or Clementines, peeled, sectioned, and seeded
1 medium pomegranate (about 3/4
cup pomegranate seeds with pulp and rind removed)

Garnish: (optional)
1/2 to 3/4 cup coarsely chopped, lightly toasted walnut or
pecan halves
Non-dairy whipped topping, thawed (optional)

Marinade:
3 tablespoons balsamic vinegar (look for pear or raspberry flavor)

Dash of salt
1/2 to 1 tablespoon pure maple or vanilla extract

Instructions:
Combine all the fruits in a 2 to 3-quart glass bowl. Combine
marinade ingredients in a small dish or Pyrex measuring cup. Whisk with a fork,
then pour over fruit, scraping the dregs out of the bottom. Toss gently. Cover
and chill for at least 2 hours before serving. Sprinkle with nuts just before
serving if desired.

Alternatively, chill fruit and slice just before serving. Arrange approximately
2 to 3 star fruit slices, 3 to 4 round slices of kiwi, and 4 tangerine or
Clementine slices on each of 6 to 8 small salad plates. Sprinkle each plate with
1½ to 2 tablespoons of pomegranate seeds, then drizzle with marinade and
sprinkle with 1 to 2 tablespoons chopped nuts. Serve immediately. If serving as
a light dessert after a heavy Thanksgiving dinner, spoon a little non-dairy
whipped topping over each serving.

Makes 6 to 8 servings.

Source: Natural Home


Click here to view recipe and photo for Mixed Fruit Salad with Pomegranate Seeds
on Diana's Desserts Website.



FOOD TIPS AND INFORMATION SECTION

----------------------------------------------------------

Pumpkins - Pomegranates - Persimmons

Pumpkins

What's fall without a visit to the pumpkin patch? Pick up some extra pumpkins
while the getting is good, because there's a lot more you can do with pumpkin
other than your basic pumpkin pie.

Pumpkins are available in all shapes, colors and sizes, from the miniature to
the gigantic sweet sugar pumpkin which can weigh in at as much as 100 pounds.
The pumpkin is a member of the gourd family, which also includes muskmelon,
watermelon and squash. Its orange flesh has a mild, sweet flavor which is used
in side dishes and in many desserts. The seeds, known as pepitas, can be roasted
and eaten as snacks. Another by-product, pumpkin seed oil, is normally mixed
with other oils for cooking, salad dressings and other uses due to its strong
flavor and color. Fall and winter are the harvesting seasons for this tasty
fruit of a trailing vine, another good reason why pumpkin is a popular vegetable
for Halloween and Thanksgiving.

Pumpkin History
The word pumpkin comes from the Greek pepon for a large melon.
The English termed it pumpion or pompion. This term dates back to 1547, yet it
did not make an appearance in print until 1647. The pumpkin was one of the many
foods used by the Native American Indians in the new world and was a welcome
discovery by the Pilgrims. The Indians pounded strips of pumpkin flat, dried
them, and wove them into mats for trading. They also dried pumpkin for food. The
new Americans heartily embraced the sweet, multi-purpose fruit which became a
traditional Thanksgiving food. The colonists used pumpkin not only as a side
dish and dessert, but also in soups and even made beer of it. The blossoms can
also be used as those of the squash family, such as batter-dipped and fried
squash blossoms.

Pumpkin Selection and Storage
For cooking purposes, choose smaller sizes, which
will have more tender, flavorful flesh. Select pumpkins which are free of
blemishes, harvested with their stems intact, and those which feel heavy for
their size. Store in a cool, dry place, such as an attic or spare room (root
cellars are too damp) at 45 to 60 degrees F (7 to 15 degrees Celcius) up to a
month, or refrigerate for up to three months. Higher temperatures cause the
flesh to become stringy. For extended storage, wash skins in a solution of about
a tablespoon of chlorine bleach to a gallon of water to disinfect the skin and
discourage mold or rot. Dry immediately as dampness encourages spoilage. If you
find mold, wipe with vegetable oil to remove the mold and seal the spot.
Leftovers can be frozen or canned.

As a convenience, pre-cooked, pureed pumpkin can be purchased in cans to use for
most purposes, and it is surprisingly retentive of vitamins and minerals. Fresh
pumpkin can be pared and cooked in the manner of most any squash, usually by
cutting into chunks and simmering for 20-40 minutes, depending on size and age.
Drain. When cool enough to handle, remove the skin and puree. Pumpkin seeds can
be toasted on a cookie sheet in the oven at a low temperature. Be sure to stir
them often and watch for burning. Some prefer to soak the seeds in salt water
before toasting. Shelled pumpkin seeds can be used as a less expensive
alternative to pine nuts in recipes.

Pumpkin Health Benefits
Pumpkins are a tasty source of vitamins and minerals,
particularly beta-carotene, vitamin C, and potassium. It also helps prevent
arterosclerosis, or hardening of the arteries, which can lead to strokes and/or
heart attacks. Pumpkin seed oil and pumpkin seeds are a good source of zinc and
unsaturated fatty acids which are effective help for prostate ailments. A study
by the US Department of Agriculture indicated that diets high in pumpkin as a
fiber source tended to curb the appetite, yet provided more food for the same
calorie count. The subjects in this study also absorbed less fat and calories
from their food. As with all homeopathic treatments, consult your physician
before dosing yourself.

Source: About.com

Pomegranates
The pomegranate has been the subject of myth, is typically viewed
as a symbol of beauty and fertility (because of its many seeds), and is widely
used in folk medicine in the Middle East and Asia.

This gorgeous red fruit is available from autumn through December. There are
several varieties, the "Wonderful" being the most common available in the United
States. Unlike persimmons, pomegranates are picked ripe. Choose fruits that are
plump, lustrous, and heavy for their size.

The seeds of a pomegranate are used to enhance the flavors of other foods; in
fact, most dishes gain a dash of unique flavor and texture with a sprinkling of
these jewel-like morsels. A word of caution, though kids often find these seeds
fascinating, and love to pick them out one by one, resulting in crimson-stained
fingers and clothes. Although the stains will generally wash out, it's best to
wear a big apron (or, at least, clothes you don't care about!) when handling and
preparing this fruit.

Juicing is another way to enjoy the beautiful color and taste of pomegranates;
they are also used to make a dark, tangy, molasses-like syrup, often used in
Mediterranean and middle-Eastern dishes.

Pomegranates have very high antioxidant content, perhaps as much as three times
the amount contained in equal quantities of red wine or green tea. They also
provide potassium, fiber, vitamin C, and niacin in healthy amounts.

Persimmons
Persimmons are native to Japan, and are as widely eaten there as
oranges are here. These beautiful orange-red fruits are available in September,
and reach their peak in November-December.

The first type, Hachiya, is an astringent variety that must be eaten very soft
or you're in for a very bitter surprise! In fact, it's peak of ripeness is
reached when the fruit has the consistency of a water balloon. If you buy unripe
Hachiyas, you can hasten the ripening process by placing them in a paper bag
with an apple (although this may take a couple of weeks). The second type, Fuyu,
is a nonastringent variety and can be eaten while still firm. You can eat them
like apples, simply wash and eat whole or cut into slices.

Persimmons are a great source of vitamin C; a Hachiya offers 58 percent of the
recommended daily requirement, and a Fuyu packs a whopping 363 percent!

Typically, persimmons are served as appetizers or as desserts. A ripe Hachiya
can be halved and the fruit scooped out; freezing a ripe persimmon produces a
lovely and refreshing sorbet. Fuyus can be a good substitute for apples in some
recipes and make a great addition to a green salad for color and flavor.

Source: The Internet

RECIPE

Persimmon Pudding

Makes 8 servings

Comments:
Two of the most common persimmon varieties are the Hachiya and the
Fuyu, both available from October to February. For this recipe you will want the
larger Hachiya fruits. Let them ripen until completely soft. Serve this very
delicious and traditional persimmon pudding for Thanksgiving, Christmas, or for
any special occasion during the late fall and early winter.

Ingredients:
3/4 cup coarsely chopped pecans or walnuts
2 ripe Hachiya
persimmons
1 3/4 cups all-purpose flour
2 tsp. baking powder
1/2 tsp. baking
soda
1 tsp. ground cinnamon
1/2 tsp. ground ginger
1/4 tsp. freshly grated
nutmeg
1 1/4 cups firmly packed dark brown sugar
2 eggs
1 cup milk
3/4 cup
golden raisins
Boiling water, as needed
1/3 cup brandy
Vanilla ice cream for
serving

Instructions:
Preheat an oven to 375 degrees F (190 C). Generously butter a
2-quart steamed pudding mold and its cover.

Spread the pecans on a baking sheet and toast until lightly browned and
fragrant, 5 to 7 minutes. Remove from the oven and let cool. Reduce the oven
temperature to 350 degrees F (180 C).

Cut off the top from each persimmon, then cut in half. Scrape the pulp from the
skin into a food processor fitted with the metal blade or into a blender. Puree
until smooth; you should have 1 cup puree.

Sift together the flour, baking powder, baking soda, cinnamon, ginger and nutmeg
into a large bowl. In another bowl, combine the persimmon pulp, brown sugar,
eggs and milk and whisk until blended. Gradually stir the persimmon mixture into
the flour mixture until fully combined. Let the batter stand until thickened to
the consistency of thin sour cream, about 20 minutes.

Stir the pecans and raisins into the batter. Pour into the prepared mold; cover
with well-buttered waxed paper, overlapping the rim slightly, and then set the
cover over the mold. Place the mold in a larger baking pan in the oven. Pour
boiling water into the pan to reach one-third up the sides of the mold. Bake
until the pudding is set and a skewer inserted into the center comes out clean,
2 1/2 to 3 hours; check periodically and add boiling water as needed to maintain
its original level. Remove the mold from the baking pan and let stand, covered,
for 10 minutes.

To serve, remove the cover, invert the pudding onto a serving plate and lift off
the mold. In a small saucepan, warm the brandy over medium heat just until it
begins to bubble around the edges. Immediately remove from the heat and ignite
with a match. Pour the flaming brandy over the warm pudding. When the flames
dies out, serve the pudding immediately with vanilla ice cream.

Makes 8 servings.

Source: Adapted from Williams-Sonoma Seasonal Celebration Series,Winter, by
Joanne Weir (Time-Life Books, 1997).


Click here to view recipe and photo of Persimmon Pudding on Diana's Desserts
Website.



Until Next Month
----------------------------------------------------------

December is the month for celebrating several important holidays; Christmas,
Chanukah, Kwanza, and of course on December 31st, New Years Eve. I will be back
next month with some festive dessert recipes, and also with some quick and easy
recipes for these special and most anxiously awaited holidays. I will also be
including some festive beverage recipes for these holidays and also one to
welcome in the New Year.

I wish you all a Happy Thanksgiving, and please enjoy your family and friends
during this holiday season. Have a great time baking your favorite desserts, and
remember to relax and enjoy yourself.

If you'd like to submit a holiday dessert recipe for all of us to share, please
click on the Submit a Recipe link below to bring you to Diana's Desserts
Website's Submit a Recipe Page.

Sincerely, Diana



Click Here to Submit a Recipe.




---