Diana's Desserts Newsletter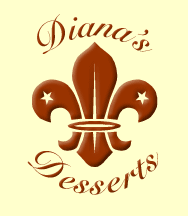 Edition Number #10

August 1, 2003

Welcome Home Baker's and Friends,

----------------------------------------------------------

Here we are in August already, and there's just a few weeks before the kids go
back to school. For most of us, it's time to settle down after a busy summer of
enjoying the warm weather, taking vacations, barbequing and enjoying our summer
picnics.

Very soon it will be time to start planning the kid's school lunches and their
after-school activites. And before you know it, it will be time to start
planning for the upcoming fall and winter holidays. They're really just around
the corner.

Since the holidays are still a while away, this would be a good time to prepare
some late summer desserts while summer's fresh fruit is still at our
supermarkets and Farmer's Markets. By the way, have any of you gone to a
Farmer's Market this summer? We have one in our town every thursday afternoon
during the summer months. It's alot of fun to visit one, and to try some of the
fresh summer fruits and vegetables. There's nothing quite like getting your
fresh produce directly from your local farmers.

In this edtion of Diana's Desserts Newsletter, recipes will focus on mid to late
summer fruit desserts, and also included is a recipe for an early autumn treat,
a comforting Apple Maple Upside-Down cake.

The Food Tips and Baking Information Section included in this months newsletter
is on "Baking Basics".

The Guest Submitted "Recipe of the Month" for August is a wonderful Tiramisu
Toffee Torte, submitted by Wesley Taylor (see recipe below). It wil also be the
Recipe of the Week on Diana's Desserts website from sunday August 3rd through
saturday August 9th.

As always, I hope you enjoy the recipes and that you gain some new knowledge on
the subject of "Baking Bascis". Please let me know if this information is
helpful to you with your baking endeavers. It is very important to me to receive
feedback from you about the recipes and information included in my newsletters.



August Guest Submitted Recipe

----------------------------------------------------------

Tiramisu Toffee Torte

Servings: 12-14

Comments:
This is from my mother's (Ruby Taylor) recipe collection. Very tasty
and very easy to make.

Ingredients:
For Cake:
1 package (18 1/4 oz.) white cake mix, (pudding included)

1 cup (8 oz.) strong brewed coffee, at room temperature
4 egg whites
4 Heath
Candy Bars (1.4 oz. size), chopped

For Frosting:
4 oz. cream cheese, softened
2/3 cup granulated sugar
2 cups
whipping cream
1/3 cup chocolate syrup
1/4 cup PLUS 6 tbsp. strong brewed
coffee, room temperature, divided
2 tsp. vanilla extract
1 Heath Candy Bar (1.4
oz. size), chopped

Instructions:
For Cake:
Preheat oven to 350 degrees F (180 C). Line two greased
9-inch round baking pans with wax paper and grease the paper; set aside.

In a mixing bowl, beat the cake mix, coffee and egg whites on low speed until
moistened. Beat on high for 2 minutes. Fold in chopped candy bars. Pour into
prepared pans.

Bake at 350 degrees F (180 C) for 25-30 minutes or until a toothpick inserted
near the center comes out clean. Cool for 10 minutes before removing from pans
to wire racks. When cooled split each cake into two horizontal layers.

For Frosting and to Assemble:
In a chilled mixing bowl, beat the cream cheese
and sugar until smooth. Add the whipping cream, chocolate syrup, 1/4 cup of
coffee and vanilla. Beat on high speed until light and fluffy, about 5 minutes.

Place one cake layer on a serving plate; drizzle with 2 tbsp. of the remaining
coffee. Spread with 3/4 cup frosting. Repeat twice. Top with fourth cake layer.
Frost top and sides of cake with remaining frosting. Refrigerate overnight.
Garnish with chopped candy bar. Store in the refrigerator.

Makes 12-14 servings.

Source: Ruby Taylor Recipe Collection

Submitted By: Wesley Taylor

Date: 7-26-03

Thank you Wesley for sharing this wonderful recipe from your mother's collection
for the Tiramisu Toffee Torte. It is so very scrumptious!.....Diana


Click here to view recipe and photo of Tiramisu Toffee Torte on Diana's Desserts
Website.



Mid to Late Summer Desserts

----------------------------------------------------------

Plums Jubilee

Comments:
This is the plum version of the famous flaming "cherries jubilee". If
desired, you may omit the alcohol in this recipe. It will still taste terrific!

Ingredients:
1/2 cup granulated sugar
1 tbsp. cornstarch
3/4 cup cranberry juice

1 tsp grated orange rind
1 lb. fresh plums, pitted and thickly sliced
1/4 cup
brandy, or cognac (optional)
Vanilla ice cream

Instructions:
In large skillet, combine sugar and cornstarch, stir in cranberry
juice and orange rind. Bring to boil over medium heat, stirring constantly; cook
until thickened. Add plums; cook until heated through and slightly softened,
about 3 minutes. Pour brandy or cognac (optional) into one side of skillet.
Ignite with long match, swirl pan and let flames die down. Stir sauce gently.
Serve warm or at room temperature over ice cream.

Makes 4 servings.

Source: DianasDesserts.com


Click here to view recipe and photo of Plums Jubilee on Diana's Desserts
Website.



Blueberry Cheesecake
----------------------------------------------------------

Servings: 16

Comments:
When using a springform pan or other pan with a removable bottom, it
is best to wrap aluminum foil around the outside. This helps prevent the edges
of the cake from cooking too quickly. Because the foil's shiny surface reflects
the heat, the cheesecake will cook more evenly.

Ingredients:
Butter, for greasing pan

For the Crust:
2 1/2 cups shortbread cookie crumbs
1 tbsp. granulated sugar
2
1/2 tbsp. unsalted butter, melted

For the Filling:
5 ( 8oz.) packages (40 oz. total) cream cheese, at room
temperature
2 cups granulated sugar
5 large eggs
1/4 tsp. almond extract
1/2
tsp. pure vanilla extract
3 cups fresh or frozen blueberries, (if frozen, drain)

Confectioners' sugar, for dusting top of cheesecake

You will need:
An 11-inch springform pan, or a Deep Swiss Rosette Cake Pan with
removable bottom.

NOTE:
You can find both of these pans online at Cooking.com, and you can also
find the Deep Swiss Rosette Cake Pan at Kitchen & Home Gadgets. Their web
address is: http://www.kitchenhomegadgets.com/ka11deswroca.html

Instructions:
Position a rack in the center of oven and preheat to 325 degrees F
(160 degrees C). Lightly butter a rosette cake pan with a removable bottom, or
an 11-inch springform pan. Cover the outside of pan with aluminum foil, shiny
side out.

For the Crust:
In a medium size bowl, stir together the cookie crumbs, the 1
tbsp. sugar and the butter until well blended. Press the crumb mixture into the
bottom and 1/2-inch up the sides of the prepared pan. Refrigerate until ready to
use.

For the Filling:
In the bowl of an electric mixer fitted with the flat beater,
beat all of the cream cheese on high speed until smooth and creamy, 3 to 5
minutes. Reduce the speed to low, gradually add the 2 cups sugar and continue
beating, occasionally scraping down the sides of the bowl, until smooth, 2 to 3
minutes. Beat in the eggs one at a time, beating well after each addition and
occasionally scraping down the sides of the bowl, until the mixture is smooth
and creamy, 2 to 3 minutes more. Add the almond and vanilla extracts; mix well.

Pour the filling into the prepared pan, spreading the mixture evenly to the
edges. Scatter 1 cup of the blueberries over the top and bake until the filling
is just set (it will still be a little loose in the center), about 1 hour and 20
minutes.

Transfer the pan to a wire rack and cool the cheesecake to room temperature, at
least 1 hour. Refrigerate until chilled, at least 4 hours, before serving.

To serve, unmold the cheesecake and set it on a cake stand or cake plate.
Garnish with the remaining 2 cups blueberries and dust with confectioners'
sugar.

Tip:
Cheesecake is best chilled overnight. It becomes firmer the longer it is
left to chill in the refrigerator.

Makes 16 servings

Source: DianasDesserts.com


Click here to view recipe and photo of Blueberry Cheesecake on Diana's Desserts
Website.



Summer to Autumn Peach Galette

----------------------------------------------------------

Summer to Autumn Peach Galette
(a great low-fat and low-carbohydrate "rustic"
style pie)

Makes 8 servings

Comments:
Top each slice of this "rustic" style pie with a dollop of Lite or
Fat-Free Non-Dairy Whipped Topping, and indulge in this lovely "Summer to Autumn
Peach Galette'. A wonderful and delicious dessert for diabetics, or people who
are trying to reduce their saturated fat and sugar (carbohydrate) intake.

Ingredients:
1/2 of a 15-ounce package folded refrigerated unbaked piecrust (1
crust)
1/4 cup granulated sugar
4 teaspoons all-purpose flour
1/4 teaspoon
ground nutmeg
3 cups peeled and sliced peaches (approximately 1 1/2 pounds)
1
tablespoon lemon juice
1 large egg, beaten
1 tablespoon water

Instructions:
Let the pie crust stand at room temperature according to package
directions; unfold. Line a large baking sheet with foil and lightly flour. Place
pastry on the prepared baking sheet and roll out to a 14 x 11-inch oval shape.

In a large mixing bowl stir together granulated sugar, flour, and nutmeg. Stir
in peaches and lemon juice. Spoon peach mixture onto pastry, leaving a 2-inch
border.

Fold pastry border up and over peaches, folding edges gently as needed. Combine
egg and water. Brush egg mixture onto the top and sides of the crust. Bake in a
375 degree F (190 degree C) oven for 40 to 45 minutes or until the crust is
golden. If necessary, cover top crust with foil for the last 10 to 15 minutes of
baking to prevent overbrowning. Cool for 30 minutes on the baking sheet.

Makes 8 servings.

Tip: You can substitute nectarines, plums, or other summer fruit for the
peaches, if desired.

Note: This is a great treat for diabetics or people who are on a sugar or fat
restricted diet. Only 26 grams of carbohydrates (excluding the 1 gram of fiber)
and 0 grams of saturated fat).

Nutritional facts per serving:
(1 serving)
Calories: 186
Total fat: 8g
Saturated fat: 0g
Cholesterol: 34mg

Sodium: 113mg
Carbohydrate: 27g
Fiber: 1g
Protein: 2g
Vitamin A: 4%
Vitamin C:
8%
Calcium: 0%
Iron: 1%

Source: DianasDesserts.com


Click here to view recipe and photo of Summer to Autumn Peach Galette on Diana's
Desserts Website.



Food Tips and Baking Information
----------------------------------------------------------

Baking Basics

Until now your home baking repertoire may have peaked at instant dinner rolls
and chocolate chip cookies cut from a dough log found in the refrigerator
section of your local supermarket. Well, your baking triumphs don't have to end
there. If you're a quick study with an untapped talent for baking, this crash
course in stand mixers, bundt pans, and more could unleash your culinary genius.
The fundamentals of tools, cookware, and appliances are introduced to you here.
Then it's time for you to get into the kitchen and try them out!

Should Mixers Stand or be Held by Hand?

Hand Mixers
Even novice bakers have at one time or another used an electric hand
mixer to blend instant pudding or cake batter. This handy tool will mix dough,
whip cream, beat egg whites, and blend just about anything. Ideally you'll want
one that offers at least six speeds and includes a slow start feature to prevent
splattering. Newer models also include upward slanting handles (as opposed to
parallel to the mixer body) designed for comfortable grip and less arm strain.
Stainless steel wire beaters also indicate better performance.

Stand Mixers
Heavy-duty stand mixers can perform all the functions of a hand
mixer with greater power-and can knead bread dough also. Machines with
"planetary action" work with beaters that simultaneously orbit the mixer axis
and spin 'round an attached bowl. The power of a specific model depends on the
number of cups of flour it can handle. Ten to 20 cups are enough for kneading
bread dough. As you shop, look for mixers with at least a 4 1/2 quart capacity
and five speeds. The only downside to a stand mixer is that it's not quite as
convenient to clean and store as a compact hand mixer. Generally speaking, a
stand mixer is the tool of the frequent baker.

Blenders and Food Processors
A blender and a food processor are always useful
tools in today's kitchen, and great for the home baker to have on hand.

Blenders
A blender is a small electrical appliance that uses short rotating
blades to chop, blend, puree and liquefy foods. Because blender containers are
tall and narrow, air is not incorporated into the food so this appliance will
not "whip" foods such as egg whites and cream. Blenders can be used for making
soups, purees, sauces, milkshakes and other drinks, as well as for chopping
small amounts of foods such as bread crumbs and herbs.

Food Processors
The food processor is efficient and speedy and can easily chop,
dice, slice, shred, grind and puree most food, and works well for mixing and
kneading pie and tart dough. The larger machines can also knead bread dough.
Most processors come with a standard set of attachments including an S-shaped
chopping blade and several disks for slicing and shredding.

Bundt Pans and Baking Sheets

Bundt Pans
Bearing close resemblance to a mounded hill with the center cored
out, a bundt pan will bake round tube cakes or chill molds. The most common
version's fluted sides give cakes and molds decorative shape. But that's only
the beginning. Bavaria and other more elaborate styles of bundt pans can create
desserts with sides so intricately sculpted you'll wonder if you should eat them
or sell them to a museum.

Bakeware
The world of bakeware is full of artful molds and custard pans to bake
masterpieces. Savarin pans will mold cream or gelatin desserts, while timbales
will cook miniature dinner custards or quiches. Custom-designed tart pans have
stylishly crimped sides and bottoms that pop out so that you can cook and serve
with the same pan. Springform pans include the same convenience. They also boast
the ability to maintain a leak-proof seal in the oven, ideal for baking
cheesecake. Crepe pans have specially flared sides. Practically every popular
dessert has a pan carefully designed with it in mind.

However, whether or not you feel now is the time to invest in a popover pan
specifically manufactured for the production of puff pastry, there are a few
fundamentals you shouldn't be without. Here is a list of bakeware that will be
useful to you when you start baking on a serious level:

1). Muffin pan
2). 2 baking sheets
3). At least 2 cookie sheets
4). Jelly-Roll
Pan
5). Square baking pan (8 or 9-inch square pans are often used in baking
recipes)
6). A set (2 of each) of round cake pans (set of 8, 9 or 10-inch cake
pans are the most commonly used)
7). Rectangular baking dish or pan (9 x 13-inch
is often used in baking recipes)
8). Loaf pan (9 x 5 inch or 8 x 4 inch are the
best to start with). Great for making loaves of bread or quick breads.
9). Pie
plate (a round 9 or 10-inch pie plate is best to start off with)
10). Bundt pan
(10-inch or a 12 cup bundt pan is good to start off with)

Regular or Nonstick Bakeware?
If you're not sure whether to purchase regular or
nonstick cookware, keep in mind, when it comes to baking, slow cooking is the
key. Nonstick surfaces tend to cook and wear out faster. Stainless steel may not
be stick-resistant, but a sheet of nonstick baking liner or parchment paper will
alleviate that problem. For pie plates, ceramic works best. It cooks more evenly
than metal and makes an attractive serving dish.

Tools of the Trade

Top off your collection of baking equipment with clever conveniences no devoted
baker should be without!

Rolling Pin or Baker's Pin (also called a French Rolling Pin)
Electric mixer
(hand held or stand mixer) I recommed having both if possible. The hand held
mixer is great for small amounts, and of course a stand mixer is definitely "a
must" if you're going to be making large quantities of breads or cookies, etc.

Sifter
Shaker
Wire whisk
Wooden spoon
Pastry brush
Pastry blender (for mixing
pie crust dough)
Silicon rubber spatula (non-melting)
Measuring cups and
measuring spoons (for measuring dry ingredients)
Pyrex or glass measuring cup
(for measuring liquid ingredients)
Various sized mixing bowls
Set of canisters
(to store flour and other baking ingredients)
Metal cookie or brownie spatula

Candy thermometer
Oven thermometer
Oven mitt and oven glove
Pot holders or hot
pads (for removing and lifting hot baking pans from the oven)
Kitchen shears

Cake cutter
Pastry sealer
Nonstick reusable baking liners (make sure the liner
fits your pan). These are great for lining cookie sheets.
Parchment paper,
baking paper or waxed paper (if needed to line baking pans)
Wire cooling racks

Kitchen Timer
Cake tester (wooden cake tester or wooden skewers work well for
testing cake's doneness)
Pie weights
Aluminum foil or metal pie shields (for
protecting your pie or tart edges from browning too much in the oven)
Plastic
wrap, cling wrap and aluminum foil
Pastry bags and tips
Cookie Press or Cookie
cutters (assorted shapes and sizes)
Cake Decorating kit

Information on Tools of the Trade

Unlike a rolling pin, the lightweight baker's pin (also called a French Rolling
Pin) has no handles, allowing more control over the thickness and shape of a
crust. Heavy marble rolling pins won't stick to cold dough, but like their
wooden cousins, they lack the easy mobility of a baker's pin. (If you can't find
a French style baker's pin, use a regular wooden or marble rolling pin with
handles).

Plastic measuring utensils and mixing bowls will suffice for those on a budget.
Yet in terms of longevity, plastic has a bad habit of melting and discoloring
with use. If possible purchase stainless steel measuring cups and spoons.

A pastry sealer will imprint lovely crimped edges on homemade ravioli or pastry
with a few swift swirls of its wheel.

Tired of serving cookie fragments instead of whole cookies? Well, culinary
science has done it again. Silicone coated commercial-grade fiberglass baking
mats will keep food from gluing to the pan and help keep recipes low-fat. These
re-usable mats may be purchased at gourmet kitchen stores or at online stores
that sell kitchen baking and cooking supplies, such as KitchenEtc.com or
Cooking.com.

The innovative cookie press looks and functions a lot like a miniature bazooka
with a cookie cutter shape attached to one end and a handle on the other. After
you "load" the dough on the handle side, you just squeeze the trigger and force
the dough down the tube, through the shaped cookie cutter, and onto your baking
sheet. Besides being quicker and perhaps more fun than the traditional method
(pressing cookie cutters into rolled out cookie batter), a cookie press wastes
less dough.

Pebble-sized ceramic pie weights will keep pie crust from shrinking.

When it comes to birthday and holiday cake decorating, you can spend anywhere
from ten to fifty dollars. Top-of-the-line kits may include professional
decorating syringes, nickel-plated decorating tips, spatulas, and more. For the
occasional celebration, consider an inexpensive set of stencils or pastry bags
with tips.

Most of these tools should strike you as at least vaguely familiar. Then again,
if you wander down the baking aisle of your favorite kitchen store, you may
discover shelves of curious gadgets and equipment we haven't even touched on.
When you do, simply welcome the opportunity to explore your baking brilliance,
fine-tuning your collection of pans, mixers, and cutters along the way!

Source: Article reproduced by permission from MSN House and Home and written by
Christine Champ.
*Note: There are some additions to this article by Diana's Desserts.


Autumn Sneak Preview Recipe: A Comforting Early Autumn Dessert

----------------------------------------------------------

Apple Maple Upside-Down Cake

Comments:
"A slice of this delightful Apple Maple Upside-Down cake will help "soothe you"
on a cool autumn day or evening. If possible, use Granny Smith's or Golden
Delicious apples for making this cake. A very comforting dessert for an early
autumn treat".........Diana

Makes 9 servings

Ingredients:
1 tbsp. unsalted butter or margarine, softened
3 tbsp. granulated
sugar
1 large egg
1 cup all-purpose flour
2 tsp. baking powder
1/8 tsp. salt
1/2
cup milk
1/2 cup real maple syrup
2 large cooking apples, peeled, cored, sliced
thin (If possible, use Granny Smith or Golden Delicious apples, or any other
good baking apples)
Whipped cream (optional)

Instructions:
In a medium mixing bowl, beat together butter or margarine, sugar
and egg with an electric mixer on medium speed until well combined. Stir
together flour, baking powder and salt; add alternately with milk to beaten
mixture, beating on low speed after each addition just until smooth.

In a small saucepan, bring the maple syrup just to a boil; pour into a greased
square 8" x 8" x 2" in depth baking pan. Carefully top with a single layer of
apple slices. Pour batter evenly over top of apple slices. Bake in a 400 degree
F (200 degree C) oven for 25-30 minutes or until a wooden toothpick inserted
into cake portion comes out clean. Immediately invert onto serving platter. Cool
slightly. Serve warm, topped with whipped cream if desired. Store any leftover
cake in refrigerator, covered with aluminum foil or plastic wrap.

Makes 9 servings.

Source: DianasDesserts.com


Click here for recipe and photo of Apple Maple Upside-Down Cake on Diana's
Desserts Website.



Until Next Month
----------------------------------------------------------

I hope you have enjoyed this edition of Diana's Desserts Newsletter, and that
you will try some of the mid to late summer fruit dessert recipes.

Enjoy the rest of your summer. September's newsletter will feature early Autumn
dessert recipes and more Food Tips and Baking Information.

Please don't forget to submit your recipes to Diana's Desserts website. I will
be looking forward to them as always........."as home baker's, we have much to
share".

If you would like to purchase a Diana's Desserts Logo Apron or Kitchen Towel,
check them out on my website.

Sincerely, Diana

Click here to view Diana's Desserts Logo Aprons and Kitchen Towels.


---