Diana's Desserts - www.dianasdesserts.com
Easy Almond Cake
by Nigella Lawson, Petrina Tinslay (Photographer)

ABOUT THE AUTHOR:
Nigella Lawson is one of the best and most influential of British food writers, and a brilliant home cook. Her first book, "How to Eat", appeared in 1998 to wide acclaim. She is the food writer for British Vogue, and has her own television show, "Nigella Bites" which broadcasts on both British and American television.
FROM THE PUBLISHER:
In the busy, stressful life of the modern woman, there could be more feelgood mileage from running up a tray of muffins or baking a cake than in almost any other cooking. But we're so busy making efficient, 'modern' food, that we too easily forget, what Nigella demonstrates in this mouthwatering and deliciously reassuring cookbook, that actually it 's not hard to make a cake, that the appreciation and satisfaction it brings are out of all proportion to the little effort involved. A domestic goddess has to maintain her cool when faced with pastrybut with Nigella's guidance even shortcrust pastry can be pretty pain-free. Here at last is the book which understands our anxieties, feeds our fantasies and puts cakes, pies, pastries, preserves, puddings, bread and biscuits back into today's kitchen and our lives. Everything from cup cakes to certosino, from brownies to bagels, from peach cream pie to pizza, chewy amaretti to Blueberry boy-bait, from baklava to a Barbie cake, as well as children's cooking, Christmas baking and other family treats.
REVIEW BY DIANA'S DESSERTS:
The title of the book is mainly meant as a joke, but I think it also has to do with the pleasure we take from cooking (regardless of being a man or a woman, a person with a family or not). If you see cooking and baking as a hobby, a wonderfully creative activity that can lift the spirits, then this book is meant for you (the same goes for "How to Eat" and indeed "Nigella Bites", two other cookbooks by Nigella Lawson). It's a little bit like cooking side-by-side with a friend that knows more about these things than you do and makes you feel very comfortable and enthusiastic along the way. I highly recommend How To Be A Domestic Goddess: Baking and the Art of Comfort Cooking, you won't regret this purchase.
Diana Baker Woodall, Diana's Desserts

Easy Almond Cake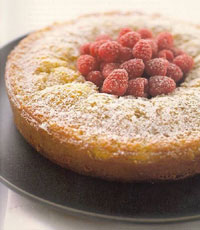 By: Nigella Lawson
From: How To Be A Domestic Goddess: Baking and the Art of Comfort Cooking
"This cake isn't baked in a loaf pan but in a ring mold, preferably in a patterned one; and it's a plain cake only in the sense that it isn't filled or iced (though feel free). It's densely almondy and eggily intense. And you know how you make it? You buy a block of ready-made marzipan and put it in the preocessor along with eggs, flour, sugar, butter and a sprinkle of extract and blitz.
You could easily use a plain cake pan for this cake but I always use my springform tube pan (not hard to find) because the particular scent and delicacy of this cake make it perfect for a dinner-party dessert with a few raspberries in the middle, a few more scattered around the edge, and a light dusting of confectioners' sugar. When we cooked it for the picture, we couldn't find the right pan (losing essential items is something of a specialty of mine), plus some of it stuck to the pan we did use. I could have made it again, but I didn't want to, because these things happen to all of us and I wanted to show it wasn't the end of the world. True, you don't see the moldings as well as you might, if at all, but a quick bit of patching and some judicial sifting with sugar and it looked fine. Life isn't lived in a lab.
One gentle reminder here: you just will not get the marzipan to ooze into the cake batter if it starts off ice cold. In dire straits, I have cubed it and given it a quick whirl in the microwave. And if you wanted to replace the vanilla extract with the zest on an orange, I wouldn't mind in the slightest."..............Nigella Lawson
INGREDIENTS:
1 cup plus 2 tablespoons softend unsalted butter
1 cup plus 2 tablespoons softened marzipan
1/2 cup sugar
1/4 teaspoon almont extract
1/4 teaspoon vanilla extract
6 large eggs
1 cup self-rising cake flour
10-inch springform tube pan or patterned ring mold, buttered and floured

INSTRUCTIONS:
Preheat oven to 350 degrees F (180 C). Chop the butter and marzipan to make them easier to break down, and put them in the bowl of the food processor, fitted with the metal blade, with the sugar. Process until combined and pretty well smooth. Add almond and vanilla extracts, process again, then break the eggs one at a time through the funnel, processing again each time. Mix the flour and tip down the funnel, processing yet again, and then pour the mixture into the prepared pan, scraping the sides and bottom of the bowl with a rubber spatula.
Bake for 50 minutes, but check from 40. Then, when the cake looks golden and cooked and a cake tester or fine skewer comes out cleanish, remove from the oven and leave to cool in the pan before turning out. (This is when you will be feeling grateful if it's the springform you're using.)
Makes: 12 servings.