Diana's Desserts - www.dianasdesserts.com
See more recipes in
Chocolate Sweets
Sacher Torte
in Guest Recipe Book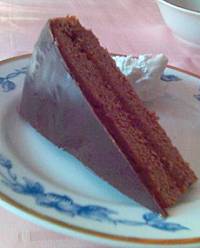 Average Rating:
(total ratings: 2)
[Read reviews]
[Post a review]
Servings: 12-16
Comments:
What is a Sacher Torte or Sachertorte?

A sachertorte is an extremely rich Viennese classic made with layers (usually two or three) of chocolate cake filled with apricot jam and enrobed in a creamy-rich chocolate glaze. Sachertorte is traditionally served with billows of whipped cream. It was created in 1832 by Franz Sacher, of the famous family of Viennese hoteliers and restaurateurs.
Ingredients:

For the Cake:
100g (4 oz./1/2 cup/1 stick) butter, at room temperature
50g (1.7 oz./1/4 cup) superfine sugar (caster sugar)
5 egg yolks
100g (3.5 oz.) bittersweet or semisweet chocolate, finely chopped, then melted
5 egg whites
1/4 teaspoon salt
50g (1.7 oz./1/4 cup) superfine sugar (caster sugar)
2 teaspoons vanilla extract
100g (3.5 oz./7/8 cup) all-purpose flour

For the Apricot Filling:
3 tablespoons apricot jam or preserves
2 tablespoons water

For the Glaze:
100g (3.5 ounces) bittersweet or semisweet chocolate, finely chopped
50g (2 oz./1/4 cup/1/2 stick) butter

Serve with:
Whipped Cream
Instructions:
For the Cake:
Preheat oven to 160ºC/320ºF. Butter and flour a 10-inch round cake pan.

Beat the butter and sugar with an electric mixer. Add egg yolks one at a time. Beat well. Add melted chocolate, beating well to combine.

In a separate mixing bowl, beat the egg whites and salt until they form soft peaks when the whisk or beaters are lifted out. Continue to beat slowly, then gradually add the 50g of sugar and the vanilla, continue to beat until stiff peaks form. Gently fold the egg white mixture into the chocolate mixture, then add the flour.

Pour the batter into the prepared cake pan and bake in preheated oven for 60 minutes. Remove cake from oven and let cool in pan for 10 to 15 minutes, then invert cake onto a wire cooling rack and let cake cool completely.

When cake has cooled completely, slice the cake in half horizontally. Place one cake layer on wire cooling rack covered with wax paper or baking paer, then using a cake spatula, spread half of the Apricot Filling* (instructions for filling follow) over the first layer, then place the second cake layer on top of the first layer and spread top with the remaining apricot filling. Pour the Glaze (see instructions for the glaze below) over the top and sides of the cake. Transfer cake to a serving plate or cake platter. Refrigerate cake for 30 minutes to let glaze set. When ready to serve, cut into wedges and serve with whipped cream.

Makes 12-16 servings.

For the Apricot Filling:
In a small saucepan, warm the apricot jam with the 2 tablespoons water.

For the Glaze:
Melt the chocolate and butter in the top of a double boiler, stirring well to combine.
Source: Friend
Submitted By: Bane
Date: April 30, 2008
Reviews
Reviewer:
Dusan
Rating:
Review:
Sacher Torte is one of my favorite cakes and I was very excited to find this recipe here. Instructions given by Bane are spot-on, very precise and easy to follow, so I wasn't very surprised when my creation turned out to be almost the exact replica of picture posted by Bane. And the taste was excellent too! Unity of excellence and refinement this is, search no more! Thanks, Bane! Keep up the good work! And please share more of those great recipes with us!
Reviewer:
milenko
Rating:
Review:
Cake has OK flavour, what happens is that the original Sachertorte from Sacher Hotel In Vienna has no layers, cake when baked is glazed with thin layer of apricot jam and then covered with a thin chocolate fondant (chocolate and butter or chocolate and cream would make somewhat of a ganache). All together one of thousands of recipes around. In my country they make it starting with a cold oven, some use hazelnuts, etc.