Diana's Desserts - www.dianasdesserts.com
See more recipes in
Beverages
Egg Beaters Egg Nog
in Guest Recipe Book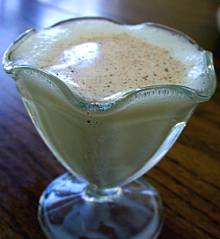 Average Rating:
(total ratings: 9)
[Read reviews]
[Post a review]
Servings: 2-3
Comments:
Timothy adapted this recipe for egg nog from a recipe he saw on the internet for a "full fat" egg nog that used "real eggs". The recipe he creates for us here uses Egg Beaters Egg Product. Sounds good and I know those of you who are trying to cut down on your intake of cholesterol will enjoy his creation.
Ingredients:

1/2 cup Egg Beaters Egg Product
1/3 cup granulated sugar
1 cup whole milk
1/3 cup heavy cream
3/4 tsp. vanilla extract

Garnish: (optional)
Nutmeg
Ice cubes* (see note below)
(Ice is optional)
Instructions:
Combine all ingredients in a blender. Mix on High speed until sugar is dissolved. There should also be a thick layer of foam on the top. Serve cold with nutmeg sprinkled on top.

*Note:
If you want your drink to be a little thicker, add some ice cubes along with the other ingredients and blend all together for a frosty beverage.

Makes 2-3 servings.

Photograph taken by Timothy Rogers
Source: Timothy Rogers
Submitted By: Timothy Rogers
Date: April 24, 2006
Reviews
Reviewer:
Judy
Rating:
Review:
I used skim milk and fat free cream. half splenda and half sugar! A really good treat! I think next time I will try condensed fat free milk.
Reviewer:
BRIANNA
Rating:
Review:
This was soooooo good and i am going to drink it all the time. everyone should drink this stuff all the time
Reviewer:
cookie
Rating:
Review:
wow, this was really good, even my mom was impressed when i served it as a dessert...
Reviewer:
Diana
Rating:
Review:
Sounds very good. Can Egg Beaters be used without cooking? The other websites with recipes using Egg Beaters for Egg Nog cook them a little in either the microwave or in a saucepan.
Reviewer:
Jay Grelen
Rating:
Review:
Wow. I don't know what to think or say. Never before! Never before!
Reviewer:
Jay Grelen
Rating:
Review:
I just made some of this for my birthday. I drink it all year long -- not just for the holidays. I even chug a big, chilled glass after playing in my basketball league. The guys on my team give me a hard time about it, but I don't care.
Reviewer:
elizabeth
Rating:
Review:
I have not made this but want to try it can you make this egg nog with out milk, I am lactose intolerant...so if there is a substitute way of doing it please advise. Also can you make this with out cooking the egg beater product. I drink soy milk maybe if I use the one soy milk that comes in flavors i.e. vanilla that might do the trick, also I intend to add brandy, for the holidays. Please advise and thank you.
Reviewer:
kelly
Rating:
Review:
In response to Elizabeth's question, Egg Beaters go through double pasteurization so they're safe to consume raw.
Reviewer:
Chris
Rating:
Review:
Tastes great, and so glad I can have eggnog lattes year round! I just used whipping cream. I warmed the eggnog in microwave for my coffee and it started to cook. I won't heat it next time :)