Diana's Desserts - www.dianasdesserts.com
See more recipes in
Coffee Cakes - Sweet Rolls - Doughnuts
Banana Nut Coffeecake with Caramel Icing
in Guest Recipe Book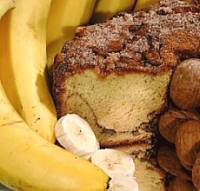 [Be the first to post a review!]
Servings: 12
Comments:
If you have some overripe bananas, and you're tired of the same old banana bread, give this a try. The caramel icing makes it special and a bit different, and it's one of my favorite coffeecake recipes. I hope you enjoy it.

A tip I learned once about overripe bananas; if you can't use them right away, don't wait until they get so bad you have to throw them out. Toss the whole thing, unpeeled, right in the freezer. They should last in there for a couple of months. When you're ready to use them, let them thaw out in a bowl, open them at one end, and just squeeze the banana right into the bowl. I find it works great.
Ingredients:

Nut Filling:
1/4 cup cinnamon sugar *(see note below)
1/2 cup chopped pecans or walnuts

Cake:
1/2 cup vegetable shortening
1 cup granulated sugar
2 eggs
2 large very ripe bananas, mashed (about 1 cup)
1 tablespoon vanilla extract
1/2 cup sour cream
2 cups all-purpose flour
1 teaspoon baking powder
1 teaspoon baking soda
1/4 teaspoon salt

Icing:
6 tablespoons (3/4 stick/3oz/84g) butter or margarine
3/4 cup brown sugar, firmly packed
6 tablespoons milk
1 teaspoon vanilla extract
2 cups powdered sugar
Instructions:
Preheat oven to 350 degrees f/180 degrees C. Grease a bundt or tube pan well (I used non-stick cooking spray).

Mix nut filling ingredients together well; set aside.

With a mixer, cream shortening and sugar until very light and fluffy. Beat in the eggs, mashed banana and vanilla. Add the sour cream and mix until blended. Sift together the flour, baking powder, baking soda and salt, and add to the batter; beat until well blended.

Sprinkle half the cinnamon nut mixture into the prepared baking pan and top with half the batter. Repeat with the remainder of the cinnamon nut mixture, and then the remainder of the batter.

Bake for 40-45 minutes, or until a toothpick inserted into the center comes out clean. Cool 5 minutes on a rack, then turn out the cake onto the rack to finish cooling.

Top with Caramel Icing.

Caramel Icing:
Melt the butter in a saucepan, then add the sugar and milk. Bring to a boil and continue to boil for 1 minute. Remove from the heat, add the vanilla, and gradually mix in the powdered sugar. (Note that the icing hardens rather quickly, so you need to work fast. If it hardens up too quickly for you, add some milk to thin it out.)

Notes:

I made my own cinnamon sugar using 3 tbsp. granulated sugar and 1 tbsp. ground cinnamon.

You can substitute butter or margarine (or parts) for the shortening. I've had to do it when out of shortening, and it's worked fine, maybe even a bit richer.

Makes 12 servings.
Source: Penzy's Spices
Submitted By: CatWhispers
Date: March 16, 2006