Diana's Desserts - www.dianasdesserts.com
See more recipes in
Passover
Apricot Tansy
in Guest Recipe Book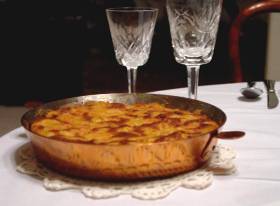 Average Rating:
(total ratings: 1)
[Read reviews]
[Post a review]
Servings: 8
Comments:
Apricot Tansy is a comfort foood that can be made anytime of the year, not only during summer when fresh apricots are plentiful, but anytime. You may substitute fresh apricots with canned apricots, or use fresh apples or any fresh fruit of your choice that is in season. The delicious tansy was eaten at Passover centuries ago. The tansy should be eaten only at a "dairy" Passover meal, as it contains cream.

What is Tansy?
Tansy - A perennial herb (Tanacetum vulgare) of the family Asteraceae (aster family), native to Europe but naturalized in North America. It was long cultivated for its ornamental foliage and clusters of yellow, buttonlike flowers; it was often used in old-fashioned dishes, such as tansy cakes and puddings, which were eaten in the spring, especially at Easter time, either in memory of the bitter herbs of the Jewish Passover or as a sort of tonic after the Lenten season. Tansy tea was formerly a household medicine and is still used as an anthelmintic and in the treatment of external bruises and inflammations. Tansy is classified in the division Magnoliophyta, class Magnoliopsida, order Asterales, family Asteraceae.

Source: The Columbia Electronic Encyclopedia Copyright © 2003, Columbia University Press.

Of course, Tansy (the herb) is not used in the preparation of this dessert anymore, but it is interesting to know from where this kind of dessert was named.
Ingredients:

1 pound (450g) fresh ripe apricots, or canned apricots (use two 15 ounce or two 15.25 ounce size cans), drained* (see note below)
4 tablespoons (50g) margarine (pareve for Passover) or unsalted butter
1/2 cup (75g) castor sugar (granulated or superfine baker's sugar)
4 eggs
2 egg yolks
2 tablespoons (25g) double cream, or heavy cream
1/3 to 1/2 cup (75g) matzo cake meal or bread crumbs
pinch of ground nutmeg

Garnish (optional)
Castor sugar (granulated sugar or baker's sugar)
Whipped cream (or double devonshire cream, or clotted cream)

Instructions:
Cut apricots in half and remove pits. Cut each piece in half again, and fry in margarine (or butter, if using) in a heavy frying pan until fruit is soft, but not browned; sprinkle with 2 oz. sugar.

Note: If you are using canned apricots, drain and fry in pan as directed above.

While apricots are gently frying, beat together the eggs, egg yolks, cream, matzo cake meal (or bread crumbs, if using), nutmeg, and remaining sugar. Pour over the apricots, stirring them into the mixture. Cook gently until browned underneath.

Turn mixture onto plate, and put a little more margarine (or butter, if using) into pan. Return the apricot mixture to pan, so that the other side cooks until golden brown. Turn onto a warm serving plate and sprinkle with remaining sugar. If desired, serve with whipped cream, double devonshire cream or clotted cream.

Makes 8 servings.

*Note: The origin of this tansy is most likely the Middle East, where at Passover time (Spring), the weather is warm, and fresh apricots are plentiful. In the United States, Europe and other parts of the world, fresh apricots are usually a summer fruit. Using canned apricots are appropriate to use in this recipe.

Alternate Preparation
Another way of making the tansy is to fry it in an oven-proof pan, such as a copper pan, and instead of removing the mixture from pan, leave in pan after frying, then place in 350 degree F (180 C) oven to brown the top for 30-35 minutes. Remove from oven, and cool on rack. If you make the tansy this way, leave it in the oven-proof pan, cut in wedges, and serve warm or at room temperature.

Photograph taken by Diana Baker Woodall ©2002

Source of recipe: English Puddings Sweet and Savoury by Mary Norwak
Hardcover Edition:
Publisher: David & Charles; (October 1981)
Perparback Edition:
Publisher: Grub Street Publishing; (May 31, 2002)

Submitted By: Kenneth Woodall
Date: March 12, 2002
Reviews
Reviewer:
Diana
Rating:
Review:
This is a lovely custard type fruit dessert that is easy to make and will work anytime of the year (using canned apricots or apples or other type of fruit, if needed). I prepared the tansy a few years back for one of my Passover Seder desserts and everyone really enjoyed it. I found that making it by using the "altenate preparation" worked very well, frying it in an oven-proof pan and then placing it (leaving it in pan) in a 350 degree F oven (180 C) to brown the top for 30 to 35 minutes. I served it, cutting it in wedges, right from the pan. It is great served warm or at room temperature.