Diana's Desserts - www.dianasdesserts.com
See more recipes in
Easter
Hot Cross Buns
in Guest Recipe Book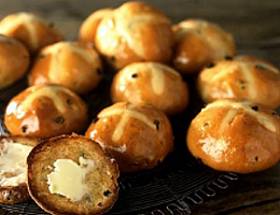 [Be the first to post a review!]
Servings: Makes 12 buns
Comments:
A traditional treat during the Easter season, made and eaten especially on Good Friday, the Friday before Easter Sunday....Diana's Desserts.
Ingredients:

Add to your bread machine or stand mixer:

8 fluid oz. milk
1 beaten egg
1/2 tsp. salt
2 oz. butter
1 lb. bread flour
2 tsp. allspice
1 tsp. ground cinnamon
2 oz. granulated sugar
3 tsp. instant yeast

Additions:
3 oz. raisins or currants
1 oz. chopped mixed peel
Instructions:
Using Bread Machine:
Knead the dough in the bread machine using the Dough cycle for 1/2 hour. Add currants and chopped mixed peel at the beep. After 1/2 hour take the dough from the bread machine and put it in a bowl, cover with a plastic film, let it proof in a warm place for 50- 60 minutes, or until it is double its size.

Using Stand Mixer:
Dough may be mixed and kneaded in a bowl of a stand mixer using the flat beater for mixing the dough ingredients, and using the dough hook attachment for kneading. Add the currants and chopped mixed peel after bread has been kneaded, place dough in a large bowl, cover with plastic film and let proof in a warm place for 50 to 60 minutes or until it has doubled in size.

Note: The best place to proof the dough is in the oven without switching it on. Put two cups of hot water in an oven safe bowl in the bottom of oven to provide some heat and water vapour.

After the dough has doubled in size, turn it out onto a floured surface and knead lightly, knocking out any large air bubbles. Divide dough into 12 pieces and shape each piece into a ball and place a little bit apart on a greased baking sheet. Cover loosely with an oiled plastic film and leave it to proof (in the oven with 2 cups of hot water) for 45 minutes or until doubled in size. The cross is piped only after proofing.

For the Decoration and Glazing:

Decoration Ingredients:
3 oz. plain flour (all-purpose flour)
2 tbsp. vegetable or corn oil
1 small egg

Glaze Ingredients:
4 tbsp. dry milk
3 oz caster (granulated) sugar and 4 tbsp. water

To Make The Paste For The Cross:

Preheat oven to 400 degrees F/200 degrees C.

Place the flour in a small bowl and add the oil and enough water to make a smooth, stiff paste. Beat the egg and brush it onto the dough pieces. Scoop the flour paste into a piping bag with a thin nozzle. Make sure there are no lumps or else this will clog the piping bag. Pipe a cross onto each bun with the flour paste.

Bake the buns in preheated oven for 15 to 20 minutes or until golden brown. Then transfer to a wire rack to cool.

To Make the Glaze:
Heat the milk and sugar with 4 tbsp. of water in a small heavy saucepan. Bring to the boil for 1 to 2 minutes. Brush over the buns to glaze.

Makes 12 hot cross buns.
Submitted By: Irene
Date: March 9, 2004