Diana's Desserts - www.dianasdesserts.com
See more recipes in
Coffee Cakes - Sweet Rolls - Doughnuts
Coffee House Coffee Cake
in Guest Recipe Book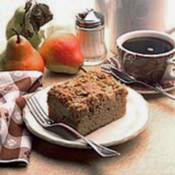 Average Rating:
(total ratings: 12)
[Read reviews]
[Post a review]
Servings: 12
Comments:
Found this wonderful cake while surfing the Net. I have tried it and it was an instant hit with my family and friends. It is really good with coffee or tea. I want to share it with anyone who cares to give it a try. Some said that it tastes like Starbucks coffee cake. Haven't tried the coffee cake at Starbucks, so I can't really comment. But one thing I can say is that it is easy to make and it tastes good.....Irene

Ingredients:

For the Topping:
1/2 cup all-purpose flour
1/2 cup light brown sugar, packed
1/4 cup (1/2 stick/2 oz./56g) butter, softened
1/2 tsp. ground cinnamon
1/2 cup chopped pecans

For the Cake:
3/4 cup (1 1/2 sticks/6 oz./170g) butter
3/4 cup light brown sugar, packed
1/2 cup granulated sugar
2 eggs
1 1/2 tsp. vanilla extract
2 cups all-purpose flour
1 tsp. baking powder
1/4 tsp. salt
1/3 cup milk
Instructions:
1. Preheat oven to 325°F (160°C).

2. Make topping by combining 1/2 cup flour with 1/2 cup brown sugar, 1/4 cup softened butter, and 1/2 teaspoon cinnamon in a bowl.

3. Mixture should have the consistency of moist sand.

4. Add 1/2 cup chopped pecans.

5. In a large bowl, cream together 3/4 cup butter, 3/4 cup light brown sugar and 1/2 cup granulated sugar with an electric mixer until smooth and fluffy.

6. Add eggs and vanilla and mix well.

7. In a separate bowl combine flour, baking powder and salt.

8. Add this dry mixture to the moist ingredients a little at a time.

9. Add milk and mix well.

10. Spoon the batter into a 9-inch round cake tin (you can also make the coffee cake cake in a bundt pan or a 9 x 9-inch square pan) that has been buttered and dusted with a light coating of flour.

11. Spinkle the crumb topping over the batter.

12. Be sure the topping completely covers the batter.

13. Bake for 50 minutes or until the edges just begin to brown (check at about 40 minutes).

14. Let cool.

Makes 12 servings.
Source: The Net
Submitted By: Irene Oon
Date: March 2, 2004
Reviews
Reviewer:
carmine nardi
Rating:
Review:
sir/madam i don't understand your recipe. the topping has 1/4 cup butter but in direction #2 it has 1/2 cup butter. please advise cf nardi
Reviewer:
Diana, Diana's Desserts
Rating:
Review:
Hi Carmine, I have corrected the amount of butter under direction #2 to read 1/4 cup butter. 1/4 cup is the correct amount. Hope this helps you out....Diana, Diana's Desserts
Reviewer:
Brianna
Rating:
Review:
This recipe was sooooo good!! I made it for my family for breakfast and everyone loved it! But you have to eat it once it comes out of the oven, hot and fresh. It's so yummy and moist, i really recommend it. I also used it for dessert and topped it with sauteed apples and ice cream. YUMMY! I bake a lot! so trust me this is worth making.
Reviewer:
Margret
Rating:
Review:
I made this for about 10 people and they all loved it. It was gone in about 2 minutes.
Reviewer:
Ekina
Rating:
Review:
I dont see any coffee ingredients added, why izzit a coffee cake? does it taste like one? I'm having doubts!
Reviewer:
laurie
Rating:
Review:
Made this for our trip to the beach, it was a huge hit. I finally found the recipe I have been searching for.
Reviewer:
Ingrid
Rating:
Review:
Great tasting cake. My family loved it, my friends loved it and I loved it...thanks for the recipe.
Reviewer:
Magnolia
Rating:
Review:
This is really a wonderfull cake.
Reviewer:
Amy
Rating:
Review:
Great recipe, very similar to Starbucks. Was the comment about the recipe not having any "coffee ingredients" a joke?! Someone needs to learn what "Coffee Cake" is.
Reviewer:
Yvette
Rating:
Review:
I own an espresso bar and have served many coffee cakes. This is an outstanding cake! It complements coffee just as a "coffee cake" should! I will have fun playing with this terrific recipe! Thanks!
Reviewer:
Jean Myers
Rating:
Review:
Ekina, I did not google coffee cake to see how the name originated, but typically it is just a cake or bread like cake that is served for breakfast or brunch with coffee or tea. Most of the time it will have a streusel topping or some type of fruit and/or nuts in it. I am sure you are from an area where coffee cakes are not heard of and probably think we are the ones playing the joke!!!! We can come up with weird names for stuff, that is for sure!!!!! Hope you have a blessed day, Ekina! Oh, and no it does not taste like coffee.
Reviewer:
ghazala
Rating:
Review:
yummy