Diana's Desserts - www.dianasdesserts.com
See more recipes in
Beverages
Thai Iced Tea
in Guest Recipe Book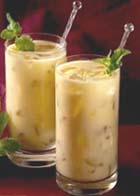 [Be the first to post a review!]
Servings: 2
Comments:
If you've ever been to a Thai restaurant, you know this delicious orange beverage. It is very strong, very sweet, and very good. It also has a great presentation, with its bright color and the layers formed by the milk. Here is my recipe for this tasty iced tea, which is the perfect complement to a hot day, or a hot dish.


Ingredients:

2/3 cup Thai Tea Leaves
1 2/3 cup water
1/2 cup granulated sugar
1 1/2 cups or 1 can (12 oz.) evaporated milk
Instructions:
Bring the water to a boil. Remove from heat and quickly add the tea leaves. Mix it up good so all the tea leaves get moistened. Cover and let steep for 4-5 minutes. Be careful not to let it go longer, or you will get a more bitter tea. Strain out the tea leaves by pouring through a strainer into a pitcher. Stir in the sugar until dissolved. When serving, pour the sweetened tea over ice, but leave the top inch or two of the glass empty. Pour evaporated milk into the glass until full. Enjoy!

Makes 2 servings.

Notes:
I like to serve it with a straw, so people can mix up the layers if they like, or keep them separate and sip alternately between layers. Part of the goodness of this beverage is the uniqueness, so anything you can do to accentuate the uniqueness is good.

As far as the ingredients go, I usually find myself using less than the recommended amount of evaporated milk, but some people like more milk than I do. Also, some people premix the milk with the tea before serving, but I think that makes the drink less fun. However, if you are making tea for a lot of people, or want to lessen your work, you can make a big batch of the tea, and then simply add the milk at the time of serving. I like to make a quadruple batch (or more) of the sweetened tea, and then just save it in the fridge and keep a few cans of evaporated milk handy. Then its ready for whenever I want some, with minimal preparation.

As far as ingredients go, the hardest to find item is the Thai tea leaves. Go to your local asian food store and look for "Thai Seasoning Mix" or "Thai Tea Dust". It usually comes in a clear plastic brick-like bag, and looks like dark brown shredded tea leaves. The kind I have right now is called "Police Dog Brand Thai Tea Dust." Evaporated milk can be substituted with soy or rice milk (I recommend Odwalla Milk, if you can get it, its a mixture of oat milk, rice milk, soy milk, and a little banana/mango puree) if you want to make it vegan. You can also substitute white sugar for evaporated cane juice or "raw sugar".

For a strainer, you'll need a pretty fine strainer. Traditionally, a tea 'sock' is used, which is a sock-like piece of linen with its opening pulled open by a loop of wire. They are available at many asian food stores. You can also use a regular kitchen strainer, but you'll let through more sediment. Basically, you want as fine of a strainer as you can get your hands on. Of course, if you only have a basic kitchen strainer, it will still work, you'll just have more little floaties in the tea, and they won't hurt you.

Source: Sam Ley
Submitted By: Sam Ley
Date: May 10, 2003