Diana's Desserts - www.dianasdesserts.com
See more recipes in
Coffee Cakes - Sweet Rolls - Doughnuts
Pumpkin Raisin Dutchies
in Guest Recipe Book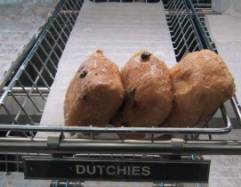 [Be the first to post a review!]
Servings: Makes approximately 2 dozen
Comments:
While traveling in Canada, I saw Dutchies in a coffee shop. I had no idea what a Dutchie was, so I ordered one and found it was a square doughnut with raisins and nuts. I decided I could make Dutchies too.
Ingredients:

1 ½ cups whole wheat flour
2 packages yeast (3 tsp. or 14 grams)
½ cup granulated sugar
1 ½ cups 100% canned pumpkin (not pumpkin pie mix)
1 tsp. salt
4 ½ to 5 cups bread flour
¾ cup milk
½ cup butter
2 eggs
¾ cup raisins
1 tbsp. pumpkin pie spice

Cinnamon Glaze
2 cups powdered sugar
1 tsp. ground cinnamon
3-6 tbsp. milk

Instructions:
In large bowl combine the whole wheat flour, 1 cup of the bread flour, yeast, sugar, and salt, mix well. Heat milk, pumpkin, and butter to 125º F (50 degrees C). Stir heated mixture into flour mixture and mix well. Beat with mixer for 3 minutes. Start stirring in additional flour, raisin, and spice until you have a firm dough. Turn out onto a floured surface and knead until dough is smooth and elastic, 5-8 minutes. Place dough in greased bowl, turn dough over to grease all sides. Cover and let rise in warm place for about 1 hour or until doubled in bulk. After dough has risen, turn out onto floured surface and punch down, let rest for 15 minutes. Roll dough to ½ inch thickness. Cut into 2 ½ inch squares (a pizza cutter makes this easy). Place squares on greased cookie sheets to rise, allow enough room between squares for them to rise. Cover and let rise about 45 minutes or until light. Deep fry in hot oil (375º F or 190 degrees C ) until lightly browned or about 1 minute. Drain on paper towels.

Cinnamon Glaze
2 cups powdered sugar
1 tsp. ground cinnamon
3-6 tbsp. milk

Mix ingredients for glaze. Dip hot Dutchies into glaze. You could also roll the Dutchies into a cinnamon-sugar mixture. These are not very spicy, you might want to add more pumpkin pie spice.

Servings: Makes approximately 2 dozen.
Source: Carol Forcum
Submitted By: Carol Forcum
Date: 2-24-03