Diana's Desserts - www.dianasdesserts.com
See more recipes in
Cakes and Tortes
German Chocolate Cake
in Diana's Recipe Book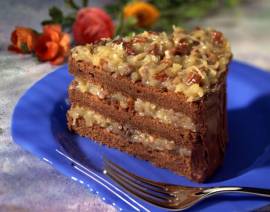 Average Rating:
(total ratings: 10)
[Read reviews]
[Post a review]
Servings: 12
Ingredients:

4 oz. semisweet baking chocolate
1/2 cup water
2 cups all-purpose flour
1 teaspoon baking soda
1/4 teaspoon salt
1 cup (2 sticks/8 oz./226g) unsalted butter or margarine, softened
2 cups granulated sugar
4 egg yolks
1 teaspoon vanilla extract
1 cup buttermilk
4 egg whites

Coconut-Pecan Filling and Frosting (see recipe below)
Instructions:
Preheat oven to 350 degrees F/180 degrees C. Line bottoms of three round 9-inch cake pans with waxed paper.

Microwave chocolate and water in large microwavable bowl on HIGH 1-1/2 to 2 minutes or until chocolate is almost melted, stirring halfway through heating time. Stir until chocolate is completely melted.

Mix flour, baking soda and salt; set aside. Beat butter and sugar in large bowl with electric mixer until light and fluffy. Add egg yolks, one at a time, beating well after each addition. Stir in chocolate and vanilla. Add flour mixture alternately with buttermilk, beating after each addition until smooth.

Beat egg whites in another large bowl with electric mixer on high speed until stiff peaks form. Gently stir into batter. Pour batter into prepared pans.

Bake for 30 minutes or until cake springs back when lightly touched in center.

Remove from oven; immediately run spatula between cakes and sides of pans. Cool in pans 15 minutes. Remove from pans; peel off waxed paper. Cool on wire racks.

Spread Coconut-Pecan Filling and Frosting between layers and over top of cake.

Makes 12 servings.

Note: This delicate cake will have a flat, slightly sugary top crust that tends to crack. This is normal and the frosting will cover it up.

Coconut-Pecan Filling and Frosting

Ingredients:
1 (12 oz.) can evaporated milk
1 1/2 cups granulated sugar
3/4 cup (1 1/2 sticks/6 oz./170g) unsalted butter or margarine
4 egg yolks, slightly beaten
1 1/2 teaspoons vanilla extract
2 2/3 cups finely shredded coconut
1 1/2 cups chopped pecans

Stir milk, sugar, butter, egg yolks and vanilla in saucepan. Cook on medium heat 12 minutes or until thickened and golden brown, stirring constantly. Remove from heat.

Stir in coconut and pecans. Cool to room temperature and spreading consistency.

Makes about 4 1/2 cups.
Source: DianasDesserts.com
Date: October 5, 2002
Reviews
Reviewer:
Nikolina Sauve
Rating:
Review:
My family do not like coconut so I used pecans and walnuts and it was excellent. Everybody loved it so much that I will be making another one soon.
Reviewer:
Denise 12/21/2006
Rating:
Review:
This cake is so good. I made it 3 times during thanksgiving. I iced the sides with chocolate icing.
Reviewer:
Maria
Rating:
Review:
OMG! This cake is awesome! My husband requested a German Chocolate cake for his b-day so I used this recipe. I had no problems with this recipe except that I cooked the frosting for an extra 5 minutes for it to reach a golden color. This cake is very moist and richly decadent - I would have been content with a double layer as opposed to a triple. This cake is best served in slivers, but those who get a taste will not forget this German Chocolate Cake. Thanks so much, Dianna. My husband thanks you as well.
Reviewer:
Elizabeth
Rating:
Review:
This was my mom's favorite cake as a child so I made it for her on her 50th birthday. She LOVED it. It's extremely moist and the frosting adds such a great texture. Definately an amazing cake.
Reviewer:
Sarah
Rating:
Review:
Amazing cake and easy to make. Very moist. The only thing that I did differently was ice the sides of the cake with chocolate icing, it seemed that the cake wasn't chocolatey enough. That took it from good to amazing! Will make it again, for sure.
Reviewer:
Vicki
Rating:
Review:
Really good recipe, definitely the best one I have used for a German Chocolate Cake.
Reviewer:
jwilson
Rating:
Review:
All I can say is mmm mmm mmm, this was a very moist cake. Thanks Diane for this recipe and web-site.
Reviewer:
Dave
Rating:
Review:
Moist, keeps well, delicious. I melted the chocolate with hot coffee and it added a nice flavor. I also used salted butter and it was just fine. Excellent recipe! My 8 dinner guests just loved it, and half was left for me!!!
Reviewer:
Ila
Rating:
Review:
I've made this and everyone raved about it. It's very moist and delicious.
Reviewer:
Kristine
Rating:
Review:
This is the second homemade cake i've made and this recipe is very delicious.The cake was very moist and light due to the egg whites.I didn't make the frosting since it would have been too many ingredients all together and too much added time.I made the cake for my sixteenth birthday a few days ago and it was easy for me.