Diana's Desserts - www.dianasdesserts.com
See more recipes in
Cakes and Tortes
Apple Cake
in Diana's Recipe Book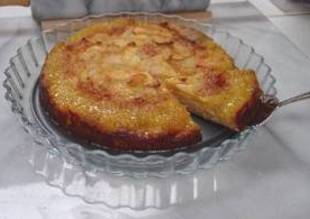 Average Rating:
(total ratings: 14)
[Read reviews]
[Post a review]
Servings: 6-8
Comments:
A lovely and light apple cake to serve during the fall and winter months, or serve this tasty cake to guests at an afternoon tea.

This cake also makes a very approcpriate dessert to "break the fast" with after the Jewish High Holy Day of Yom Kippur.
Ingredients:

1/2 cup all-purpose flour
1/3 cup granulated sugar
1 tablespoon baking powder
1/8 teaspoon fine sea salt
1/2 teaspoon pure vanilla extract
2 large eggs, lightly beaten
2 tablespoons vegetable oil
1/3 cup whole milk
4 baking apples (about 2 pounds total), cored, peeled, and cut into thin wedges

Topping:
1/3 cup granulated sugar
1 large egg, lightly beaten
3 tablespoons unsalted butter, melted
Instructions:
Preheat oven to 400 degrees F (200 C). Butter a 9-inch springform pan and set it aside.

In a large bowl, combine the flour, sugar, baking powder, and sea salt, and stir to blend. Add the vanilla extract, eggs, oil, and milk, and stir until well blended. Add the apples and stir to thoroughly coat them with the batter. Spoon the mixture into the prepared cake pan.

Place the pan in the center of the oven and bake until fairly firm and golden, about 25 minutes.

Prepare the Topping:
In a small bowl, combine the sugar, egg, and melted butter, and stir to blend. Set it aside.

Remove the cake from the oven and pour the topping mixture over it. Return the cake to the oven and bake until the top is a deep golden brown and the cake feels quite firm when pressed with a fingertip, about 10 minutes.

Transfer the cake pan to a rack and allow to cool for 10 minutes. Then run a knife around the sides of the pan, and release and remove the springform side, leaving the cake on the pan base. Serve at room temperature, cut into thin wedges.

Makes 6-8 servings.

Photograph taken by Diana Baker Woodall© 2002
Source: DianasDesserts.com
Date: January 22, 2002
Reviews
Reviewer:
Doris Tan
Rating:
Review:
A simple recipe that turns out so wonderfully good and tasty! Thanks for sharing, Diana.
Reviewer:
Silvia
Rating:
Review:
I must say that I was a bit skeptical before preparing this cake, since the amount of fat, that often results in the moisture of the cake, wasn't much. But i certainly regret every word, this cake is absolutely delish! For the topping I used half white sugar and half dark brown and it came out with a fantastic butterscotchy flavour...hmm YUM
Reviewer:
Ingrid
Rating:
Review:
I made this cake a few times, but the last two times I have changed a couple of things. I added cinnamon and sultanas to taste. I also used brown sugar instead of granulated sugar for both the batter and topping. I found that I needed to cover my cake with foil for the first twenty minutes when baking and then I took the foil off for the next 15 - 20 minutes. I have always found that 25 minutes was never enough for my oven. This cake also works wonderful with wholemeal (whole wheat) flour.
Reviewer:
LOIS
Rating:
Review:
DELICIOUS, NEVER FAIL CAKE. A HIT EVERY TIME I MAKE IT. ALSO, NOT TOO SWEET, ALWAYS DELICIOUS. WONDERFUL RECIPE
Reviewer:
Nawal
Rating:
Review:
i tried your apple cake and it tasted very good our family enjoyed it. thank's
Reviewer:
zainorah
Rating:
Review:
Its super good and my hubby and friends love it so much. I panicked when the batter started leaking from my springform pan, but I managed to salvage by linning with the aluminum foil underneath the pan.
Reviewer:
Puuppanalle from Finland
Rating:
Review:
Hello! The cake looks terrific, but I was just wondering is the amount of the flour really correct? I mean, just 1/2 cup? I'm going to make this as soon as I know the amount is right. Thank you!
Reviewer:
Diana
Rating:
Review:
Hi Puuppanalle from Finland, Yes, that's correct, only 1/2 cup flour is used in this recipe. It's not your typical type of "cake". Enjoy!.........Diana, Diana's Desserts
Reviewer:
Reena
Rating:
Review:
This recipe is my favorite recipe whenever I have to make a dessert with apples. Easy to make and tastes great. Serve it with some vanilla ice-cream.
Reviewer:
raghad gorani
Rating:
Review:
the taste is good but it is very wet inside and burns outside. maybe we can preheat oven to 400 degrees F for the first 15 minutes and turn it down to 300 degrees F until it is done.
Reviewer:
Diana
Rating:
Review:
i love this recipe. my mum said that she used 2 cups of sugar and flour and it made 20 servings.
Reviewer:
Cook Lim Hei Kiong
Rating:
Review:
One of the best recipes. I love this cake. The apples i had are sweet so they are nice. My kids said that it needed a chocolate topping, any ideas? please reply, thanks Diana!
Reviewer:
Stephanie
Rating:
Review:
Should it be 1 teaspoon baking soda instead of 1 tbsp?
Reviewer:
Diana, Diana's Desserts
Rating:
Review:
Hi Stephanie, No, 1 tablespoon of baking soda is correct, not 1 teaspoon. Good Luck!...Diana