Diana's Desserts - www.dianasdesserts.com
See more recipes in
Fruit Desserts
Warming Fruit Desserts for Fall
in Diana's Recipe Book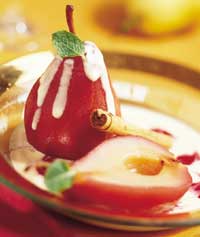 [Be the first to post a review!]
Comments:
Winter's approach doesn't mean you have to abandon the tasty world of fruits for the heavier desserts often associated with the darker, chillier months. Surprise the after-dinner crowd with a delicious fruit dessert.


Ingredients:

POACHED PEARS

Ingredients:
4 Bosc pears
2 cups fruit juice (use a cranberry-based juice for the added flavor)
3/4 cup sugar
dash of lemon juice

Instructions:
Simmer fruit juice, sugar and lemon juice in a heavy saucepan. Peel and core the pears and cut into slices. Place sliced pears
into the poaching liquid. Simmer uncovered over low heat for 20 minutes or until pears are tender. You can cool this in the
refrigerator and serve cold, or serve warm with a sprinkle of cinnamon or scoop of vanilla frozen yogurt.

BANANAS FOSTER

This dish can be cooked in the microwave except for the crowning touch, which is best done by hand. You can make this whole
dish in about five minutes, and it looks marvelous.

Ingredients:
2 tablespoons butter
2 large bananas, peeled and quartered
2 tablespoons brown sugar
1/2 teaspoon ground cinnamon
2 tablespoons orange liqueur
2 tablespoons rum
French vanilla ice cream

Instructions:
Melt the butter in a one-quart casserole. Roll the bananas in the butter and sprinkle with brown sugar and cinnamon. Microwave
for 2 1/2 minutes on high or until the sugar begins to melt. Poor the liqueur and rum over the hot bananas. Ignite. When the
flame dies down, serve over ice cream.

Source: DianasDesserts.com
Date: September 6, 2002