Diana's Desserts - www.dianasdesserts.com
See more recipes in
Fruit Desserts
Blackberry Cobbler
in Diana's Recipe Book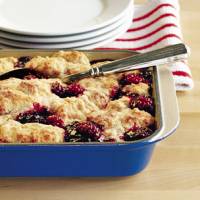 [Be the first to post a review!]
Servings: 8-10
Comments:
Instead of using only blackberries, try mixing in some raspberries and blueberries as well. Or replace the blackberries with sliced peaches or nectarines and a handful of dried sour cherries or cranberries. A combination of 3 or 4 plum varieties, all pitted and quartered, is also wonderful. If you'd like, add a pinch of freshly grated nutmeg or a dash of vanilla or almond extract to the fruit. Or sprinkle a small handful of sliced almonds or chopped pecans over the topping before baking.


Ingredients:

For The Filling:
6 cups blackberries or a mix of seasonal berries
1/3 cup granulated sugar
1 tbsp.all-purpose flour
1 tsp. finely grated lemon zest
Pinch of salt

For The Topping:
1 1/4 cups all-purpose flour
1/3 cup granulated sugar
2 tsp.baking powder
1/2 tsp.ground cinnamon
1/4 tsp.salt
1 large egg
1/2 cup buttermilk
6 tbsp. (3/4 stick) unsalted butter, melted and cooled
1/2 tsp. vanilla extract


Instructions:
Preheat an oven to 375ºF (190ºC). Lightly grease a 2-quart baking dish.

To make the filling, in a bowl, gently toss the berries with the sugar, flour, zest and salt until blended. Pour into the prepared baking dish.

To make the topping, in a bowl, stir together the flour, sugar, baking powder, cinnamon and salt. In another bowl, whisk together the egg, buttermilk, butter and vanilla until well blended. Pour the wet ingredients into the dry ingredients and, using a rubber spatula, fold gently until the flour is moistened and the mixture forms a soft dough.

Drop heaping spoonfuls of the dough onto the fruit, spacing them evenly; the dough will not completely cover the fruit. Bake until the filling is bubbling, the topping is browned and a toothpick inserted into the topping comes out clean, about 45 minutes. Serve warm or at room temperature.

Makes 8-10 servings.

Source: Williams-Sonoma Kitchen
Date: September 6, 2002