Diana's Desserts - www.dianasdesserts.com
See more recipes in
Cakes and Tortes
Banana Torte
in Diana's Recipe Book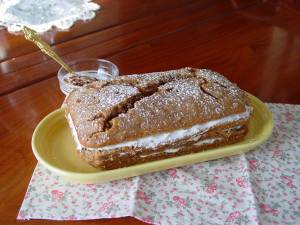 [Be the first to post a review!]
Servings: 8
Ingredients:

For The Torte:
2/3 cup brown sugar
1/3 cup vegetable oil
2 large eggs
3 bananas, peeled and mashed
1 tsp. grated lemon peel
1 1/3 cups whole wheat flour
1 tsp. baking powder
1/4 tsp. allspice
1/2 cup rolled oats (regular or quick cooking oats)

For The Filling:
1 cup Greek style yogurt*, or regular plain yogurt, or cream cheese (regular or whipped)
1 banana, peeled and minced finely (tiny pieces, but not mashed)

For The Garnish:
Confectioners' sugar for dusting top of torte

Instructions:
Preheat oven to 350 degrees F. Grease the
bottom of a 9x5x3 inch loaf pan, and cut a piece of parchment paper to fit bottom of pan, place paper in pan bottom, and grease parchment paper.

In a large bowl mix the eggs, brown sugar, and the vegetable oil. Add the mashed bananas and the grated lemon peel. Sift in the flour, baking soda and allspice. Add the rolled oats, mixing in with a spoon.

Pour the batter into the prepared loaf pan.

Bake in preheated 350 degree F oven for 40-45 minutes, or until a cake tester inserted in center of torte comes out clean.

Remove torte from oven and cool for 10 minutes. Invert torte from pan, and remove parchment paper. After torte has cooled, cut into 4 equal layers horizantally.

Mix together the yogurt or cream cheese (if using), and finely chopped banana.

Spread the filling on each layer, and sprinkle the top layer with confectioners's sugar.

If desired, chill torte in refrigerator before serving, or serve at room temperature. Store un-eaten torte in fridge. Makes 8 servings.

*Note: Greek yogurt is made from sheep's milk and has a consistency like whipped heavy cream. It blends better and gives a more mellow tartness when used in recipes. It can be purchased at some supermarkets and specialty gourmet food stores.

If you cannot find Greek yogurt, any flavor yogurt can be used in this recipe. I have even used cream cheese instead of the yogurt, as it has a similar taste and flavor to Greek style yogurt.


Source: DianasDesserts.com
Date: August 24, 2002