Diana's Desserts - www.dianasdesserts.com
See more recipes in
Cakes and Tortes
Lemon Layer Cake
in Diana's Recipe Book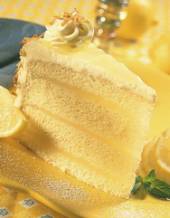 Average Rating:
(total ratings: 7)
[Read reviews]
[Post a review]
Servings: 16
Comments:
This makes a wonderful dessert to serve for a special occasion during the springtime or summer. Use your imagination for garnishing the top (and sides, if desired) of the cake. I like to use lemon slices, thinly sliced, or finely chopped nuts to decoarate the cake or also piping whipped cream rosettes around the edges of the cake looks very pretty also.
Ingredients:

For Cake:
2 cups cake flour
2 tsp. baking powder
1/4 tsp. salt
3/4 cup (1 1/2 sticks/6 oz/170g) unsalted butter
1 cup granulated sugar
2 eggs, lightly beaten with 1 egg yolk
2/3 cup milk
2 tbsp. lemon juice
2 tsp. grated lemon zest

For Lemon Curd:
1 1/2 cups homemade or ready-made lemon curd (See recipe below for Homemade Lemon Curd)

For Lemon Buttercream Frosting:
2/3 cup granulated sugar
4 egg yolks
1 tbsp. water
1 cup (2 sticks/8 oz/226g) unsalted butter, cut into small pieces
1 1/2 tsp. vanilla extract
Finely grated zest of 1 lemon

Garnish: (optional)
Lemon slices or chopped nuts
Instructions:
The buttercream frosting can be prepared up to 2 days in advance. Keep it refrigerated until ready to use. Be sure to bring the frosting to room temperature so that it reaches a smooth, spreadable consistency.

Buttercream Frosting:
In a medium nonreactive metal bowl, whisk together the sugar, egg yolks and water. Set the bowl over a saucepan of simmering water but not touching the water. Whisk constantly until the mixture registers 170°F (76°C) on a candy thermometer, about 4 minutes.

Remove the bowl from over the water. Using an electric mixer, beat the egg mixture on high speed until cool and thick, about 5 minutes. Gradually add the butter, about 1 tbsp. at a time, beating well after each addition until smooth. Then beat in the vanilla and lemon zest.

For the Cake:

Have all ingredients at room temperature.

Position a rack in the center of an oven and preheat to 325°F (160°C). Grease and flour two 8-inch round cake pans. Tap out excess flour.

Over a sheet of waxed paper, sift together the flour, baking powder and salt; repeat two more times.

In the bowl of an electric mixer fitted with the paddle attachment, beat the butter on medium speed until creamy, 1 to 2 minutes. While beating, gradually add the sugar, scraping down the sides of the bowl, until light and fluffy, 5 to 6 minutes. While beating, add the beaten eggs a little at a time, until the mixture is thick and blended, 4 to 5 minutes.

Remove the bowl from the mixer and, using a rubber spatula, fold the flour mixture into the batter in three additions, alternating with the milk and beginning and ending with the flour, until the batter is just blended and no lumps of flour remain. Then mix in the lemon juice and zest.

Divide the batter among the prepared pans, spreading the batter slightly higher around the sides. Bake until the tops of the cakes are golden and a toothpick inserted into the center comes out clean, 25 to 30 minutes. Transfer the pans to a wire rack and cool 10 minutes, then turn the cakes out onto the rack and cool to room temperature.

To Assemble the Cake:
Using a long serrated knife, cut each cake in half horizontally. Place one layer, cut side up, on an 8-inch cardboard round. Spread 1/2 cup lemon curd evenly over the top of the cake. Set another layer of cake on top, spread with 1/2 cup curd, repeat with the third layer of cake and top with the remaining layer, cut side down, to make a four layer-cake.

To Frost the Cake:
Set it on a cake stand. Using one-third of the frosting, spread a thin coat over the top and around the sides of the cake. Refrigerate until the frosting is set, about 3 hours.

Using the remaining frosting, spread a final coat over the top and around the sides of the cake, being careful not to pick up any crumbs from the first coat.

Decorate top of cake with lemon slices OR sprinkle chopped nuts over top of cake and push pieces of finely chopped nuts into sides of cake, if desired. Refrigerate the cake for at least 2 hours before serving. Keep any leftover cake refrigerated.

Makes 16 servings.

Note:
If you'd like to make your own homemade lemon curd, here's a good recipe for you to try. This recipe makes 2 cups, so you'll have 1/2 cup leftover as you only need 1 1/2 cups for use in the cake recipe.

Homemade Lemon Curd

Homemade lemon curd lends bright flavor to desserts. These tips will help you prepare a perfect curd every time: Use a double boiler, which provides gentle heat, and stir constantly; this prevents the eggs from cooking too fast. Whisk in the butter 1 piece at a time, letting it melt before adding more. To ensure a silky-smooth texture, pass the curd through a fine-mesh sieve.

Ingredients:
8 egg yolks
1 cup granulated sugar
1/2 cup lemon juice
Grated zest of 2 lemons
12 tbsp. (1 1/2 sticks/6 oz./170g) unsalted butter, cut into 1/2-inch pieces

Instructions:
In the top pan of a double boiler, combine the egg yolks and sugar and whisk vigorously for 1 minute. Add the Meyer lemon juice and lemon zest and whisk for 1 minute more. Set the top pan over but not touching barely simmering water in the bottom pan and cook, stirring constantly, until thickened, 10 to 15 minutes. Add the butter, 1 piece at a time, whisking until melted before adding more.

Remove the pan from the heat. Pour the curd through a fine-mesh sieve set over a bowl, pressing the curd through with a rubber spatula. Cover with plastic wrap, pressing it directly on the surface to prevent a skin from forming. Refrigerate for at least 2 hours or up to 3 days.

Makes 2 cups lemon curd.
Source: Williams-Sonoma Kitchen
Date: February 4, 2002-Revised May 1, 2007
Reviews
Reviewer:
Delia
Rating:
Review:
My mom does not like anything sweet but she gobbled up this cake along with everyone else at the birthday party. It was so light and fluffy and I made a very tart cream cheese frosting (instead of the lemon curd and buttercream frosting). It complimented the delicate taste of the cake very nicely.
Reviewer:
Cass
Rating:
Review:
This cake was fairly easy to make. I made it for a birthday and it turned out to be delicious. Everyone loved its lemon flavor. Thanks so much for this recipe
Reviewer:
cass
Rating:
Review:
I made this for my mom's birthday (she loves lemon) and she loved it along with everyone else. The tart frosting complimented the sweet cake. Thank you for this great recipe.
Reviewer:
Anne
Rating:
Review:
Made this for my mother's 85th birthday. The cake layers were very soft, so I froze the cake before slicing them in half--that worked well. The buttercream was excellent and easy to make, but I could have used more for decorating the cake. I'll probably double it next time and fill the cut layers with lemon curd and the middle section with the lemon buttercream. Thanks for a yummy recipe.
Reviewer:
Kat
Rating:
Review:
I followed all of the recipe and instructions exactly but the cake didn't rise! It wasn't even high enough to be a good two layer cake.
Reviewer:
Vicki
Rating:
Review:
This is a very good cake and turned out beautiful. It does take a little time to make everything, but definately a nice cake.
Reviewer:
Antoinette
Rating:
Review:
Excellent taste. I only made half the recipe and made it a two tier cake. I found it a little bit hard to cut in half because it's only been my second time, but it worked out and thank God for frosting to cover it all up. I had to use self rising flour because I couldn't find any cake flour at the store. Will definitely make this cake again.