Diana's Desserts - www.dianasdesserts.com
See more recipes in
Cakes and Tortes
St. Louis Gooey Butter Cake
in Diana's Recipe Book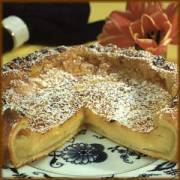 Average Rating:
(total ratings: 14)
[Read reviews]
[Post a review]
Comments:
Gooey Butter Coffee Cake is deliciously decadent, with a cake-like bottom layer and a sweet, gooey top. So here are two recipes: one is the old-fashioned version for uncompromising traditionalists, the other is faster and simpler because it uses a packaged cake mix. Either way, it's a St. Louis classic!

Ingredients:

Recipe Number 1:
St. Louis Gooey Butter Cake ( made from scratch)

Ingredients:
For Sweet Dough:
1/4 cup granulated sugar
1/4 cup shortening
1/4 teaspoon salt
1 large egg
1 (0.6 ounce) cake compressed yeast (available in dairy section, or substitute 1 envelope dry yeast)
1/2 cup warm milk
2-1/2 cups all-purpose flour
1 tablespoon vanilla extract


For Gooey Butter:
2-1/2 cups granulated sugar
1 cup (2 sticks) butter, softened
Dash salt
1 large egg
1/4 cup light corn syrup
2-1/4 cups all-purpose flour
1/4 cup water
1 tablespoon vanilla extract
Confectioners' sugar

Ingredients For Recipe Number 2:
St. Louis Gooey Butter Cake (made with store-bought cake mix)

Ingredients:
1 (18.25-ounce) box cake mix without pudding in the mix, (yellow, lemon, chocolate, or pound cake)
4 large eggs, separated
1/2 cup (1 stick butter), melted
1 (1-pound) box confectioners' sugar, divided
1 (8-ounce) package cream cheese, softened at room temperature
1-1/2 tablespoons vanilla extract



Instructions:
For Recipe Number 1
St. Louis Gooey Butter Cake (made from scratch)

Instructions:
To Prepare Sweet Dough:
Mix sugar with shortening and salt. Add egg; beat with electric mixer 1 minute until well-blended. Dissolve yeast in warm milk. Add flour, then milk-yeast mixture and vanilla to sugar mixture. Mix 3 minutes with electric mixture (use dough hook, if possible).

Turn dough out on floured board and knead for 1 minute. Place in a lightly greased bowl, cover with a towel and set in a warm place to rise for 1 hour.

Then divide dough into 2 equal pieces. Place in 2 well-greased 9x9x2-inch square cake pans.*

Crimp dough halfway up the sides of the pan so gooey butter will not run out underneath. After dough is spread out, punch holes in dough with a fork to keep dough from bubbling when baking.

To Prepare Gooey Butter:
Combine sugar, butter and salt. Add egg and corn syrup. Mix enough to incorporate. Add flour, water and vanilla. Divide gooey butter in 2 equal parts; spread over dough in each pan. Let cakes stand for 20 minutes.

While cakes are standing, preheat oven to 375 degrees F (190 C). Bake for 20 minutes. Do NOT overbake--topping will not be gooey if cakes are too done. Let cakes cool completely, then sprinkle with confectioners' sugar.

*NOTE:
These cakes can also be baked in two 9-inch round cake pans instead of square pans, or make 1 (one) larger cake ,using this recipe in a 10 inch springform pan. If using a springform pan, let cake cool, release sides of pan, serve at room temperature. Store any un-eaten cake in refrigerator.


For Recipe Number 2
St. Louis Gooey Butter Cake (made from store-bought cake mix)
See ingredients above under "Ingredients for Recipe Number 2.

Instructions:
Preheat oven to 300 degrees F (150 C). Stir together cake mix, 2 eggs and melted butter; pour into a 9x13-inch baking pan.

Set aside 2 tablespoons confectioners; sugar.

In another bowl, combine remaining sugar, cream cheese, remaining 2 eggs and vanilla. Mix well with wire whisk or electric mixer. Then spread this cream cheese mixture over batter in baking dish. Bake for 15 minutes.

Remove cake from oven and sprinkle with reserved 2 tablespoons confectioners' sugar. Return to oven and bake 25 minutes longer. Remove from oven, cool completely. Slice into squares and serve, dusting cake slices with a little more confectioners' sugar.


TIP
For a lower-fat version, use reduced-fat cake mix and Neufchatel cheese (instead of cream cheese).





Source: DianasDesserts.com
Date: July 12, 2002
Reviews
Reviewer:
Becca
Rating:
Review:
The first version of this cake was absolutely divine! It was very rich and delicious. However, I agree the crust could have been a little thicker. And, let me warn you, LET THE CAKES COOL before you cut a piece for yourself, or the gooey filling will gush out!
Reviewer:
Marsha Bennett
Rating:
Review:
This is awesome. My brothers went to high school next to a bakery that made this type of cake in East St. Louis. Thanks for a wonderful memory.
Reviewer:
Suzanne
Rating:
Review:
My grandparents grew up in St. Louis in a house behind a bakery, and every time we went to visit we would have this St. Louis treat. The bakery has closed, and we were never able to find anything in Chicago that closely resembled this family tradition until we tried this recipe. It's great and brings back great memories. Thanks for posting this on the web!
Reviewer:
Kathy S.
Rating:
Review:
Recipe 1 is the one we have used at home for years and years. That has provided us with time to perfect it. To get the dough soft, mix shortening and sugar until they are fluffy (if using an electric mixer). Also, the water has been forgotten, so add that with the flour and milk/yeast. (It took a while to figure that out.)
Reviewer:
Brigitte Favron
Rating:
Review:
I'm from East St. Louis and this recipe is just like the cakes from home excellent!! Now I make them for my kids and I tell them -this is what I grew up eating and you can only find them in the St. Louis area. They love them and so do my neighbors. Now i'm making this cake all the time for other people who call and ask me to make this cake for them. Most have never heard of it!!
Reviewer:
Pamela Pennick
Rating:
Review:
Recipe #1 Rocks! I grew up in st louis and have searched ever since for that authentic taste. The cream cheese recipe doesn't even compare.... Pam
Reviewer:
Silvia
Rating:
Review:
Hi Diana, I just want to ask what can I use instead of light corn syrup. Where I live they don't sell it!
Reviewer:
Paul
Rating:
Review:
Having grown up in St. Louis, the gooey butter coffee cake was always a Sunday tradition in our home. When we moved away in my pre-teen years, it was a delicacy that was genuinely missed. Whenever I taveled back in St. Louis I always made it back to Federhofer's Bakery to purchase one or more cakes (ususally one to consume immediately and others to share with my family). When my daughter came across your recipe, we had to try it.
In the past week we have made this twice. The first time, we thought the dough tasted a bit yeasty (could have been my mistake). Also the dough was a bit thin. But overall, was pretty close to the gooey butter cake I remembered.
The second time we made some minor alterations. We put in less cake yeast (.4-.5 oz) instead of the .6 oz recommended. Also, instead of two 9" pans we used an 9x13" pan, which provided more dough throughout the cake. We also, made the recipe amount for the gooey butter, but only used 4/5 of the gooey batter. Last we baked it for 19 minutes.
These adjustments really enhanced the coffee cake and is exactly how I remember this wonderful breakfast food.
As my children grow up, I will continue to make this for holiday's and other special days and try to make it a tradition in thier lives as it was in mine.
Reviewer:
Trish
Rating:
Review:
During our ice storm our linemen was working day and night trying to restore electric. I cooked for them in our fireplace and needed a dessert that I thought might be okay to try since I haven't been a fireplace cook! I searched the word "gooey" and found your website. I took the easy way out and man was I ever glad I did. I didn't think the bottom would be evenly done but the lineman loved it. They still talk about the "fireplace goo". Thanks so much.
Reviewer:
J. Bricker
Rating:
Review:
I'm doing the #2 recipe on a whim, and die to lack of time, but I'm in the middle of it, and can't finish! Maybe it's my computer, but I don't see what to do with (how long to bake the initial ingredients). Is the baking time time for recipe #2 the same as for #1? Since I've got everything prepared, that's what I'll try. Also, am I to understand that I do NOT have to grease the pans in recipe #2 (as in #1)? Why, is it because of the combination of prepared ingredients? Clarification here in a few areas would be a big help! Thanks!
Reviewer:
Janice Potter
Rating:
Review:
Do I have to use real butter or is margarine ok?
Reviewer:
Tracy Pike
Rating:
Review:
I was in the process of making the butter cake mix version of this recipe when I realized something was wrong. Unless I was supposed to roll out a dough by hand for the pan, there's liquid missing from the cake mix part of the recipe. What do you mean by separated eggs?, yolk & whites? Or 2 for the cake mix batter & 2 for the gooey butter topping? Half the powdered sugar goes in with the gooey butter topping, but where does the other half go? In the cake mix? It doesn't say so! Geesh! If you're going to post a recipe, at least take the time to triple-check it & make sure it actually makes sense & has all the ingredients & instructions written down properly. I abandoned trying to make this recipe & just made a regular cake, trying to save what I'd already screwed up by following your instructions. If I make a St. Louis Gooey Cake, I won't be using your recipe...not even the 1st one that's made from scratch. I'll look elsewhere. By the way, it's not easy to look up a recipe on your website unless you have the exact name & spell it correctly. Using one or two keywords do not work in retrieving a recipe.
Reviewer:
D. Leonard
Rating:
Review:
I used to live in St. Louis and in my home-ec class we made this. This recipe is delicious. Just wish Paula Deen wouldn't take credit for "her famous Gooey Butter Cake". We all know the truth. Thank you for the recipe.
Reviewer:
lilly
Rating:
Review:
Made first recipe - loved yeast dough crust but filling was too much ...too floury?, pasty? Then I did yeast dough w/ cream cheese filling from 2nd recipe - that was a keeper! Highly suggest anyone reading this take my advice! Btw used 2 - 8 inch round pans, good crust to filling ratio