Diana's Desserts - www.dianasdesserts.com
See more recipes in
Cakes and Tortes
Chocolate Buttermilk Sheet Cake
in Diana's Recipe Book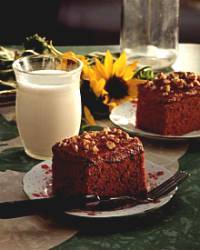 Average Rating:
(total ratings: 12)
[Read reviews]
[Post a review]
Servings: Makes 24 servings
Comments:
Whether you know this cake as a "Texas Sheet Cake" or just a good old-fashioned chocolate cake, you're going to love it. This is a great cake to serve at a children's birthday party, or for adults and children alike anytime. This cake is so easy to make, and is just the thing when you need a delicious dessert in a hurry. Try it, you won't be sorry.
Ingredients:

For the Cake:
1/2 cup (1 stick/4 oz./113g) unsalted butter, at room temperature
1/2 cup unsweetened cocoa powder
1 cup water
1/2 cup vegetable oil
1 teaspoon vanilla extract
1 teaspoon baking soda
2 cups granulated sugar
2 cups all-purpose flour
1/2 teaspoon ground cinnamon
1/2 teaspoon salt
1/2 cup buttermilk
2 large eggs, lightly beaten

For the Frosting:
1/2 cup (1 stick/4 oz./113g) unsalted butter, at room temperature
2 1/2 cups confectioners' sugar, sifted
3 tablespoons buttermilk
3 tablespoons unsweetened cocoa powder
1 teaspoon vanilla extract
1/2 cup chopped pecans or walnuts (optional)

Instructions:
Preheat oven to 400 degrees F/200 degrees C. Butter and flour a 9 x 13-inch baking pan.

For the Cake:
In a medium saucepan on medium heat, melt the butter and cocoa with the 1 cup water.

With an electric mixer, beat together the melted butter mixture, vegetable oil, vanilla and baking soda. Beat in sugar, flour, cinnamon, salt, then the buttermilk and lightly beaten eggs. Spread batter in prepared baking pan. Bake cake in preheated oven until toothpick inserted into center of cake comes out clean, 20-25 minutes. Transfer cake (in pan) to cooling rack.

For the Frosting:
Melt butter in a heavy medium saucepan over medium heat. Remove from heat. Whisk in confectioners' sugar, buttermilk, cocoa powder and vanilla.

Pour warm frosting over warm cake, spreading evenly. Sprinkle cake with chopped nuts, if using. Let cake cool completely in pan on wire rack before slicing (cake can be prepared 1 day ahead; cover and let stand at room temperature.) When ready to serve, cut cake into 24 squares.

Makes 1 (9 x 13-inch) sheet cake, 24 servings.
Date: November 10, 2007
Reviews
Reviewer:
Vicki
Rating:
Review:
Really good cake. Definately worth a try.
Reviewer:
linda
Rating:
Review:
What can I say, loved every bite!
Reviewer:
olga(http://recetasolguis.blogspot.com)
Rating:
Review:
This recipe looks great. I am a chocolate lover.
Reviewer:
cathy
Rating:
Review:
This is my all time favorite chocolate cake. Not too rich, but just chocolatey enough.
Reviewer:
Heather Peskin
Rating:
Review:
Absolutely super! Would give it 6 stars if this were possible.
Reviewer:
Susie
Rating:
Review:
The cake is very tasty but I had a problem with the baking time. I used a 9x13 pan, but the cake needed at least 15 extra minutes to bake in the middle. By that time I had poked it so full of holes that it looked a little messed up (nothing that frosting couldn't cover). Where did I go wrong?
Reviewer:
Beverly
Rating:
Review:
This is an absolute WINNER!!! I bake ALL the time and was so happy with the SUPER-moist, delicious, chocolate flavor of this recipe. I substituted the 1 cup of water for 1 cup of coffee to heighten the chocolate flavor. I also added 1/3 cup of mini-morsels to the batter. My husband has declared this his all-time FAVORITE cake. I concur. Additionally, the performance of the cake is excellent...it bakes up evenly in the pan and doesn't sink or settle after baked. Let me know if you'd like a pic. Do you have a vanilla recipe that performs as well as this one?
Reviewer:
Hend
Rating:
Review:
Not bad, It didn't satisfy my senses.
Reviewer:
Mrs B
Rating:
Review:
The cake was very good, moist and really soft. The icing was heavenly. I added coffee instead of water and baking time was an extra 15 min. It was a perfect cake.
Reviewer:
Mrs B
Rating:
Review:
It was moist and soft and icing was just heavenly. I took an extra 15 min in a 9x13. It was worth it.
Reviewer:
Linda MCK
Rating:
Review:
I used to make this alot in the 70's & 80's. Forgot the recipe and this is it. Delicious, not too much chocolate.
Reviewer:
Hend
Rating:
Review:
So this is my second review! Ad I have to admit that my mom LOVES it, and it have become our all-time cake :D (sorry for my other review)