Diana's Desserts - www.dianasdesserts.com
See more recipes in
Springtime
Rhubarb Muffins with Sweet Ginger
in Diana's Recipe Book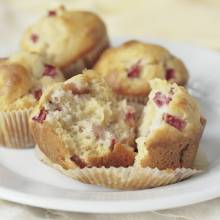 [Be the first to post a review!]
Servings: Makes 12 muffins
Comments:
Rhubarb

Rhubarb, which looks like a pink celery stalk, is botanically a vegetable, but it is used as a fruit, largely in pies and sauces. (In some areas, it is referred to as "pie plant.") The ancient Chinese cultivated the plant for its roots, which reputedly have medicinal properties, and it didn't gain acceptance as a food in the United States until the late 1700s.

The roots and leaves aren't eaten; indeed, the leaves are highly poisonous. At one time, the toxicity was attributed to their exceedingly high levels of oxalic acid, a substance that can interfere with iron and calcium absorption. However, the exact source of the leaf toxin has yet to be determined, since rhubarb stalks also contain significant amounts of oxalic acid (as do a few other foods, such as spinach).

Rhubarb stalks are extremely tart and they require sweetening to make them appetizing. This can increase their Calorie content considerably. For example, a typical recipe for rhubarb pie calls for 4 cups of diced rhubarb to which 1 1/4 cups of sugar are added. This converts 104 calories' worth of rhubarb to more than 1,000 calories. An alternative to this is to sweeten rhubarb with other, sweeter fruits, such as apples.

Rhubarb comes in two main varieties: hothouse-grown (pink or light red stalks, with yellow leaves) and field-grown (dark red stalks, with green leaves). The hothouse variety has a somewhat milder flavor and is less stringy.

Availability

Field-grown rhubarb appears on the market from April through June or July. Hothouse rhubarb, which is cultivated in California, Oregon, and Michigan, is mainly harvested from January through June. Rhubarb is also available frozen.

Shopping

Rhubarb is sold loose and in 1-pound bags, like celery. Whichever type is available, choose well-colored, good-sized, straight, firm crisp stalks. Avoid stalks that are limp. If the leaves are attached, they should look fresh and crisp; small leaves usually indicate younger, more tender stalks.

Be sure to trim the leaves off the rhubarb as they are toxic; use only the stalks.
Ingredients:

2 1/4 cups all-purpose flour
2 tsp. baking powder
1 tsp. baking soda
1/2 tsp. salt
2 tbsp. finely chopped crystallized ginger
3/4 cup granulated sugar
1/2 cup milk
1/2 cup sour cream
1/3 cup vegetable oil
1 egg
1 cup finely chopped rhubarb
Instructions:
Preheat oven to 400 degrees F/200 degrees C. Grease the cups of a standard muffin pan or line with muffin papers.

In a large bowl, stir together the flour, baking powder, baking soda, salt and crystallized ginger. In another bowl, whisk together the sugar, milk, sour cream, oil and egg. Stir in the rhubarb. Add to the flour mixture and stir until just blended.

Spoon the batter into the prepared muffin cups, filling each about three-fourths full. Bake until a toothpick inserted into the center of a muffin comes out clean, about 15 minutes. Transfer the pan to a wire rack and let cool for 5 minutes, then remove the muffins from the pan.

Makes 12 muffins.
Source: Adapted from Williams-Sonoma Kitchen
Date: April 11, 2007