Diana's Desserts - www.dianasdesserts.com
See more recipes in
Fruit Desserts
Poached Pears with Creme Anglaise
in Diana's Recipe Book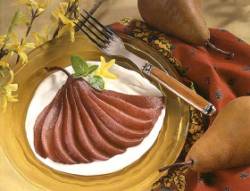 [Be the first to post a review!]
Servings: 6
Comments:
Simple and delicious, poached Bosc pears retain their distinctive buttery flavor
and are firm enough to maintain shape. Lightly used, spices add their voice
to a dessert, served warm or chilled.


Ingredients:

1 1/4 cups packed brown sugar
2 1/2 cups dry red wine
1 1/2 cups water
3 whole cloves
1 stick cinnamon
6 ripe Bosc pears, peeled and cored
Creme Anglasie, see recipe and ingredients below

Instructions:
Dissolve sugar into wine and water. Add cloves and cinnamon stick. Pears may be poached whole, or cut in half and poached. Add pears to wine mixture and heat until just simmering*. Lower heat and poach gently for 20 to 25 minutes. Remove from heat and allow to stand in poaching liquid overnight. Gently remove them from the poaching liquid and drain briefly on paper towels.

Serve with Creme Anglaise, whipped cream, or a reduction of the poaching liquid. Garnish with fresh mint. To reduce poaching liquid, boil until liquid is reduced by 2/3, or becomes a light syrup.

* You may poach 2 or 3 pears at a time, removing when poached, adding rest of pears or halves.

Always be sure to use ripe pears.

CREME ANGLAISE

If you can resist just sitting down and eating this creamy custard sauce with a spoon, serve it with almost any fruit, cake, especially chocolate, spice, or gingerbread.

2 cups whole milk or half-and-half
1 vanilla bean, split lengthwise ( optional)
5 egg yolks, at room temperature
1/2 cup sugar
Pinch of salt
2 teaspoons pure vanilla extract ( if not using vanilla bean)

In a heavy saucepan, combine the milk or half-and-half and vanilla bean (if using). Place over medium heat and bring almost to the boiling point, them remove from the heat. If using a vanilla bean, using the tip of a small, sharp knife, scrape the seeds into the milk and stir to combine; discard the bean.

In another heavy saucepan, combine the egg yolks, sugar, and salt and whisk until creamy. Gradually whisk in the hot milk or half-and-half. Place over low heat and cook, stirring constantly, just until the mixture is thick enough to coat the back of a spoon ( your finger should leave a trail when you run it across the spoon), about 5 minutes. To prevent the eggs from overcooking or curdling, do not allow the mixture to approach a boil.

Pour the mixture through a fine-mesh strainer into a bowl. If not using a vanilla bean, stir the vanilla extract into the sauce.

Serve warm, or set aside to cool to room temperature, stirring frequently to prevent a skin from forming on the surface.

Cover and refrigerate until well chilled, at least 4 hours or for up to 3 days.



Source: DianasDesserts.com
Date: June 7, 2002