Diana's Desserts - www.dianasdesserts.com
See more recipes in
Cakes and Tortes
Red Velvet Cake
in Diana's Recipe Book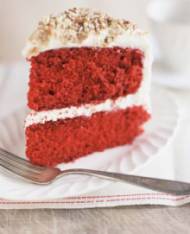 Average Rating:
(total ratings: 15)
[Read reviews]
[Post a review]
Servings: 12-16
Comments:
A Red velvet cake is a type of rich and sweet chocolate cake which has a distinctive dark red or red-brown color. Common ingredients include buttermilk, butter, flour, cocoa powder, and often either beets, or red food coloring. It is most popular in the American South, though known in other regions. The most typical frosting for a red velvet cake is cream cheese icing.
Ingredients:

Cake:
2 1/2 cups all-purpose flour
1/2 cup unsweetened cocoa powder (not Dutch processed)
1 teaspoon baking soda
1/2 teaspoon salt
1 cup (2 sticks/8 oz./226g) butter, softened
2 cups granulated sugar
4 eggs
1 cup sour cream
1/2 cup milk
1 ounce red food coloring
2 teaspoons vanilla extract

Cream Cheese Frosting:
8 ounces cream cheese, softened
4 tablespoons (1/2 stick/2 oz./56g) butter, softened
2 tablespoons sour cream
2 teaspoons vanilla extract
16 ounces confectioners' sugar

Garnish: (optional)
Chopped pecans or walnuts
Instructions:
1. Preheat oven to 350 degrees F/180 degrees C. Grease and flour two round 9-inch cake pans.

2. For the Cake:
Sift together flour, cocoa, baking soda and salt; set aside. Cream butter and sugar in a large mixing bowl with electric mixer until fluffy, 5 to 7 minutes. Beat in eggs one at a time. Mix in sour cream, milk, food color and vanilla. Gradually blend in flour mixture, just until incorporated. Do not over blend.

3. Pour batter into 2 greased and floured 9-inch round cake pans. Bake 35 to 40 minutes or until toothpick inserted in center comes out clean. Cool 10 minutes before removing from pan to cool on wire rack.

4. To Make Frosting:
Beat cream cheese, butter and sour cream in a medium bowl. Add the vanilla and the confectioners' sugar and mix until smooth. Cool cake completely before frosting. If desired, sprinkle top of cake with chopped nuts.

Makes 12-16 servings.
Date: July 29, 2006
Reviews
Reviewer:
Niki
Rating:
Review:
I thought this had a great flavor to it, and was fairly easy to make.
Reviewer:
Wanda Plummer
Rating:
Review:
This is a very moist and delicious cake. I baked it for the first time Christmas and we really enjoyed it. I will forever use this recipe. Thank you for sharing your recipe.
Reviewer:
Beverly
Rating:
Review:
I made this cake a day ahead of time for my son's Valentine's Day Party, it was delicious. The kids and adults loved them. The cake had a wonderfully moist, chocolate taste. This is the second recipe I've tried and I love it!!!
Reviewer:
Maria
Rating:
Review:
This cake turned out very moist and flavorful. I used the recipe for the Red Waldorf Cake on this website and garnished with strawberries. HEAVENLY!Best red velvet I've ever made and tasted. I guess the sour cream is a substitute for the usual buttermilk and vinegar. I'm glad I took a chance and tried this!
Reviewer:
SHAJIA AHMED
Rating:
Review:
Moist and a delicious cake
Reviewer:
Megan
Rating:
Review:
Wasn't that good to much food coloring. it turned out BLACK. maybe try a pink....
Reviewer:
Susanna
Rating:
Review:
Im puzzled - this recipe does not require baking powder to help the cake rise n be soft n fluffy?
Reviewer:
Princess butterfly
Rating:
Review:
A good cake—very moist and the color was new and lovely.
Reviewer:
Chantaye Knotts
Rating:
Review:
I have tried several red velvet cake recipes. This is the best I've tried.
Reviewer:
Joanne
Rating:
Review:
I make cakes during my holidays for my siblings. I found that this cake was easy and is one of the most satisfying cakes I have made.
Reviewer:
Rose Hoganas
Rating:
Review:
Excellent recipe! Made it for a 4th of July party and it was a hit! Will definitely make again, this time as cupcakes.
Reviewer:
Tracey
Rating:
Review:
The BEST RED VELVET RECIPE EVER! I made red velvet cupcakes yesterday using this recipe and it's seriously out of this world delicious. I can't stop eating them! The cake itself is ever so moist with a very tender crumb. THANK YOU soooo much for sharing this finger-lickin' good recipe!
Reviewer:
Shamma T
Rating:
Review:
This was a great cake. I've tried making Red Velvet Cake a few times before and it never was as moist and yummy as this one. The cream cheese frosting is a bit too sweet so I recommend reducing the amount of sugar... otherwise, it's a great and easy cake thats a winner!
Reviewer:
Simon L
Rating:
Review:
I used a different recipe for the cake itself, but used this recipe for the frosting. The frosting recipe for this cake is easy to make and tastes awesome. Although I found the amount of sugar indicated here a little high, I simply added to taste and it turned out fine.
Reviewer:
mazlah
Rating:
Review:
The best red velvet recipe.. so easy