Diana's Desserts - www.dianasdesserts.com
See more recipes in
International Desserts and Treats
Ris ala mande with Cherry Sauce
in Diana's Recipe Book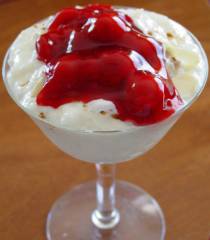 Average Rating:
(total ratings: 7)
[Read reviews]
[Post a review]
Servings: 4-6
Comments:
Ris ala mande is a traditional Danish dessert, served usually at Christmas. When served with the traditional Danish Christmas dinner, one whole almond is placed in the pudding. The person who finds the almond will get an extra gift. This usually helps on the number of second helpings. It is a tradition not to reveal who has the almond until all the pudding has been eaten.
Ingredients:

1 (1/4 oz.) envelope unflavored gelatin
3 tablespoons cold water
4 cups milk
1 cup short-grain white rice
7 tablespoons sugar
Dash of salt
1 cup heavy cream, for whipping
1 teaspoon vanilla extract
1/2 cup blanched almonds, chopped
1 whole almond

Homemade Bing Cherry Sauce (see recipe below) or 1 can Cherry Pie Filling
Instructions:
Place 3 tablespoons water in a small bowl. Sprinkle gelatin over water. Let stand 3 minutes to soften gelatin. Warm mixture in microwave until gelatin dissolves, about 30 seconds.

Meanwhile, place 2 cups of the milk and the rice in a medium saucepan. Stir over moderate heat until the rice is tender, about 20 minutes. Stir in the dissolved gelatin, then the remaining 2 cups of milk, the dash of salt and the sugar. Transfer the rice mixture to a large bowl. Freeze until mixture is cold and thickens but does is not set, stirring occasionally, about 45 minutes.

Whip the cream and vanilla until soft peaks form. Fold the whipped cream into the rice mixture. Fold in the 1/2 cup chopped almonds, and the one (1) whole almond. Place in a serving bowl and chill in refrigerator. When ready to serve, spoon into individual dessert bowls, and serve with cherry sauce. Refrigerate any left-over pudding.

Makes 4-6 servings.

Homemade Bing Cherry Sauce

Ingredients:
1 can (17 oz.) Pitted Bing Cherries
3-4 tsp. granulated sugar
2 tbsp. cornstarch
Dash of salt
1 teaspoon of lemon juice
1/2 tsp. almond extract or almond flavoring, optional
Water, to add to Bing Cherry liquid from can

Instructions:
Drain can of pitted bing cherries. Reserve liquid. Pour liquid (that you drained and reserved from can) into a medium saucepan, and add enough water to liquid to make 1 1/2 cups. Cook on medium heat, adding sugar, cornstarch, and a dash of salt. Cook and stir mixture until thickened and clear. Add the cherries, the lemon juice, and if desired, 1/2 tsp. almond extract. Pour sauce over individual servings of the Ris ala mande.

Photograph taken by Diana Baker Woodall © 2002
Source: DianasDesserts.com
Date: May 30, 2002-Revised 7-14-03
Reviews
Reviewer:
Ásdís Sveinsdóttir
Rating:
Review:
very good
Reviewer:
weena
Rating:
Review:
Tried it on an island known Tonga (not Denmark) at a danish family Christmas lunch/dinner. Must say its one of the best desserts I've had in my life.
Reviewer:
Brammerdottier
Rating:
Review:
I have had Risalamande as my secret weapon for many a dinner party people are amazed by it and it is so simple to cook. Being Danish the above recipe is spot on, my recipie handed down from many generations is very similar but we use leaf gelatine. A handy tip with the whole almond is to use one directly cracked from the shell, make sure that you don't peel the brown skin it will make it easier for the 'winner' and there can't be any cheating (very usual at our large table on Christmas eve when this is traditionally eaten) Make sure the sauce is piping hot when taken to the table.
Reviewer:
Viktorija Olafsson
Rating:
Review:
Perfect, simply perfect! Very easy to make especially as I do not like cooking at all and tastes awesome!
Reviewer:
Artiom LT
Rating:
Review:
During my stay in Denmark I have tried this dessert a few times and I love it, easy, tasty and very light.
Reviewer:
PHJ
Rating:
Review:
Being from Denmark, away from home, I love making this dessert. Brings all my childhood Christmas' back every year.
Reviewer:
Cynthia B Huntington
Rating:
Review:
I left home in 1953 -food was still rationed in UK. I worked in the day as a mother's helper in Copenhagen and at night I went to Madlavning og Husholdning skole on my bike, where I learned Danish cooking four nights a week for 8 months. This recipe always came in handy when I wanted to impress friends. I also learned Danish embroidery and five years later won the first prize in Eng.Scotland, N.Ireland and Wales. I learned so much in Denmark that has been useful all my life