Diana's Desserts - www.dianasdesserts.com
See more recipes in
Cakes and Tortes
Hummingbird Cake
in Diana's Recipe Book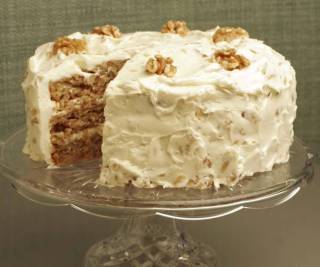 Average Rating:
(total ratings: 12)
[Read reviews]
[Post a review]
Servings: 12-16
Comments:
A little bit of history about Hummingbird Cake from cookbook author, Anne Byrn, "This wonderful banana-pineapple cake has been around for nearly thirty years, and I used to think its name came from the fact that when you tasted it the flavor was so good it caused you to hum. But Southern food writers Martha Pearl Villas and her son John Villas say the cake might have been so named because it is so sweet, and hummingbirds are known for their love of sugar water.
Ingredients:

For the Cake:
3 cups all-purpose flour
2 cups granulated sugar
1/2 teaspoon salt
2 teaspoons baking soda
1 teaspoon ground cinnamon
3 eggs, well beaten
1 1/4 cups vegetable oil
1 1/2 teaspoons vanilla extract
1 can (8 ounces) crushed pineapple, drained (reserve 1/4 cup juice to add to batter)
3/4 cup coarsely chopped pecans, toasted* (see instructions below)
1/4 cup coarsely chopped black walnuts, toasted* (see instructions below)
2 cups chopped or mashed bananas (4-6 medium to large ripe bananas)

For the Cream Cheese Frosting:
1 (8 oz.) package cream cheese, at room temperature
1 (3 oz.) package cream cheese, at room temperature
1/2 cup (1 stick/4 oz./113g) unsalted butter, at room temperature
3 3/4 cups confectioners' sugar, sifted
1 teaspoon vanilla extract
3/4 cup chopped pecans or walnuts, toasted* (see below)

Garnish:
1/2 cup toasted pecans, coarsely chopped or several walnut halves, for garnishing top of cake
Instructions:
For the Cake:
Preheat oven to 350 degrees F/180 degrees C. Grease and flour 3 (9-inch) round cake pans.

Sift flour, sugar, salt, baking soda and cinnamon together several times. Put into mixing bowl. Add eggs and vegetable oil. Stir until dry ingredients are moistened. Do NOT beat with a mixer. Stir in vanilla, the crushed pineapple, the reserved 1/4 cup pineapple juice, the chopped black walnuts, and the chopped pecans, then add the chopped or mashed bananas. Spoon the batter into prepared cake pans. Bake for 25 to 30 minutes or until cake tests done. Cool in pan for 10 minutes, then turn cakes out onto cooling racks. Cool completely before frosting.

For the Cream Cheese Frosting:
Beat cream cheese and butter at low speed with an electric mixer until creamy. Gradually add confectioners' sugar, a little at a time, beating at low speed just until smooth. Add the vanilla , and beat on medium speed until light and fluffy, about 1 minute. Stir in the 3/4 cup toasted and coarsely chopped pecans or walnuts.

Frost the tops of all 3 cake layers. Place one frosted layer on a cake plate, top with second frosted cake layer, then top second cake layer with the third frosted cake layer. Frost sides of cake. Place either the 1/2 cup toasted and coarsely chopped pecans on the center of cake or place several walnut halves around edges of cake for garnish. Store cake in the refrigerator and serve at room temperature.

Makes 12-16 servings.

How To Toast Pecans or Walnuts:
It's amazing how just a little toasting brings out the full, total flavor of nuts. Here is how to toast the pecans.

Spread chopped pecans (or chopped walnuts, if using) out in one layer on a baking pan. Stir once or twice with a metal spatula or a long wooden spoon while toasting. Remember that chopped nuts will take less time than whole nuts and halves. Toast nuts for 4 to 5 minutes or until you smell a wonderful aroma coming from your oven.
Source: DianasDesserts.com
Date: May 28, 2002-Recipe Revised on May 20, 2008
Reviews
Reviewer:
Niki
Rating:
Review:
A delightful cake! my entire family loved this cake, It was gone by the next day.
Reviewer:
BJ
Rating:
Review:
This is a wonderful cake especially for special occasions. Will serve lots of folks, and the icing is to die for.
Reviewer:
Nitu
Rating:
Review:
This is the best recipe of Hummingbird Cake. I tried few recipes but this is the perfect recipe that I was looking for. Thanks
Reviewer:
Reggi
Rating:
Review:
Fantastic cake! Alot of times cakes like this come out too wet, but not this one! I added an extra teaspoon of cinnamon and a teaspoon of nutmeg, but besides that, I didnt mess with the recipe at all. It was a great hit at work and 2 people asked for the recipe. I cant wait to try more recipes off of this website.
Reviewer:
Candy Stokes
Rating:
Review:
I have been baking a very similar recipe for many many years for my son's birthday. I love your addition of walnuts, baking the nuts and saving some of the juice from the pineapples. Thanks! Candy
Reviewer:
lauren
Rating:
Review:
unbelievable! the juiciest cake, probably from the amount of fruit, but the pineapple was so subtle most people didn't realize it was in there. it was perfect by itself but the cream cheese icing made it decadent
Reviewer:
meg smith
Rating:
Review:
An all time favorite! It feeds a large crowd.
Reviewer:
Ron
Rating:
Review:
Good if your feeding alot of people, the cake tastes alot like banana bread, but everyone will love it.
Reviewer:
tangela
Rating:
Review:
I gave this recipe to my mom and she made this wonderful cake for our Family Picnic. Everyone enjoyed it.
Reviewer:
Eva
Rating:
Review:
Great dessert. Made it for a picnic, everyone loved it. I will make this one again.
Reviewer:
Sanaz
Rating:
Review:
It is good even without Frosting!
Reviewer:
Ava
Rating:
Review:
This cake is absolutely delicious. It is fluffy, moist and decadent. The cream cheese frosting recipe is perfect for this cake, a great balance of sweet with the nuts. A must try!!!!!!!!