Diana's Desserts - www.dianasdesserts.com
See more recipes in
Thanksgiving Foods and Beverages
Jellied Cranberry Sauce
in Diana's Recipe Book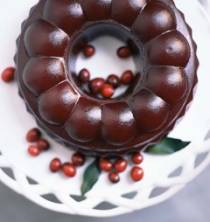 [Be the first to post a review!]
Servings: Makes 3 1/2 cups
Comments:
What are Cranberries?

These shiny scarlet berries are grown in huge, sandy bogs on low, trailing vines. They're also called bounceberries, because ripe ones bounce, and craneberries, after the shape of the shrub's pale pink blossoms, which resemble the heads of the cranes often seen wading through the cranberry bogs. Cranberries grow wild in northern Europe and in the northern climes of North America, where they are also extensively cultivated--mainly in Massachusetts, Wisconsin, Washington and Oregon. Harvested between Labor Day and Halloween, the peak market period for cranberries is from October through December. They're usually packaged in 12-ounce plastic bags. Any cranberries that are discolored or shriveled should be discarded. Cranberries can be refrigerated, tightly wrapped, for at least 2 months or frozen up to a year. Besides the traditional cranberry sauce, this fruit also makes delicious chutneys, pies, cobblers and other desserts. Because of their extreme tartness, cranberries are best combined with other fruits, such as apples or dried apricots. Canned cranberry sauce--jelled and whole-berry--is available year-round, as are frozen cranberries in some markets. Sweetened dried cranberries, which can be used like raisins in baked goods or as snacks, are also available in many supermarkets. Fresh cranberries are very high in vitamin C.


--Copyright (c) 1995 by Barron's Educational Series, from The New Food Lover's Companion, Second Edition, by Sharon Tyler Herbst

Intensely flavored and vibrant red, this jelly bears no resemblance to the stuff in the can —it's definitely worth the effort. Though we call for 4 bags of cranberries, the yield is only 3 cups because all the solids get strained out. You'll be happy if you have any extra cranberry sauce when you make sandwiches with the leftover turkey.

Ingredients:

4 (12 oz.) bags cranberries, thawed if frozen
3 cups granulated sugar
3 1/3 cups cold water
2 tablespoons unflavored gelatin (from three 1/4 oz. envelopes)

Special equipment:
One 3 1/2-cup nonreactive decorative mold or 10 individual (1/3 cup) decorative molds
Instructions:
Bring cranberries, sugar, and 3 cups water to a boil in a 4 to 5-quart heavy saucepan, stirring until sugar is dissolved, then reduce heat and simmer, partially covered, stirring occasionally, until all berries have burst, 10 to 15 minutes. Pour into a large fine-mesh sieve set over a 2-quart glass measure or a bowl and let stand until all juices have drained through, about 30 minutes. If necessary, press on solids until there is enough juice to measure 3 cups, then discard solids.

Stir together gelatin and remaining 1/3 cup water and let stand 1 minute to soften. Bring 1 cup drained cranberry liquid to a simmer in a small saucepan, then add gelatin mixture and stir until just dissolved. Add gelatin mixture to remaining cranberry liquid and stir well. Pour cranberry sauce into lightly oiled mold and chill, covered with plastic wrap, until firmly set, at least 12 hours.

To unmold, run tip of a thin knife between edge of mold and cranberry sauce. Tilt mold sideways and tap side of mold against a work surface, turning it, to evenly break seal and loosen cranberry sauce. Keeping mold tilted, invert a plate over mold, then invert cranberry sauce onto plate.

Notes:
• Cranberry sauce can be chilled in mold up to 2 days.
• Cranberry sauce can be unmolded 1 hour ahead and chilled or kept at room temperature.

Makes about 3 1/2 cups.

Source: Gourmet
Gourmet Entertains
November 2003
Date: October 30, 2006