Diana's Desserts - www.dianasdesserts.com
See more recipes in
Rosh Hashanah Menu
Apple Challah
in Diana's Recipe Book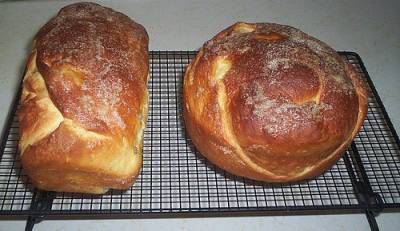 Average Rating:
(total ratings: 2)
[Read reviews]
[Post a review]
Comments:
Inspired by the many delicious recipes I found for apple challah, I set out to create the most intensely appley version possible. I started with a sweet challah dough and crammed in as many apples as possible. To minimize surface area and hence excess apple juice, I cut the apples into very large chunks — I also like the distinctive and succulent way these show up in the baked bread. I avoided cinnamon, to let the apple flavor shine unencumbered, but finished off the bread with a sugared crust.

After many tests, the final bread was such a favorite that tester Rita Yeazel worked on improving the method for days, determined to come up with an easier way to incorporate the apples. Because I wanted the apples' flavor to permeate the dough, I had wanted to add them during mixing, not shaping, but that meant a lengthy, messy, and difficult hand-knead. Now, thanks to her persistence, I roll out the dough after an hour of fermentation, when the dough is more extensible and is fairly soft, scattering the apples over it and folding the dough around them. Then, as the dough continues to rise, the apples become an integral part of it — and so the tedious hand-kneading phase is unnecessary.

I suggest using Braeburn apples, which are easily available in most areas, have a good spicy flavor, and do not fall apart during baking; but you can substitute any favorite baking apple.

This bread is wonderful for breakfast or with coffee. It also makes an enticing Rosh Hashanah centerpiece and a much-appreciated gift.
Ingredients:

2 envelopes (1 1/2 tablespoons plus 1 1/2 teaspoons/14 grams/0.5 ounces) instant yeast
5 cups (675 grams/23.8 ounces) bread flour
1 cup (225 grams/7.9 ounces) warm water
3 large eggs
1/3 cup (85 grams/3 ounces) vegetable oil, plus extra for oiling the pan and for topping
2 1/2 teaspoons (13 grams/0.4 ounce) table salt
1/2 cup (100 grams/3.5 ounces) granulated sugar, plus extra for sprinkling
3 large or about 4 medium baking apples (approximately 1 kilo/2 1/2 pounds), preferably Braeburns (for 4 1/2 heaping cups/660 grams/23 ounces cut-up apples)
Instructions:
Mixing the Yeast Slurry
In a large bowl, whisk together the yeast and 1 cup (125 grams/3.8 ounces) of the flour, then whisk in the warm water until smooth. Let the slurry stand uncovered for 10 to 20 minutes, or until it begins to ferment and puff up slightly.

Mixing the Dough
Whisk the eggs, oil, salt, and sugar into the puffed yeast slurry until the eggs are well incorporated and the salt and sugar have dissolved. With your hands or a wooden spoon, stir in the remaining 4 cups (550 grams/20 ounces) flour all at once. When the mixture is a shaggy ball, scrape it out onto your work surface and knead it until it is smooth and firm, no more than 10 minutes. (Soak your mixing bowl in hot water now to clean it and warm it for fermenting the dough.) If the dough is too firm to knead easily, add a tablespoon or two of water to it; if it seems to wet, add a few tablespoons of flour.
The dough should feel smooth, soft, and only slightly sticky.

Fermenting the Dough for the First Time
Place the dough in the warmed clean bowl and cover it with plastic wrap. Let ferment for 1 hour, or until just slightly puffed. While the dough is fermenting, prepare the apples.

Preparing the Apples
Peel, quarter, and core the apples. Cut each quarter lengthwise in half, then cut each slice crosswise in half if the apple was medium size, or into three pieces if the apple was large; you should end up with large squarish chunks. Measure out 4 1/2 heaping cups (660 grams/23 ounces) of chunks (reserve any extra for another use) and transfer them to a covered container. (Braeburns do not brown excessively, but if you are using another variety and are concerned about overbrowning, toss the apples with a few drops of lemon juice.)

Rolling Out the Dough and Adding the Apples
Sprinkle the dough and your work surface with flour and pull the dough out of the bowl. Cut the dough into two equal pieces and keep one piece covered while you work on the other. Roll out the dough into a 16-inch (41-cm) square about 1/8 inch (3 mm) thick. Scatter 1 heaping cup of the apples over the center third of the dough, then fold up the bottom third to cover them. Press the dough into the apples to try to seal it around them. Scatter another heaping cup over the folded-over apple-filled portion of the dough and fold the top of the dough over it to create a very stuffed letter fold. Press down on the dough to try to push out any air pockets and to seal it around the apples. Roll the dough up from a short side into a chunky cylinder, push the dough into the bowl with the smooth side up, and cover it with plastic wrap. Repeat with the other piece of dough and put it in a second covered bowl or other container. Let the dough ferment for about another hour, or until slightly risen and very soft.

Shaping and Proofing the Dough
Oil two 8-inch (20-cm) round cake pans or 8 1/2-by-4 1/2-inch (18.5-by-8.5-cm) loaf pans. Using as much dusting flour as you need, pat each dough half as best as you can into a rough round or log shape, trying to keep the dough's smooth skin intact over the top. You will not be able to deflate the dough much at this point because of the apples. Slip the dough into the pans smooth side up and cover well with plastic wrap. (The shaped loaves can be refrigerated for up to 24 hours, which will only intensify their flavor.) Let the loaves proof until they have risen over the edges of their pans, about 30 minutes (or up to 1 1/2 hours if the loaves have been refrigerated).

Immediately after shaping the breads (or 30 minutes before baking if the loaves have been refrigerated), arrange an oven rack in the lower third position, remove any racks above it, and preheat the oven to 350°F (180°C/gas mark 4).

Baking the Loaves
When the loaves have risen and do not push back when gently pressed with your finger but remain indented, brush each one with a generous tablespoon of oil, then sprinkle them with a few tablespoons of sugar to form a sugary-oily crust. Bake for 45 to 55 minutes, until very well browned. After the first 40 minutes of baking, switch the pans from front to back so that the breads brown evenly. When the loaves are done, remove them from the oven, unmold them, and let them cool on a rack.

Makes two 9-inch (23-cm) round loaves or two 8 1/2-by-4 1/2-inch (18.5-by-8.5-cm) loaves

Source: From the book A Blessing of Bread by Maggie Glezer.

Photograph used with permission and courtesy of Kristin Hoppe.
Date: September 19, 2006
Reviews
Reviewer:
Irit Miller
Rating:
Review:
The Apple Challah was a real hit during Rosh Hashanah with my family. The only changes I would make next time is: 1. Add another apple - a different variety. 2. I suggest adding 1-2 tbls sugar with the apples and in the eggwash coating the crust.
Reviewer:
Michelle Cordon Lepinski
Rating:
Review:
I've been making this recipe for a year now, and my sister in law buys her Challa every Friday from our favorite store. I told her to stop it and let her know that I could make it for her and I could make it for her BETTER. She tried the Challa and LOVED it, we're going to start making it together.