Diana's Desserts - www.dianasdesserts.com
See more recipes in
Ramadan
Ataif
in Diana's Recipe Book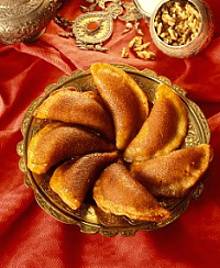 Average Rating:
(total ratings: 11)
[Read reviews]
[Post a review]
Servings: Makes 3 dozen pancakes
Comments:
The final day of Ramadan, Id al-Fitr, is celebrated by a day of feasting.

A luxurious treat of filled pancakes in syrup is served on Id and at weddings throughout the middle east and the Arabic-speaking world.
Ingredients:

Syrup:
2-1/2 cups granulated sugar
1-1/4 cups water
1 tbsp. lemon juice
2 tbsp. rose or orange flower water

Batter:
1/2 tsp. active dry yeast
1 tsp. granulated sugar
1-1/4 cups water
1-1/2 cups all-purpose flour

Cheese Filling:
1 tbsp. per pancake ricotta cheese

OR USE:

Nut Filling:
2 cups ground walnuts or pistachios
1/4 cup granulated sugar
2 tsp. ground cinnamon

Topping
1/2 cup coarsely chopped pistachios or almonds

Oil for frying
Instructions:
Syrup:
Combine sugar, water and lemon juice in a heavy saucepan. Bring to a boil, reduce the heat to medium, and simmer for about 10 minutes, until the syrup is thick enough to coat a cold metal spoon. Turn off the heat and stir in the rosewater or orange flower water. Transfer the syrup to a metal bowl and refrigerate until the ataif are ready to be doused.

Batter:
Sprinkle the yeast and sugar over the water and set aside for 5 minutes. Measure the flour into a mixing bowl. Once the yeast foams, pour the water into the center of the flour and stir until you have a smooth batter. Cover the bowl with a damp cloth and let the batter rise for an hour.

Lightly oil a heavy frying pan or griddle, and turn up the heat to high, until the pan is thoroughly heated. Reduce the heat to medium to maintain a steady temperature. Pour 1 tablespoon of batter into the pan and fry the pancake until small bubbles form on the surface. Remove the pancake to a platter and continue until the batter is all used up.

Heat 2 inches of oil in a pot suitable for deep frying. Spoon a tablespoon of ricotta cheese onto the uncooked center of each cake; or fill with a tablespoon of nut filling made by combining ground nuts, sugar and cinnamon. Fold the pancake in half and pinch gently around the edges so that they will stick together. Deep fry each pancake until it becomes golden, about 2 or 3 minutes. Remove with a slotted spoon to lint-free absorbent towels. Dip the hot pancakes into the cold syrup, remove with a slotted spoon, and arrange on a serving platter. Sprinkle with chopped nuts.

Ataif may be enjoyed either hot or cold.

Makes 3 dozen pancakes.
Date: September 14, 2006
Reviews
Reviewer:
Latifah Khan
Rating:
Review:
Delicious! I tried your recipe. Next time I change abit. I did't dip them in the cold syrup. They were still great and crunchy. And I could store them in an airtight container. The next day they were still crunchy and yummy!
Reviewer:
Mah
Rating:
Review:
i am tryin this right now.. but i let the batter stand for like 3-4 hrs before frying. is that ok? Also do we only fry one side and let the other side remain uncooked? hope someone can answer this for me..thanx!
Reviewer:
ulfa
Rating:
Review:
Thank you for paying attention to Ramadan.
Reviewer:
Poppy Harrington
Rating:
Review:
dear diana, i am a 11 year old girl and doing a project on ramadan. my part is making food. do you think this is a good choice? yours, sincerely, poppy harrington
Reviewer:
rameen
Rating:
Review:
This is the best choice of all, back when womwn used to cook.
Reviewer:
Hafsa
Rating:
Review:
can you substitute the cheese?
Reviewer:
susie
Rating:
Review:
Hi, me again...this is a good recipe. One thing, though, the alternative to frying is to bake the Ataif by spraying with Pam or lightly brush with clarified butter. Bake until golden brown.
Reviewer:
Ana
Rating:
Review:
I am trying it today!!! Love Ataif...
Reviewer:
Ghassan
Rating:
Review:
Fantastic recipe, I am adding 1/4 cup of whole wheat flour and removing the same from the all purpose flour.
Reviewer:
Kristina
Rating:
Review:
Hello Diana, I just wanted to thank you for your wonderful recipe. I referenced you on my blog post today. http://wp.me/pMSyT-2A
Reviewer:
laura
Rating:
Review:
Hi, I would like to know why when I make Atif, they do not turn out crunchy? I follow the recipe and still not crunchy. Thank you.