Diana's Desserts - www.dianasdesserts.com
See more recipes in
Ramadan
Sekanjabin
in Diana's Recipe Book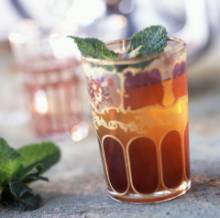 Average Rating:
(total ratings: 3)
[Read reviews]
[Post a review]
Servings: Makes approximately 1 quart
Comments:
After the month of Ramadan has passed, the month of Shawal (the 10th month) begins. The first day of Shawal is called 'Id al-Fitr, or just 'Id for short. This festival signifies the end of Ramadan. Preparations for 'Id usually begin around the last 10 days of Ramadan, and continue until 'Id day. This includes decorating houses and buying gifts for relatives. 'Id begins with a trip to the mosque. Alms are given to the poor, and everyone rejoices on this day. There is usually a party on the evening of 'Id. Since Islam bans dancing or drinking, there are no "dance parties" or alcohol beverages served. Instead, soft drinks and sherbet are served with the food. Mostly sweet foods are served on this day. One drink, Sekanjabin, which is a sweet mint drink, is served at most 'Id celebrations.
Ingredients:

4 cups granulated sugar
2 1/2 cups water
1 cup red wine vinegar
2 rounded tablespoons dry mint flakes

Instructions:
In a 3 quart saucepan, dissolve the sugar in the water. Heat to a boil, add the red wine vinegar. Let it come back to a boil. Stir in the dried mint flakes, remove from heat, cover, and let cool. (it's best to let it sit for a couple of hours.)

Strain the mint leaves out before using. Dilute the resulting syrup to taste with ice water (5-10 parts water to 1 part syrup.) Serve over ice in a tall glass. The syrup (not the diluted drink) can be stored in an airtight container without refrigeration for a couple of weeks.

Makes approximately 1 quart.
Date: September 14, 2006
Reviews
Reviewer:
Sanaz
Rating:
Review:
Dear Diana, Sekanjabin is absolutley an Iranian traditional famous sherbet which is used in many celebrations such as sizdah bedar (last day of new year holidays-Norooz). Your recipe has more vinegar than we use. It could be reduced to 1/2 cup and we use fresh peppermint (a bunch of fresh peppermint) and at least strain it out as you said. Thank you
Reviewer:
sekanjabin fan
Rating:
Review:
This is similar to the recipe from A Book of Middle Eastern Food, by Claudia Roden. Its differences are the omission of the type of vinegar; it is fun to experiment. Also, it is common to simmer the vinegar/sugar/water mixture for 1/2 hour to reduce its volume. "A handful" of *fresh* mint is usually specified; though some people would say "it is difficult to use too much".
Reviewer:
hula
Rating:
Review:
This recipe cannot be for Ramadan or for Muslims because Muslims are not allowed to drink anything with wine neither in Ramadan nor in anytime else. It can have vinegar but not a wine vinegar!