Diana's Desserts - www.dianasdesserts.com
See more recipes in
Brunch Time
Buckwheat Crepes
in Diana's Recipe Book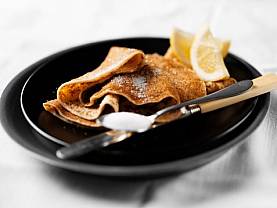 [Be the first to post a review!]
Servings: Makes 8 to 10 crêpes; 4 to 5 servings.
Comments:
Crêpes originate from Brittany, a region in the west of France, where they are called krampouezh; their consumption is nowadays widespread in France. It is said that crêpes were born in this region because they couldn't grow enough wheat to bake bread due to the poor land.

Buckwheat came to Europe from China and also spread to Eastern Europe, where a similar meal called blintz also developed. In Brittany, crêpes are traditionally served with apple cider.

Crêpes are made by pouring a thin liquid batter onto a hot frying pan or flat circular hot plate, often with a trace of butter or oil spread out evenly across the pan's surface. The batter is spread evenly over the cooking surface of the pan or plate either by tilting the pan or by distributing the batter with a special spatula. The thin layer then thickens and needs to be inverted at least once so that cooks evenly on both sides.

After crêpes are cooked, they may be filled with sweet or savoury ingredients and rolled or folded. Crêpes can be made in advance, filled with ingredients just before serving, and reheated for convenience, although these are not usually as tasty as freshly made crêpes.

Crêpes can be easily and inexpensively prepared in the home with only batter and a suitable cooking surface. If desired, you may purchase a crêpe pan. They are available at specialty cooking stores and on the internet or you can use a regular 8 or 9-inch (flat bottom) nonstick frying pan.

Buckwheat flour is available in many supermarkets and in natural food stores. If you can't find buckwheat flour, you may use all-purpose flour which is also used in this recipe.

These pancakes have a delicious nutty flavor; for a snack or for a side dish at brunch serve them with butter, jam, or maple syrup or just sprinkle granulated or confectioners' sugar over them and enjoy!
Ingredients:

3 large eggs
1/3 cup all-purpose flour
1/3 cup buckwheat flour (or 1/3 cup more all-purpose flour)
1 cup whole milk
2 tablespoons butter, melted

Instructions:
1. In a blender or food processor, whirl eggs, all-purpose and buckwheat flours, and milk until smooth, scraping down sides of container as necessary. The buckwheat flour may settle as batter stands; stir before cooking if necessary.

2. Place a 8 or 9-inch nonstick frying pan or crepe pan over medium-high heat; when hot, brush bottom with butter, then wipe out excess with a paper towel.

3. Lift pan from heat and pour in 1/4 cup batter; immediately tilt pan and swirl batter to coat bottom. Crêpe should set at once and form tiny bubbles. Set pan back over heat and cook crêpe until lightly browned at the edges and dry-looking on the surface. With a wide spatula turn crepe over and cook until lightly browned.

4. Run the spatula under crêpe edge to loosen and remove from pan. Serve crêpes with butter, confectioners' or granulated sugar, jam, or maple syrup.

Tip:
To keep crêpes warm cover them with aluminum foil and keep warm in a 200 degree F oven, or cover and reheat them in a baking pan in a preheated 325 degree F oven for 5 to 10 minutes, or until heated through.

To Freeze:
Crêpes can be sealed in freezer bags and frozen for up to three months. If frozen, thaw completely and then warm gently in microwave.

Makes 8 to 10 crêpes; 4 to 5 servings.
Date: September 8, 2006