Diana's Desserts - www.dianasdesserts.com
See more recipes in
Jams - Jellies - Preserves - Spreads
Seville Orange Marmalade
in Diana's Recipe Book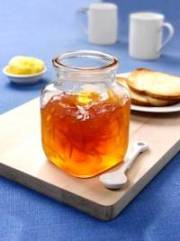 [Be the first to post a review!]
Servings: Makes about 6 half-pint jars
Comments:
The Seville orange, with its bitter and pebbly rough skin, is the first choice in traditional marmalade recipes. However, any variety of orange may be used in this recipe.

Ingredients:

4 oranges (Seville oranges, if possible)
2 lemons
2 1/2 cups water
1/8 teaspoon baking soda
1 (1.75 oz.) package powdered fruit pectin (such as Sure-Jell or Ball Fruit Pectin)
6 cups granulated sugar
1/4 teaspoon ground nutmeg

Instructions:
Place 6 half-pint (1 cup) mason jars on a rack in a boiling water canner; cover jars with water and heat water to a simmer (180°F/82°C). Set screw bands aside; heat snap lids in hot water, NOT boiling water (180°F/82°C). Keep jars and snap lids hot until ready to use.

Remove peel from oranges and lemons, reserve fruit. Scrape off white pith and discard. Thinly slice peel. In a medium saucepot, combine orange and lemon peel, water and baking soda. Bring to a boil, reduce heat and simmer, covered, 20 minutes. Remove seeds and any white membrane from oranges and lemons. Finely chop fruit. Add fruit to peel and return to a boil. Reduce heat and simmer, covered, 10 minutes. Measure five cups of prepared fruit.

Combine prepared fruit and pectin in a large saucepot. Bring to a rolling boil. Stir in sugar and nutmeg; return to a rolling boil. Boil hard 1 minute, stirring constantly. Remove from heat. Skim foam if necessary. Stir for five minutes. Carefully ladle hot marmalade into hot jars, leaving 1/4-inch headspace. Wipe rim and threads of jars with a clean damp cloth. Place lid on jar with sealing compound next to glass. Screw band down evenly and firmly just until a point of resistance is met - fingertip tight (do not overtighten).

Place jars in canner. Cover canner; bring water to a boil. Process and boil filled jars for 10 minutes. When processing time is complete, turn heat off and remove canner lid. When boil subsides - bubbles no longer rise to surface (3 to 5 minutes) - remove jars without tilting. Cool jars upright, undisturbed 24 hours (do not retighten screw bands).

After cooling, check jar seals. Sealed lids curve downward and do not move when pressed. Remove screw bands; wipe and dry bands and jars. Store screw bands separately or replace loosely on jars, as desired. Label and store jars in a cool, dark place. For best quality, use home canned foods within a year. Once a jar has been opened, store in refrigerator for up to 1 month.

Makes about 6 half-pint (6 cups) jars.

Tip:
To get the slightly sweet, slightly bitter taste of a traditional orange marmalade, use a variety with a more sour taste, such as a Seville.
Date: September 6, 2006