Diana's Desserts - www.dianasdesserts.com
See more recipes in
Cakes and Tortes
Guava Chiffon Cake
in Diana's Recipe Book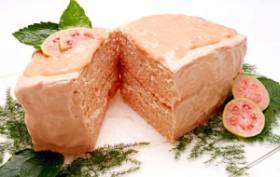 Average Rating:
(total ratings: 2)
[Read reviews]
[Post a review]
Servings: Makes 1 (11 x 13-inch) layer cake
Comments:
This recipe is from the Honolulu Star Bulletin and is written by Betty Shimabukuro.

The Guava Chiffon Cake is a fusion dessert that's been around longer, probably, than the word "fusion" has been a trendy part of the culinary vocabulary.

A classic European cake fused with a tropical fruit, guava chiffon is an airy treat with a jelly-like filling that well represents local desserts.

Charline Griffith has been searching for a guava chiffon recipe to bake for friends in Enterprise, Ore. -- many of whom have never seen a real guava. She had devised her own frosting and guava topping, but didn't have an appropriate cake to put it on. She was willing to share her frosting and topping, in exchange for a cake.

The recipe proved surprisingly elusive, and my first test cake, based on a passion fruit chiffon recipe, was disappointing. While I was fussing around with this, Griffith answered her own request, turning up her own recipe. What follows is a combination of her efforts and mine -- the end result approximates a bakery guava chiffon.

Griffith's frosting is guava-flavored and pink, unlike the familiar white whipped-cream frosting. She uses it between layers, then uses her topping as a crowning touch. The result is a triple dose of guava, and it's well worth the work.

If you prefer more a traditional look to your cake, use a plain whipped-cream frosting (or even Cool Whip), and use the topping between layers as well as on top.

But to do it Griffith's way, she suggests chilling the cake before frosting it, then frosting the bottom layer and chilling it again to firm everything up before adding the top layer.

"Remarkably this cake lasts a long time in the refrigerator, which actually improves both the texture and taste," she says. "That is, if you can resist 'scarfing' it down!"
Ingredients:

Cake Batter:
2-3/4 cups cake flour
2/3 cup superfine or granulated sugar
4 teaspoons baking powder
1 teaspoon salt
1/2 cup vegetable oil
1/2 cup water
3/4 cup guava juice concentrate, thawed, undiluted
5 egg yolks, slightly beaten
2 teaspoons vanilla extract
2-3 drops red food coloring

Meringue:
7 egg whites
1/2 teaspoon cream of tartar
1/2 cup superfine or granulated sugar

Guava Chiffon Frosting:
4 egg yolks
1/2 cup superfine or granulated sugar
3/4 cup guava juice concentrate, thawed, undiluted
1 cup whipping cream
1/4 teaspoon vanilla extract

Guava Topping:
2 tablespoons cornstarch
1/2 cup water
Pinch of salt
1 (12-ounce) can guava juice
1 teaspoon lemon juice
1 slightly beaten egg yolk
1 tablespoon butter
Instructions:
Instructions:
Preheat oven to 325 degrees F/160 degrees C. Lightly grease the bottom of an 11 x 13-inch rectangular baking pan.

To Make Batter:
Sift together cake flour, sugar, baking powder and salt.

Make a well in the center; add oil, water, guava juice, egg yolks and vanilla. Beat with a spoon until mixture is smooth. Add food coloring. Set aside.

To Make Meringue:
Beat egg whites with cream of tartar until soft peaks form. Gradually beat in 1/2 cup sugar until stiff.

Gently fold batter into meringue until barely mixed. Pour into pan. Bake in preheated oven for 35-40 minutes, until a pick inserted in the center comes out clean. Remove from oven and invert on a rack to cool completely.

Remove from pan gently. Cake may be cut in half lengthwise and frosted as two layers, using the filling and frosting below.

For Guava Chiffon Frosting

Instructions:
Beat egg yolks and sugar until lemon-colored; add undiluted guava juice, place in saucepan and cook over low-to-medium heat until thick, about 8 minutes. Remove from heat and chill.

Whip cream and vanilla, then fold into guava mixture. Frost sides of cake; cover top with guava topping. Makes enough to frost one cake. If layering an 11-by-13-inch cake, double this recipe.

For Guava Topping:

Mix cornstarch with water to dissolve all lumps. Add salt, guava and lemon juices and egg yolk. Cook over low heat until thick, stirring constantly. Remove from heat and add butter. Spread when slightly cooled but still warm.


Makes 1 (11 x 13-inch) layer cake.
Source: Honolulu Stat Bulletin
Date: September 2, 2006
Reviews
Reviewer:
Oy
Rating:
Review:
I Love Guava!!! I ate them for diet (the raw kind) when I was in Thailand. Thank you for the recipe and I'd like to try to make one.
Reviewer:
Stephanie
Rating:
Review:
I made this for my birthday. Im only rating it on the batter. It was easy to make, airy and fluffy.A little on sweet side tho. I baked it for less time 30 minutes in two 8 inch round pans and a heart shaped pan. The frosting turned out horrible, the combination of the yolks cooking and the nectar smelled and looked horrible I had to throw it out after two attemps! I used whipped cream and added a lot of guava nectar with red food colouring to frost my cake. I also added crushed canned guava in between the layers and used nectar to moisten the cake. It turned out great!A real change from regular chocolate or vanilla birthday cakes.There were only two slices of cake left!Will make again but will skip the Frosting and Topping for sure.