Diana's Desserts - www.dianasdesserts.com
See more recipes in
Cakes and Tortes
Raspberry Charlotte Russe
in Diana's Recipe Book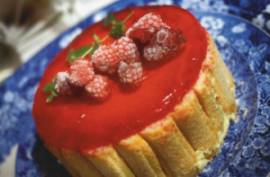 [Be the first to post a review!]
Servings: 8-10
Ingredients:

2 cups heavy whipping cream
1 egg white
1/4 cup milk
1 envelope (1/4 oz./7g) unflavored gelatin
1 tbsp. granulated sugar
1 small package raspberry flavored jello
2 tbsp. Chambord raspberry liqueur (a strawberry liqueur or Contreau may be used if you can't find Chambord raspberry liqueur)
2 (3 oz.) packages sponge type ladyfingers (24 ladyfingers, split)

Topping:
1 cup frozen raspberries
Instructions:
1. Make the raspberry jello according to package instructions and pour into bottom of an 8-inch souffle dish, allow to set.

2. Arrange the split ladyfingers around the souffle dish in a upright position, cutting them to size if they are slightly taller than the dish (this takes time, but they do remain in place if you take care).

3. In a small saucepan, warm the milk and sprinkle the unflavored gelatin over the milk and stir well until gelatin has dissolved, allow to cool.

4. Whip the cream and egg white separately, then fold beaten egg white into whipped cream. Gently stir in the sugar and raspberry liqueur.

5. Add gelatin/milk mixture to the whipped cream mixture, stir well and gently spoon into the ladyfinger lined dish. Cover with a plate and allow to cool until set

6. To Remove Charlotte from Souffle Dish:
Immerse the dish in hot water for a moment to loosen the jello, place a plate over the dish and turn it over, giving the bottom a gentle bang to release the charlotte from the dish. Before serving, decorate top of charlotte with frozen raspberries. Serve immediately.

Makes 8-10 servings.
Source: The Internet
Date: August 31, 2006