Diana's Desserts - www.dianasdesserts.com
See more recipes in
Cakes and Tortes
Tres Leches Cake with Mango Garnish
in Diana's Recipe Book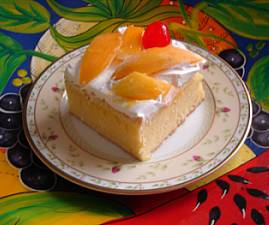 Average Rating:
(total ratings: 8)
[Read reviews]
[Post a review]
Servings: 16
Comments:
I like to make this rich and easy to prepare Tres Leches (Three Milks) cake to celebrate the Mexican holiday of Cinco de Mayo but it can be made for any occasion. I used fresh mango slices for the garnish but you can use any fresh (or canned) fruit of your choice. Sliced peaches are also good or even sliced pineapple is delicious. Use your imagination.

If desired, a small amount (1/8 to 1/4 cup) of brandy, rum or Frangelico (hazelnut liqueur) can be added to the Soaking Syrup for a more sophisticated flavor.
Ingredients:

Cake:
1 1/2 cups all-purpose flour
1 1/2 tsp. baking powder
1 cup granulated sugar
1/2 cup (1 stick/4 oz./113g) butter
5 eggs
1 1/2 tsp. vanilla extract

Three Milks Soaking Syrup:
1 cup milk or heavy cream
1 can (14 oz.) sweetened condensed milk
1 can (5 oz.) evaporated milk

Topping:
2 cups frozen non-dairy whipped topping, thawed
OR:
1 cup heavy cream, whipped

Garnish:
Sliced fresh mango (or fruit of your choice)
Maraschino cherries
Instructions:
Preheat oven to 350°F/180°C. Spray the bottom and sides of a 9 x 13-inch baking dish with cooking spray.

Combine flour and baking powder; set aside.

Beat sugar and butter in a large bowl with electric mixer on medium speed until light and fluffy. Add eggs one at a time, beating well after each addition. Add vanilla. Gently fold in flour mixture (do not overmix). Pour into prepared baking dish.

Bake in preheated oven for 29 to 32 minutes or until toothpick inserted in center comes out clean. Pierce warm cake with large fork at 1/2-inch intervals. Mix together milk (or heavy cream, if using), condensed milk and evaporated milk; pour slowly over top of cake (milk mixture will slowly be absorbed by the cake). Cool completely at room temperature, cover with plastic wrap and refrigerate for 2 to 3 hours or up to 1 day. Frost cake with whipped topping (or whipped cream, if using) and garnish with fruit before serving. Cut into squares and serve. Store leftover cake in the refrigerator.

Makes 16 servings.

Photograph taken by Diana Baker Woodall© 2006
Source: DianasDesserts.com
Date: May 25,2006
Reviews
Reviewer:
Bernardo
Rating:
Review:
I love it!!!!!
Reviewer:
bert
Rating:
Review:
yummy
Reviewer:
Andrea
Rating:
Review:
I made this for my god daughter's birthday. Since my husbands family is all from Mexico they are always buying expensive tres leches cakes. About a week after the party my sister in law asked where she bought the cake. My sister in law said that it was made by me. Now I have been asked for the recipe. Thanks, for this recipe. So easy to make but I do recommend making it the night before so syrup soaks in real well. I made it with pineapple and also with peaches.
Reviewer:
cony duke
Rating:
Reviewer:
ChaChi M.
Rating:
Review:
Thank you soooooo much for this delicious dessert. I made this for my father who has not had it since he was a young boy in Mexico. He says its the best he ever had!!!
Reviewer:
roshankingfisher
Rating:
Review:
Haven't attempted this recipe yet but would like to. I am however, concerned at the use of condensed milk which is very sweet considering the amount of sugar already being used in the recipe. Can something else be used instead?
Reviewer:
BareNakedBaker
Rating:
Review:
This is a delicious cake in which I would bake for even my finest adversary!
Reviewer:
KatieR
Rating:
Review:
This is amazing!!! My go to recipe! I have made this for my husbands birthday for the past 3 years! He's Mexican, and asks for me to make it for him. Thank you for sharing!!! :D