Diana's Desserts - www.dianasdesserts.com
See more recipes in
Pound Cakes
Elvis Presley's Favorite Pound Cake
in Diana's Recipe Book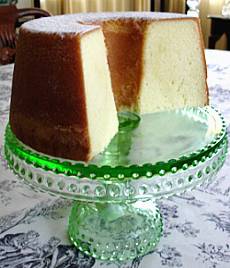 Average Rating:
(total ratings: 23)
[Read reviews]
[Post a review]
Servings: 10-12
Comments:
For all of you Elvis Presley fans and Pound Cake fans:

This is the best pound cake we have ever tasted. It's tender appeal is owed in part to cake flour and cream, and in part to beating the batter an extra 5 minutes.

A Note From Diana's Desserts
I thought that marinated peaches would be so tasty served alongside or on top of each slice of this pound cake. You can serve the cake plain (maybe with a little dusting of confectioners' sugar), or serve each slice with a dollop of whipped cream and a few spoonfuls of the marinated peaches.........Diana
Ingredients:

1 cup (2 sticks/8 oz/226g) unsalted butter, softened, plus additional butter for greasing the pan
3 cups sifted cake flour (not self-rising; sift before measuring) plus additional for dusting
3/4 teaspoon salt
3 cups granulated sugar
7 large eggs, at room temperature for 30 minutes
2 teaspoons vanilla extract
1 cup heavy cream

Garnish: (optional)
Confectioners' sugar
Whipped Cream or Non-Dairy Whipped Topping

Serve with: (optional)
Marinated Peaches (see recipe below)

Special Equipment:
A 10-inch tube pan (4 1/2 inches deep; not with a removable bottom) or a 10-inch bundt pan (3 1/4 inches deep; 3-qt capacity)
Instructions:
Put oven rack in middle position, but DO NOT preheat oven.

Generously butter pan and dust with flour, knocking out excess flour.

Sift together sifted flour (3 cups) and salt into a bowl. Repeat sifting into another bowl (flour will have been sifted 3 times total).

Beat together butter and sugar in a large bowl with an electric mixer at medium-high speed until pale and fluffy, about 5 minutes in a stand mixer fitted with paddle attachment or 6 to 8 minutes with a handheld mixer. Add eggs 1 at a time, beating well after each addition, then beat in vanilla. Reduce speed to low and add half of flour, then all of cream, then remaining flour, mixing well after each addition. Scrape down side of bowl, then beat at medium-high speed 5 minutes. Batter will become creamier and satiny.

Spoon batter into pan and rap pan against work surface once or twice to eliminate air bubbles. Place pan in (cold) oven and turn oven temperature to 350°F (180°C). Bake until golden and a wooden pick or skewer inserted in middle of cake comes out with a few crumbs adhering to it, 1 to 1 1/4 hours. Cool cake in pan on a rack for 30 minutes. Run a thin knife around inner and outer edges of cake, then invert rack over pan and invert cake onto rack to cool completely. Once cake has cooled completely, transfer to a serving plate or cake stand. If desired, when ready to serve, dust top of cake with confectioners' sugar or serve with a dollop of whipped cream or non-dairy whipped topping and Marinated Peaches on the side or pass peaches around for guests to serve themselves.

Storing Cake:
Cake keeps, covered well with plastic wrap or in an airtight container, at room temperature for up to 5 days.

Makes 10 to 12 servings.

Marinated Peaches

Ingredients:
2 1/2 pounds (approximately 4 large peaches) fresh, ripe peaches, pitted and cut into 1/4-inch-thick slices
1 cup granulated sugar
1/4 cup peach liqueur or peach brandy
1/4 cup dark rum

Instructions:
In a large bowl, combine the peach slices with the 1 cup of sugar, the peach liqueur (or brandy), and the rum. Stir to mix. Cover and refrigerate for at least 1 hour. (This can be done a day ahead.)

Source of recipe for Marinated Peaches: Diana's Desserts.

Photograph taken by Diana Baker Woodall© 2005
Source: Adapted from Gourmet Magazine, Sept. 2005
Date: September 9, 2005
Reviews
Reviewer:
brandwashed
Rating:
Review:
i love poundcake, and well, this is, hands down, the most delicious one i've ever had. i'm going to make one today!
Reviewer:
Corean Wheeler
Rating:
Review:
I have made this cake several times (before I found it on your site) and it is delicious. I make mine with All Purpose Flour. I have used this exact recipe using All Purpose Flour and I have made this cake using 2 sticks of Butter, 1/2 Cup Butter Crisco and All Purpose Flour. It is delicious and moist either way. I will now try it with cake flour,,,it can only get better.
Reviewer:
Evelyn Espinosa
Rating:
Review:
I made this for a birthday celebration and an office party, a HIT both times. Will make again and again and again...
Reviewer:
Janet K.
Rating:
Review:
This is an excellent pound cake. I have made it at least a dozen times. Very good used with strawberries for shortcake, also very good with blackberries. Thanks.
Reviewer:
olivia williams
Rating:
Review:
this is a delicious cake. i made it with all purpose flour and put a little more cream in it and added lemon extract and vanilla extract, iced it with a lemon glaze. it is the bomb
Reviewer:
Sheila Harris
Rating:
Review:
I baked this pound cake for my daughter's birthday in September after reading the recipe in Gourmet Magazine. It really is the BEST pound cake I've ever had. I have shared the recipe with several friends but when it came time for baking another, I can't find my recipe. Thank goodness for the internet and Google. Thanks.
Reviewer:
Diana, Diana's Desserts
Rating:
Review:
Hi Sheila, Just wanted to let you know that if you ever need recipes from Gourmet or Bon Appetit Magazines (even recipes from past issues), most of them can be found on Epicurious.com's website. Hope this information helps you out if you ever loose a recipe from one of these magazines again. Sincerely, Diana, Diana's Desserts Website
Reviewer:
Bito
Rating:
Review:
This pound cake has made me a star in my family.It is more than excellent.It is so velvety and so incredibly moist and fluffy.The cake dissapeared only a few minutes after I got it out of the oven.Everyone in my family loved it, and my mom said that this was the best cake she's ever eaten in her entire life.It has definetly become a family favorite.
Reviewer:
Theon Bertrand
Rating:
Review:
I have never had an exxxxxxxcellent cake like this before in my life. Thank you Diana for this recipe.
Reviewer:
Mercedes Skelton
Rating:
Review:
Everyone loves it. It was a success the very first time.
Reviewer:
Karla
Rating:
Review:
I have always hated poundcake; too dry, no icing, yuck. Then I made this one last Christmas because DH loves pound cake. This is one of the best cakes of any kind that I've ever tasted. If my house was burning I'd run back in to save this recipe!
Reviewer:
Evie
Rating:
Review:
Excellent recipe! The texture is perfectly soft and light, and it practically melts in your mouth!
Reviewer:
william viveiros
Rating:
Review:
I have baked pound cakes before but this cake beats all.Its texture is smooth and delicious.
Reviewer:
Reedus Wheat
Rating:
Review:
Best pound cake I have ever baked, I wonder if you could use cream cheese instead of butter? I think I will try!
Reviewer:
Beverly
Rating:
Review:
This is absolutely THE BEST vanilla pound cake ever. I loved everything about it including: the taste, moistness, perfect crumb, texture, baking performance, and the ability to alter the recipe. I substituted regular unbleached all-purpose flour (sifted, approximately 2-2/3 cups) and the cake was beyond delicious. This reminds me of the perfect wedding cake. When I cut it there were virtually no crumbs, it was picture perfect as well as taste perfect. I bake all the time and research tons of cake recipes, this is my all-time favorite!!! I plan to carve cakes with using this recipe. Thanks a trillion!
Reviewer:
D.
Rating:
Review:
When I first read the recipe I couldn't imagine using 3 cups of sugar...seemed like a lot; however, I followed it to the letter and found it far too sweet for my tastes. Next time, I will use less sugar (maybe 1.5 cups) or even substitute baking Splenda. Good crumb though.
Reviewer:
Martha Farmer
Rating:
Review:
This cake is so-ooooooo good. I like to bake it and give it to friends and family members for Christmas.
Reviewer:
Su Tran
Rating:
Review:
This is my favorite pound cake of all time! Every time I've made it for someone, they have ALL loved it! It's always gone before the 5 days that it lasts! Actually, one is baking in the oven right now.
Reviewer:
JanMarie
Rating:
Review:
Got this recipe out of the Boston Globe Newspaper over 30 years ago. It is THE best pound cake ever.
Reviewer:
kathy belcher
Rating:
Review:
I made this cake 25 times. Its the best I have made for everyone.........
Reviewer:
Lynette
Rating:
Review:
This is the first time I made this cake and my family loves it.
Reviewer:
susan
Rating:
Review:
I baked this cake today and it got rave reviews in my house!! That's good enough for me to give it the seal of excellence!
Reviewer:
Paulette
Rating:
Review:
This was the first time making a pound cake and it came out perfect, only change I made was 2 cups of sugar not 3. Thank you so much for this great recipe.