Diana's Desserts - www.dianasdesserts.com
See more recipes in
Cakes and Tortes
Chocolate Almond Mary Ann Cake
in Diana's Recipe Book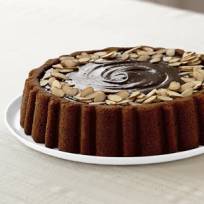 Average Rating:
(total ratings: 10)
[Read reviews]
[Post a review]
Servings: 12-16
Comments:
Laced with semisweet chocolate chips, this luscious cake is topped with ganache, a rich, smooth mixture of melted chocolate and cream. A sprinkling of toasted almonds adds the finishing touch. The cake will keep at room temperature for up to 4 days; store under a covered cake dome.

Mary Ann Pan?
First introduced in the United States in 1921, "Mary Ann's Cake Shell Pans" were designed to bake light cake shells to hold everything from fresh fruit to rich custards. The Mary Ann pan produces one round cake with fluted sides and an inverted well for spooning in whipped cream, fruit curds, custard, fresh fruit or even ice cream.

Note:
It seems that Williams-Sonoma is no longer carrying the Mary Ann cake pans but you can now find them at Amazon.com or at Crateandbarrel.com
Ingredients:

For the Cake:
3/4 cup unsweetened cocoa powder, plus more for dusting
2 1/4 cups all-purpose flour
1 1/2 tsp. salt
1 3/4 tsp. baking soda
2 1/4 cups granulated sugar
2 cups boiling water
12 tbsp. (1 1/2 sticks/6 oz/170g) unsalted butter, melted
3 eggs
2 1/2 tsp. vanilla extract
1 cup semisweet chocolate chips

For the Ganache:
3 oz. semisweet chocolate, finely chopped
1/3 cup heavy cream

Garnish:
3/4 cup sliced almonds, lightly toasted

Instructions:
Position a rack in the lower third of an oven and preheat to 350°F (180°C). Grease a Mary Ann cake pan* (see note below on where to buy pan) and dust with cocoa powder.

To make the cake, over a sheet of waxed paper, sift together the flour, salt and baking soda. Set aside.

In a large bowl, whisk together the 3/4 cup cocoa, the sugar and boiling water. Set aside.

In a small bowl, whisk together the butter, eggs and vanilla. Pour into the cocoa mixture and whisk to combine. Whisk in the flour mixture in two additions. Pour the batter through a fine-mesh sieve into the prepared pan and stir in the chocolate chips.

Bake until the cake springs back when gently touched and a toothpick inserted into the center comes out clean, about 45 minutes. Transfer the pan to a wire rack and let cool for 15 minutes. Tap the pan gently on a work surface, invert the pan onto the rack and lift off the pan. Let cool completely, about 1 hour.

To make the ganache, put the chocolate in a small bowl. In a small saucepan over medium heat, warm the cream until bubbles form around the edges of the pan. Pour the cream over the chocolate. Let stand for 1 minute, then slowly whisk until smooth. Let cool for 10 minutes before using.

Pour the ganache into the well of the cake. Using an offset spatula, spread evenly. Sprinkle the almonds in a 1-inch-wide band around the outside edge of the ganache. Refrigerate the cake for at least 30 minutes to set the ganache.

Makes 12-16 servings.

*Note: Mary Ann Cake pans can be purchased at Amazon.com or at Crateandbarrel.com
Source: Williams-Sonoma Kitchen
Date: April 12, 2005
Reviews
Reviewer:
Dolores Pap
Rating:
Review:
This cake has it all; taste, ease of preparation, and eye appeal..and you can make it ahead ! Never fails to please..I do, however, double the ingredients for the ganache topping, maybe it's gilding the lily, but it looks better with more chocolate. Thanks for this great recipe.
Reviewer:
Beth
Rating:
Review:
I can't wait to make this recipe - then I will rate it - I just wanted to add that I bought my Mary Ann pan today - at Crate and Barrel! It was a great price and comes with a recipe that sounds fantastic as well!
Reviewer:
Susan
Rating:
Review:
EVERY time I make this cake, people CANNOT believe it was not store bought. It is simple to make and very elegant. It has become the most requested cake I make! Buy the cake pan soon, Williams Sonoma is not carrying the pan in the stores anymore, just on the internet.
Reviewer:
mahsa
Rating:
Reviewer:
Fredi Cogan
Rating:
Review:
So easy and just beautiful and so professional looking. I made the lemon curd one as well and it was great! I am looking for more Mary Ann cake pan recipes.....
Reviewer:
Diana
Rating:
Review:
Fredi,
More Mary Ann cake recipes can be found at Williams Sonoma's website under their recipes section. Their web address is www.williams-sonoma.com. Diana,Diana's Desserts
Reviewer:
Linda
Rating:
Review:
This cake was too large for the Mary Ann cake pan and over flowed onto the bottom of the oven. Also the ganache recipe didn't begin to fill the well of the Mary Ann pan. You would need to double or triple the ganache amount. Overall, very disappointing and I wouldn't make this cake again.
Reviewer:
John Fennelly
Rating:
Review:
Equally beautiful and delicious! Thanks for calling this great cake/pan to our attention! I must say I do enjoy the ganache too!
Reviewer:
Edwena Primroy-Caughey
Rating:
Review:
I made two of these cakes, one with fruit and mascarpone cheese, the other with lemon, but my brother doesn't like berries, so I made it with a meringue topping, it was awesome. Folks cannot believe it isn't store purchased!
Reviewer:
sheila
Rating:
Review:
I wonder if you can substitute a ready made cake mix and just put the ganache in it if you are in a rush? I have made this before, and did need to triple the amount called for in the ganache. It definitely does not fill well.