Diana's Desserts - www.dianasdesserts.com
See more recipes in
Muffins
Blueberry Muffin Tops
in Diana's Recipe Book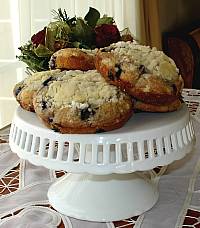 Average Rating:
(total ratings: 7)
[Read reviews]
[Post a review]
Servings: 12 regular size muffin tops or 6 jumbo muffin tops
Comments:
'90S SEINFELD

After Elaine exclaims that she only likes the tops of muffins ("The Muffin Tops" first aired on May 8, 1997), her former boss thinks Elaine has hit on a clever marketing idea. But when you only sell the tops, what do you do with the hundreds of muffin "stumps" (bottoms) that are left? Elaine and her gang take to the streets with garbage bags of stumps, trying to pawn them off on anyone and everyone. There are no takers; even the homeless turn them down with disdain. It didn't take long after the airing of the episode for muffin-top pans to appear on store shelves — another TV triumph.

Ingredients:

Batter:
3/4 stick (6 tablespoons/3 oz/85g) unsalted butter
1/3 cup whole milk
1 large whole egg
1 large egg yolk
3/4 teaspoon vanilla extract
1 1/2 cups all-purpose flour
3/4 cup granulated sugar
1 1/2 teaspoons baking powder
3/4 teaspoon salt
1 teaspoon lemon zest (optional)
2 cups fresh or frozen blueberries

Topping:
3 tablespoons (1.5 oz/42g) COLD unsalted butter, cut into bits
1/2 cup all-purpose flour
3 1/2 tablespoons granulated sugar

Special equipment:
2 muffin-top pans, each with 6 (4 x 1/2-inch) muffin-top cups (1/2-cup capacity)* (see note below on where to purchase muffin top pans), or you may use 1 regular size muffin pan with 12 cups (if making regular size muffins).

Instructions:
1. Put oven rack in upper third of oven and preheat oven to 375°F (190°C). Generously butter muffin pans.

2. Melt butter in a small saucepan over moderately low heat, then remove from heat. Whisk in milk, then whisk in whole egg, egg yolk, and vanilla extract until combined well.

3. Whisk together flour, sugar, baking powder, salt, and lemon zest (if using) in a bowl, then add milk mixture and stir until just combined. Fold in blueberries gently but thoroughly (if using frozen blueberries, do not thaw. Also, whether using fresh or frozen blueberries, toss blueberries in a little flour so the berries don't sink to bottom of muffins or muffin tops).

4. Divide batter among the 12 muffin cups, spreading evenly.

For Topping and Baking Muffins:
5. Rub together all topping ingredients in a bowl with your fingertips until crumbly, then gently pat evenly over batter in cups.

6. Bake until golden and crisp and a wooden pick or skewer inserted diagonally into center of a muffin comes out clean, 18 to 22 minutes.

7. Cool muffins in pans on wire rack for 15 minutes, then run a knife around edge of each muffin top and carefully remove from cups. Serve warm or at room temperature.

*Notes from Diana:

Where To Buy Muffin Top Pans
Muffin top pans are vailable at cookware shops and can also be purchased online at Cooking.com, Amazon.com, King Arthur Flour's website, Crate and Barrel's website and at many other internet cookware stores.

How many Muffin Tops does this recipe really make?

Even though this recipe states that it makes 12 muffin tops, I have found that it can easily make 6 very large (jumbo) muffin tops OR 12 regular size muffin tops. Using almost all of the batter and filling the 6 muffin top cups to the top is easily achieved without having to use 2 muffin top pans. You may have a small bit of batter leftover which you can spoon into a paper muffin liner and bake along with the 6-cup muffin top pan....Diana, Diana's Desserts

Makes 6 jumbo or 12 regular size muffin tops.

Photograph taken by Diana Baker Woodall© 2005
Source: Gourmet Magazine September 2003
Date: February 4, 2005
Reviews
Reviewer:
Carol
Rating:
Review:
excellent muffins the whole family enjoyed them big time yum yum yum
Reviewer:
Lily
Rating:
Review:
Well, I don't want to be rude or anything, but I have found (and lost, oops) a recipe that lets you make muffin tops on a cookie sheet. I think that this is better, not only because you don't have to buy a whole new item, but because you don't have to worry about overflowing. The recipe that I found also dosen't give you a topping, and is very simple. BUT, your recipe is for, what seems, the intermediate chef. The one that I found lets me make it, and I am not even thirteen yet.
(Let it be known that I have my parents permission to write this.)
Reviewer:
evey
Rating:
Review:
i think these blueberry muffin tops are tops!! my hubby totally enjoyed them. i used a true muffin top pan and also a heart shaped muffin pan. both shapes turned out higher than expected and looked simply beautiful! that topping makes them even more beautiful and very old fashioned looking. i will be putting a little less in each tin from now on and have MORE fabulous muffins to eat and share!! this blueberry muffin will be what i give at the holidays and bring to a dinner party. thank you diana!
Reviewer:
Justina
Rating:
Review:
These were good but right when I went to put the blueberries in I found out I had no blueberries left!
Reviewer:
Betty
Rating:
Review:
I never tried this recipe-yum!!!
Reviewer:
sussie lee
Rating:
Review:
I saw this non stick muffin top pan at a sale and I bought it and tried out this recipe. It was very good. I need not brush the tin with butter as it was supposed to be non stick !!!. The batter seems good for more than 6 jumbo muffin tops. I filled up the pan too much and so the muffins rose real mountain high. Next time I will put in less batter in each cup. I only have one pan so I may have to do twice.
Reviewer:
kathy
Rating:
Review:
Favorite for all my family and friends. My husband's Customers(Blueberry Growers) keep sending more blueberries home so I can make more for them. I think I could make them in my sleep. Sometimes I mix 1/3 cup of sugar and 1 1/2 t of grated lemon peel together instead of crumb on the top. Also Delicious! I freeze pints of blueberries and make these all winter.