Diana's Desserts - www.dianasdesserts.com
See more recipes in
Rosh Hashanah Menu
Rosh Hashanah Apple-Walnut Salad
in Diana's Recipe Book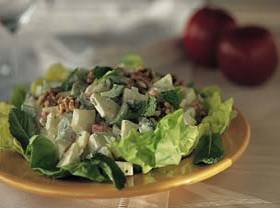 [Be the first to post a review!]
Servings: 8-10
Comments:
This is a lovely salad to serve with a Dairy meal at Rosh Hashsnah. Serve as a first course, or right after the warm beet borscht soup.
Ingredients:

3/4 cup walnut or pecan halves, toasted
*(see note below on How to Toast Nuts)
4 crisp apples, such as Pippin, McIntosh or Rome Beauty
Juice of 1 lemon
1 cup finely diced celery
1/2 cup diced red bell pepper
3/4 cup sour cream
1 tbsp. Dijon mustard
1 1/2 tbsp. honey
1 tsp. minced fresh mint
Kosher salt and freshly ground pepper, to taste
1 or 2 heads Bibb or Butter lettuce

Instructions:
How To Toast Nuts
Preheat oven to 200°F (93°C). Spread the nuts on a baking sheet and bake until lightly toasted, 6 to 7 minutes. Coarsely chop and set aside.

Peel, quarter and core the apples, and cut into 1/2-inch dice. In a bowl, toss the apples with the lemon juice. Add the celery, bell pepper and nuts and stir to combine.

In another bowl, combine the sour cream, mustard, honey and mint. Whisk until well blended, and season with salt and pepper.

Separate the lettuce leaves and use only the crisp inner leaves; reserve the larger outer leaves for another use. Arrange the lettuce leaves around the rim of a serving platter. Add the dressing to the apple mixture and mix well. Spoon the salad onto the center of the plate.

Makes 8-10 servings.

Date: September 2, 2004