Diana's Desserts - www.dianasdesserts.com
See more recipes in
Rosh Hashanah Menu
Warm Beet Borscht
in Diana's Recipe Book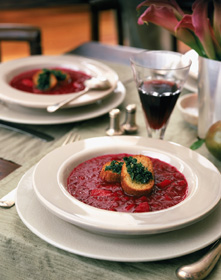 [Be the first to post a review!]
Servings: 8
Comments:
Borscht, whether served hot or cold, is a traditional soup served at Jewish holiday feasts. If you are preparing a Meat meal, do not add the sour cream topping and if serving a Dairy meal, the vegetable stock or broth should be Parve (a neutral food that can be served at either a Meat or Dairy meal). Sometimes store-bought vegetable broth or stock has meat in the ingredients so it's very important to look at labels of food products, and if you are unsure, purchase broth that is Parve from either a kosher market, or if your own local supermarket has a Jewish Foods section, they should carry Parve broth.

Although borscht is often served chilled, this version is at its best piping hot for lunch or dinner on a rainy autumn day. Roasting the beets brings out their natural sweetness, and the beet greens add an extra measure of flavor, texture and nutrition.

Ingredients:

6 beets with greens attached (about 2 lb. total)
6 cups vegetable stock or canned broth (parve if serving at a Dairy meal)
1/4 cup tomato sauce
2 celery stalks, sliced
2 carrots, peeled and grated
1 yellow onion, chopped
1 baking potato, peeled and diced
Salt and freshly ground pepper, to taste

Topping: (omit sour cream topping if your're preparing a Meat meal)
1/2 cup sour cream
1 tbsp. minced fresh dill
1 tsp. bottled prepared horseradish

Instructions:
Preheat an oven to 400°F (200°C). Lightly oil a baking sheet.

Trim off the beet greens and set aside. Quarter the beets lengthwise and place on the prepared baking sheet. Roast until softened and lightly browned, 15 to 20 minutes. Remove from the oven and let cool. Peel and cut into bite-size chunks. Thinly slice enough beet greens to measure 1 cup. Set aside.

In a saucepan over medium heat, combine the stock, tomato sauce, celery, carrots, onion and potato. Bring to a boil over medium heat, reduce the heat to low and simmer, uncovered, until the vegetables are tender, about 20 minutes. Add the beets and beet greens and simmer until the beets are tender and the greens are wilted, about 10 minutes more. Season with salt and pepper.

Meanwhile, in a small bowl, stir together the sour cream, dill and horseradish until blended. Note: The sour cream topping should be served only at a Dairy meal).

To serve, ladle the soup into warmed bowls and top each with a spoonful of the sour cream mixture. Serve immediately.

Makes 8 servings.
Date: September 1, 2004