Diana's Desserts - www.dianasdesserts.com
See more recipes in
Rosh Hashanah Menu
Italian Jewish Style Brisket
in Diana's Recipe Book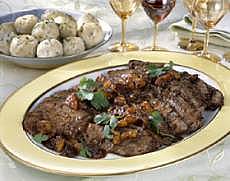 Average Rating:
(total ratings: 1)
[Read reviews]
[Post a review]
Servings: 8
Comments:
What is Brisket?

Definition: [BRIHS-kiht] A cut of beef taken from the breast section under the first five ribs. Brisket is usually sold without the bone and is divided into two sections. The flat cut has minimal fat and is usually more expensive than the more flavorful point cut, which has more fat. Brisket requires long, slow cooking and is best when braised. Corned beef is made from brisket.

Copyright (c) 1995 by Barron's Educational Series, from The New Food Lover's Companion, Second Edition, by Sharon Tyler Herbst

Brisket of beef is a very popular dish served in Jewish homes during the holidays. Everyone has their own special brisket recipe, and this one has a bit of an Italian flair to it. Your guests will really love this delicious main dish for Rosh Hashanah.
Ingredients:

1 beef brisket, about 5 to 6 pounds
Salt and freshly ground black pepper
2 tablespoons extra virgin olive oil
1 large carrot, cut in 1/4-inch dice
2 sticks celery, cut in 1/4-inch dice
1 large onion, cut into 1/4-inch dice
2 cloves garlic, minced
1 sprig fresh rosemary
3 chicken livers (poached, if you keep kosher)
1 cup canned crushed tomatoes
1 bay leaf
1 bottle red wine
1 and 1/2 cups chicken stock

Garnish: 4 sprigs of parsley, chopped

Instructions:
Preheat the oven to 325 degrees F (160 C). Trim the brisket of most of its fat and season with salt and pepper. Heat the oil in a large, heavy casserole, and sear the brisket on both sides until it starts to brown. Remove the brisket from the casserole. Add the diced vegetables and garlic, and sauté for about 5 minutes over medium heat or until onion is translucent. Add the rosemary, chicken livers, tomatoes, and bay leaf, and return brisket to casserole. Completely cover the meat with the wine, adding chicken stock if necessary.

Cover the casserole and bake in the oven for 3 to 3 and 1/2 hours or until the meat is fork-tender. If the liquid reduces by more than half during cooking, add a small amount of chicken stock.

Transfer the meat to a dish and keep warm. Remove the herbs, and purée remaining liquid in a blender with the vegetables and chicken livers until smooth. If the sauce is a little thin, return it to the casserole and reduce over medium-high heat until it reaches the desired consistency. Slice the brisket and arrange it on a deep platter with the sauce. Garnish with chopped parsley.

Makes 8 servings.

Source: Chef Mark Strausman of Campagna and Fred's at Barneys New York
Date: September 1, 2004
Reviews
Reviewer:
faigi
Rating:
Review:
JUST TO CORRECT- THE LIVERS MUST BE BROILED WITH SALT ON AN OPEN FIRE TO BE MADE KOSHER BEFORE USE. IT IS A WHOLE PROCESS. LIVER MAY ONLY BE KOSHERED THROUGH BROILING, BECAUSE OF THE PREPONDORANCE OF BLOOD IN IT.
Both the liver and meat must first be thoroughly washed to remove all surface blood. They are then salted slightly on all sides. Subsequently, they are broiled specifically on a designated liver-broiling perforated grate over an open fire, which draws out the internal blood. When koshering liver, slits must be made in the liver prior to broiling.
The meat or liver must be broiled on both sides until the outer surface appears to be dry and brown. After broiling, the meat or the liver is rinsed off three times. Thank you and I enjoy your e-mails very much