Diana's Desserts - www.dianasdesserts.com
See more recipes in
Jams - Jellies - Preserves - Spreads
Quince Jelly
in Diana's Recipe Book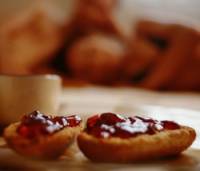 Average Rating:
(total ratings: 1)
[Read reviews]
[Post a review]
Servings: Yield: 8 (1/2 pint) jars
Comments:
What is a Quince?

Definition: [KWIHNC] Ancient Romans used the flowers and fruit of the quince tree for everything from perfume to honey. It was also considered a symbol of love and given to one's intended as a sign of commitment. Though the quince has been around for over 4,000 years throughout Asia and the Mediterranean countries, it's not particularly popular with Americans. This yellow-skinned fruit looks and tastes like a cross between an apple and a pear. The hard, yellowish-white flesh is quite dry and has an astringent, tart flavor. Its texture and flavor make it better cooked than raw, and because of its high pectin content it's particularly popular for use in jams, jellies and preserves. Quinces are available in supermarkets from October through December. Select those that are large, firm and yellow with little or no sign of green. Wrap quinces in a plastic bag and refrigerate for up to 2 months. Peel before using in jams, preserves, desserts and savory dishes.

Source:
Copyright (c) 1995 by Barron's Educational Series, from The New Food Lover's Companion, Second Edition, by Sharon Tyler Herbst

Rich in tannin and pectin, the quince must always be cooked in order to achieve its delicate and flavorful potential. Its flesh is firm, tough, acidic and astringent and it gives off a strong odor, which is passed on to everything with which it comes in contact. In Europe it is used to make jam, jelly, candy and liquor. The word "marmalade" comes from the Portuguese "inannelo" or "marmelo," meaning quince. In fact, until the end of the 18th century, marmalade was made almost exclusively of quinces!

Source:
The Worldwide Gourmet
http://gourmet.sympatico.ca


Ingredients:

7 1/2 cups granulated sugar
3 fl. oz. liquid pectin
4 1/2 cups water
3 lb. quinces, cored, chopped, skin on
1/4 cup lemon juice

Instructions:
Sterilize 8 (1/2 pint) jars in boiling water for at least 5 minutes and have new lids ready. Place quinces in a large pot and pour in water. Bring to a boil, reduce heat to low and simmer, covered, for 15 minutes. Strain off 4 cups of the juice. Mix juice with sugar and lemon juice in a heavy pot, and bring to a boil over high heat, stirring constantly.

Stir in pectin and return to a boil. Boil for 1 full minute, stirring constantly. Remove from heat and skim off foam. Ladle into hot sterile jars, and process for 10 minutes in a hot water bath to seal. Refrigerate jelly after opening. Store sealed jars in a cool dark place.

Yield: 8 (1/2 pint) jars

Recipe Source:
Recipe used by permission from Donna Maurillo at the Santa Cruz Sentinel Online: http://www.santacruzsentinel.com

Recipe by Tapati McDaniels from article: Donna Marillo - Food for Thought - Going Back to Basics - November 12, 2003 on the Santa Cruz Sentinel Online Edition.

Date: July 19, 2004
Reviews
Reviewer:
Pat Edwards
Rating:
Review:
Quince can be made the same as apple jam. Looking for variances.